ABOVE: While bidding at the Bonhams Auction-Las Vegas 2011 had a distinctly gentlemanly tone, it was fierce & competitive nonetheless.
Bonhams Auction-Las Vegas 2011
OLD SCHOOL
Bonhams & Butterfields is one of the 3 oldest auction houses in the world. Established in 1793, at the same time as both Christie's & Sotheby's, Bonhams is still privately owned. They have 50 specialist departments that each concentrate on a specific type of items, art, furniture, estate sales, classic cars…and for the past 20 years, classic motorcycles.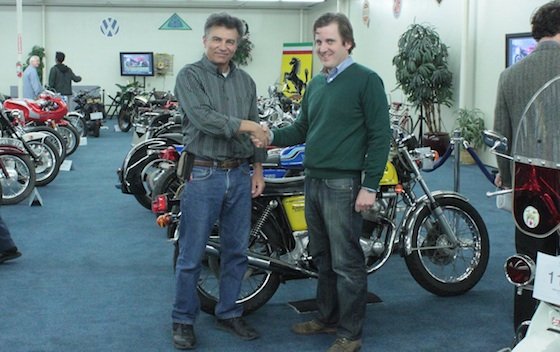 ABOVE: Bonhams' Evan Ide took a few moments to talk with me, Andy Tallone, at this first-ever Las Vegas event.
INTERVIEW WITH EVAN IDE
Bonhams Auctions take a lot of people to put on. One of them is Evan Ide, a very knowledgeable & enthusiastic chap & an all-around nice guy. He took his valuable time away from the pressing needs of staging a major event like this in less than 24 hours, to talk with me briefly. We discussed auctions, motorcycles, the market & more.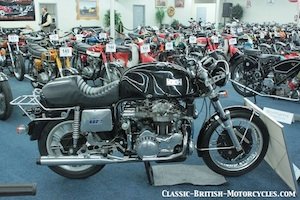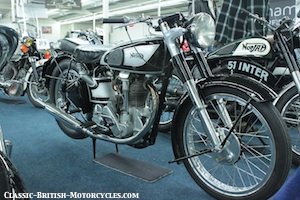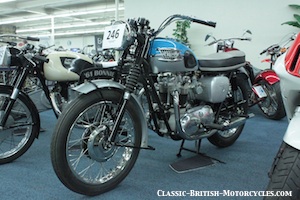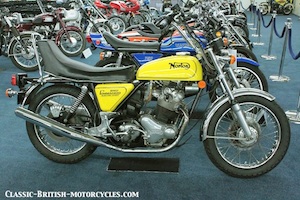 BONHAMS AUCTION-LAS VEGAS 2011, FIRST TIME IN VEGAS
While Bonhams is one of the oldest & largest auction houses in the world, most of that experience & volume was in other things besides motorcycles. All sorts of things, anything you can think of. As for motorcycles, over the last 20 years they have built up a solid business with Classic Motorcycle Auctions. According to Evan, this year they expect to sell $8 Million worth of motorcycles, with auctions in Carmel CA, Los Angeles CA (at the Peterson Auto Museum), England, Europe & around the world. However, this is their first-ever motorcycle auction in Las Vegas. What compelled them to have an auction the same week & in the same town as MidAmerica Auctions? Evan said, "We've wanted to do a Las Vegas auction for a long time."
WHAT THE MARKET WILL BEAR
When asked about the condition of the classic motorcycle market, Evan said he felt that it was strong & while not necessarily growing in dollar volume due to the bad economy, it was in fact growing in popularity & public awareness. He sees more new people coming in, many being driven downstairs from the high-stakes classic car hobby.
A SUCCESSFUL SALE
With over 200 classic motorcycles rolling across the auction block, Bonhams had over $2.5Million in sales. 6 bikes exceeded $100,000 each, including a 1894 Hildebrand & Wulfmuller, the world's first production motorcycle, for $161,000. The two highest Classic British Motorcycles (that's what we're here for, after all) were a '52 Vincent Rapide Series C for $99,450 & a '52 Vincent Series C Black Shadow for $87,400.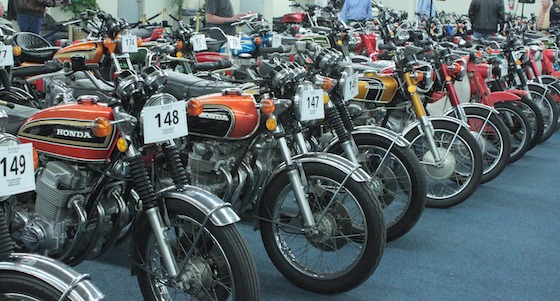 ABOVE: These 60 Hondas ranging from Mini-50's to CB750/4's, represented just half of the collection of a dentist from Indiana. He had to thin things out. Can you imagine what he kept?
AT THE IMPERIAL PALACE
This inaugural Bonhams Auction-Las Vegas 2011 was held at the Imperial Palace Hotel & Casino on the strip in Las Vegas. The auction was housed on the 5th floor, with one of the nicest Classic, Celebrity & Special-Interest Cars I've ever seen. Johnnie Carson's Chrysler, Elvis' Lincoln, rows of Ferraris (pictured above) & more. Most of the cars are for sale. A great venue for this auction.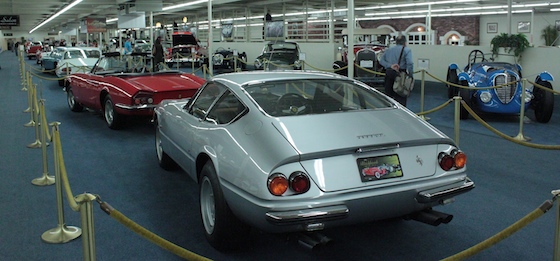 ---