BMW S 1000 RR Launch in Malaysia
How many times in a lifetime do you get to ride (flog) the flagship model of a renowned manufacturer? A huge name, established in motorsports and one that recently debuted to a credible start in the World SuperBike Championships?
A bike, with so many technological features, being offered with almost ALL of the fancy gizmos (traction control, race ABS, quick shifter, racing exhaust, etc…) of racing at a price of the common offering?
Unless you're set with fat bank account or are a jet-setting bike journo travelling the world on invitation, I don't think the number will even reach one.
However, things were taking an opportune turn on Sunday, February 28th. Why? BMW Malaysia had brought in 14 S1000RR motorcycles with all the add-on kits mentioned above. They were opening the product launch and track test ride (dubbed "Welcome to Planet Power") not only to the media, but to racers, ex-racers and also the general public!
Totally unheard of and I have never seen any manufacturer promote an event like this for their newest bike in Malaysia  (Honda has on occasion, but only for their small mopeds or Cub series bikes).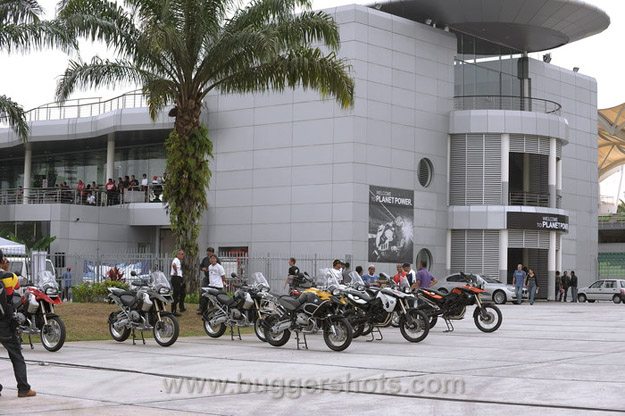 To top it off, it was done at the world class facility of the Sepang F1 circuit, with a fantastic lunch catered by the world class Concorde Hotel Sepang)!
There were even PlayStation consoles with MotoGP games for participants to brush up on the Sepang circuit. And there was more — free-flowing Red Bull was provided at no cost to keep the energy level up (not to mention thirst quenching, it was 40'C during that day) and the bikes were equipped with Metzeler Racetec K3 tyres for, well, I guess, corner angle enjoyment. What more can a non-bike journo guy dream about?!
Having never ridden a BMW motorcycle of any kind before, I was curious on how it would impress me — and I mean first impression. Is it really as good as the hype by journos and mags the world over? Did BMW manage to make a Supersports bike, bucking the belief that they're only capable of producing gentlemen tourers — sit-up-straight huge beasts that weigh more than four of my closest overweight 6 foot friends put together? I was skeptical…

Getting Ready…
Prior to the track launch, there was a road test on Wednesday, the 24th of February (which unfortunately I wasn't able to participate in) from Kuala Lumpur to Johor Bahru at the southernmost tip of Malaysia.
Two of my pals, Zack and Adlie, were roped in to get the job done. Both are racers in the Malaysian Super Series Superbikes Championships and Adlie, a riding trainer of a local superbike school, is the guest instructor for BMW.
The journey was done on the North South Highway, spanning 400 km and 800 km for a round trip. Staring at 6 pm, the crew was supposed to leave with 14 riders, but only 8 turned up. At about 3:30 am I received a text from Zack stating that they are back in Kuala Lumpur but it was a bit late to call and seeing the tone of the message shows that he was pooped, so I decided to check with him later in the day.

Precisely after lunch I called up both my pals and grilled them with the obvious questions. How was it like to ride? How was the acceleration? How was the ergonomics? Was the engine powerful? How about wind protection? Looks? Fit and finish? Sound?
The answer from both was a resounding positive emotion. They said that one notable trait of the bike was the smoothness of the engine — no sudden spikes in power, a strong midrange and a stomping top end!
They also mentioned that the delivery was akin to the benchmark in the one litre class, the Honda CBR1000RR. It was really well behaved like a kitten in the streets of towns they passed through yet had more than enough horses to blur their vision once on the freeway.
Riding position was a mixed reaction. While the feet were placed really comfortably, handle bar placement were in a lean forward stance with a slight longish reach to it, like a Yamaha R1. The tank had the width and shape that match the CBR1000RR.
From their words, I learned how easy it was to ride the bike, the engine being very well mannered and also with comfortable ergonomics. In a tuck position the wind protection was really good, deflecting not only turbulence but also wind noise, resulting in a relatively quiet ride, even at speeds more than 100 mph.
Fit and finish is definitely on par with bikes in this category; although not up to Ducati standards, it is really impressive to see BMW manage to get to this level of quality at the first attempt for a Supersports bike.
The guys also reported that the sound was well, ahem, very Japanesey-Yamaha-R1 sounding (pre2009), with a banshee like wail in the upper ranges of the RPM, which was quite impressive. So I guess it's a (two?) thumbs up for the Beemer in this part of the evaluation!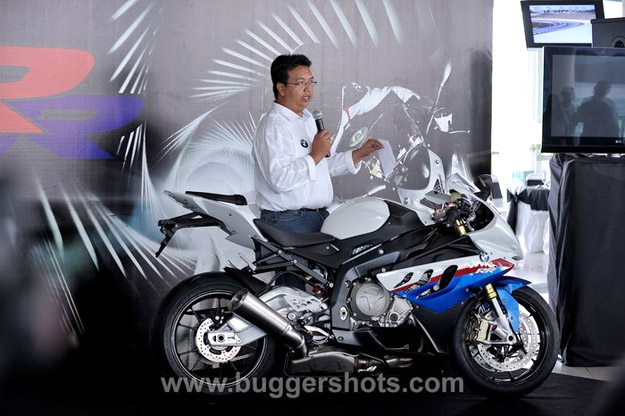 BMW S 1000 RR Track Day!
Now we get back to the track launch. I was really excited for the couple of days leading to the event. My brother Sani and I were told of the event by Adlie, BMW's guest instructor for that day. We waxed our gear (leathers!) till they shone and prepared mentally going through Sepang's turn over and over again. Went to bed early but couldn't sleep thinking about traction control, quick shifters, race ABS, lalalala…
The alarm of my mobile sounded at precisely 6:45 am and I was up and showered in a jiffy. My gear, already packed from last night, was ready to go and at 8 am we took off to Sepang. The registration was 11 am so we had plenty of time, even though the track is about 70 km from where we live. On the way we stopped by Zack's house (he wanted to go together), reviewed the bike some more, had chocolate energy drinks and off we go again.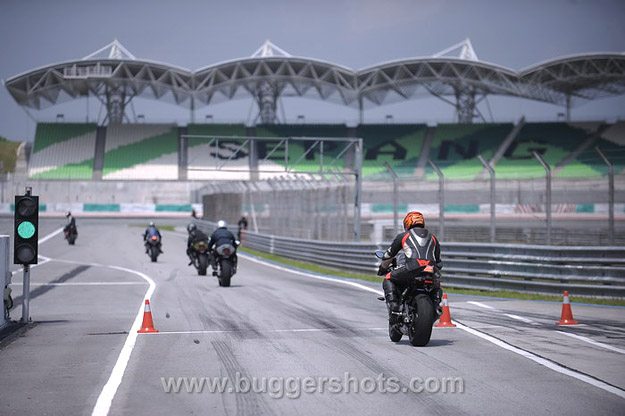 Reaching the track at precisely 11 am, we were totally surprised at how many people were there. BMW didn't advertise the event (only through forums and word of mouth) but it seemed that a lot of people caught the news and spread it like wild fire!
Earlier that morning there was a track session from 9 am to 11 am and there were many Singaporeans just finishing up and waiting for the S 1000 RR launch. There were even spectators!  Apparently those who came to test the bikes also brought along family members to shoot photos, and the grandstand was filled with quite a few people.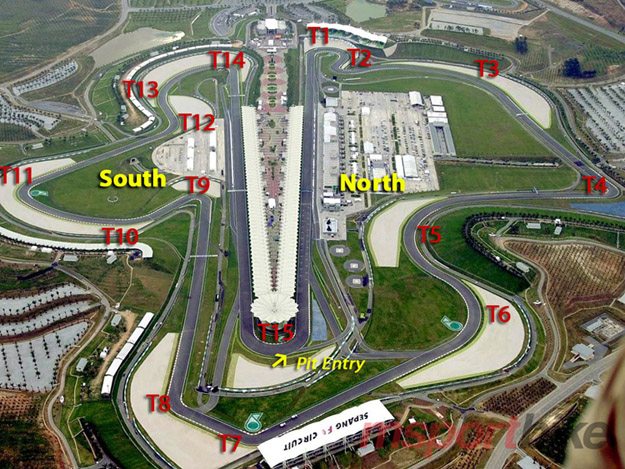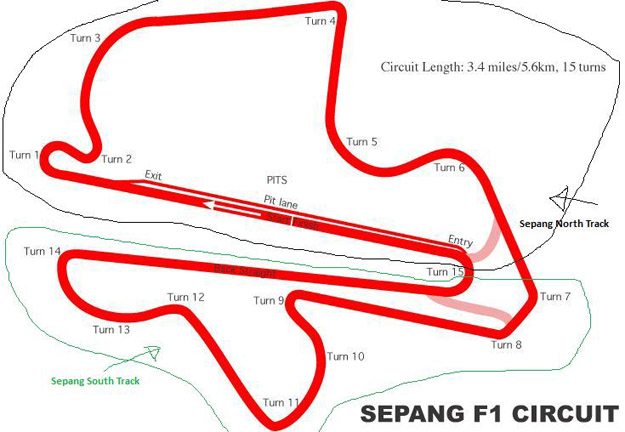 SEPANG STATISTICS
Pole Position : Left
Length : 5,548 meters / 3.447 miles
Width : up to 25 meters
Right Corners : 10
Left Corners : 5
Longest Straight : 920 meters / 0.572 miles
Track Day Briefing
At the registration counter, I registered under the "Racer" category, which was to begin at 12 pm. There were several sessions in the schedule, beginning with the media, and there were six sessions for all the other categories, consisting of racers and ex-racers, advanced, pre booked owners, novices and the last session was for the instructors.
Sani, who's has never ridden at Sepang before, signed up for the novice category. This would provide me with useful feedback on how track newbies were to evaluate the S1000RR.
Got our suits ready and warmed up, we were directed into the pit media room 23 for a track briefing and a talk on Metzeler Racetec tyres. The track briefing was done by Adlie, discussing flags, basic gears and speed on the track, and more interestingly, the traction control, ABS and quick shifter settings.
We were given the RACE Traction Control settings, with Race ABS switched on and the quickshifter with street pattern shifting. Most bikes were equipped with the Akrapovic slip-on.
Somebody mentioned about full SLICK traction control settings, and Adlie said that Race mode was more than sufficient for the kind of riding that we will be doing. Apparently we're still able to pull full power through all the gears, only that the traction control will cut in at more than 48 degrees lean angle. Slick will come on at 52 degrees, so I don't think anyone is going to get that far over, especially with the condition that we cannot overtake the instructor for our group.
Another thing is that we won't be able to wheelie (wheelie sensor) for more than 5 seconds, should the front wheel claw the air at 23 degrees or more angle. Again — is this a road or race bike?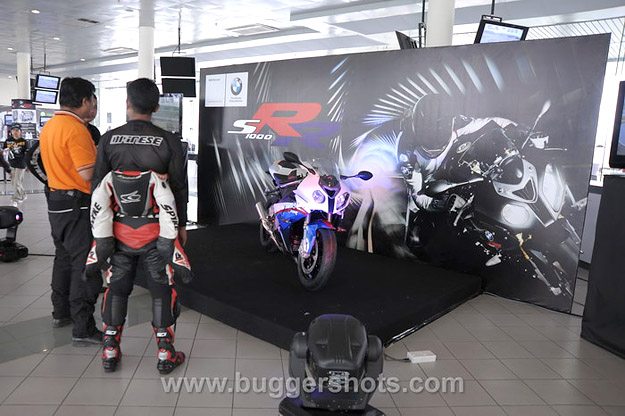 BMW S 1000 RR Tyres
The Metzeler technician, Frank, came all the way from Germany to brief us on the tyres. He briefed us on the history of Metzeler, that they only make tyres for two-wheeled vehicles, and being a German company has very close ties with BMW while building the S1000RR.
He talked about the zero degree belting and how it affects the tyre. By applying differing tension strengths to each individual spiral, they achieved different levels of grip and durability instead of using different compounds on different sections of the tyre, thus taking out the stepped feeling going from straight to lean.
He also mentioned that the tyre was impervious to heat cycles and operate on a broader range of temperatures. Finally, to reassure us, Frank said these are the same tyres used in the Superstock category in the British Superbike Championships. That's really reassuring!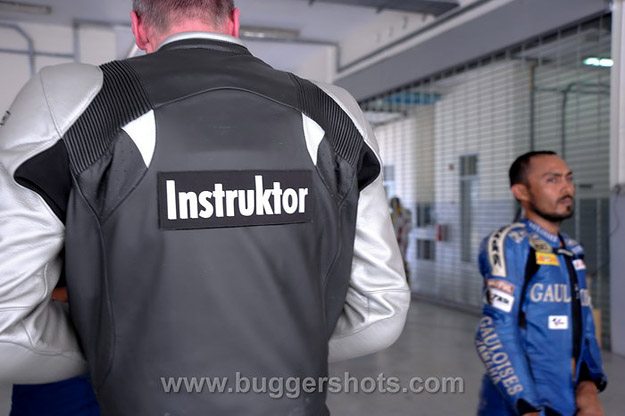 On the Track
Finally it was time to ride the bikes!  Headed to the pit and there they were — everything was shining, even the tyres, and it was all radiating a World Superbike presence!
Put on my helmet, and wait, the media is going out first!  We have to wait for five laps of the journos riding!  Took off my helmet and sat on the display bike in the middle of the pit. At least we're getting the tyres scrubbed in for us!
About ten minutes later the media group was back in the pits. Hooray!  The first group of four following an instructor went off. My group, identical in arrangement, was to go next, one lap later. They called my name and I was assigned a black beauty!
First things first, we were given 5 laps, and it was around the North Track, meaning that they have closed turn seven, therefore turn six turns back in to the main grandstand straight through the pit entry road, rebranded turn seven and eight. Total distance is 2.7 km. They also have the South Track, meaning the other half of the track, also about 2.7km.
But today for the public it's the North Track, while pre-booked owners of the bikes will get to do full track. Oh well, free bike, free track, free tyres (and lunch), it's more than what I could bargain for!

Mounting the bike, I felt my way on it. The feeling immediately seemed to cue with what Zack and Adlie said a couple days back — a tinge of R1-like wrist extension, with seating, tank width and position of the CBR.
I switched on the engine and two symbols on the clocks lighted up, quickly catching my eye. One was a handbrake sign (a car?) while the other was a spiral symbol. I raised my hand to the BMW personnel and he informed me that it is the Traction Control and Race ABS indicators, which will shut off once you start riding.
Blip the throttle and yes, it sounds like I was on a pre-2009 R1, blipping it higher in the rev range, it still sounds the same. Hmmm…the one I was on didn't have an Akrapovic slipped on, but even the bike beside me sounded similar.
OK so here we go!  Clunk the really smooth gearbox into first gear with the light, very good feeling clutch and we headed right into Turn 1.
Good thing the tyres were still warm!  Coming into the entrance I was expecting maybe a little heavy steering and cumbersome tank sizing resulting in a not-so-agile feeling in the S bends of 1 and 2, but how wrong I was!  The Beemer turned in so effortlessly and neutrally, at a gradually quick rate that leaning was a breeze!
Flicking it left into turn 2 proved so agile and light, belying its size and power!  The engine was so smooth and jerk free that you would swear this is a sports-tourer engine. No excess power and spikes that would upset your line or catch you by surprise. However flicking it up and right into the ultra fast downhill section of turn 3 proved that BMW did not release the bike with a dud engine.
Shifting into 3rd and immediately into 4th, the engine roared to life with such a strong midrange and before I knew it, the shift light is blinking at the entrance of turn 4, indicating 220 kmh on the speedo!
Another note here, many bikes that I have ridden at this very section would tend to drift to the left under the downhill acceleration heading to the right into the ascending turn 4, but on this bike there was none!  The excellent chassis and suspension really did their job. The ergos were well designed to let you move your body around and I felt comfortable positioning myself to tackle the corner.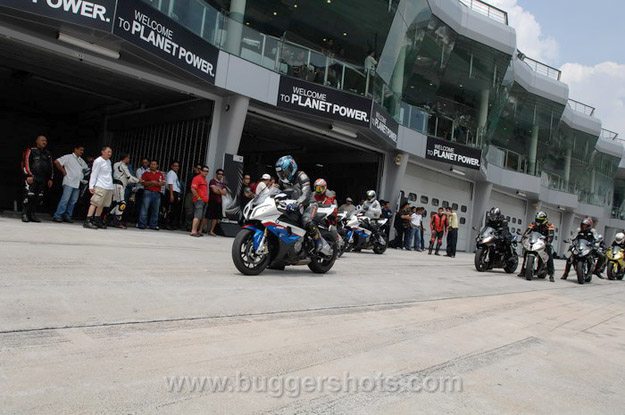 A short burst of speed and we're into turn 4. As I mentioned, a glimpse at the speedo showed 220 kmh and I two fingered the front brake, while downshifting 2 gears into 2nd gear.
Here I have to give any potential buyers a warning: even at the middle setting of the lever pull, it felt like I almost hit a brick wall!  Or is it the other way round!  The rear wheel went up slightly in the air and I slammed into the tank (OUCH!)
What I'm trying to say is the monobloc Brembo calipers are not toys — they're serious equipment to let you leave your braking as late, precise and strong as you dare and able to, and then a bit more. The brakes had great feedback and feel, but the initial bite was so strong and sudden that for mere mortals like me, was almost overkill!
Into turn 4, a 90' positive camber right hander ascending slightly into turn 5, a lefthander so blind you have to jump in with a huge dose of faith due to the short but strong acceleration burst from 2nd gear to 3rd gear. Again I praise the engineers for such a stable and planted front end.
Turn 5 lasts for approximately 5 seconds before flicking it into turn 6 and holding the apex into another slight right into turn 7. The suspension were almost spot on, just needing slightly more preload for the front to stop excess diving, but the rear was behaving really well, letting me dig in to turn 8, another right hander at about 80 degrees, leading into the 920 meter long main straight.
Holding third gear proved there was plenty of torque to pull the bike even in slow corners like turn 8, and as soon as the bike was upright I whacked open the throttle, sticking to the inside line to maximise grip and drive. Before you know it, the shift light was blinking, asking for another gear, while the bike just gobbled the near 1 km straight like a hungry sumo wrestler at the local KFC!
I didn't imagine that such a docile bike can be so brutal and fast revving in the same engine map!  Everything was in space warp mode and a few seconds later, I was at the 200 m braking mark. Again taking a glimpse at the speedo, it showed 250 kmh in 6th gear, and I two fingered the front brake.
Nope, still too much power and as I pressed the rear pedal for traction feel, unfortunately there was none as the rear wheel was in the air again!  I found that I had wayyyy too much space entering turn 1!  This meant I had to get more speed in the front straight or brake later, in the preceding laps.
As I got more laps in, my confidence in the whole package allowed me to go faster and deeper in every turn, with surprisingly not as much anxiety and wear and tear, due to the ease of operation of the engine, the extremely neutral and stable handling and telepathic braking capabilities of the bike.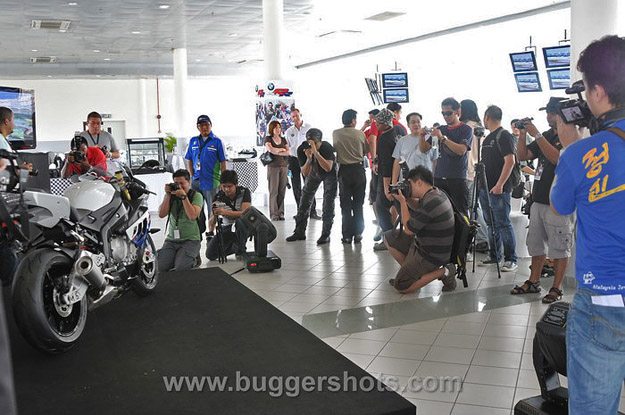 Just as I was enjoying the bike some more, the five laps ended and we were directed back to pit lane . I took some feedback from other riders and all commented on the same thing, ease of use of the engine, confidence inducing neutral handling, agility belying a 1000 cc fire-breathing World Superbike contender and stonking brakes.
They also agreed that BMW had built a bike that is at least on par with Japan and Italy Inc. production, with a trick or two up its sleeve such as Traction Control, Race ABS, quick shifter and some other features that I'll explain later. They also agreed with me on the good manners of the bike at low rpms, docile and tractable, while at higher rev ranges it was an absolute beast!
It was all thumbs up so far but I still wanted to find out more, so I haggled for one more session, and they included me in the five o'clock instructors' session. Thanks Adlie!
I haggled for one more session, and they included me in the five o'clock instructors' session. Thanks Adlie!
Break Time!
The clock shows 1 pm and it was lunch time!  The organisers had prepared a sumptuous spread of local cuisine and delicacies, pastries of all kinds, varieties of cakes and juices galore, pumping our fuel back in.
I had to watch what or how much I ate though, didn't want a full tummy spoiling my next ride. It was a wonderful lunch complete with waiters and servers, conveniently organised in the air conditioned media hall on the 2nd floor above the pits. Kudos to Concorde Hotel Catering for the delicious menu.
We had our fill but the clock is only showing 2:30 pm. While I have to wait about 2 ½ hours, Sani's session begins 1 hour earlier at 4 pm. I consider him lucky, as I mentioned that Sepang was under 40 degree C temperature!
I have to reiterate here the excellent Metzeler Racetec K3 tyres performed flawlessly after 10 laps on the scorching track. By 4 o'clock the temperature should go down substantially, with a possibility of rain, as is usual here at this time of year. Perhaps we'll be able to test WET mode?
ABS Testing
While waiting and chit-chatting, we headed over to the make shift ABS testing facility. Located at the parking lot near the entrance to the last pit, it was a rectangular area made up of two run-off strips. One was splashed with soap water and the other a dry area.
Riders are to run through the slippery soapy water on the first run then go to the dry strip at a fast pace and apply the brakes as hard as they dare . It was an impressive sight to see how hard they were braking, with some riders hoisting the back wheel and almost bottoming the front inverted forks, with not even a slide!  To top it all off nobody even overshot the strip. Very impressive indeed!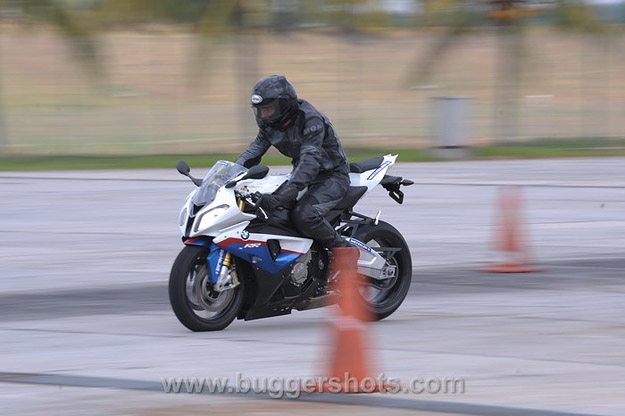 The clock is now showing 3:30 pm and Sani geared up. Saw the excitement in his face as he mounted a blue/white World Superbike S 1000 RR replica and thumbed the starter.
This group had seven riders and one instructor, making it eight all together. Out they all went and I waited for 5 laps for him to come back in. Once back I could see a big grin on his face through the helmet, raving exactly what the other testers had gone on about. Very smooth power delivery, neutral cornering and overkill brakes!
Yet even for a novice track rider, Sani explained that the whole package delivered an unintimidating ride and he had plenty in reserve to push more. The feedback from the six other novices emitted the same thing.
Back to the Track
5 o'clock finally!  Guest instructor Adlie fired up the lead bike while Zack, Lan and I followed suit. We headed out of pit lane, intending to give a harder beating of the bike. Zack stalled the bike before the pit exit, and here's a feature, it won't start unless you're in neutral gear!  Leant into turn1, I followed Adlie into turn 2, sped into turn 3 and the tyres felt good enough to go faster.
My intention in the next few laps is to test the traction control, so concentrating on my lines until the main straight; I recapped on-bike quickly the session earlier.
Reaching turn 1 after blasting through the main straight, I leant more and more until my right knee puck started digging and grinding deeply onto the asphalt. The thing to note here is that the bike leans in gradually and neutrally. While taking it lower required a bit more muscle, it was still agile and flickable.
BMW Traction Control
Gauging it at about 40 degrees over, I opened a significant amount of throttle (read huge) and surprise!  Expecting an uncontrollable lunge, the bike did nothing, except a gentle push forward. Hmmm, is this the TC kicking in? Actually it was and this is what I think every manufacturer will follow; gradual traction control.
The traction control — get this — comes in GRADUALLY up to 48 degrees in race mode and 52 degrees in slick mode, and recedes the same way as the bike straightens up!  BMW designed a system with a "centrifugal sensor" under the seat, sensing lean angle and applying engine retard gradually to stop intrusive/obtrusive feeling according to lean angle. Talk about intelligent!  To confirm I took another shot at testing this in the fast approaching turn 2.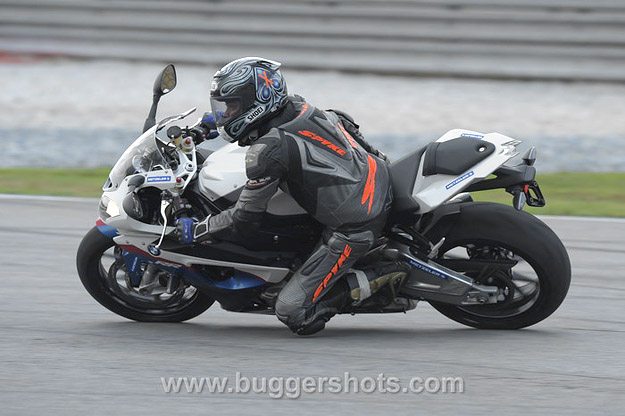 Laying it deep and countersteering the bars while digging in the left foot peg, I ground my left knee puck really hard while hanging my bum way off. I waited for about 2 seconds to assure a good lean angle and just whacked open the throttle.
There was a slight tick, tick sound coming louder and harder as I opened the throttle more, and that's it!  Under normal circumstances, it could've been an ambulance ride home, high side time!
There was a lag but the engine still had slight drive and as I pulled the bike up for another right entering turn 3, the engine picked itself up as though nothing had happened!  I replicated the sequence in the next lap and yes, exactly the same rescue operation on the part of the engine happened. The TC not only works, but worked intelligently, coming in gradually as the lean got deeper and going off gradually as the bike straightened up. Marvellous BMW, this system is so seamless and almost transparent, it's so easy to modulate.
Most important of all, it may say save your skin in many rider induced error or emergency/unpredictable situations. Confirming this feature I decided to concentrate on the Race ABS, where on the main straight for the next few laps, I exited turn 8 as fast as I could, and blasted through the tranny for maximum top speed.
Remembering my lesson in the first session, I one fingered squeezed the front lever with control and authority, later and later each preceding laps, but still found that I have acres of space to enter turn 1. I guess the brakes won't be on the limit today, maybe a racing situation will (or wont) see to it. Not a hint of fade and the lever was still as firm as when we started the first session!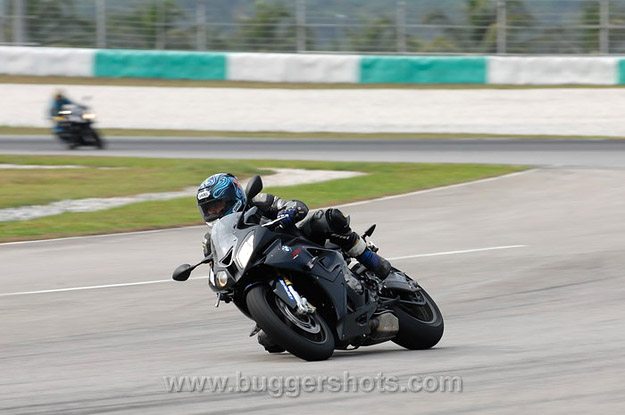 Slipper Clutch
Another thing that nearly slipped my mind was the slipper clutch. I have to say that this is one of the best set-ups I have ever sampled. Banging down hard any number of gears from any position, the rear tyres never fish tailed or even moved — throttle blips to downshift are totally unnecessary.
Coming down from 250 kmh to 80 kmh from 6th gear to 2nd on the nearly 1 kilometer main straight entering the 180-degree turn 1, it was just so seamless and smooth shifting down.
The quick shifter was in the same league as the ABS. Just hook up the gear lever (as easy as riding a clutchless moped), no clutch pulling and throttle closing action needed whatsoever.  Also noted, in a tucked riding position, BMW has managed the aerodynamics well. It was calm and relatively quiet under the screen and chin on the recessed sloping tank. Almost relaxing!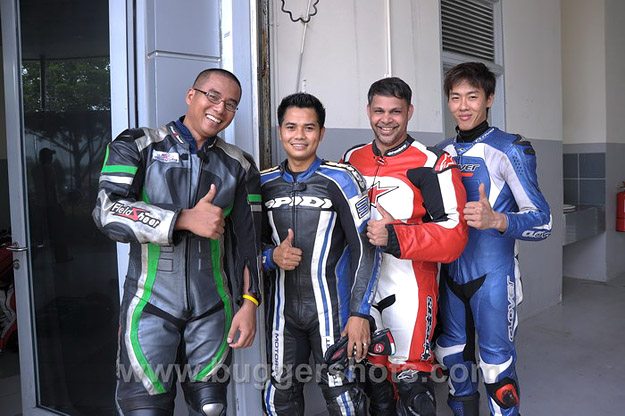 By now the six laps were up and I turned into the pits. Upon parking the bike, I took a look at the tyres . Usually a rider who likes late braking and ham-fisted corner exits will get the tyres bruised and chunking. The inspection showed the tyres were almost smooth and had plenty of rubber left even after close to 50 laps around Sepang, both North and full track in flaming hot and humid conditions for the whole day!
I have more respect now for the BMW engineering team and Metzeler's technical capabilities in producing such excellent products. Both these brands have left a good impression not only on me but also everyone who rode them today.
To top it all off, all racers and ex-racers were handed a special goodies pack consisting of an exclusive S1000RR Planet Power T-shirt and, get this — S1000RR titanium cam follower key-chains!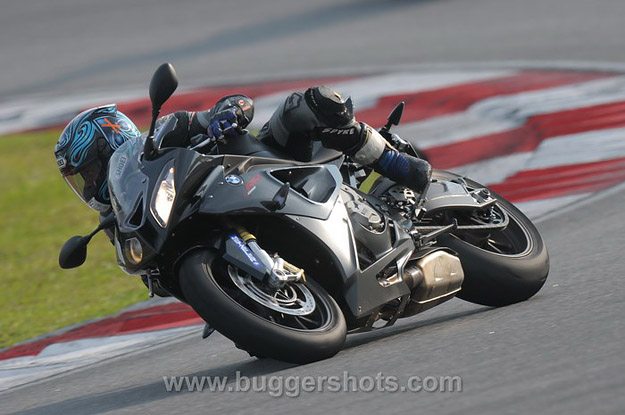 Conclusion
There you have it. Opinions from experts, racers, newbies and the general riding public. This bike doesn't cater for the usual experienced riders and power hungry racers only; it also fits newcomers to the sport riding fraternity.
Not only does it help with its easy-to-use power, predictable and neutral handling, it will give more confidence in skill building with technological automation and error correcting features that will get them out of trouble.
Aesthetics wise, everyone agreed the S 1000 RR is a handsome bike, with fresh design angles and non conformist asymmetrical look concept. The sounds it produced are typical in line four rumble but the note is pleasingly wailing as the revs climb.
If you wanted something that truly fits the notion of form follows function, and vice-versa, look no further, maybe just as far as your favourite BMW dealer. Now what can I mortgage for the RM110,000 asking price…?
More:  wBW Motorcycle Reviews Directory
▪ BMW S 1000 RR Final Specifications and Photos
▪ Planet Power YouTube Video
▪ BMW S 1000 RR Ride Report
Note: For informational use only. All material and photographs are Copyright © webWorld International, LLC – 2000-2013. All rights reserved. See the webBikeWorld® Site Info page. NOTE: Product specifications, features and details may change or differ from our descriptions. Always check before purchasing. Read the Terms and Conditions!
Owner Comments and Feedback
---
From "J.H." (5/10):  "I loved the great reviews done on this bike. Fantastic. It truly is an amazing accomplishment by BMW. Congrats to them.
I'm a Hayabusa owner myself and while I would never change from that I am very pleased to see someone come along and up the stakes a little in the super bike arena. I think that's great. Its like the old saying goes, competition breeds innovation, lack of competition breeds complacency.
Can't wait to see what Suzuki and the others do to answer this, admittedly, enormous challenge. Congratulations BMW. You deserve a lot of praise for this one!"
---
From "J.C." (4/10):  "Hey Yahaya, great article!  A fantastic account of a great day. I had a blast too – check out my "First Impressions" piece from the same event. Full road test in the works!"
---
From "D.W." (3/10):  "Wow, simply wow. Love the looks of the bike, and that sounds like a heavenly day. Now if I could just mature enough to have that bike and a license at the same time…. 😉 "
Other WebBikeWorld Brands Posts