BMW has finally revealed its Scrambler concept based on the R nineT in a direct counter-punch to the trendy new Ducati Scrambler.
As predicted in April, the "Concept Path 22" is based on the BMW R nineT and a production version shouldn't be too far behind.
The bike was showcased at the fourth annual Wheels & Waves Festival in Biarritz, France, hence the images with the surfboard which is very Deus Ex Machina, as well.
"Path 22" refers to a secret European surf spot, inaccessible to cars, on the Atlantic coast of southern France near Bairritz, half an hour's walk through one of Europe's biggest pine forests. The path leading to this spot bears the number 22.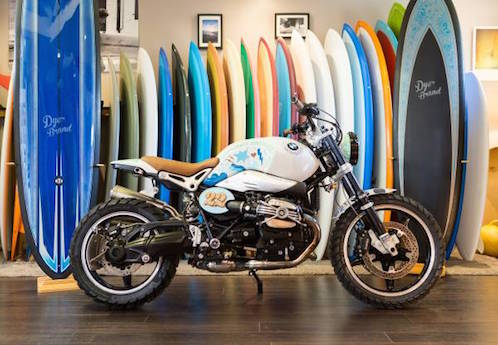 While the original 1950s scramblers were tiny bikes with off-road capabilities, the modern versions are more about style and have the ability to tackle roadworks with partial knobby tyres, longer-travel suspension and higher-set pipes.
BMW's version of the modern-day scrambler is the biggest capacity scrambler we have seen yet with a 1200cc engine, compared with the 803cc Ducati and 865cc Triumph.
We're not sure whether the BMW scrambler would make it down that sandy forest track!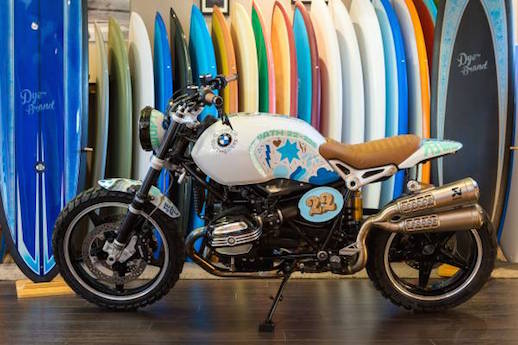 If you wanted to do that, you might be better off with one of their GS models.
Still, it's a decent style exercise and will no doubt sell a bundle if the enormous sales successes of the R nineT and Ducati Scrambler are anything to go by.
Like the Concept 90 that later became the R nineT, it is a joint project with Roland Sands Design of LA.
The bike is a cut-down version of the R nineT with stainless-steel Akrapovic pipes, Öhlins suspension, Gilles Tooling, indicators in the handlebar ends, the MotoGadget digital instrument panel (a bit too modern, but again like the Ducati Scrambler) and RSD contrast-cut milled parts.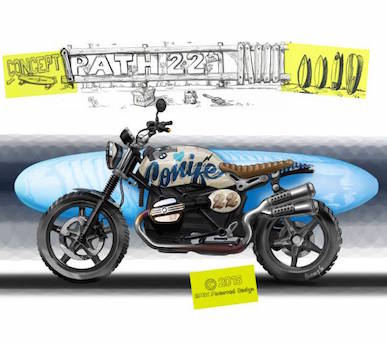 BMW also enlisted the artist Ornamental Conifer and the surfboard shaper Mason Dyer of Dyer Brand to be involved in the project.
Although we expected a spoked wheel like the Triumph Scrambler, Path 22 features a five-spoked wheel, much like some of the Ducati Scrambler version.
It is believed the Scrambler will be one of several model versions base don the R nineT and the first production model should be shown at the Milan motorcycle show later this year.
BMW Motorrad has also announced a 6.5% increase in total sales in May 2015 to 15,004 compared with 14088 in the prior year. The strongest growth is in Europe and Asia, while China recored 100% growth in sales, with 1100 units. In 2014, the BMW Group sold 123,000 motorcycles worldwide.