Spy photos of the production version of the BMW R 18 cruiser prototype that dropped jaws earlier this year now comes with an oil cooler, longer pipes, bags and a fatter front tyre.
We expected there would be some differences between the beautiful and simplistic prototype and it seems engine cooling for emissions regulations will be the real spoiler of the production model.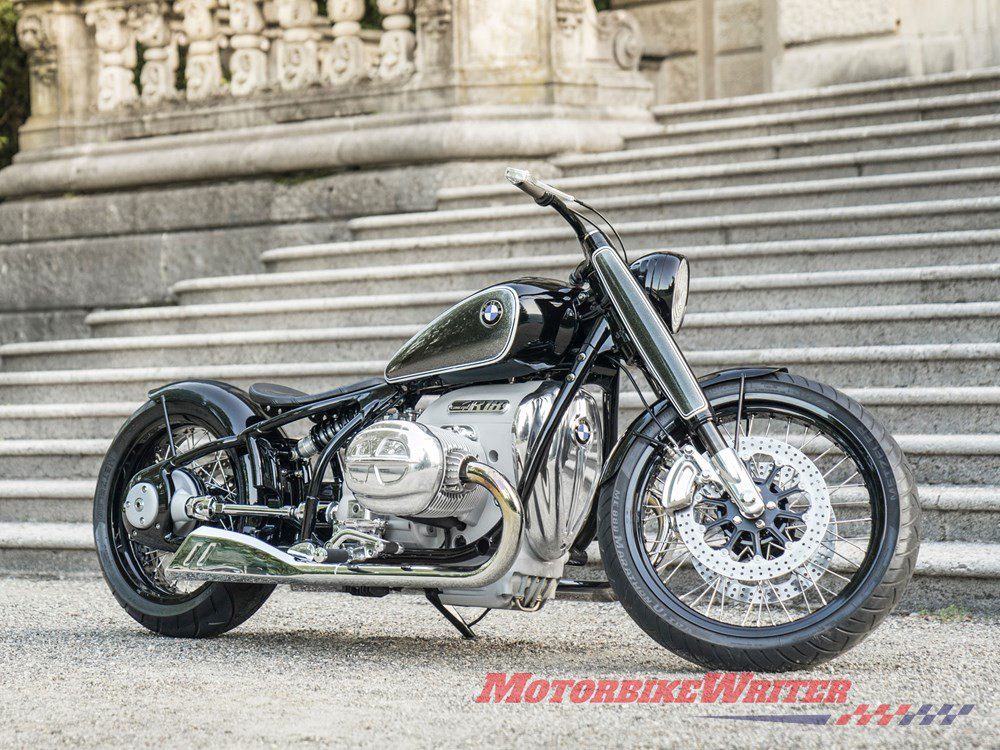 No surprises there.
The production version is expected to be unveiled at the EICMA motorcycle show in Milan next month.
Spy photos
We're not sure where these spy shots came from as we have seen them on many websites, each with their own watermark over them. These are all from Motorcycle.com who say they "received them".
Unfortunately they don't show all of the bike as it is loaded on to a truck with a blue tarp covering most of the machine.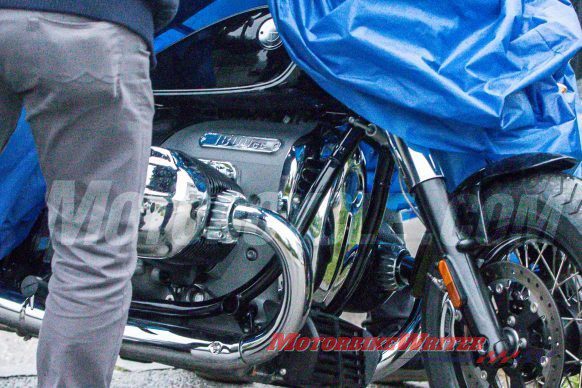 However, we can see the 1800cc boxer engine is pretty much the same as the prototype, except for that oil cooler and, of course, EFI instead of the carburettors on the prototype.
That chrome-fronted engine is going to cop a lot of wear from stones thrown up from the front wheel!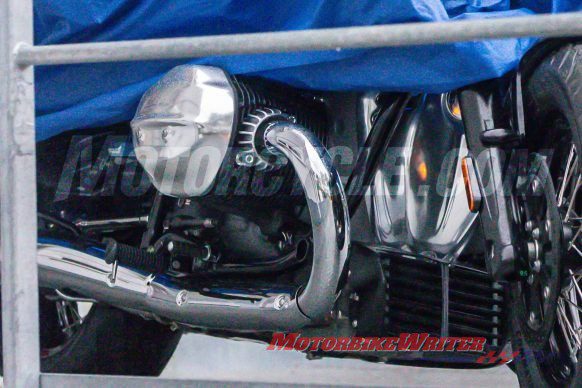 We can also see the pipes are much longer and the front wheel is smaller with a fatter tyre.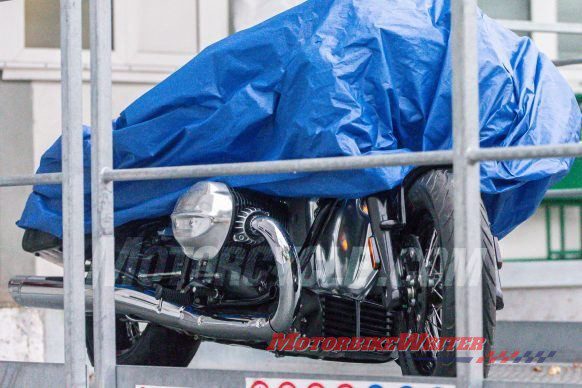 The prototype front wheel has a 21-inch wheel with a 110mm or 120mm tyre. The production version is likely a 17 or 18-inch with a 130mm or wider tyre.
Like the prototype, the front wheel has twin discs and spokes.
Because of the changed wheel geometry, it seems the front forks may also be a slightly tighter rake and trail.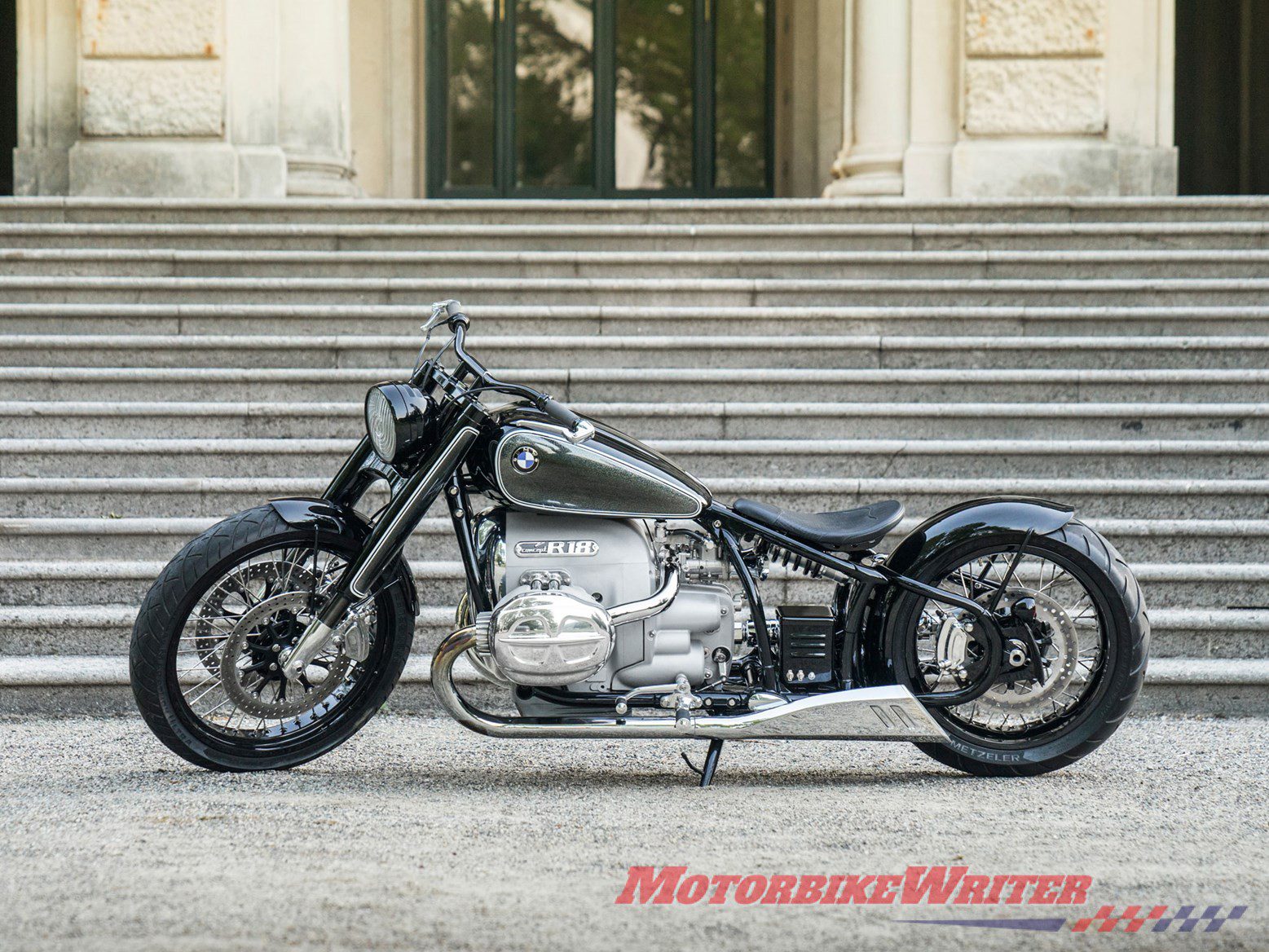 BMW designers have thankfully retained the lovely drop tank, exposed chrome-plated drive shaft and the simple steel cradle frame.
Let's hope they have also retained the single, simple, lamp-shaped headlight.
Obviously the production version will have indicators, instruments and mirrors that the concept didn't. And we doubt those back-to-front levers will be used.
Two versions
There appear to be a couple of versions of this bike; cruiser and tourer.
In some photos we can see a rear seat, rather than the prototype's solo saddle and there are even leather saddlebags and a tall windscreen.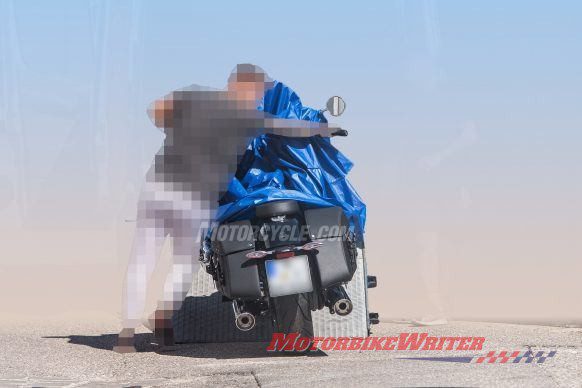 We suspect that these photos are not really "spy" pix, but carefully orchestrated leaks to keep interest high in the lead-up to EICMA.
The partially exposed bike is a dead giveaway. Why only put the tarp over part of the bike covering the same parts on both types?
Order now!
Pre-bookings have already opened around the world and a range of heritage gear to natch the bike has been released.
BMW Group Australia spokesman Nick Raman says customers are champing at the bit for the cruiser.
"Orders have been taken at a dealer level for a production equivalent of the R 18," he says.
"The deposit amount is at the dealer's discretion, bearing in mind pricing and specification detail have not yet been released.
"We are however very pleased with how the pre orders are tracking."
BMW R 18 cruiser timeline
BMW has been teasing us with a return to cruisers since December 2018 when a Japanese custom shop wheeled out an R18 with a mysterious new BMW engine.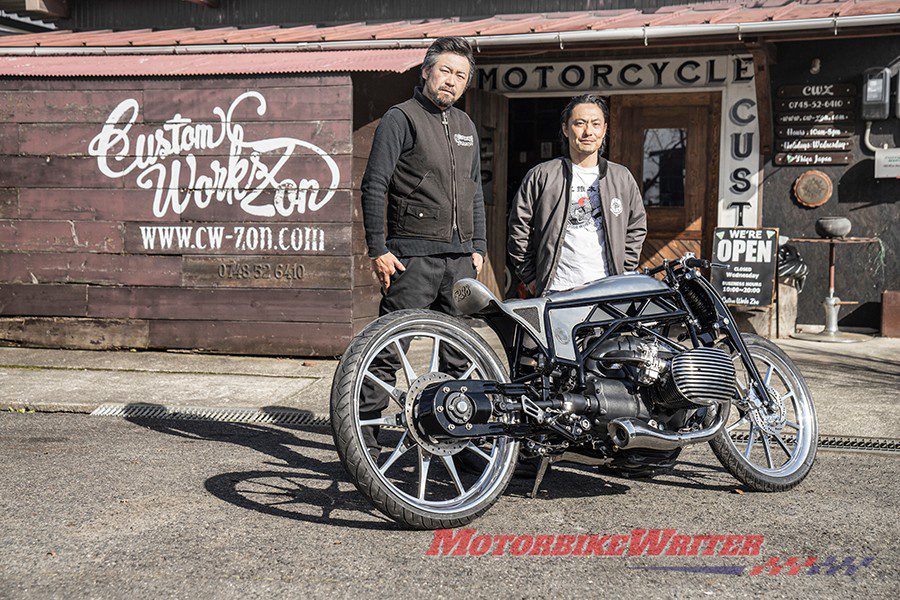 In April 2019 a second cruiser concept with the engine was rolled out by a Texan custom shop.
Then BMW wheeled out their BMW R 18 cruiser prototype at the 90th the Concorso d'Eleganza show at Lake Como in Italy.
There are no details, no tech specs and not even a confirmation that it has an 1800cc boxer engine, but it does look big enough.
The biggest Beemer boxer engine yet is believed to be 1798.4cc in an over-square configuration (107 x 100mm).
The Concept R18 cruiser was built for BMW Motorrad by Unique Custom Cycles of Sweden.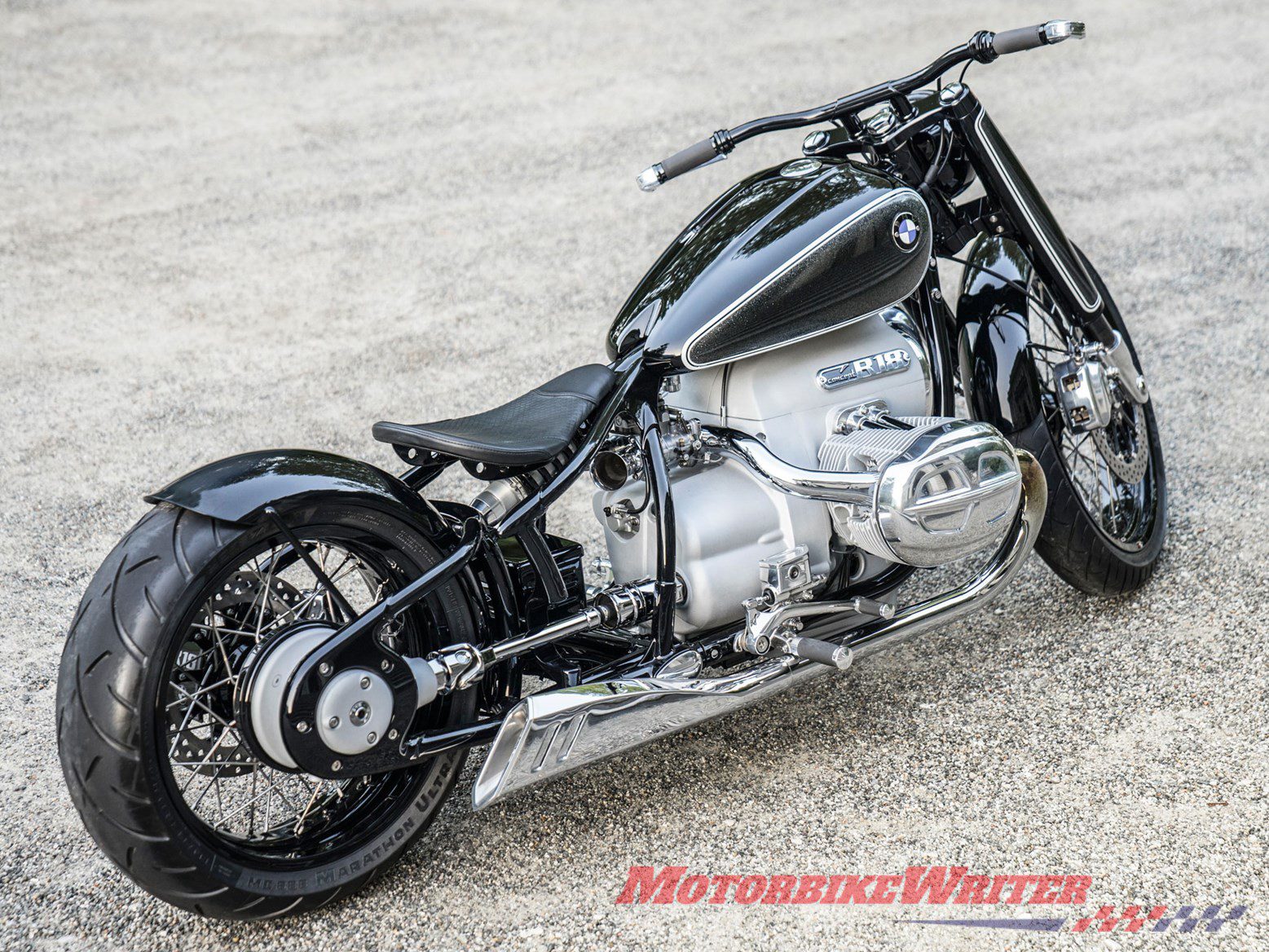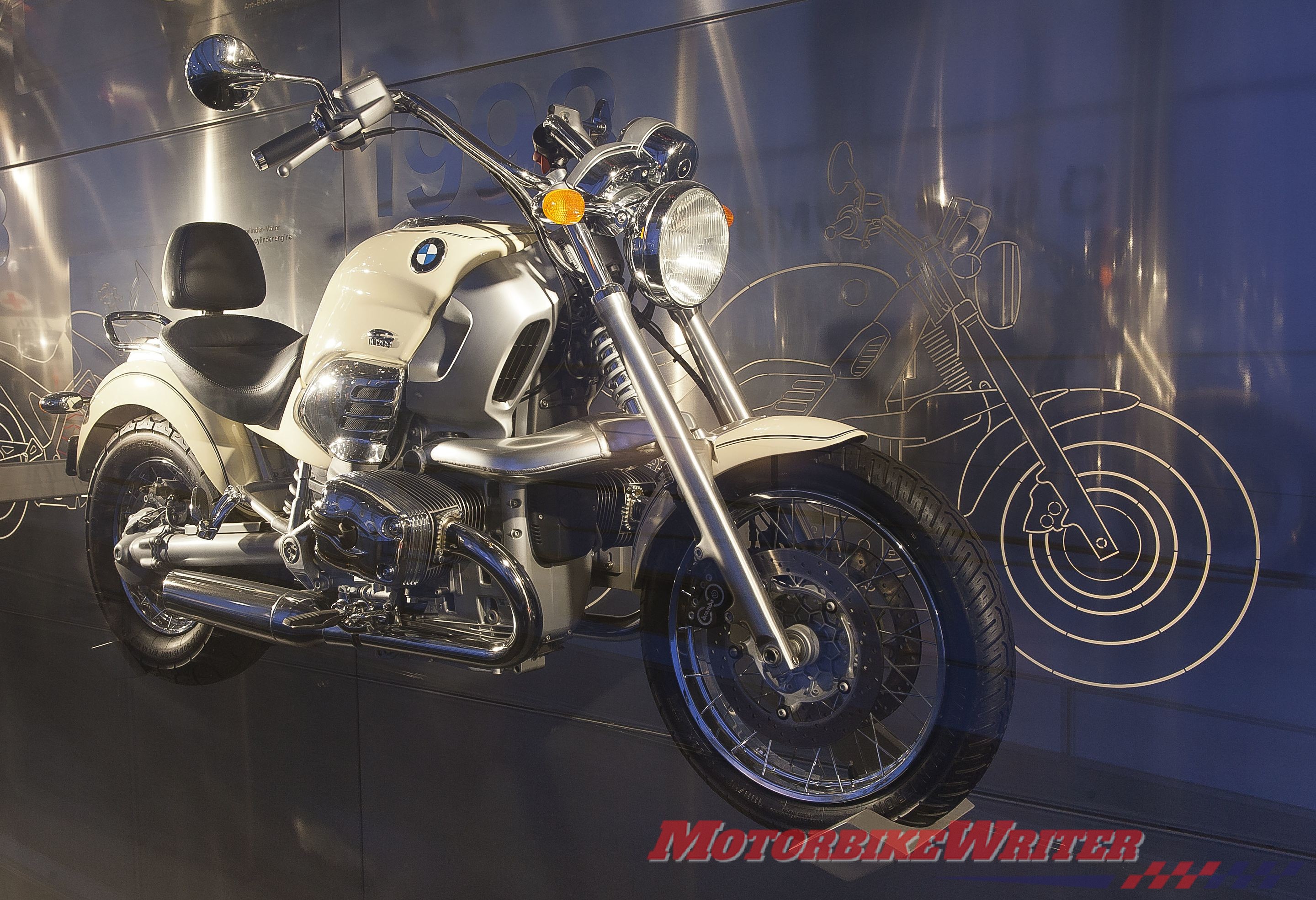 BMW only built the R 1200 C cruiser from 1997 to 2004. In recent years, it has become a collector and customiser favourite.