Several visitors have written to us over the last few months asking for recommendations on a motorcycle cover for their BMW motorcycles.
The majority of the emails inquired about a basic motorcycle cover for use in the garage during long-term storage.  The cover did not necessarily have to be waterproof, and it didn't even have to be a BMW brand, but they wanted the cover to be "non contact" to prevent scratching.
Is there such a thing as a "non contact" motorcycle cover?  Hmmm….  I don't thinks so, unless you count one of those inflatable motorcycle garage cocoons that can fit in a garage.  Some of them can even be filled with inert gas for really long term storage!
I wasn't sure which type of cover to recommend, but it just so happened that Roadgear sent us a couple of samples of their new "Hibernator" motorcycle cover recently.  The Hibernator fits BMW motorcycles but is not BMW-specific.  It comes in three sizes, "Sport", "Jumbo" and "Mega".
The Mega size fits big touring bikes like the BMW K1200LT.  It's larger than the Jumbo and also has a larger "pocket" that will fit over the big K-bike's windscreen.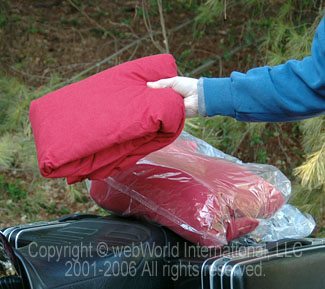 The Jumbo size works well on Rick's 1986 R65 shown here.  The bike has a BMW "S" style fairing, and it's set up pretty much like a slightly smaller scale R90S.
I probably could have used the Sport size to fit the R65, but the Jumbo works fine and has the added benefit of also fitting the Tiger, although the Tiger almost never gets a bath or a cover, befitting it's tough-guy persona.  The R65 is different, because it's now 20 years old, a true vintage bike!
To get an idea of its size, we tried the Roadgear Jumbo motorcycle cover on a few different bikes.
It's a bit too big for a Ducati Monster (the Sport size would probably work better), just about right for a Multistrada or a Triumph Daytona 955i and it also fits the Triumph Tiger, both the "Steamer" and "Girlie" versions.  If you don't know the difference, you need to get on the Tiger train!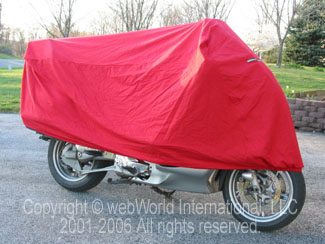 The covers are made from very soft flannel material in the U.S.A., like most Roadgear products.  The covers are very easy to put on and take off, which is a plus.
We previously had the R65 covered with an old twin sized bed sheet, and although it's easy to put on and take off, it slides all over the place at the slightest breeze.
The covers also have the Roadgear logo, which is usually found as a strip of reflective tape on most of their products.
The Roadgear covers have strips of elastic sewn in at the front and rear.  It's just enough elastic to hold the cover on, but not enough to make it too hard to get the cover on over the bike.
It's always a good idea to wash and wax a motorcycle before it's put away for storage during the winter, because even the softest material may scratch the paint if it's dragged over a dirty surface.
The Sport, the Jumbo and the Mega can be considered permanent garage dwellers; they're not designed to be carried on the bike and used outdoors.  But they work perfectly for dust-free garage use and the sizes will fit most bikes, both modern and vintage.
Note:  For informational use only.  All material and photographs are Copyright © webWorld International, LLC – 2000-2011.  All rights reserved.  See the webBikeWorld® Site Info page.  NOTE:  Product specifications, features and details may change or differ from our descriptions.  Always check before purchasing.  Read the Terms and Conditions!
Product Review:  Roadgear Hibernator Motorcycle Cover

Available From:  Roadgear
Suggested Retail Price:  Sport – $69.90; Jumbo – $79.90; Mega – $99.90
Colors:  Roadgear Red
Made in:  U.S.A.