The BMW G 650 GS Sertao is just the right size if you ask me.
It doesn't make a lot of sense that adventure bikes are becoming bigger and heavier. Do we really need a 1200cc battleship to run across the outback? 
One of the service station operators at Birdsville told me he was sick of having to rescue riders on 1200cc machines from the Simpson Desert.
Out the back of Bourke, they're mainly riding single-cylinder 650s which is the ideal size – enough comfort for the long haul, enough power and torque for sand, light enough for manhandling through bogs and easy to fix with their single cylinder and chain drive.
A lot of serious riders think the same, which is why the Kawasaki KLR650 is our top-selling adventure bike and the top 10 also includes the bullet-proof Suzuki DL650A, Yamaha XT660Z and, in 10th place, the BMW G 650 GS Sertao.
Sertao is Portuguese for outback and GS is German for "gelande strasse" (off-road and road). 
And that's exactly where it belongs; on some scrappy, bulldust road in Australia's outback, or any other trail around the world.
This bike embodies the true spirit of more than 30 years of GS adventure riding and is one of the most popular bikes among adventure travel companies.
The venerable 650 GS has been a major part of that adventure with its simple and robust single-cylinder engine and nimble yet rugged chassis and build. It has been toughened further for more adventurous adventures with the Sertao.
At the heart of the GS is the single-cylinder, fuel-injected, liquid-cooled engine which is now made in China under licence to BMW.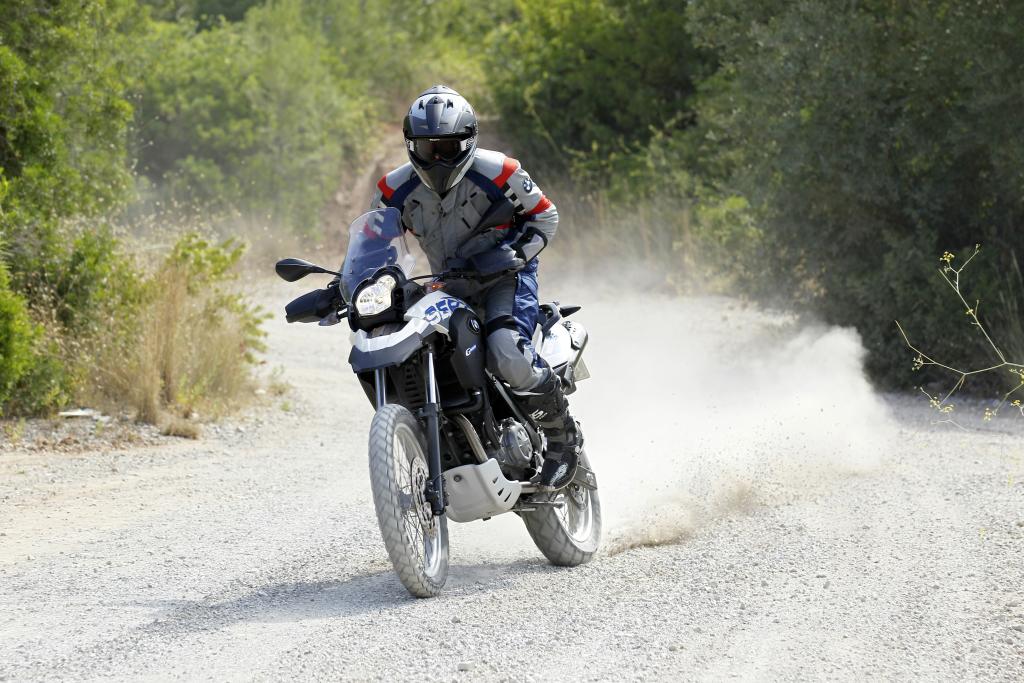 Thanks to its low weight, it will rip off a standing start to 100km/h in 5.7 seconds and still spin out all the way to a top speed of 170km/h. Yet it sips fuel miserly and, if you are careful, will achieve range of more than 400km from its 14-litre fuel tank.
The Sertao is distinguished by its white and blue livery which is reminiscent of the old Dakar models. But it's the substantially longer spring travel (210mm versus 170/165mm), and skinny wire wheels with a 21-inch front that makes this design more off-road friendly.
The GS comes with a standard 800mm seat, a 770mm low option and a 840mm high seat, while the Sertao has an even higher 860mm seat as standard and a 900mm option.
Since most off-road riding is done standing up, the higher the seat the less you have to move from seat to standing position.
Despite the longer wheelbase and suspension travel, the Sertao is only 1kg heavier.
Other differences from the standard GS are a luggage carrier in black, extended top front wheel cover, higher windscreen, hand protectors and alloy engine guard.
As usual, BMW has an extensive range of accessories such as heated grips, charging socket with LED light, crash bars, and luggage.
The switchable BMW Motorrad ABS has been around for quite some time and it's been tweaked here for off-road use.
It works so well you simply never need to turn it off, even in slippery mud or clay. There are hazard warning flashers if you do disengage it.
An alarm system is also available as a factory accessory.
The Sertao is a comfortable, all-day bike even though the seat is low and the pegs are high. Tall people may feel a bit cramped but off road you tend to stand a fair bit, anyway,
In the standing position, your head is perfectly aligned with the triple clamp which is great for balance and feel.
One word covers this bike – soft. But that's a good thing. The power comes on softly so you don't break traction suddenly and the brakes have little initial bite so you don't lock the wheels in the dirt too easily.
The suspension is also soft to absorb the biggest hits and the steering feels slow and steady. This translates to a very predictable and safe bike in all conditions.
At $12,700 it's not cheap for a single-cylinder bike with the KLR 650 at just $7999 and  Suzuki DL650A at $10,990 with ABS.
However the Sertao has a more robust frame, more comfort, more features and a lot of quality BMW factory accessories.
Value is also in long service intervals and legendary bullet-proof performance which is essential in the isolated outback.
It is also a learner-approved motorcycle.
Not everyone who goes bush wants to wield a 1200cc behemoth through the bulldust like Charley and Ewan. The Sertao is an affordable option for those who want to go further and deeper into the outback without sacrificing much touring comfort.
BMW G 650 GS Sertao
PRICE $12,700
WARRANTY 2yr/unlimited km
SERVICE 10,000km/12 months
ENGINE 652cc, single, 35kW60Nm
TRANSMISSION 5-speed, chain drive
BRAKES, 300/240mm single discs, ABS
TYRES 90/90 R21; 130/80 R17
DIMENSIONS 2185mm (L), 920mm (W),
WEIGHT 193k
FUEL 14L tank, 3.2L/100km (at 90km/h)