BMW Motorrad Australia is recalling Indian-made G 310 motorcycles and new C 400 scooters over a problem with rusty brakes.
In an unusual official recall, issued through the Australian Competition and Consumer Commission, BMW blames road surface conditions for the problem.
"Due to road treatment conditions, such as aggressive salt types or significant usage, surface corrosion could occur within the un-anodised brake calliper piston bore," the notice says.
Rusty brakes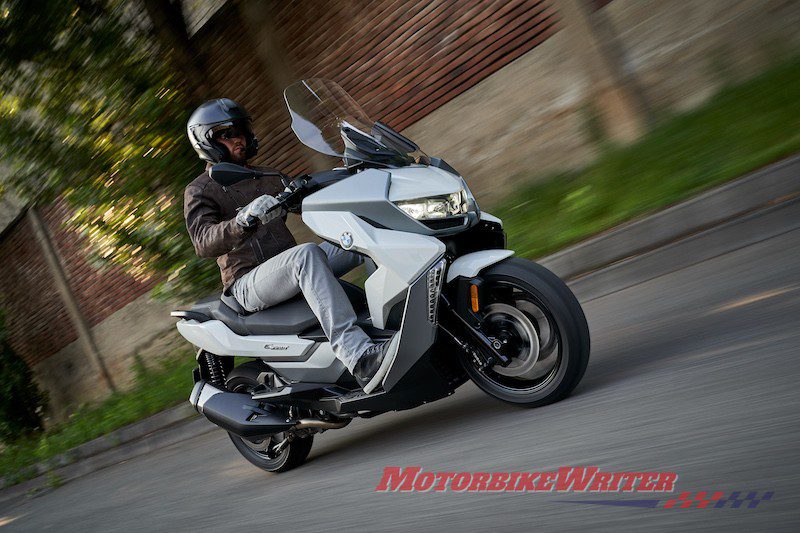 "Corrosion on the surface of the brake calliper could impair the piston's clearance within the bore, affecting brake performance and posing a risk of an accident and serious injury to the rider and other road users."
It is surprising that any vehicle is released with "un-anodised" brake callipers.
BMW advises owners of 2017-2019 G 310 GS (K02), G 310 R (K03), C 400 GT (K08) and C 400 X (K09) to contact an authorised BMW Service Centre or call the BMW Group Customer Interaction Centre on 1800 813 299 to arrange a free repair.
A full list of the Vehicle Identification Numbers of the 573 vehicles that could be affected by rusty brakes is included at the end of this article.
Consumers can also contact BMW Australia via the BMW Motorrad Australia Website.
In July last year BMW recalled 780 G 310 models over faulty side stands.
Even though manufacturers and importers contact owners when a recall is issued, the bike may have been sold privately to a rider unknown to the company.
Therefore, Motorbike Writer publishes all motorcycle recalls as a service to all riders.
In Australia, recall notices are issued by the manufacturer and the Department of Infrastructure through a voluntary industry code under the Australian Competition and Consumer Commission.
While any recall is not good news for the manufacturer, it shows that they are largely diligent in fixing problems.
Despite hundreds of recalls by various automotive manufacturers, only the Takata airbag recall has ever been mandatory.  All others have been issued by the manufacturer.
If you believe there is an endemic problem with your bike that should be recalled, contact the ACCC on 1300 302 502.
To check whether your motorcycle has been recalled, click on these sites:
• USA
• Canada
VINs of vehicles affected by rusty brakes
| | | |
| --- | --- | --- |
| VIN | Vehicle Identifier Number-Full | Series |
| R833971 | WB30G0106HR833971 | K03 |
| R833968 | WB30G0106HR833968 | K03 |
| R833987 | WB30G010XHR833987 | K03 |
| R833981 | WB30G0109HR833981 | K03 |
| R834009 | WB30G0103HR834009 | K03 |
| R834015 | WB30G0109HR834015 | K03 |
| R834021 | WB30G0104HR834021 | K03 |
| R834014 | WB30G0107HR834014 | K03 |
| R834078 | WB30G0100HR834078 | K03 |
| R834173 | WB30G0105HR834173 | K03 |
| R834195 | WB30G0104HR834195 | K03 |
| R834206 | WB30G0105HR834206 | K03 |
| R834207 | WB30G0107HR834207 | K03 |
| R834208 | WB30G0109HR834208 | K03 |
| R835101 | WB30G0107HR835101 | K03 |
| R835102 | WB30G0109HR835102 | K03 |
| R835099 | WB30G0102HR835099 | K03 |
| R835153 | WB30G0104HR835153 | K03 |
| R835157 | WB30G0101HR835157 | K03 |
| R835158 | WB30G0103HR835158 | K03 |
| R835154 | WB30G0106HR835154 | K03 |
| R835184 | WB30G0104HR835184 | K03 |
| R835152 | WB30G0102HR835152 | K03 |
| R835179 | WB30G0100HR835179 | K03 |
| R835177 | WB30G0107HR835177 | K03 |
| R835163 | WB30G0107HR835163 | K03 |
| R835180 | WB30G0107HR835180 | K03 |
| R835171 | WB30G0106HR835171 | K03 |
| R835190 | WB30G010XHR835190 | K03 |
| R837263 | WB30G010XHR837263 | K03 |
| R837265 | WB30G0103HR837265 | K03 |
| R837260 | WB30G0104HR837260 | K03 |
| R837352 | WB30G0109HR837352 | K03 |
| R837353 | WB30G0100HR837353 | K03 |
| R837354 | WB30G0102HR837354 | K03 |
| R837417 | WB30G0100HR837417 | K03 |
| R837424 | WB30G0108HR837424 | K03 |
| R837420 | WB30G0100HR837420 | K03 |
| R837418 | WB30G0102HR837418 | K03 |
| R837423 | WB30G0106HR837423 | K03 |
| R837986 | WB30G0106HR837986 | K03 |
| R837987 | WB30G0108HR837987 | K03 |
| R837991 | WB30G010XHR837991 | K03 |
| R838525 | WB30G0108HR838525 | K03 |
| R838528 | WB30G0103HR838528 | K03 |
| R838527 | WB30G0101HR838527 | K03 |
| R838662 | WB30G0107HR838662 | K03 |
| R838670 | WB30G0106HR838670 | K03 |
| R838667 | WB30G0106HR838667 | K03 |
| R838683 | WB30G0104HR838683 | K03 |
| R838673 | WB30G0101HR838673 | K03 |
| R838684 | WB30G0106HR838684 | K03 |
| R838747 | WB30G0104HR838747 | K03 |
| R838746 | WB30G0102HR838746 | K03 |
| R838761 | WB30G0109HR838761 | K03 |
| R838762 | WB30G0100HR838762 | K03 |
| R839421 | WB30G0104JR839421 | K03 |
| R839424 | WB30G010XJR839424 | K03 |
| R839426 | WB30G0103JR839426 | K03 |
| R839423 | WB30G0108JR839423 | K03 |
| R839441 | WB30G010XJR839441 | K03 |
| R839417 | WB30G0102JR839417 | K03 |
| R839425 | WB30G0101JR839425 | K03 |
| R839439 | WB30G0101JR839439 | K03 |
| R839458 | WB30G0105JR839458 | K03 |
| R839452 | WB30G0104JR839452 | K03 |
| R839443 | WB30G0103JR839443 | K03 |
| R839451 | WB30G0102JR839451 | K03 |
| R839461 | WB30G0105JR839461 | K03 |
| R839462 | WB30G0107JR839462 | K03 |
| R839470 | WB30G0106JR839470 | K03 |
| R839465 | WB30G0102JR839465 | K03 |
| R839460 | WB30G0103JR839460 | K03 |
| R839468 | WB30G0108JR839468 | K03 |
| R803201 | WB30G020XJR803201 | K02 |
| R803217 | WB30G0203JR803217 | K02 |
| R803203 | WB30G0203JR803203 | K02 |
| R803215 | WB30G020XJR803215 | K02 |
| R803211 | WB30G0202JR803211 | K02 |
| R803221 | WB30G0205JR803221 | K02 |
| R803212 | WB30G0204JR803212 | K02 |
| R803233 | WB30G0201JR803233 | K02 |
| R803225 | WB30G0202JR803225 | K02 |
| R803245 | WB30G0208JR803245 | K02 |
| R803246 | WB30G020XJR803246 | K02 |
| R803237 | WB30G0209JR803237 | K02 |
| R803251 | WB30G0203JR803251 | K02 |
| R803255 | WB30G0200JR803255 | K02 |
| R803374 | WB30G0208JR803374 | K02 |
| R803364 | WB30G0205JR803364 | K02 |
| R803388 | WB30G0208JR803388 | K02 |
| R803378 | WB30G0205JR803378 | K02 |
| R803387 | WB30G0206JR803387 | K02 |
| R803396 | WB30G0207JR803396 | K02 |
| R804242 | WB30G0207JR804242 | K02 |
| R804315 | WB30G0208JR804315 | K02 |
| R843329 | WB30G0103JR843329 | K03 |
| R843319 | WB30G0100JR843319 | K03 |
| R843333 | WB30G0105JR843333 | K03 |
| R843327 | WB30G010XJR843327 | K03 |
| R809851 | WB30G0202JR809851 | K02 |
| R810330 | WB30G0201JR810330 | K02 |
| R810373 | WB30G0208JR810373 | K02 |
| R810378 | WB30G0207JR810378 | K02 |
| R810472 | WB30G020XJR810472 | K02 |
| R810475 | WB30G0205JR810475 | K02 |
| R810479 | WB30G0202JR810479 | K02 |
| R810480 | WB30G0209JR810480 | K02 |
| R810563 | WB30G0202JR810563 | K02 |
| R810564 | WB30G0204JR810564 | K02 |
| R810998 | WB30G0204JR810998 | K02 |
| R811000 | WB30G0207JR811000 | K02 |
| R811001 | WB30G0209JR811001 | K02 |
| R846802 | WB30G0107JR846802 | K03 |
| R846806 | WB30G0104JR846806 | K03 |
| R847116 | WB30G0106JR847116 | K03 |
| R847128 | WB30G0102JR847128 | K03 |
| R848054 | WB30G0102KR848054 | K03 |
| R848067 | WB30G0100KR848067 | K03 |
| R848072 | WB30G0104KR848072 | K03 |
| S839857 | WB40C0900KS839857 | K09 |
| R849370 | WB30G0106KR849370 | K03 |
| S839923 | WB40C0909KS839923 | K09 |
| R818061 | WB30G0205KR818061 | K02 |
| R818058 | WB30G0205KR818058 | K02 |
| R836793 | WB30G0101HR836793 | K03 |
| R836792 | WB30G010XHR836792 | K03 |
| R836800 | WB30G0105HR836800 | K03 |
| R836808 | WB30G010XHR836808 | K03 |
| R836814 | WB30G0105HR836814 | K03 |
| R836795 | WB30G0105HR836795 | K03 |
| R836801 | WB30G0107HR836801 | K03 |
| R801505 | WB30G0209JR801505 | K02 |
| R801523 | WB30G0200JR801523 | K02 |
| R801519 | WB30G0209JR801519 | K02 |
| R801547 | WB30G0203JR801547 | K02 |
| R801525 | WB30G0204JR801525 | K02 |
| R801545 | WB30G020XJR801545 | K02 |
| R801554 | WB30G0200JR801554 | K02 |
| R801549 | WB30G0207JR801549 | K02 |
| R801557 | WB30G0206JR801557 | K02 |
| R801569 | WB30G0202JR801569 | K02 |
| R801561 | WB30G0208JR801561 | K02 |
| R801566 | WB30G0207JR801566 | K02 |
| R801567 | WB30G0209JR801567 | K02 |
| R801568 | WB30G0200JR801568 | K02 |
| R801620 | WB30G0209JR801620 | K02 |
| R802102 | WB30G0203JR802102 | K02 |
| R802099 | WB30G0207JR802099 | K02 |
| R840972 | WB30G0102JR840972 | K03 |
| R840983 | WB30G0107JR840983 | K03 |
| R841001 | WB30G0103JR841001 | K03 |
| R840982 | WB30G0105JR840982 | K03 |
| R805287 | WB30G0201JR805287 | K02 |
| R805293 | WB30G0207JR805293 | K02 |
| R805288 | WB30G0203JR805288 | K02 |
| R805393 | WB30G0200JR805393 | K02 |
| R805390 | WB30G0205JR805390 | K02 |
| R805394 | WB30G0202JR805394 | K02 |
| R805392 | WB30G0209JR805392 | K02 |
| R806045 | WB30G0204JR806045 | K02 |
| R806286 | WB30G0204JR806286 | K02 |
| R806293 | WB30G0201JR806293 | K02 |
| R806284 | WB30G0200JR806284 | K02 |
| R806295 | WB30G0205JR806295 | K02 |
| R844361 | WB30G0104JR844361 | K03 |
| R844388 | WB30G0102JR844388 | K03 |
| R807645 | WB30G0200JR807645 | K02 |
| R807753 | WB30G0203JR807753 | K02 |
| R807750 | WB30G0208JR807750 | K02 |
| R807749 | WB30G0201JR807749 | K02 |
| R809195 | WB30G0205JR809195 | K02 |
| R809196 | WB30G0207JR809196 | K02 |
| R809189 | WB30G020XJR809189 | K02 |
| R809197 | WB30G0209JR809197 | K02 |
| R809203 | WB30G0200JR809203 | K02 |
| R845185 | WB30G0104JR845185 | K03 |
| R845190 | WB30G0108JR845190 | K03 |
| R845193 | WB30G0103JR845193 | K03 |
| R845202 | WB30G0100JR845202 | K03 |
| S801046 | WB40C0609KS801046 | K08 |
| R837267 | WB30G0107HR837267 | K03 |
| R837361 | WB30G010XHR837361 | K03 |
| R837362 | WB30G0101HR837362 | K03 |
| R837359 | WB30G0101HR837359 | K03 |
| R837425 | WB30G010XHR837425 | K03 |
| R837421 | WB30G0102HR837421 | K03 |
| R837422 | WB30G0104HR837422 | K03 |
| R837990 | WB30G0108HR837990 | K03 |
| R838526 | WB30G010XHR838526 | K03 |
| R838520 | WB30G0109HR838520 | K03 |
| R838666 | WB30G0104HR838666 | K03 |
| R838665 | WB30G0102HR838665 | K03 |
| R838664 | WB30G0100HR838664 | K03 |
| R838681 | WB30G0100HR838681 | K03 |
| R838679 | WB30G0102HR838679 | K03 |
| R838678 | WB30G0100HR838678 | K03 |
| R838682 | WB30G0102HR838682 | K03 |
| R838744 | WB30G0109HR838744 | K03 |
| R838742 | WB30G0105HR838742 | K03 |
| R838749 | WB30G0108HR838749 | K03 |
| R838764 | WB30G0104HR838764 | K03 |
| R800786 | WB30G0205JR800786 | K02 |
| R805296 | WB30G0202JR805296 | K02 |
| R807849 | WB30G0205JR807849 | K02 |
| R807850 | WB30G0201JR807850 | K02 |
| R807862 | WB30G0208JR807862 | K02 |
| R807861 | WB30G0206JR807861 | K02 |
| R844293 | WB30G0102JR844293 | K03 |
| R844416 | WB30G0103JR844416 | K03 |
| R844420 | WB30G0105JR844420 | K03 |
| R844423 | WB30G0100JR844423 | K03 |
| R807733 | WB30G0208JR807733 | K02 |
| R846801 | WB30G0105JR846801 | K03 |
| R846789 | WB30G0108JR846789 | K03 |
| R846809 | WB30G010XJR846809 | K03 |
| R847127 | WB30G0100JR847127 | K03 |
| R833975 | WB30G0103HR833975 | K03 |
| R833972 | WB30G0108HR833972 | K03 |
| R833992 | WB30G0103HR833992 | K03 |
| R834000 | WB30G0107HR834000 | K03 |
| R834007 | WB30G010XHR834007 | K03 |
| R833986 | WB30G0108HR833986 | K03 |
| R834006 | WB30G0108HR834006 | K03 |
| R833991 | WB30G0101HR833991 | K03 |
| R834010 | WB30G010XHR834010 | K03 |
| R833977 | WB30G0107HR833977 | K03 |
| R834011 | WB30G0101HR834011 | K03 |
| R833978 | WB30G0109HR833978 | K03 |
| R833990 | WB30G010XHR833990 | K03 |
| R833998 | WB30G0104HR833998 | K03 |
| R834002 | WB30G0100HR834002 | K03 |
| R834008 | WB30G0101HR834008 | K03 |
| R833994 | WB30G0107HR833994 | K03 |
| R833999 | WB30G0106HR833999 | K03 |
| R834023 | WB30G0108HR834023 | K03 |
| R834024 | WB30G010XHR834024 | K03 |
| R834022 | WB30G0106HR834022 | K03 |
| R834170 | WB30G010XHR834170 | K03 |
| R834196 | WB30G0106HR834196 | K03 |
| R834200 | WB30G0104HR834200 | K03 |
| R834198 | WB30G010XHR834198 | K03 |
| R834209 | WB30G0100HR834209 | K03 |
| R834381 | WB30G0101HR834381 | K03 |
| R835096 | WB30G0107HR835096 | K03 |
| R835097 | WB30G0109HR835097 | K03 |
| R835100 | WB30G0105HR835100 | K03 |
| R835098 | WB30G0100HR835098 | K03 |
| R835095 | WB30G0105HR835095 | K03 |
| R835156 | WB30G010XHR835156 | K03 |
| R835181 | WB30G0109HR835181 | K03 |
| R835164 | WB30G0109HR835164 | K03 |
| R835192 | WB30G0103HR835192 | K03 |
| R835173 | WB30G010XHR835173 | K03 |
| R835189 | WB30G0103HR835189 | K03 |
| R835165 | WB30G0100HR835165 | K03 |
| R835176 | WB30G0105HR835176 | K03 |
| R835182 | WB30G0100HR835182 | K03 |
| R836796 | WB30G0107HR836796 | K03 |
| R836805 | WB30G0104HR836805 | K03 |
| R836811 | WB30G010XHR836811 | K03 |
| R836809 | WB30G0101HR836809 | K03 |
| R836790 | WB30G0106HR836790 | K03 |
| R836813 | WB30G0103HR836813 | K03 |
| R839422 | WB30G0106JR839422 | K03 |
| R839418 | WB30G0104JR839418 | K03 |
| R839442 | WB30G0101JR839442 | K03 |
| R839440 | WB30G0108JR839440 | K03 |
| R839455 | WB30G010XJR839455 | K03 |
| R839450 | WB30G0100JR839450 | K03 |
| R839454 | WB30G0108JR839454 | K03 |
| R839463 | WB30G0109JR839463 | K03 |
| R839474 | WB30G0103JR839474 | K03 |
| R839467 | WB30G0106JR839467 | K03 |
| R839475 | WB30G0105JR839475 | K03 |
| R801499 | WB30G0207JR801499 | K02 |
| R801507 | WB30G0202JR801507 | K02 |
| R801502 | WB30G0203JR801502 | K02 |
| R801521 | WB30G0207JR801521 | K02 |
| R801548 | WB30G0205JR801548 | K02 |
| R801546 | WB30G0201JR801546 | K02 |
| R801563 | WB30G0201JR801563 | K02 |
| R801559 | WB30G020XJR801559 | K02 |
| R801572 | WB30G0202JR801572 | K02 |
| R801579 | WB30G0205JR801579 | K02 |
| R801550 | WB30G0203JR801550 | K02 |
| R801562 | WB30G020XJR801562 | K02 |
| R801555 | WB30G0202JR801555 | K02 |
| R801560 | WB30G0206JR801560 | K02 |
| R801574 | WB30G0206JR801574 | K02 |
| R801624 | WB30G0206JR801624 | K02 |
| R802103 | WB30G0205JR802103 | K02 |
| R802098 | WB30G0205JR802098 | K02 |
| R802100 | WB30G020XJR802100 | K02 |
| R840971 | WB30G0100JR840971 | K03 |
| R840989 | WB30G0108JR840989 | K03 |
| R840986 | WB30G0102JR840986 | K03 |
| R840974 | WB30G0106JR840974 | K03 |
| R840981 | WB30G0103JR840981 | K03 |
| R840988 | WB30G0106JR840988 | K03 |
| R840999 | WB30G0100JR840999 | K03 |
| R803209 | WB30G0204JR803209 | K02 |
| R803218 | WB30G0205JR803218 | K02 |
| R803204 | WB30G0205JR803204 | K02 |
| R803213 | WB30G0206JR803213 | K02 |
| R803238 | WB30G0200JR803238 | K02 |
| R803241 | WB30G0200JR803241 | K02 |
| R803234 | WB30G0203JR803234 | K02 |
| R803226 | WB30G0204JR803226 | K02 |
| R803222 | WB30G0207JR803222 | K02 |
| R803242 | WB30G0202JR803242 | K02 |
| R803249 | WB30G0205JR803249 | K02 |
| R803256 | WB30G0202JR803256 | K02 |
| R803254 | WB30G0209JR803254 | K02 |
| R803369 | WB30G0204JR803369 | K02 |
| R803382 | WB30G0207JR803382 | K02 |
| R803390 | WB30G0206JR803390 | K02 |
| R803383 | WB30G0209JR803383 | K02 |
| R803397 | WB30G0209JR803397 | K02 |
| R803393 | WB30G0201JR803393 | K02 |
| R804246 | WB30G0204JR804246 | K02 |
| R806042 | WB30G0209JR806042 | K02 |
| R806044 | WB30G0202JR806044 | K02 |
| R806046 | WB30G0206JR806046 | K02 |
| R806285 | WB30G0202JR806285 | K02 |
| R806288 | WB30G0208JR806288 | K02 |
| R806291 | WB30G0208JR806291 | K02 |
| R843318 | WB30G0109JR843318 | K03 |
| R843330 | WB30G010XJR843330 | K03 |
| R843320 | WB30G0107JR843320 | K03 |
| R843328 | WB30G0101JR843328 | K03 |
| R843416 | WB30G0109JR843416 | K03 |
| R843412 | WB30G0101JR843412 | K03 |
| R843414 | WB30G0105JR843414 | K03 |
| R809198 | WB30G0200JR809198 | K02 |
| R809194 | WB30G0203JR809194 | K02 |
| R809199 | WB30G0202JR809199 | K02 |
| R809193 | WB30G0201JR809193 | K02 |
| R809204 | WB30G0202JR809204 | K02 |
| R809206 | WB30G0206JR809206 | K02 |
| R809205 | WB30G0204JR809205 | K02 |
| R809843 | WB30G0203JR809843 | K02 |
| R809845 | WB30G0207JR809845 | K02 |
| R809850 | WB30G0200JR809850 | K02 |
| R809853 | WB30G0206JR809853 | K02 |
| R810157 | WB30G0202JR810157 | K02 |
| R810252 | WB30G0207JR810252 | K02 |
| R810254 | WB30G0200JR810254 | K02 |
| R810328 | WB30G0203JR810328 | K02 |
| R810375 | WB30G0201JR810375 | K02 |
| R810379 | WB30G0209JR810379 | K02 |
| R845791 | WB30G0101JR845791 | K03 |
| R845806 | WB30G010XJR845806 | K03 |
| R845850 | WB30G0102JR845850 | K03 |
| R810468 | WB30G0208JR810468 | K02 |
| R810469 | WB30G020XJR810469 | K02 |
| R810474 | WB30G0203JR810474 | K02 |
| R810557 | WB30G0207JR810557 | K02 |
| R810565 | WB30G0206JR810565 | K02 |
| R810999 | WB30G0206JR810999 | K02 |
| R811002 | WB30G0200JR811002 | K02 |
| R813768 | WB30G0200KR813768 | K02 |
| R813785 | WB30G0200KR813785 | K02 |
| R848066 | WB30G0109KR848066 | K03 |
| R848075 | WB30G010XKR848075 | K03 |
| S839910 | WB40C0900KS839910 | K09 |
| S839922 | WB40C0907KS839922 | K09 |
| S801042 | WB40C0601KS801042 | K08 |
| S801017 | WB40C0602KS801017 | K08 |
| S801055 | WB40C060XKS801055 | K08 |
| R833973 | WB30G010XHR833973 | K03 |
| R833993 | WB30G0105HR833993 | K03 |
| R833988 | WB30G0101HR833988 | K03 |
| R833989 | WB30G0103HR833989 | K03 |
| R833969 | WB30G0108HR833969 | K03 |
| R833985 | WB30G0106HR833985 | K03 |
| R833970 | WB30G0104HR833970 | K03 |
| R833974 | WB30G0101HR833974 | K03 |
| R833979 | WB30G0100HR833979 | K03 |
| R833996 | WB30G0100HR833996 | K03 |
| R833980 | WB30G0107HR833980 | K03 |
| R834001 | WB30G0109HR834001 | K03 |
| R834018 | WB30G0104HR834018 | K03 |
| R834017 | WB30G0102HR834017 | K03 |
| R833997 | WB30G0102HR833997 | K03 |
| R833995 | WB30G0109HR833995 | K03 |
| R834003 | WB30G0102HR834003 | K03 |
| R834012 | WB30G0103HR834012 | K03 |
| R834020 | WB30G0102HR834020 | K03 |
| R834013 | WB30G0105HR834013 | K03 |
| R834016 | WB30G0100HR834016 | K03 |
| R834082 | WB30G0102HR834082 | K03 |
| R834171 | WB30G0101HR834171 | K03 |
| R834203 | WB30G010XHR834203 | K03 |
| R834201 | WB30G0106HR834201 | K03 |
| R836791 | WB30G0108HR836791 | K03 |
| R836794 | WB30G0103HR836794 | K03 |
| R836812 | WB30G0101HR836812 | K03 |
| R836806 | WB30G0106HR836806 | K03 |
| R836810 | WB30G0108HR836810 | K03 |
| R836803 | WB30G0100HR836803 | K03 |
| R836807 | WB30G0108HR836807 | K03 |
| R837350 | WB30G0105HR837350 | K03 |
| R837360 | WB30G0108HR837360 | K03 |
| R837355 | WB30G0104HR837355 | K03 |
| R837356 | WB30G0106HR837356 | K03 |
| R837426 | WB30G0101HR837426 | K03 |
| R837419 | WB30G0104HR837419 | K03 |
| R837988 | WB30G010XHR837988 | K03 |
| R837984 | WB30G0102HR837984 | K03 |
| R837992 | WB30G0101HR837992 | K03 |
| R839420 | WB30G0102JR839420 | K03 |
| R839419 | WB30G0106JR839419 | K03 |
| R839438 | WB30G010XJR839438 | K03 |
| R839449 | WB30G0104JR839449 | K03 |
| R839469 | WB30G010XJR839469 | K03 |
| R801501 | WB30G0201JR801501 | K02 |
| R801524 | WB30G0202JR801524 | K02 |
| R801508 | WB30G0204JR801508 | K02 |
| R801503 | WB30G0205JR801503 | K02 |
| R801506 | WB30G0200JR801506 | K02 |
| R801552 | WB30G0207JR801552 | K02 |
| R801564 | WB30G0203JR801564 | K02 |
| R801553 | WB30G0209JR801553 | K02 |
| R801558 | WB30G0208JR801558 | K02 |
| R801576 | WB30G020XJR801576 | K02 |
| R801577 | WB30G0201JR801577 | K02 |
| R801623 | WB30G0204JR801623 | K02 |
| R801622 | WB30G0202JR801622 | K02 |
| R801625 | WB30G0208JR801625 | K02 |
| R801626 | WB30G020XJR801626 | K02 |
| R801633 | WB30G0207JR801633 | K02 |
| R801628 | WB30G0203JR801628 | K02 |
| R801629 | WB30G0205JR801629 | K02 |
| R801631 | WB30G0203JR801631 | K02 |
| R801632 | WB30G0205JR801632 | K02 |
| R802096 | WB30G0201JR802096 | K02 |
| R802101 | WB30G0201JR802101 | K02 |
| R840976 | WB30G010XJR840976 | K03 |
| R840977 | WB30G0101JR840977 | K03 |
| R840979 | WB30G0105JR840979 | K03 |
| R840984 | WB30G0109JR840984 | K03 |
| R840985 | WB30G0100JR840985 | K03 |
| R840996 | WB30G0105JR840996 | K03 |
| R841000 | WB30G0101JR841000 | K03 |
| R840997 | WB30G0107JR840997 | K03 |
| R840998 | WB30G0109JR840998 | K03 |
| R803202 | WB30G0201JR803202 | K02 |
| R803205 | WB30G0207JR803205 | K02 |
| R803200 | WB30G0208JR803200 | K02 |
| R803208 | WB30G0202JR803208 | K02 |
| R803214 | WB30G0208JR803214 | K02 |
| R803207 | WB30G0200JR803207 | K02 |
| R803228 | WB30G0208JR803228 | K02 |
| R803216 | WB30G0201JR803216 | K02 |
| R803223 | WB30G0209JR803223 | K02 |
| R803220 | WB30G0203JR803220 | K02 |
| R803229 | WB30G020XJR803229 | K02 |
| R803224 | WB30G0200JR803224 | K02 |
| R803244 | WB30G0206JR803244 | K02 |
| R803243 | WB30G0204JR803243 | K02 |
| R803239 | WB30G0202JR803239 | K02 |
| R803253 | WB30G0207JR803253 | K02 |
| R803371 | WB30G0202JR803371 | K02 |
| R803370 | WB30G0200JR803370 | K02 |
| R803381 | WB30G0205JR803381 | K02 |
| R803367 | WB30G0200JR803367 | K02 |
| R803386 | WB30G0204JR803386 | K02 |
| R803385 | WB30G0202JR803385 | K02 |
| R803391 | WB30G0208JR803391 | K02 |
| R803395 | WB30G0205JR803395 | K02 |
| R803392 | WB30G020XJR803392 | K02 |
| R803398 | WB30G0200JR803398 | K02 |
| R804241 | WB30G0205JR804241 | K02 |
| R804248 | WB30G0208JR804248 | K02 |
| R804244 | WB30G0200JR804244 | K02 |
| R805294 | WB30G0209JR805294 | K02 |
| R805295 | WB30G0200JR805295 | K02 |
| R805289 | WB30G0205JR805289 | K02 |
| R805290 | WB30G0201JR805290 | K02 |
| R805385 | WB30G0201JR805385 | K02 |
| R806298 | WB30G0200JR806298 | K02 |
| R806289 | WB30G020XJR806289 | K02 |
| R806300 | WB30G0205JR806300 | K02 |
| R807826 | WB30G0204JR807826 | K02 |
| R807827 | WB30G0206JR807827 | K02 |
| R807920 | WB30G0207JR807920 | K02 |
| R807918 | WB30G0209JR807918 | K02 |
| R844197 | WB30G0106JR844197 | K03 |
| R844288 | WB30G0109JR844288 | K03 |
| R844290 | WB30G0107JR844290 | K03 |
| R844296 | WB30G0108JR844296 | K03 |
| R844297 | WB30G010XJR844297 | K03 |
| R844339 | WB30G0100JR844339 | K03 |
| R844418 | WB30G0107JR844418 | K03 |
| R844421 | WB30G0107JR844421 | K03 |
| R844422 | WB30G0109JR844422 | K03 |
| R844417 | WB30G0105JR844417 | K03 |
| R807646 | WB30G0202JR807646 | K02 |
| R807647 | WB30G0204JR807647 | K02 |
| R807735 | WB30G0201JR807735 | K02 |
| R809187 | WB30G0206JR809187 | K02 |
| R809192 | WB30G020XJR809192 | K02 |
| R809208 | WB30G020XJR809208 | K02 |
| R809190 | WB30G0206JR809190 | K02 |
| R809191 | WB30G0208JR809191 | K02 |
| R809210 | WB30G0208JR809210 | K02 |
| R809209 | WB30G0201JR809209 | K02 |
| R809202 | WB30G0209JR809202 | K02 |
| R845178 | WB30G0107JR845178 | K03 |
| R845198 | WB30G0102JR845198 | K03 |
| R809844 | WB30G0205JR809844 | K02 |
| R809847 | WB30G0200JR809847 | K02 |
| R810282 | WB30G0205JR810282 | K02 |
| R810374 | WB30G020XJR810374 | K02 |
| R810377 | WB30G0205JR810377 | K02 |
| R845596 | WB30G0103JR845596 | K03 |
| R845597 | WB30G0105JR845597 | K03 |
| R845846 | WB30G0100JR845846 | K03 |
| R849145 | WB30G010XKR849145 | K03 |
| S839918 | WB40C0905KS839918 | K09 |
| S839928 | WB40C0908KS839928 | K09 |
| R835094 | WB30G0103HR835094 | K03 |
| R835092 | WB30G010XHR835092 | K03 |
| R835103 | WB30G0100HR835103 | K03 |
| R835093 | WB30G0101HR835093 | K03 |
| R835160 | WB30G0101HR835160 | K03 |
| R835151 | WB30G0100HR835151 | K03 |
| R835150 | WB30G0109HR835150 | K03 |
| R835161 | WB30G0103HR835161 | K03 |
| R835172 | WB30G0108HR835172 | K03 |
| R835174 | WB30G0101HR835174 | K03 |
| R835193 | WB30G0105HR835193 | K03 |
| R835195 | WB30G0109HR835195 | K03 |
| R835169 | WB30G0108HR835169 | K03 |
| R835167 | WB30G0104HR835167 | K03 |
| R835175 | WB30G0103HR835175 | K03 |
| R835186 | WB30G0108HR835186 | K03 |
| R835170 | WB30G0104HR835170 | K03 |
| R835183 | WB30G0102HR835183 | K03 |
| R835188 | WB30G0101HR835188 | K03 |
| R835196 | WB30G0100HR835196 | K03 |
| R838522 | WB30G0102HR838522 | K03 |
| R838530 | WB30G0101HR838530 | K03 |
| R838523 | WB30G0104HR838523 | K03 |
| R838669 | WB30G010XHR838669 | K03 |
| R838663 | WB30G0109HR838663 | K03 |
| R838676 | WB30G0107HR838676 | K03 |
| R838661 | WB30G0105HR838661 | K03 |
| R838672 | WB30G010XHR838672 | K03 |
| R838674 | WB30G0103HR838674 | K03 |
| R838743 | WB30G0107HR838743 | K03 |
| R838748 | WB30G0106HR838748 | K03 |
| R843316 | WB30G0105JR843316 | K03 |
| R843334 | WB30G0107JR843334 | K03 |
| R843326 | WB30G0108JR843326 | K03 |
| R843322 | WB30G0100JR843322 | K03 |
| R843324 | WB30G0104JR843324 | K03 |
| R843331 | WB30G0101JR843331 | K03 |
| R843410 | WB30G0108JR843410 | K03 |
| R843411 | WB30G010XJR843411 | K03 |
| R810476 | WB30G0207JR810476 | K02 |
| R810996 | WB30G0200JR810996 | K02 |
| R846799 | WB30G0100JR846799 | K03 |
| R847122 | WB30G0101JR847122 | K03 |
| R847129 | WB30G0104JR847129 | K03 |
| R848058 | WB30G010XKR848058 | K03 |
| R848071 | WB30G0102KR848071 | K03 |
| S839829 | WB40C0906KS839829 | K09 |
| R816412 | WB30G0209KR816412 | K02 |
| S801039 | WB40C0601KS801039 | K08 |
| S801020 | WB40C0602KS801020 | K08 |
| S801054 | WB40C0608KS801054 | K08 |