BMW Functional Socks Image Gallery
Available in cotton or wool-based technical blends, BMW Functional Socks are comfortable, functional and durable, with a great return on investment.
Socks are an essential layer but they don't typically get the same consideration as outer components of the ATGATT (all the gear, all the time) approach.
As motorcyclists we spend a lot of time in protective footwear, on and off the motorcycle and the right or wrong sock can make a world of difference.
Being comfortable and feeling secure are key contributors to a successful ride.
Thankfully we motorcyclists have lots of great footwear choices: socks, liners and boots.
Just don't forget which comes first!
Take a close look at these BMW Functional Socks, no matter what brand of motorcycle you ride.
Many motorcyclists don't even think about the type of sock to put on before getting ready to head out on a ride, but some do, and for good reason.
The right pair of socks in the right pair of footwear can make a big difference in how comfortable and secure one feels while riding, all of which goes to enhancing, or detracting, from the ride experience.
Always on the lookout for good motorcycle gear, I purchased my first two pair of BMW "Silver Function" socks some years ago from a Virginia-based BMW dealer.
This was while returning north from a trip to Florida, during which light-weight mesh-gear was the best solution for the weather all-around, including light-weight socks.
But in contemplating the return to winter back home and cooler spring/fall riding, it was time to add some heavier duty socks to the current holdings, most of which were wool-based or a wool-blend of some type.
Wool keeps most of its heat and moisture management properties whether wet or dry; a fact learned a long time ago in the military.
There are a lot of sock choices on the market today ranging from vented to heavy duty in natural or technical blends and all this choice is good; virtually everyone has different requirements or desires when it comes to adding that first important layer over the foot.
BMW Functional Socks
Like their motorcycles, the BMW Motorrad Ride and Style clothing lines continue to evolve in a big and dynamic way.
In drilling down through the BMW Motorrad Gear and Parts>Rider's Apparel sections on the BMW website, two types of BMW socks are now listed, the Functional Hydrosock (waterproof) and the Functional Socks in short and long lengths.
With two different lengths of Functional Socks now listed in the BMW catalog, consumers can opt for a knee-length pair for cooler weather or for use with taller tight-fitting footwear like Adventure or Motocross boots.
Or, try an ankle-length pair for warmer weather, especially when a shorter or lighter-weight boot is appropriate.
The original and newer socks use the same basic features, including:
Elastic webbing at front of foot for stretch and wiggle room.
Knitted ventilation channels on bottom (and sides) for air flow and temperature modulation.
Anatomically shaped padding reduces pressure at shin, ankle and heel.
Inserts and padded areas provide comfort along and around the foot.
Temperature regulation and moisture wicking provided by high-wool content and high-performance fibres.
The knee-length BMW Functional Socks are made from 50% pure new wool; 22% polyacrylic; 20% polypropylene; 6% polyamide; 2% elastane.
The ankle length socks are made from a wool/cotton blend of 33% pure new wool, 33% cotton; 22% polypropylene; 10% polyamide; 2% elastane.
Colors for the long socks are Anthracite/Black/Blue, while the short versions are Light Gray/Black/ Mustard. BMW Functional Socks are available for both women and men; the U.S. size range is 5-11 for women and 8-12 for men.
BMW Silver Function Socks
My original two pair of BMW socks were the "BMW Silver Function" version, now discontinued. They are now three years old and going strong; very little wear or tear is evident, no pilling or rub points, shape, elasticity and comfort as good as when purchased.
These socks are apparently no longer available from BMW but may still be found at your local BMW dealer.
When they are pulled up to cover the lower half of the legs, the socks reach a point just below the knee. This by itself can make the difference between a short or long and comfortable or uncomfortable ride because they add insulation to pants that might need it.
I don't have the original fabric content label from the BMW Silver Function socks, but it was probably pretty close to the percentage mix (listed in the previous section) now used for the new wool version described below.
What the Silver Function socks did have that was different was an antibacterial silver content that works extremely well in preventing odour build-up.
When multi-day use is the norm, the socks remain livable and even after two or three days, a quick hand wash, rinse and hang cycle restores them to full performance again.
With its padded orange shift area outlined on the toe, the left sock shouldn't be confused for the right; these socks are asymmetrical, designed specifically for the left and right foot.
Knitted-in ventilation channels provide air circulation around the foot, ankle and lower leg — something that aids greatly in wicking moisture, adding to the cushioning factor and moderating the foot-sock-boot environment.
As they say, you could have any colour of the BMW Silver Function socks as long as it was Anthracite/Black with Orange.
While both the short and long versions of what is now called the "BMW Functional Socks" have both men's and women's sizes, the original Silver Function version was Unisex only, with adult-size in 37-38, 39-41, 42-43, 44-45, 46-48 lengths and typically listed for around $25.00 USD.
The BMW Silver Function Socks are among the most comfortable I have worn, no matter the boot in use and the motorcycle ridden, or trails hiked. Even when used in -5 C to 25 C (23 F to 77 F) temperatures, my feet remain happy and healthy throughout long hours of riding.
And another thing discovered over time, like other technical-based socks they are the perfect sock complement for Gore-Tex-based foot-ware like the Sidi Armada (review) or Sidi On-Road (review)boots.
2013 BMW Functional Socks
Along with the new BMW Functional Socks in the short length discussed below, the Functional Socks in the longer length are also available from BMW, having first made an appearance in the 2012 catalog and continued for 2013.
(Editor's Note: And at a very reasonable price, I might add!)
The short and long length choices reflect a product line refinement so that both cold and warmer climate riding needs are addressed with two separate types of sock.
The BMW Functional Socks in the long length have essentially the same dimensions as the original Silver socks described in the previous section.
But the top is now cut at a slight forward angle with a padded area also at the top that works to both keep the socks up while providing a comfortable fit and feel.
A higher percentage of wool content and technical mix of fabrics helps ensure moisture control while providing ventilation, warmth and comfort. These socks have a blue shift pad and piping to clearly identify their intended use as a cool weather and/or higher cover sock.
Available in Anthracite/Black/Blue, they are offered in sizes spanning the ranges of 36-38, 39-41, 42-44, 45-47.
The sizing is now identified by stitched-in numbering on the inner waistband rather than being more clearly identified on the outside as used for the original socks.
The newer BMW Functional Socks are as comfortable as the original Silver Function sock and although they appear to have the same fabric weight, the performance just isn't on par with the older pair when worn in the same 23 F to 77 F temperature range and with the same footwear.
This observation was also confirmed by my spouse, who was also wearing a pair of the newer long socks inside her regular boots on her motorcycle.
But as noted, socks are very much an individual thing so our observations are subjective in nature. Nevertheless, I still think that they are extremely comfortable in any boot.
BMW Functional Socks (Short Length)
These lighter-weight BMW Functional Socks are ankle-to-calf length, with a more diverse material mix.
It has 33% cotton added to the blend, which changes the proportions of the rest of the content list slightly to 33% "pure new wool", along with 22% polypropylene, 10% polyamide and 2% elastane (aka Spandex).
Both types feature the asymmetrical design (left- and right-foot specific) used for BMW socks.
It makes for a very comfortable sock encompassing the foot, but the shorter length is of a lighter weight and also has good ventilation and a moisture-wicking design.
The short version of the socks are available in Light Grey/Black with the standard left foot patch and piping that is Mustard-coloured.
Like the other BMW socks, these have elastic rib knitting over the front of the foot and padded zones at ankle and heel, along with the very functional ventilation channels on the bottom of the sock.
Wearing them alone with my favored Sidi Armada (review) and BMW Santiago (review) boots, it becomes evident that the shorter version of the Functional Socks are indeed comfortable but not meant for cool-weather riding, at least not without another layer.
But wearing them as the inner liner combined with the outer barrier consisting of a pair of lightweight wool socks, or alternatively inside a pair of Gore-Tex boot liners (such as the Klim Covert GTX waterproof liners), provides the right combination for cooler temperatures with comfort, ventilation and all-day warmth.
I have no doubt these lightweight socks will be just about perfect for warmer climates and temperatures, a test that will have to wait for summer, or the next trip further south…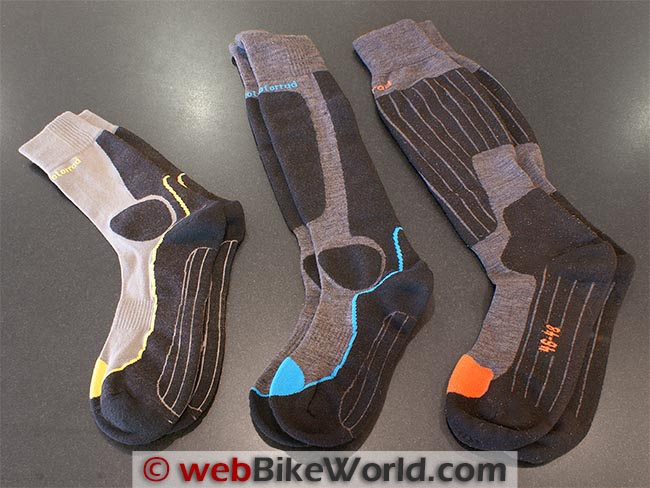 Conclusion
All three pair of BMW Functional Socks reflects the typical BMW Motorrad product approach resulting in extremely high quality and very functional footwear at a very attractive price.
While I admittedly still favour the apparently discontinued Long Silver Function Socks for daily four-season use inside any boot and on any motorcycle ridden, time marches on.
While they might last for another season or so, their newer siblings are, appreciating the observations made above, very suitable replacements.
More Motorcycle Sock Reviews:
REV'IT! Moto Touring Socks Review
Tech Sox Review
Holofiber Socks Review
w

BW

 Review: BMW Functional Motorcycle Socks
List Price (2007): Long: $25.00. Short: 20.00
Made In: XXXXX
Colors: Long: Anthracite/Black/Blue. Short: Light grey/Black/Mustard. Original Long Silver: Anthracite/Black/Orange
Sizes: Women: 5-11. Men: 8-12 (U.S.) or 36 to 47 Euro sizes.
Review Date: February 2013
Note:
 For informational use only. All material and photographs are Copyright © webWorld International, LLC since 2000. All rights reserved. See the webBikeWorld® 
Site Info page
. Product specifications, features and details may change or differ from our descriptions. Always check before purchasing. Read the
Terms and Conditions
!
Owner  Comments and Feedback
---
From "S.S." (February 2013): "I gave up cotton and synthetic socks many years ago, and went to Merino wool year round. Natural fabrics breathe better and retain their shape after many washings if you buy a quality brand.
For many years, Smartwool was my go-to brand, but then the toes and heels began wearing out very quickly (perhaps a change in design or manufacturing?), so I went in search of something better.
I discovered Darn Tough Socks, made in Vermont, and these are the best quality socks I have ever used. They look just as good as the day I bought them, and they are all I wear every day.
I have been rotating through 4 pairs for over a year, and they show absolutely no signs of wearing out. I like the taller models for wearing under my riding boots, and they do a great job in all seasons."
---
From "Z" (February 2013): "Since I have been running, I have been exploring the world of socks a bit and there are a myriad of choices out there, while trying not to be bulky.
While not all of them have to cost you a fortune, some do in fact cost more than others, and some of them you have probably never heard of or knew they were out there.
I have found some great choices though which I use for various weather conditions when riding though.
Here are a few that I have found that work very well, and yet don't have to necessarily break the bank in terms of varying degree of cost and availability.
Merino wool is a fabric that I have found to be durable and warm while not having to be bulky as you would automatically assume when you read the word "Wool".
The folks at SmartWool have been making base layer apparel and socks from this for a while with great results. Also the company Wigwam Wool Socks have been putting out a proudly Made in the U.S.A. Merino wool sock that I have found that performs very well.
Lets get technical for a moment. Want to try something nifty and techie-esque?
Then we get into smart fibers like a product I have tried. The Mizuno "Breath Thermo" product line claims to turn moisture ( a.k.a. your sweat) into a catalyst to activate and warm the special fibers weaved into the fabric.
I have tried the socks and they do work well for me, but some of the other products in base layer form maybe not quite as effective.
Looking for something to just help prevent "swamp foot" and pull some of that moisture away? You might look at the Swiftwick brand.
While on the face they look like they are marketing a compression sock, they have several offerings which are very ergonomically cut and provide various levels of comfort.
While these are not the only choices out there, and there are many more brands and styles, these are just a few out there that I have experienced and find zero problem with recommending."