The newest market niche seems to be the "super adventure" motorcycle after KTM recently confirmed the 1290 Super Adventure and spy photos of a BMW S 1000 "XR" have emerged.
German motorcycle magazine Motorrad is calling it an XR which is, of course, a derivative of the sportsbike which this year was also released in a naked S 1000 R model.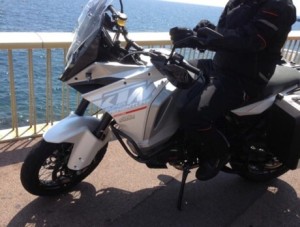 KTM will unveil its "super" version of the 1190 Adventure at the Intermot motorcycle show in Cologne in Germany on September 30. It will be powered by the 1290 engine from the Super Duke R.
Now BMW is doing the same with a "GS" version of its sportsbike, but with little pretence at being an off-roader.
The category sort of began with the Ducati Multistrada 1200 in 2010. But these new "super adventure" bikes will boast a whole lot more ponies  even if they have slightly detuned engines – and street-wise posture. Motorrad claims the XR will have 160 horsepower and weigh 215kg.
There is no confirmation yet from BMW, but we can expect it to also be unveiled at Intermot.