The upcoming 2019 BMW R 1250 Boxer models are expected to be quieter and more efficient to meet the tough Euro 5 regulations coming in 2020.
BMW is expected to drop the noise levels from 92dB for the 1200s to 88dB for the 1250s.
The Euro 5 noise requirements vary depending on power-to-weight ratios.
According to our reading of the regulations, BMW may have to drop the noise levels another 10dB by 2020. That's the same volume as a vacuum cleaner.
Bear in mind that a decrease of 3dB is half the sound intensity, but it takes a 10dB decrease before a noise sounds half as loud.
To achieve these lower volumes, we expect much bigger mufflers.
Power and range boost
Engine capacity in the new 1250 Boxers is rumoured to increase from 1170cc to 1254cc with power to hit the magic figure of 100kW, up from 91kW.
Weight is also expected to increase about 5kg. That means the GSA would be a hefty 268kg wet.
Despite the extra power and weight, fuel economy should be improved, increasing range as they should retain their current fuel tank capacities.
Variable valve timing in the liquid-cooled Boxer engines is widely tipped to be instrumental in achieving the new efficiency standards.
Honda, Suzuki, Yamaha, Kawasaki and Ducati already have versions of variable valve timing to make their engines more fuel efficient and powerful.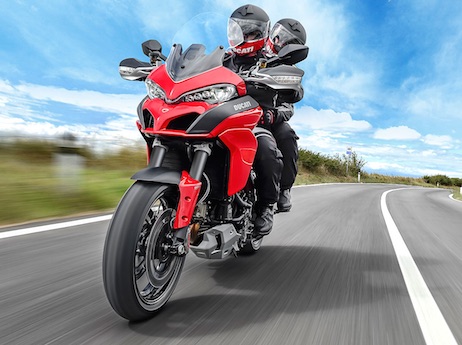 BMW may follow suit with a motorcycle version of their Valvetronic system which they have used in their cars since 2001.
Boxer unveiling
The 2019 boxer models are likely to be unveiled at the German Intermot show in October. If not, they should be showcased at EICMA in Milan in November.
First to get the new engines will be their most popular GS and GS Adventure models, followed by the R, RS and RT, but not the air/oil-cooled R nineT.
We're not sure how the R nineT will be developed to meet the new standards.
The same dilemma also faces traditional air/oil-cooled naked bikes and cruisers from brands such as Moto Guzzi and Harley-Davidson.
Triumph managed to water cool their naked Bonneville parallel-twin models to meet tougher standards by adding a radiator between the twin spines of the cradle frame.
It's more difficult hiding a radiator on a naked bike with other frame and engine configurations such as BMW's flat-twin Boxers.
A big radiator would spoil the looks of this handsome steed.