There are a lot of Bluetooth earplugs hitting the market, but they are heavy and bulky and uncomfortable under a motorcycle helmet.
These Japanese Vie Fit earplugs look like being a lot more suitable.
The company launched an Indiegogo crowd-funding campaign that surpassed its target seven-fold, so they are set to go into production costing $US149.
Small, light and comfortable
Vie Fit earplugs are small so they don't stick out of your ears, weigh just 6 grams for the pair and the whole plug is made of a soft silicone, not just the tip.
The antibacterial silicone is also guaranteed not to irritate the ear after wearing for a long time.
We've tried other Bluetooth earplugs but they are hard, bulky, uncomfortable and easy to knock out of your ear while putting your helmet on. If you don't knock them totally out of your ear, they can be slightly dislodged and don't sound right.
But the Vie Fit should feel more comfortable and fit better to create a seal and reduce external noise.
It also won't matter if they are disturbed while putting your helmet on because the omnidirectional, 8mm, neodymium speaker rotates 360 degrees to point directly into your ear no matter how you put them on.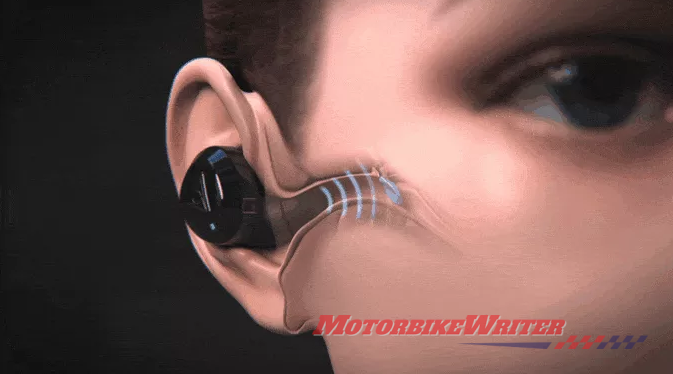 They also feature the latest Bluetooth 5.0 system for clear sound and foolproof pairing.
Vie Fit drawbacks
Drawbacks are battery life and operation.
There is only 4.5 hours of continuous listening from the battery, so they wouldn't be much use on a long all-day trip.
You would also need to attach your music player or phone to your handlebars to operate the associated app which operates play, pause and volume. It also shows battery life.
Vie Fit are water-resistant and come with a USB charging cable.