Bluetooth Adapter Transmitter Image Gallery
How do you connect that MP3 player, radio or other device to your motorcycle intercom system?
A Bluetooth adapter/transmitter is the way to go.
An indispensible device for today's connected motorcyclist but, for some reason, still not widely known, understood or utilized.
All three of these handy-dandy little gems do what they should.
And for the most part, they do it as advertised while providing outstanding battery life and the ability to be used while charging.
The Azeca and Bluesense Bluetooth adapters are identical in form, fit and function, less finish, colour and markings, while the TAOtronics Bluetooth adapter has a unique elongated rectangular shape and markings.
All three utilize Bluetooth v2.1 with Class 2 power with support for the A2DP profile for stereo audio streaming to compatible headsets.
All three paired successfully with every Bluetooth receiver device put in front of them.
The TAOtronics device was the speediest; it usually paired up within five to ten seconds whereas the other two took 30 to 40 seconds on average.
Value is what most Bluetooth Adapters provide with a continuing return on investment if the use of non-Bluetooth media devices is the norm.
Mount them with or close to the device, keep them charged up, reset them now and then to clean out the pairing memory and enjoy the audio streaming, what could be simpler than this?
So despite all three being equally functional and worth the investment, I prefer the performance of the TAOtronics TT-BA01.
It pairs faster, audio output is better, battery life is slightly better than the other two and its kit includes an AC/DC adapter as a charging option.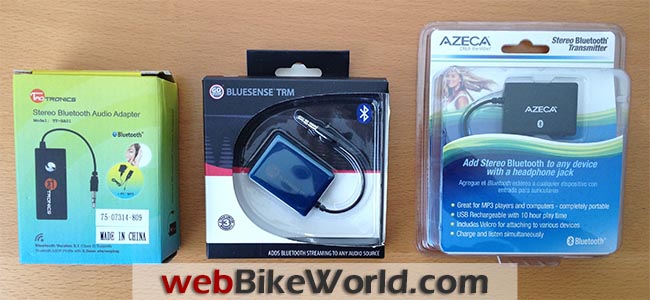 Introduction
The Bluetooth Dongle or Adapter or transmitter, commonly referred to as a "BTA", has (thankfully) been around since (almost) the earliest days of consumer Bluetooth availability.
And trust me, their day isn't over yet; for many of us, they remain an indispensable accessory.
A Bluetooth adapter or transmitter has clear advantages: the cost is minimal, but the value is great; that being the ability to take a legacy or non-Bluetooth equipped device and move it into the wireless audio streaming realm.
Got an older audio media or multimedia device?
Connect it to a Bluetooth adapter — typically through a 3.5 mm stereo output jack — then pair it with a compatible intercom headset or Bluetooth speaker set and just like that, you'll have a wireless connection for streaming stereo audio.
There is still one shortfall though — portable Bluetooth adapters cannot implement the Audio/Video Remote Control Profile or AVRCP services to a connected non-Bluetooth media player.
AVRCP provides the forward/back and next track functionality for your audio device. So even though both the Bluetooth headset and the Bluetooth adapter may be AVRCP compatible, the wireless commands cannot be passed to or interpreted by the media device.
AVRCP is (typically) implemented with the Headset or Hands-free Profiles (HSP/HFP) as they conveniently provide necessary command and control instructions needed to execute the AVRCP features.
Many Bluetooth adapters do not support anything other than A2DP.
So in this situation, the limitation is physical rather than wireless and that wired 3.5 mm connection from the media device to the Bluetooth adapter is "dumb", providing one-way audio output from the device to the BTA, but that is it.
This is also the reason why media devices connected directly to a Bluetooth personal or helmet headset system cannot be controlled by AVRCP instructions from the user via the headset.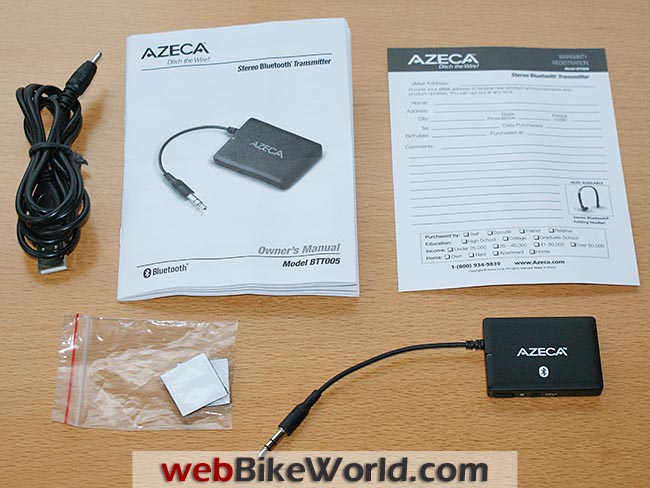 Three Stereo Bluetooth Adapter Transmitters
There is no shortage of portable Bluetooth-enabling devices on the market. This review is focused on the Bluetooth adapter, also known as a Bluetooth transmiiter.
The three Bluetooth adapters presented below are available in unlimited variety at widely varying pricing from a seemingly unlimited number of vendors.
All three of these devices fall into the generic mold for Bluetooth Adapters: small, extremely portable and utterly simple to use.
Two of them, the Azeca and GOgroove Bluesense TRM are identical, differentiated only by finish, colour and branding.
webBikeWorld has published a fair number of Bluetooth adapter reviews in the past, individually or in conjunction with motorcycle intercom and communications system evaluations.
These Bluetooth adapters are very simple devices with very similar functions, I've covered form, fit and function briefly in the following sections with a feature and performance comparison at the end.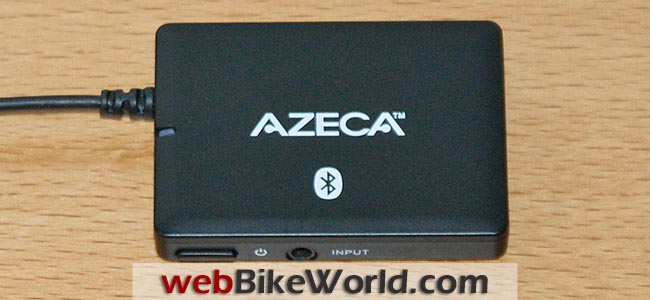 Azeca Bluetooth Transmitter Model WAD BTT005
[asa2 tplid="6″]B01EHSX28M[/asa2]
Azeca is headquartered in Suwanee, Georgia U.S.A. and offer medical devices, phones, computers and TVs with a heavy emphasis on Bluetooth-based products as reflected on their main website.
This adapter kit comes packed with the rectangular 45 x 33 x 8 mm Bluetooth adapter.
Also included are a USB-to-mini coaxial charging cable measuring 123 cm long, a plastic bag with two small Velcro squares for mounting the adapter, a short but well-written Owner's Manual and Warranty Registration Card.
No AC/DC charger is provided.
The Azeca adapter has a 9 cm (3.5 in.) stereo lead terminating in a 3.5 mm stereo plug for connecting a non-Bluetooth device and a small LED provides status information.
A small main function button (MFB) and co-axial jack port occupy the bottom edge.
Bluetooth v2.1 powered, the Azeca adapter supports the A2DP or Advanced Audio Distribution Profile for wireless stereo audio streaming. It features Class II power for a nominal 10 meter (33 ft.) range. The device is claimed to have a ten hour play time and it can be used while being charged using the supplied charging cable.
[
UPDATE
 (April 2013) – Azeca sent us an email to let everyone know that they now have a Bluetooth transceiver that can both send and receive. It is called the 
Bluetooth Stereo Streamer (info)
 that transmits and receives stereo (A2DP).]
Initial charging of the Azeca, using one of the many AC/DC USB-port chargers I have on hand took 2.5 hours.
The LED indicator glows red during charging and shuts off once the device is fully charged; a low power state indicated by the indicator flashing red twice every 30 seconds.
The normal convention for use applies.
With the Azeca BTA turned off, put the Bluetooth receiver (headset) into the appropriate pairing mode, then hold the MFB on the Azeca for six to nine seconds initiating its pairing mode, indicated by an initial single blue LED flash.
Then the usual red/blue flashing pattern occurs.
If needed, and if the Bluetooth receiver device provides an input capability, the accepted PIN codes of 0000, 1111, 1234 or 8888 can be used.
Once paired, the LED on the Azeca will flash twice every four seconds followed by the appropriate paired LED sequence and/or voice announcement from the headset.
With the BTA and Bluetooth receiving device paired, plug the 3.5 mm connector into your MP3 or other audio device and start a track; stereo audio begins streaming to the headset through the BTA almost immediately.
Note: The Azeca Bluetooth adapter does not support Audio/Video Remote Control Profile or AVRCP; those features will not be available via the headset.
Holding the MFB for two to three seconds initiates shutdown, with the red LED flashing once before the device turns off.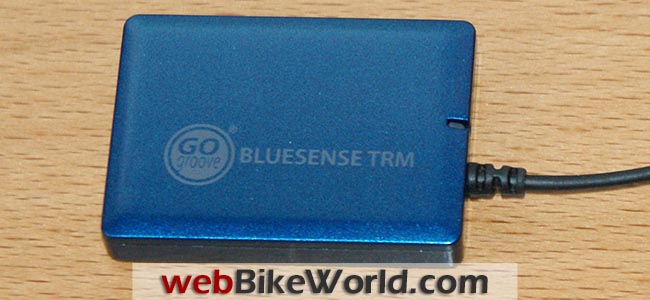 Accessory Power (GOgroove) Bluesense TRM
Accessory Power is a multi-brand multi-product company with offices in Los Angeles, Shenzen (China) and Hong Kong for design, manufacturing and distribution coordination globally.
The Bluesense TRM is marketed under the GOgroove label (speakers, docks, headphones, earbuds, FM Transmitters, etc.).
The kit is very basic; the Bluetooth module, a USB charging cord identical to the one provided with the Azeca kit and a small pocket-sized User Guide containing far less information than the more complete Azeca Owner's Manual. No AC/DC adapter is provided.
This Bluetooth Adapter is a clone of the Azeca module in both its form and specifications.
The only visual differences are a smoother satin sheen (teal) finish on the Bluesense; the charging port, which is marked as "5V DC" vs. "Input" and it has different brand markings, of course.
Setup, function and performance are all essentially identical to that of the Azeca, although the User Guide provides a few differing recommendations regarding device pairing, etc.
As with the Azeca Bluetooth adapter, the Bluesense TRM goes into pairing mode automatically if it hasn't been previously paired with anything else or doesn't detect a previously paired device.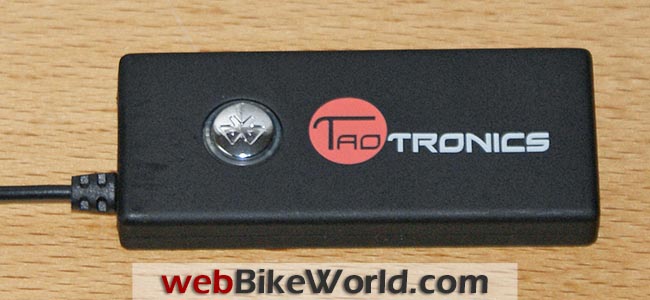 TAOTronics Model TT-BA01
Taotronics is another international multi-brand electronics distributor with an address in San Jose, California.
Their product listing includes auto electronics, cellphones including Bluetooth devices, computers, home entertainment, home and office products, portable audio and sporting goods.
Inside the environmentally-friendly green cardboard box was the rectangular 60 x 25 x 9 mm Bluetooth adapter module (slightly smaller than a disposable cigarette lighter), an AC/DC USB-based adapter, a 120 cm long) USB charging cable and a simple instruction manual.
A smooth but tactile black matte finish adds some discrete class.
The surface has a shiny (chrome-like) power button and coloured logo, with the left end sporting the 10 cm (3.9 in.) long 3.5 mm connection lead and a micro-USB charging port.
It features Bluetooth v2.1 (not v2.0 as identified on the box) implementation and nominal range of 10 meters (Class 2 power) and A2DP support matches it up with the other two adapters discussed above.
But what is supposed to set this BTA apart doesn't, as expected. The product is clearly identified as supporting both A2DP and AVRCP.
But while the adapter may actually be capable of "supporting" AVRCP instructions received from the headset, it cannot execute the necessary control over the connected media device, for the reasons discussed earlier in my Introduction section.
This claim is one seen on many other Bluetooth adapters, including other branded variants of this device, and while it is likely made based on design or marketing objectives, it can be very misleading to consumers.
Something that does work really well with the TT-BA01 is audio output; I don't know if it has a booster circuit of sorts.
But with the media device and headset at the same settings as for the other two adapters there is a clear (positive) difference in output compared to the other two Bluetooth adapters in this review.
Bluetooth Adapter Features and Performance Comparison
All three of these Bluetooth adapters or transmitters feature 3.5 mm stereo connection leads.
Each utilizes Bluetooth v2.1 with A2DP for stereo audio streaming from a wired media player to the adapter and out to a compatible paired Bluetooth headset.
The Azeca and Bluesense devices came from the same clone mold so there isn't much to distinguish them…less the odd variance in LED sequences for power On/Off and Pairing.
Without sounding repetitious, all three have virtually identical features and performance, although the TAOtronics Bluetooth adapter claims support for AVRCP whereas the other two do not.
It also has the best audio output of all three.
Battery life of these devices is very good; eight to ten hours is clearly achievable from a full charge, with the option to use all three devices while they are also connected via their USB cables for charging, making the power issue moot at times.
Again, the TAOtronics battery seems to be the best, although its listed run time is less than the other two…
Conclusion
A Bluetooth adapters is an indispensable tool that can "convert" a non-Bluetooth media player to allow wireless audio streaming to a motorcycle intercom system.
This is important in today's "Bluetooth-rich" user environment, particularly when it comes to getting the audio sent into our favourite wireless Bluetooth headset.
Recognizing that several Bluetooth motorcycle helmet intercom systems now feature a 2.5 or 3.5 mm input port which allows a wired connection can be made to a device, the Bluetooth adapter option is still valid — and wireless.
But then again, most motorcycle intercom system do not provide an external audio connection, often due to small form factor limitations and cost considerations.
The bottom line? As long as the consumer requirement exists, the Bluetooth adapter/transmitter market will remain healthy, providing the cost-effective solutions that can be found with any one of these three adapters.
w

BW

 Review: Bluetooth Adapters – Transmitters
List Price (2013): $39.99 to $49.99.
Note:
 For informational use only. All material and photographs are Copyright © webWorld International, LLC since 2000. All rights reserved. See the webBikeWorld® 
Site Info page
. Product specifications, features and details may change or differ from our descriptions. Always check before purchasing. Read the
Terms and Conditions
!
Owner Comments and Feedback
---
From "J.B." (September 2016): ""I have been using a TAOTronics Model TT-BA01 for 4 riding seasons.
In my case, I have a Garmin GPS in the left ear of my Sena SMH5 intercom and the TaoTronics sending radar detector alerts to the right ear.
The only conflict that I have between devices is that I need to pair the TaoTronics first and the GPS second.
Overall, this has given good service until this season.
The radar detector and TaoTronics are mounted on a ram mount to the handlebar.
Part way through this riding season, the TaoTronics would intermittently connect and disconnect which left me wondering if I would get any radar warning.
L The case of the TaoTronics was easy to open with 3 snap-in-place tabs on each side. Inside, the wires from the battery to the circuit board were long and unsupported. I could cause the issue by wiggling the wires.
It is pretty clear that vibration from the handlebars has fatigued the wiring connections.
I tried securing the wires with some non-shrink epoxy, but epoxy has a habit of getting where you don't want it before it cures, so the TaoTronics is no longer working. Ooops.
My point is this. There is nothing wrong with the TaoTronics or other inexpensive Bluetooth transmitters. They function well in their designed use.
But we have to realize that out in the sun, with a range of temperatures, and a harsh vibration environment was never part of the design protocol for these devices.
If you are going to use one on a motorcycle, pay attention to it's environment, especially vibration.
Alternatively, try something that is designed for the environment, like maybe the Sena hub, or plan on replacing the cheaper unit after a time.
These considerations should be in addition to the editors comments on device compatibility."
Follow-up From "J.B." (October 2016): "A few more words about compatibility of phones, GPS, and Bluetooth transmitters like the TaoTronics:
As mentioned above, a mobile phone connects as both an HFP (hands free profile, high priority) and A2DP (low priority, stereo music).
Most GPS, for example Zumo, connect as a phone, but voice directions are typically mono, so they don't need A2DP.
That said, many headsets can support 2 channels or more of each protocol.
In my earlier comment, I was able to use GPS, connected as a phone, and an early TaoTronics TT-BA01, connected as a phone, at the same time because both were using mono protocols and I was able to wire them into different ears (left = GPS, right = BA01).
Many people like to listen to music through their BA-01, so Tao Tronics changed to the A2DP stereo protocol in the BA-01.
After I killed my first one, I ordered a new BA-01 and now I can connect both GPS and BA-01, but it's more complicated.
I paired the BA-01 first as an A2DP only device, known in Sena as a "media selective pairing". Then I paired the GPS as a phone.
Much like a hands free phone in your car, if you were playing music through the BA-01 and a route instruction came over the GPS, the music would be muted because the GPS, paired as a phone, has priority.
After the GPS is done talking, there is about a 10 second delay, then the music starts to play again.
This is all very sensible, but a little worrisome for me because I am using the BA-01 to transmit radar detector warnings. For each GPS direction and about 10 seconds after, I am flying blind.
Now, I could buy the Sena SR-10 Bluetooth hub because it changes my radar detector into a high priority HFP signal, but I'm probably too cheap for that.
I probably should be going slower anyway when the GPS is giving me directions.
I am not in anyway connected to TaoTronics other than as a customer, but I too find their customer service to be excellent. Also, my first transmitter only failed due to my own mistakes, so I think they have a very good product."
---
From "G.M." (July 2013): "I purchased the TAOTronics Model TT-BA01 based on the review.
My intent was to use the dongle to connect the mini-jack output of my Garmin ZUMO (non-Bluetooth) to my Sena SMH-10 that I also purchased due to the great review on wBW.
My iPhone pairs easily with the SMH-10, and I wanted to also pair the ZUMO so I would get directions imposed over the music I play from the iPhone, in accordance with some mystical priority system built into Bluetooth devices and the SENA.
Last weekend I attempted to pair the TAOTronics Model TT-BA01. The iPhone was already paired. Long story short, if I pair the TAOTronics dongle with the iPhone, the SENA gets disconnected.
If I pair the SENA again, the TAOTronics dongle gets disconnected.
I emailed SENA Support (great company) and they replied that both the TAOTronics dongle and the iPhone use the same single connection format/profile on the SENA.
The SENA has two HFP profiles (inputs?) and one A2DP stereo profile. Both the dongle and the iPhone are trying to use a one lane road, and it's a one or the other prospect.
SENA recommended their own special dongle, (the Sena SR10 Bluetooth hub (review) for $179.00 vs. $29 for the TAOTronics dongle.
Looks like I'll have to send the TAOTronics dongle back and I am not likely to drop $179 on the SENA dongle, I have too much Scottish blood to do that.
I think readers need to know about these compatibility issues.
There may be others out there trying to pair to the great SENA unit, not knowing that the line is already busy and party lines are not available, nor is a conference call.
One criticism of SENA, their pairing directions tell you to pair gizmos according to one of three different profiles (Stereo Headset, Hands-free, or
Headset) with not one word in the instructions about HOW to pair according to one profile vs the other.
I contacted their Support to ask how to connect via one profile or the other.
They did not explain how to do it, they just said "you're stuck, both gizmos [iPhone and dongle] are using the same profile" (my words, not theirs).
Perhaps had I understood all the ABC's and XYZ's of all the acronyms related to Bluetooth-ing I would have avoided this dry haul on the road to Bluetooth pairing Nirvana. Darn.
Editor's Reply: This issue is one of the least understood and probably most disappointing for Bluetooth intercom users. It has been reported several times by webBikeWorld readers.
Apparently the channel or profile or connection is shared on some devices so they interfere with each other. It's more of an issue with the over-stretched Bluetooth technology than anything.
The Bluetooth adapter/transmitters in this review are very simple, meant to connect one device to one other device with "priority".
They don't have enough intelligence to disconnect and re-connect when something with higher priority muscles its way in.
Basically I think the Bluetooth intercom technology has been stretched to the limit and beyond anything originally intended.
And one more thing — invariably, when there is a Bluetooth connection problem, there seems to be a Garmin device mixed in the works.
Also, there are so many different devices that users want to connect today and there's just no way to know how it will all work ahead of time.
But, many readers have also reported excellent results using the Sena SR10 hub to connect multiple devices.