The cryptic message arrived via email one day: "I have the polish you are looking for." it read.
"It removes bluing and golding."
Golding?
"Contact me with an address and I will send out a free sample.  I sell my product for 100 dollars a gallon and 8 dollars for an 8 ounce bottle.  Only in bulk orders."
That was it — no name, no address, no website (see the update below).  Just "I have the polish you are looking for."
So I figured what the heck, this sounded like a sub-plot from an old Bogey movie or something, and I couldn't resist.
The package arrived a while later with no additional information.  It took its place on the shelf in the garage, where it sat forgotten until I pulled it out recently to give it a try.
Although it looks blue in the photo, the liquid separates after a while into a two-tone blue on the bottom and clear on top.  It takes some vigorous shaking to get everything mixed up again, where it stays in suspension for a half-hour or so.
Maybe it's the soft spot in my heart for the underdog, or maybe I'm an incurable romantic, but I'm always hoping to find an obscure product like this that works better than its popular commercial counterparts.  What could a little guy know about chrome and metal polishing that some big corporation doesn't?
I'm not sure, but the bottom line is that the Blue Diamond metal polish really works.  The label advises wearing rubber gloves when handling the product and I obliged.  It has a powerful petroleum-based smell, so I didn't want to take any chances.  Maybe it has some secret chemical formula (that I don't want to know about) that makes it more powerful than the average metal polish?
Blue Diamond is very easy to apply; simply wipe it on, rub it in a bit and buff it out.  The liquid is very thin so it goes a long way.
See the before and after photos below; I used the polish on the end of this exhaust pipe with its hard oxidation and burnt-in grime as an example of how well it works.
The chrome immediately takes a shine and the polish also does seem to remove the light bluing on exhaust pipes, although nothing seems to remove the very heavy bluing where the exhaust pipes meet the engine and the chrome plating has been displaced or burnt off.  But Blue Diamond does seem to polish it up about as good as anything else we've tried.
I have noticed that it seems to be a little harder to buff out all of the Blue Diamond residue than other chrome polishes I've tried.  I'm not sure why this is, because you'd think that the thin coating would buff out with a couple of wipes.  Nevertheless, after it's all removed it leaves a very nice, deep shine.
The label claims that the product "removes tarnish, oxidation, rust, tar and all kinds of road chemicals".  Our experience has demonstrated that all of these claims are valid.  What's nice about Blue Diamond is that it goes on so easy and seems to melt away the grime and the oxidation almost immediately.  It really does seem to leave a very nice shine.
Eight bucks buys the eight-ounce bottle in bulk or $10 for a single bottle and it will last a long, long time.  The problem is trying to find the stuff.
UPDATE: The Blue Diamond website is now up and running, or contact the owner at bluediamond_metalpolish@yahoo.com but I haven't been able to reach anyone at the company.
Blue Diamond metal polish works so well that it is worth the effort to try and find it.  Sort of makes it just that more mysterious, no?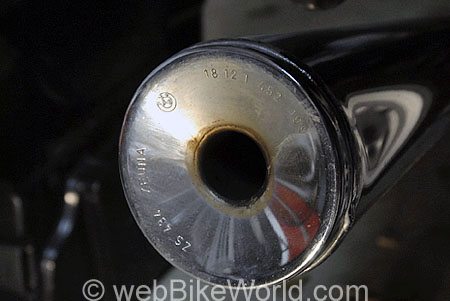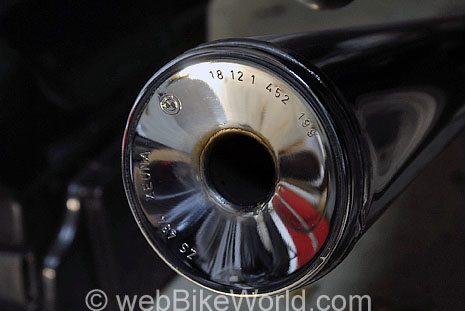 wBW Product Review:  Blue Diamond Metal Polish

Available From:  Blue Diamond (Apparently no longer in business as of June 2011?)
Made in:  U.S.A.
Suggested Retail Price:  $10.00 for 8 oz.; $100.00 for 1 gallon; extra for shipping and handling

Note:  For informational use only.  All material and photographs are Copyright © webWorld International, LLC – 2000-2011.  All rights reserved.  See the webBikeWorld® Site Info page.  NOTE:  Product specifications, features and details may change or differ from our descriptions.  Always check before purchasing.  Read the Terms and Conditions!
Owner Comments and Feedback
Comments are ordered from most recent to oldest.
Not all comments will be published (
details
).  Comments may be edited for clarity prior to publication.
---
From "F.S.":  "First let me start off with how I think your website is a great starting point for anyone who wishes to research motorcycling products and riding related information.  Your website touches on a lot of the topics and issues encountered by the everyday motorcyclist.
Recently, I was looking to polish the exhaust headers on my R1100S.  I wasn't necessarily looking to remove the bluing, rather, I was more interesting in getting the dirt and grime off of them. Having read a number of the reviews on the webBikeWorld site, I decided to try a few of the products to compare for myself.  The products I tried were the following:
1. Metal Master Easy Cut and Final Shine (amazing)
2. Blue Job (way over priced for the quantity you get and the job it does)
3. Blue Magic (super cheap with mediocre results)
4. Blue Diamond (completely useless)
Hands down the Metal Master Easy Cut and Final Shine combo was by far the best polish of the lot.  Blue Job a distant 2nd with Blue Magic a cheap chrome polish I picked up for $3.50 from Pep Boys right behind Blue Job.  But the main reason I'm writing is that Blue Diamond was completely useless.
It had absolutely little to no effect on the headers.  The reviews were right on with Metal Master and Blue Job (which required a little more elbow grease) but I really feel the Blue Diamond product should have received a much less favorable review.  It didn't achieve any of the claims on the bottle. In my opinion it's a 0/5.
P.S. I've had good results with Mothers products recently, namely their clay and 1-2-3 wax systems.  I meant to test out their chrome polish as I hear it's really good on harder metals like chrome and stainless steel. It's also supposed to do wonders on glass (headlamps).
It might be a good product to test since it's available at almost any parts store.  Additionally, I heard their Plastic Polish is very good. I'm currently debating using All Kleer, Plexus, or Mothers Plastic Polish for my windscreen."