Blazewear Battery Heated Vest Image Gallery
A simple and (very) effective heated garment, it has few bells-n-whistles and doesn't need them.
Proven singlet design, very well made, lightweight with effective insulation and even more effective heating panels.
It does what it is supposed to do, without fail.
The battery lives up to its claimed performance parameters and with the optional double capacity battery upgrade the vest could provide up to a full day of heat depending on the setting used.
A bit of a price premium compared to some other heavily discounted brands but in my mind well worth the investment.
Anything this light and simple that keeps me this warm and comfortable is good — very good.
Introduction
Heated clothing has long found a home within the motorcycling community and for good reason.
Be it a vest, jacket liner, pants, socks, insoles or even heavy duty outer garments, the warmth and comfort provided by heated clothing is pretty much guaranteed to result in a real return on investment, not to mention the safety factor.
But speaking of safety anyway, riding in less than perfect weather conditions can be challenging, exhilarating and rewarding.
But, it can also be downright dangerous if certain conditions and factors are ignored.
Low temperatures combined with wind-chill and inadequate gear can quickly reduce even the hardiest of motorcyclists to shivering individuals in short order.
I have been there, done that and now avoid recreating the scenario.
I also spend a lot of time (constructively) reminding other riders regarding this matter.
Piles of research and rider experiences attest to the fact that frozen fingers and cold joints impaired by exposure, fatigue and poor blood circulation result in real and very perceptible delayed response times when receiving a flash command from the brain.
So while the following might seem to be a given for many, it bears repeating — warm and comfortable riders and/or passengers tend to be far more alert and cognizant.
Situational awareness is maintained, along with the physical ability to respond quickly to unforeseen or, emergency situations.

Blazewear Heated Clothing
Blazewear was founded in late 2005. The company manufacturers battery heated clothing that incorporate technologies such as carbon heat transfer fabric and lithium batteries.
The heated clothing was first developed in England for use by outdoor workers, but Blazewear also says that the heated garments are popular with the elderly, people with disabilities and others who experience cold-related ailments.
General heated product categories for humans include jackets, vests, gloves, scarves and insoles, along with batteries and related accessories.
The Blazewear product listing also includes a heated horse rug – something that I would have welcomed so many years ago when I spent a fair bit of time in the saddle and had two mounts to care for.
The Unisex Heated Rider Sports Vest evaluated here is just one example of the heated clothing produced by Blazewear and marketed in the USA by Blazewear Distributors, LLC.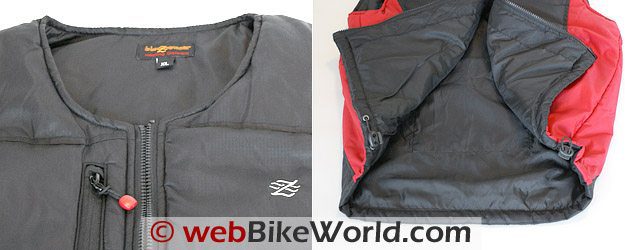 The Blazewear Heated Rider Sports Vest
This unisex garment is based on a very simple clothing garment that can trace its origin back a long, long time.
Also known as a singlet, this garment is one of those most basic but seemingly essential pieces of clothing adopted for a wide variety of uses.
As designed by Blazewear, the Heated Rider Sports Vest is totally unassuming, less its distinctive Red and Black panels, but is totally functional in virtually any environment or setting.
The garment features a waterproof (water-resistant) and windproof nylon outer with a very light polyester thermal layer for warmth.
The vest fits so well and so comfortably that one forgets it is being worn.
Meant to be worn as a mid layer or outer layer, the garment is very effective in keeping the core body area warm, with or without the heating system activated.
When more heat is needed, it's a simple matter to power on and set the controller to the desired setting.
While far more simple compared to many other heated garments on the market, the Blazewear vest is very effective.
It features three heating areas located for optimum efficiency: one on the back and one on each side of the chest. Internal wiring is minimal, hard to detect and never obtrusive in any way.
The heat controller and 2200 mAh Lithium Ion rechargeable battery are integrated in one small, easy to handle module that fits easily into its inside pocket on the lower left front of the vest.
The module is connected to the vest via a small coaxial lead tucked inside the pocket.
A pressure sensitive On/Off LED switch glows Green when the system is on and a small digital display indicates which of the five temperature settings have been selected via the Up and Down pressure controls located above and below the display.
The standard battery supplied with the system is claimed to provide 1.75 to 4.5 hours of heating.
Once must remember however that battery life and therefore use time are based on battery condition, temperature setting(s) used, outer layers being worn and environmental conditions.
Regeneration of the battery using the supplied AC/DC charger is a simple matter; it typically takes 2.5 to 3.0 hours to bring it back to full charge.
As per the included instruction sheet, the battery pack is good for at least 400+ charges.
One thing that should be done initially is to fully charge and discharge the battery once or twice which will "exercise" the battery fully, something that typically results in longer battery life and more efficient use or cycling of the battery.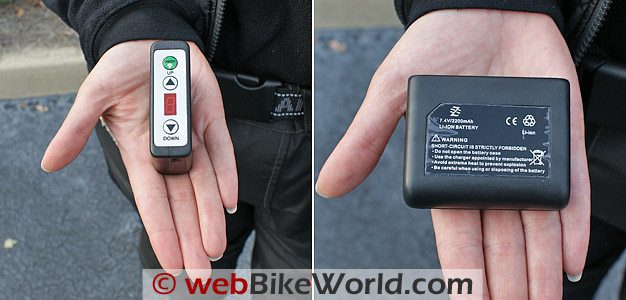 Optional Accessories
Blazewear offers optional components that can increase use time and provide more flexibility in using the garment itself.
A double capacity (4400 mAh) component can add up to 3.5 to 9 hours of heating time, again depending on use and conditions.
Standard replacement components – standard battery, car charger (NA cigarette connector) and an AC charger are available as well.
Fit, Form and Function
Over the course of two plus months, the vest has been used constantly for a variety of activities – riding of course, working out in the garage and yard, long walks and just keeping the body warm when needed.
The vest is extremely light-weight and just plain comfortable. It features a full cut with minimal tapering and for me, the fit was perfect.
The arm-holes are just right, providing clearance for the arm clad in a long-sleeved light shirt or fleece — no restriction whatsoever. The collarless neck is well cut and provides lots of room.
Unlike so many other motorcycling garments on the market that only have a single or one-way zipper, the full double zipper on the vest is very much appreciated: allowing the smooth running zipper to be opened from either the top or bottom.
If the vest is too long or bunches up, the ability to open up the bottom provides flexibility.
In one particular instance, the vest proved itself by keeping my spouse warm during Remembrance Day/Veteran's Day ceremonies on a cool November day in Ottawa.
Having just returned from an overseas tour where high 30s C to plus 40 C temperatures were the norm, the garment kept her warm for close to four hours before the battery finally ran out (controller was set to '2').
On cool ride days when some heating assistance may or may not be required, I find that wearing the vest over a long-sleeved body shirt or a very light fleece and under a good wind-proof outer layer is just the ticket.
Outside of the warmth it provides, I typically forget the garment is being worn, it is that comfortable.
Depending on the wearer's riding position and fit of any over-garment, the battery may be felt even though it is quite small and well secured in its pocket. When wearing a loose outer jacket and sitting in an upright position I can't feel the battery at all.
When wind-chill begins to take its toll or ambient temperatures drop, it is a simple matter to turn the system on and set the controller to the desired temperature.
For most rides, a setting of two or three is sufficient — the technology used is that effective. Operating the vest at these settings will provide three to four hours of operating time.
Care and Handling
The Heated Rider Sports Vest is as easy to care for it is to wear. Simply remove the battery, cover the plug with the (provided) cap, close the zippers, wash with similar colors and then hang it to dry, which it will, quickly.
Vital Statistics of the Blazewear Heated Vest:
Weight of vest with battery is 526 grams.
Weight of vest alone is 402 grams.
Weight of battery is 124 grams.
Standard Li-ion Battery is 7.4V with a 2200mAh rating.
Conclusion
Heated clothing is a great tool for motorcyclists. New technologies and innovative designs have provided us with a wide range of components and garments from which to choose.
Mounted on your favorite two-wheeled conveyance, the choice is yours – wired or portable.
Battery powered garments still tend to be 'lightweight' in terms of performance and use times although significant enhancements in battery and distribution technology are closing the gap.
There will always (likely) be some performance differences between wired or portable garments.
But depending on the power supply and efficiency of the garment, the effectiveness of battery powered garments cannot be overlooked and they provide options for some situations that just cannot be matched by wired garments.
The Blazewear Heated Rider Sports Vest is a really good example of what choices we have in heated clothing.
It can be worn anytime for almost any activity where that extra core warmth is desired or needed.
As a lightweight mid-layer, it is perfect for motorcycling as long as its limitations are appreciated.
More wBW Heated Clothing Reviews  |  Motorcycle Glove Reviews
w

BW

 Product Review: Blazewear Heated Vest

Manufacturer: Blazewear
List Price (2009): $195.99 USD
Colors: Black/red
Made In: China.
Sizes: XS to XXL
Review Date: December 2009
Note:
 For informational use only. All material and photographs are Copyright © webWorld International, LLC since 2000. All rights reserved. See the webBikeWorld® 
Site Info page
. Product specifications, features and details may change or differ from our descriptions. Always check before purchasing. Read the
Terms and Conditions
!
Owner Comments and Feedback
---
Note:
 For informational use only. All material and photographs are Copyright © webWorld International, LLC since 2000. All rights reserved. See the webBikeWorld® 
Site Info page
. Product specifications, features and details may change or differ from our descriptions. Always check before purchasing. Read the
Terms and Conditions
!
---
From "G.U." (12/09):  "In my opinion this vest is poorly designed for motorcycling. The most vulnerable area of the body when riding is around the neck, where cold air enters between jacket and helmet.
So the vest at least needs a tall, tight fitting collar.
With the limited power available due to using batteries, I would design the vest to have a collar and only have the heating elements in the collar and upper chest."
Editor's Reply:  Actually, most motorcycle vests are made specifically without a collar, because winter jackets have tight and tall collars, making it sometimes very difficult to fit anything else underneath the jacket collar without making it too tight around the neck.
I sometimes have problems fitting even a turtleneck under a winter jacket collar and I usually use a neck "gaiter" or wind block on the outside of the jacket collar to block the wind. So in fact, I'd much prefer a vest with no neck.
Check out the motorcycle vests we've reviewed and you'll find that they have specifically designed with a low neck.
---
From "M.D." (12/09):  "(With) regards to battery handling: 'Avoid frequent full discharges because this puts additional strain on the battery. Several partial discharges with frequent recharges are better for lithium-ion than one deep one.
Recharging a partially charged lithium-ion does not cause harm because there is no memory. (In this respect, lithium-ion differs from nickel-based batteries.)  Short battery life in a laptop is mainly cause by heat rather than charge / discharge patterns.'"