There is no such thing as an all-season motorcycle jacket. You either have a winter jacket or a summer jacket. All else is a compromise.
And if you really want to be realistic, you also need a jacket for the in-between spring/autumn (fall) seasons when it's warm during the day and cool in the mornings.
That's where the Blackbird denim/leather men's and women's motorcycle jackets fit in. They feature a breathable denim torso with Kevlar lining with CE-approved armour in the elbows, shoulders and back for crash protection. The sleeves are made of abrasion-resistant leather and, let's face it, that's the part that will hit the deck first if the unthinkable should happen.
Once you've parked your bike or scooter, the jacket is stylish enough to walk into just about any establishment without copping those judgmental looks. The front YKK zip is hidden behind typical denim jacket stud-type buttons to retain that casual look.
It's also very comfortable for just walking about, going to a restaurant/cafe or to the movies. If you want, you can quickly remove the armour and make it even more stylish and comfortable.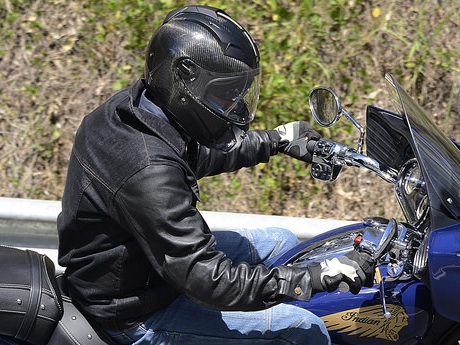 The full-grain cowhide leather on the sleeves is 1.3mm thick which is the same thickness as on many race suits. Ok, so it's not exactly suitable for the race track, but it's right at home on the daily commute, touring, scooting about town and, since it looks a bit like a denim vest over leather, it could be also worn on a cruiser.
The Blackbird denim/leather jacket abounds in convenient pockets including an interior wallet pocket with velcro safety fastener, two outside lower pockets with strong YKK zippers and toggles so you can grab them with gloved hands plus two breast buttoned pockets.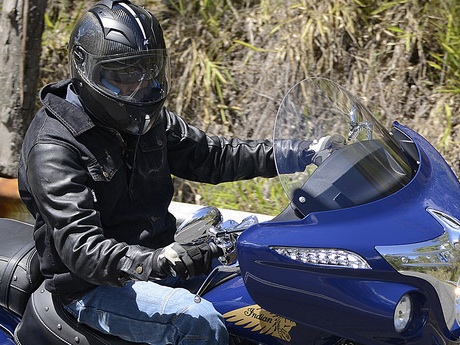 Even though it is a light and comfortable, casual jacket, all seams are double stitched with three-ply nylon for toughness.
On the highway, the collar flapped around and annoyingly flicked at my helmet, so I sewed the collar ends down in a couple of minutes and the problem was fixed.
The jackets come in men's ($225) sizes S to XXXL and women's ($195) sizes 8-18.