Biltwell Lane Splitter Review Summary
Review Summary
The Biltwell Lane Splitter is an eye-catching, stylish helmet that has a good build quality. It lacks some more advanced features, but for about $250, this helmet delivers on retro style and sturdy construction.
Pros
Lightweight at 3.5 pounds
Stylish modern retro design
Comfy liner made of brushed fleece Lycra
Sturdy construction
ECE and DOT rated
Cons
Noisy via the chin bar vents
Vents poorly placed and always open
No pin lock
Visor doesn't fully seal and tab for opening/closing is poorly placed.
Biltwell Lane Splitter Image Gallery
First Impressions & Basic Information
The first thing everyone is going to say about the Biltwell Lane Splitter is that it looks cool. This helmet is a fashion statement.
Of course, there will be some naysayers in the looks department because everyone has their own opinions when it comes to style. I think it looks cool. It has a retro enduro helmet kind of vibe minus the peak.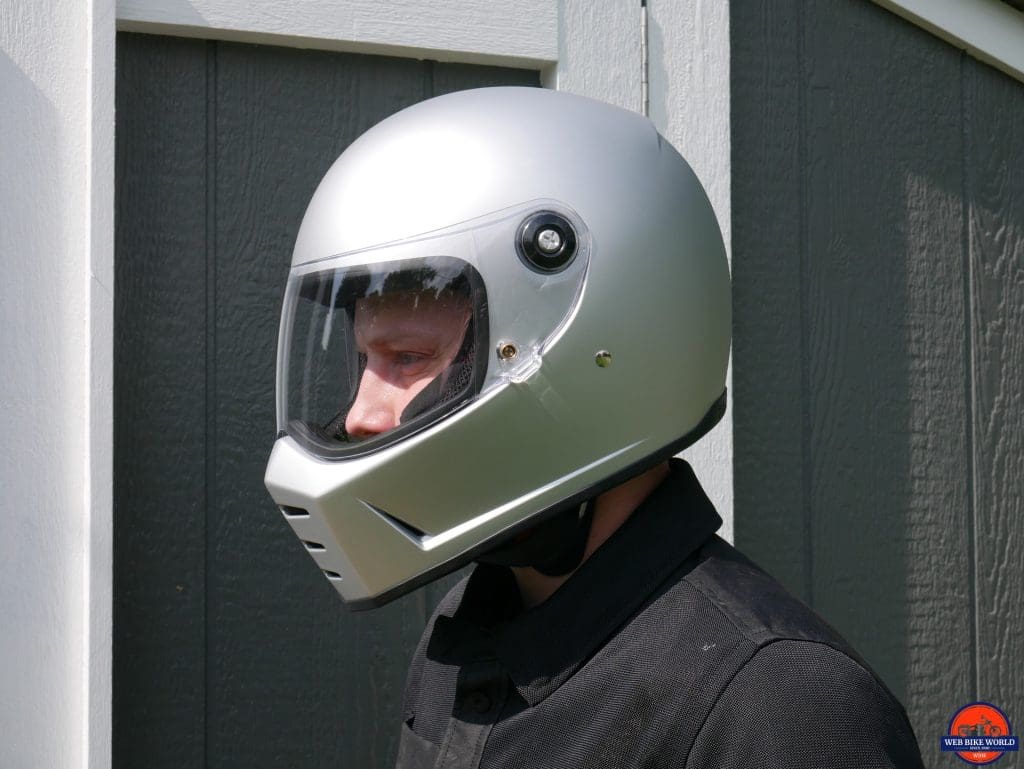 If you can pry your eyes away from the Lane Splitter's visage for a moment to glance at the spec sheet, you'll see that style isn't the only thing to like about it. The materials used are good for the price point.
The helmet is made up of an injection-molded ABS plastic outer shell and comes with a three-piece EPS, molded urethane chin bar pad, CE-certified polycarbonate visor, a removable and washable interior liner, and a chin strap with fleece Lycra, and an adjustable D-ring style retention system with a handy snap for your strap excess.
It also gets more vents in the chin bar than you'll ever need and a single big exhaust vent up high on the rear of the helmet. Is it the most impressive full-face motorcycle helmet on sale for $250? No, Cameron says the Scorpion EXO-R710 is, and that helmet costs less money, too. I'd have to agree with him although that helmet doesn't make a killer, retro fashion statement like this one.
Features
From Biltwell Inc.
Injection-molded ABS plastic outer shell is rugged yet lightweight
Three-piece Expanded Polystyrene (EPS) safety shell dissipates impact loads and fortifies helmet structure without compromising comfort
Molded urethane chin bar pad features front and side vents for cooling airflow
CE-certified polycarbonate shield is anti-fog and anti-scratch for safety and durability
Removable/replaceable comfort liner and cheek pads feature brushed fleece Lycra touch points to absorb and evaporate perspiration
Chin strap features brushed fleece Lycra touch points for comfort and an adjustable strap end retainer
Built in recesses for various aftermarket audio & comms systems
Exterior & Quality
Classic and retro-inspired motorcycles are big right now. Every motorcycle manufacturer it seems came out or is coming out with a retro bike. I dig them. If you're going to have a retro-inspired bike, you might as well have retro-inspired gear. The Lane Splitter fits this mold perfectly.
The helmet strikes me as the perfect embodiment of the term retro-inspired. It's obviously not a vintage helmet. It's a new design, but it looks like it almost could be a vintage design. The company has done a fantastic job of making a new design look kind of old and cool. I said above it reminds me of a vintage enduro helmet. That's all I see every time I look at it.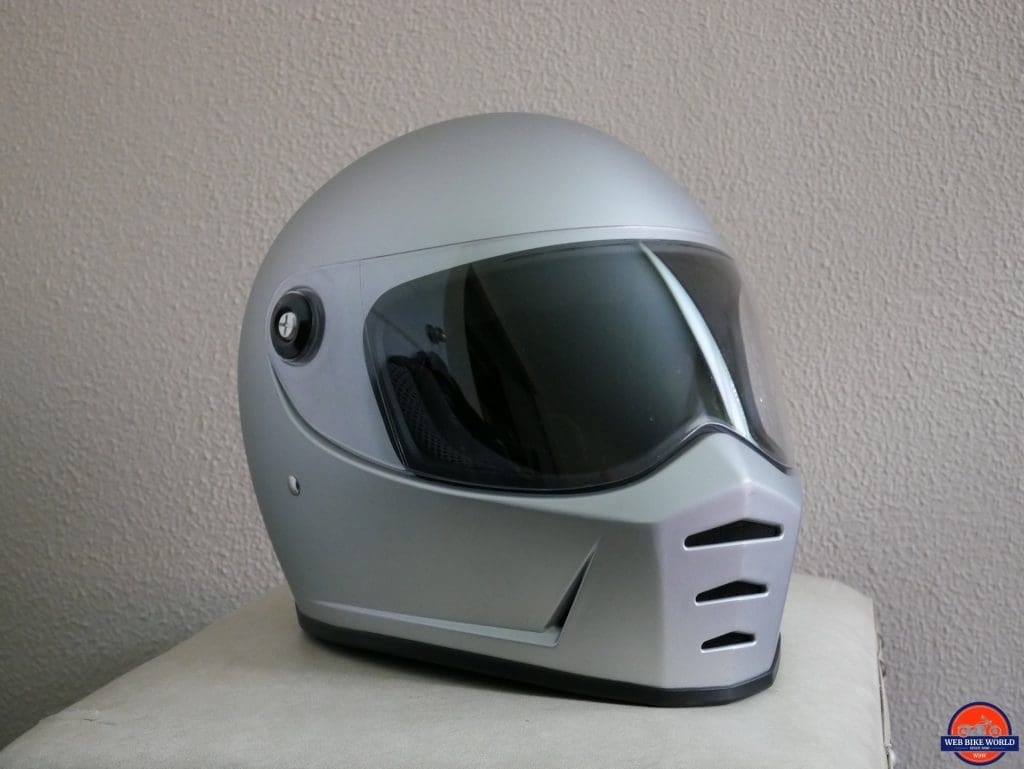 The chin bar extends out in front of you a bit and is the helmets most notable feature. On that chin bar, Builtwell slashed five variously sized vents. There's two to either side of and three right out front. These vents are always open—something I'll discuss later.
In profile, you get a nice smooth shape with only the side vent in the chin bar and the little lip where the exhaust vent is to disturb your eye.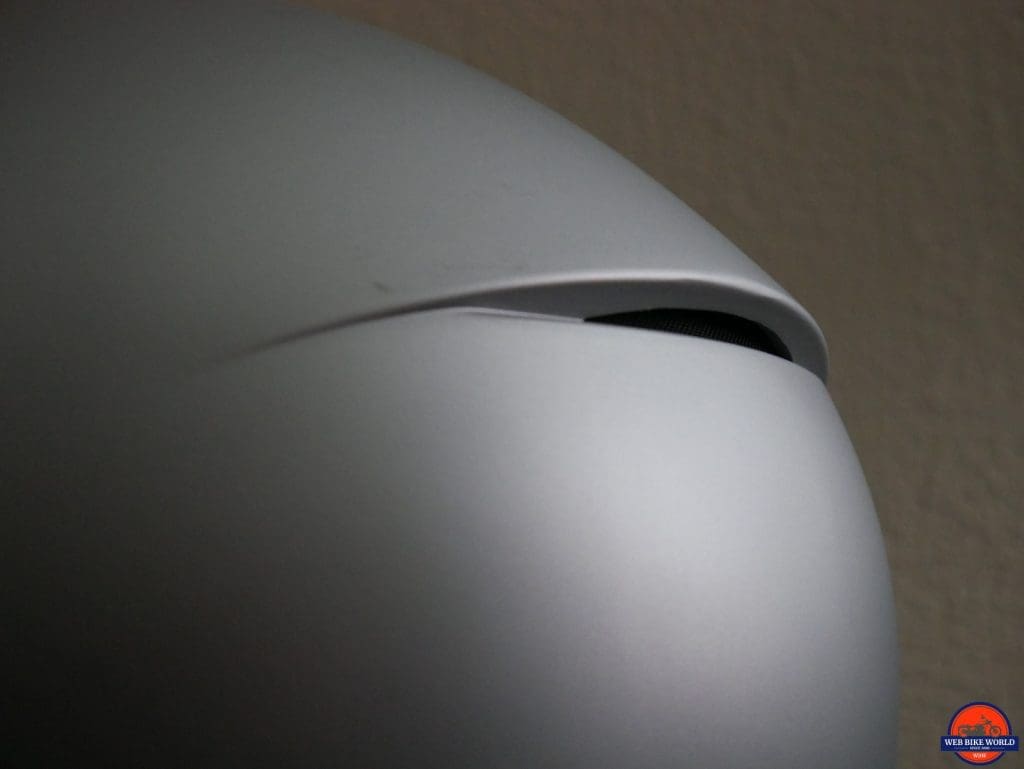 Speaking of that large rear vent, it's the sole notable feature around back other than the Biltwell logo and DOT and ECE stickers, which are on the smaller side.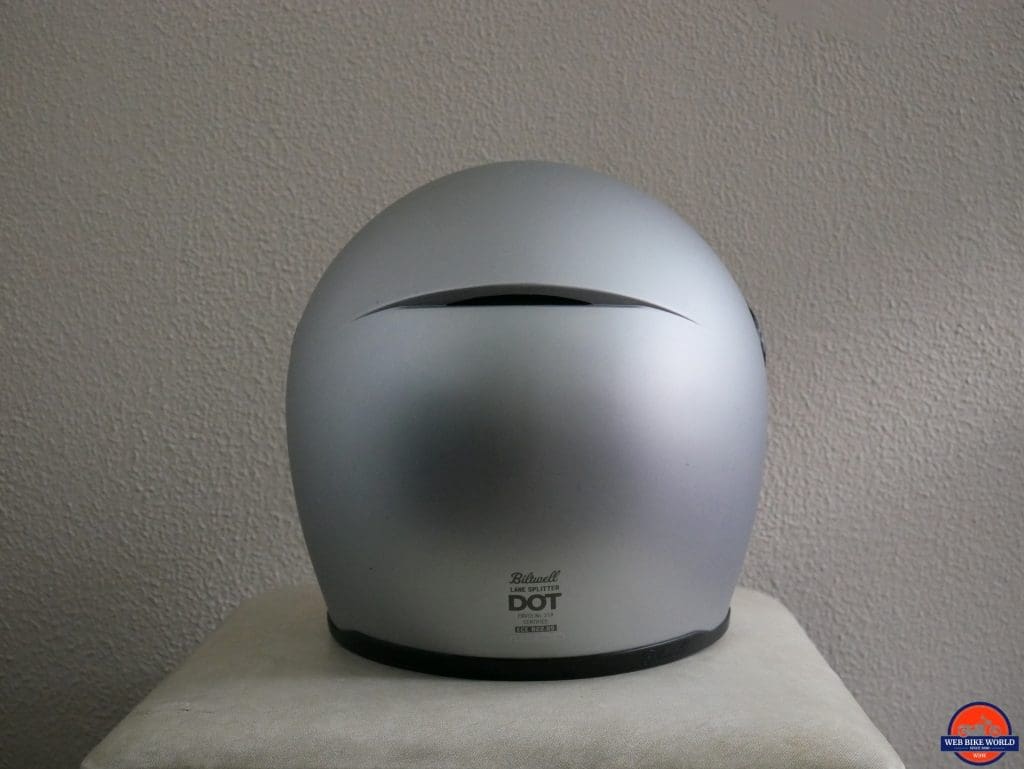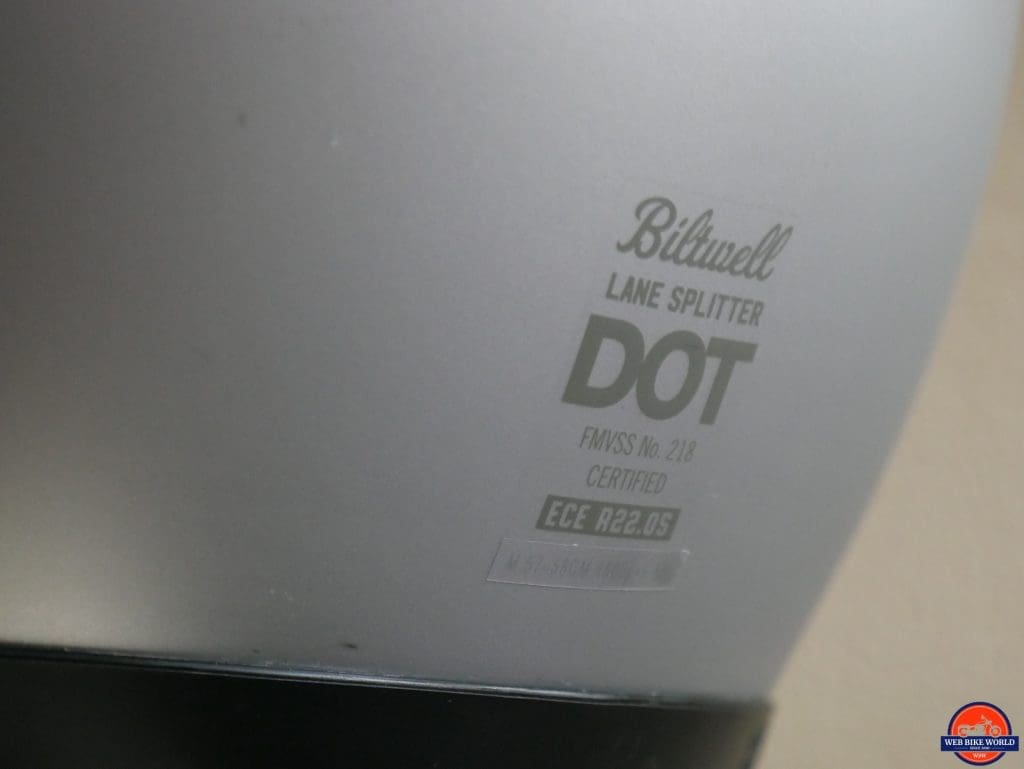 Around the entire bottom edge of the helmet and around the eye port is sturdy rubbery material that adds a bit of a black outline to the helmet's look.
As I said, I like the helmet, others probably won't. It strikes me as something you'll either love or hate.
Colors & Paint Finish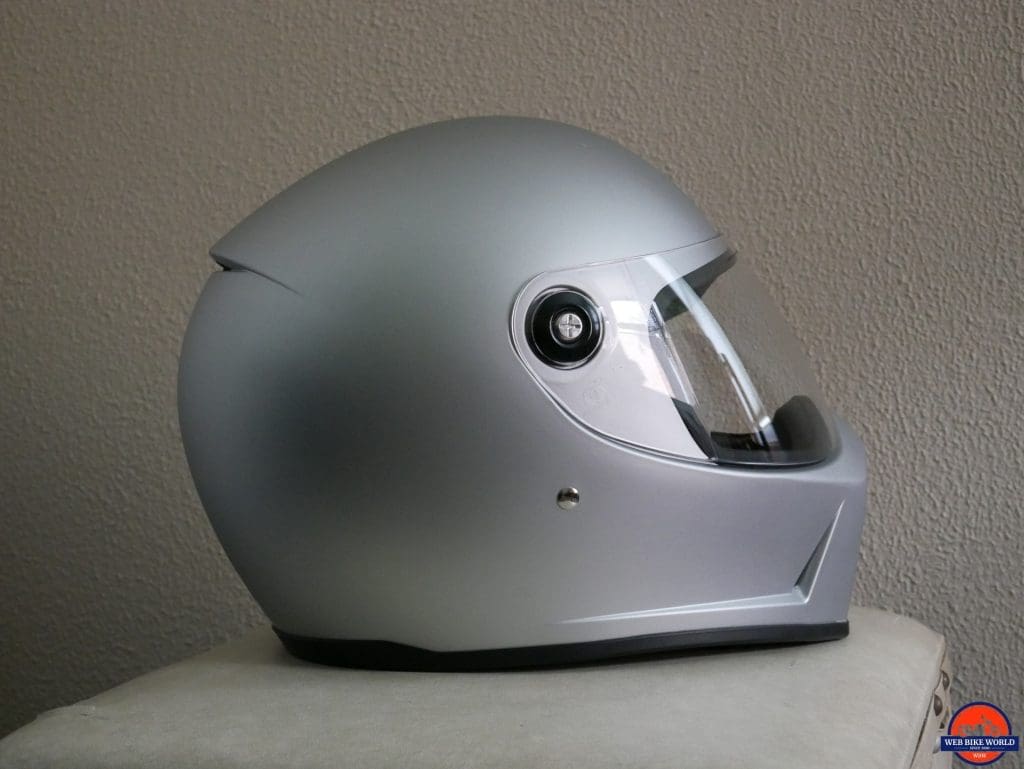 My tester came in a solid matte gray that Biltwell calls Flatte Titanium. There's also 10 other solid colors and two graphics, one of which is just the Biltwell logo script on the side.
The graphics are called Gloss Black Factory, which I already described and Rusty Butcher, which is a black and white two-tone affair. The Rusty Butcher is a clothing store and custom motorcycle shop based in California.
I'm a fan of all Biltwell's color choices and there are some unique options, like Safe-T Yellow and Gloss Copper. Personally, I like the silver or black best.
As far as paint finish goes, Biltwell did a fantastic job with the Lane Splitter the finish is even and beautiful on every inch of the helmet. I did over 400 miles in the Biltwell Lane Splitter. I took several short trips around town, hit up some country road, and I even wore it off-roading for a day. The helmet's finish took some dirt, dust, and abuse.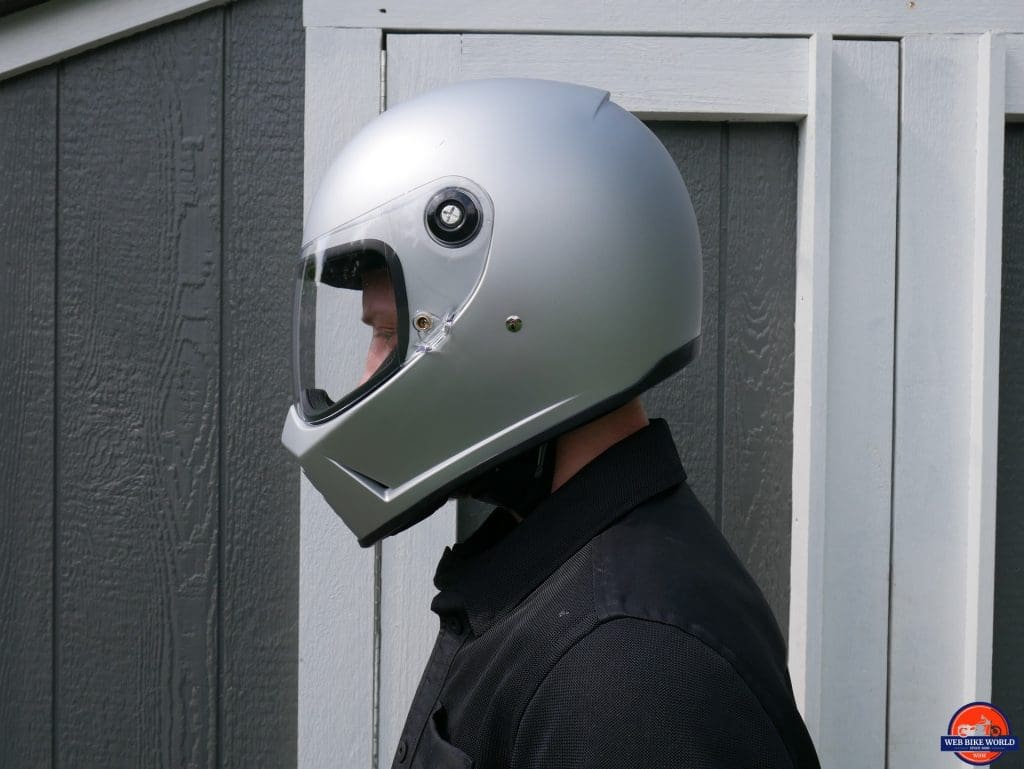 For all that I put it through, I was pretty surprised how the helmet's finish fared. Yes, there were some small scuffs and imperfections, but once I cleaned off the grime and buffed out some of the lighter scratches, I was honestly pretty surprised with how it held up.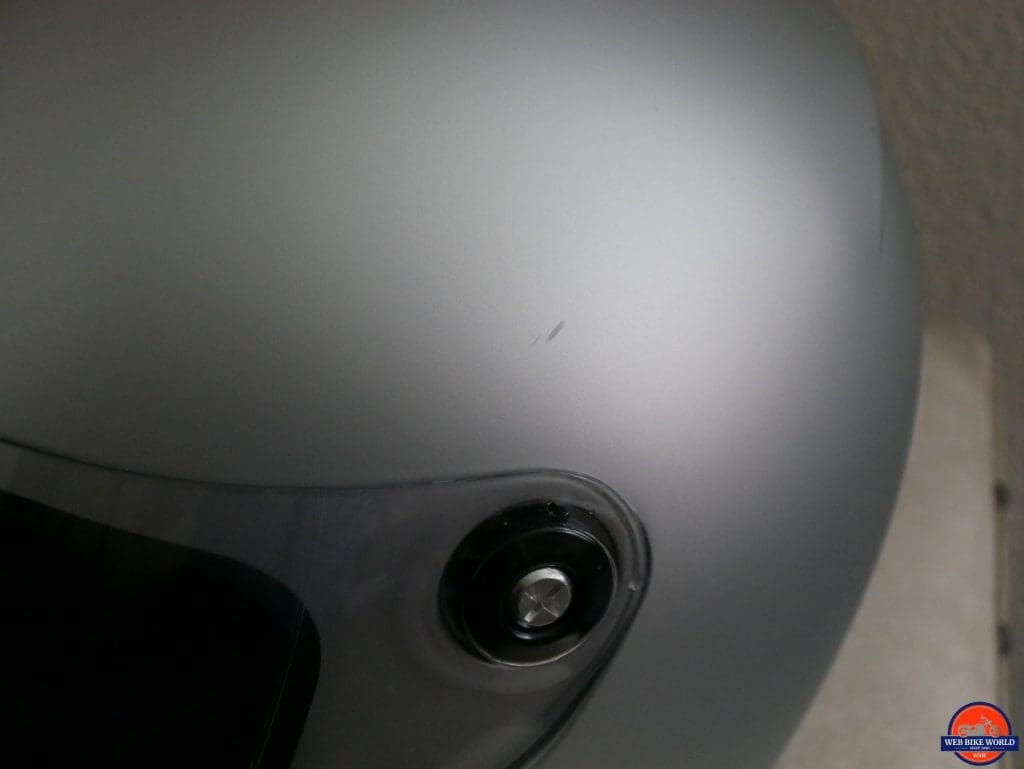 If you do get a big enough scuff, though, it shows up as black. That would be fine on a black helmet, but it's pretty noticeable on the gray.
Build Quality
The discussion of paint finish quality brings us to the helmet's overall build quality. The Biltwell Lane Splitter is a well-built helmet for the price. Everything is well fit together it feels tight and solid. I have no major complaints from a build quality standpoint.
The helmet doesn't flex much when handling it and if you give it a good hard squeeze, there isn't much give. The only issue I could foresee is the visor. It uses friction to hold it in place when flipped up and I wonder how that would hold up over time. Otherwise, I was pleased with the quality.
Comfort
The Biltwell weighs in at around 3.5 pounds. I didn't have a super accurate scale, but this is the number I see listed on various resources, and I would suspect that's accurate. The helmet doesn't feel heavy or awkward. The Biltwell is in direct competition with the Simpson Bandit, and that helmet is a couple of ounces heavier.
The helmet has a round oval head shape. This fits my head well, and if you have a little bit rounder of a head, I would suspect it will fit your head well, too.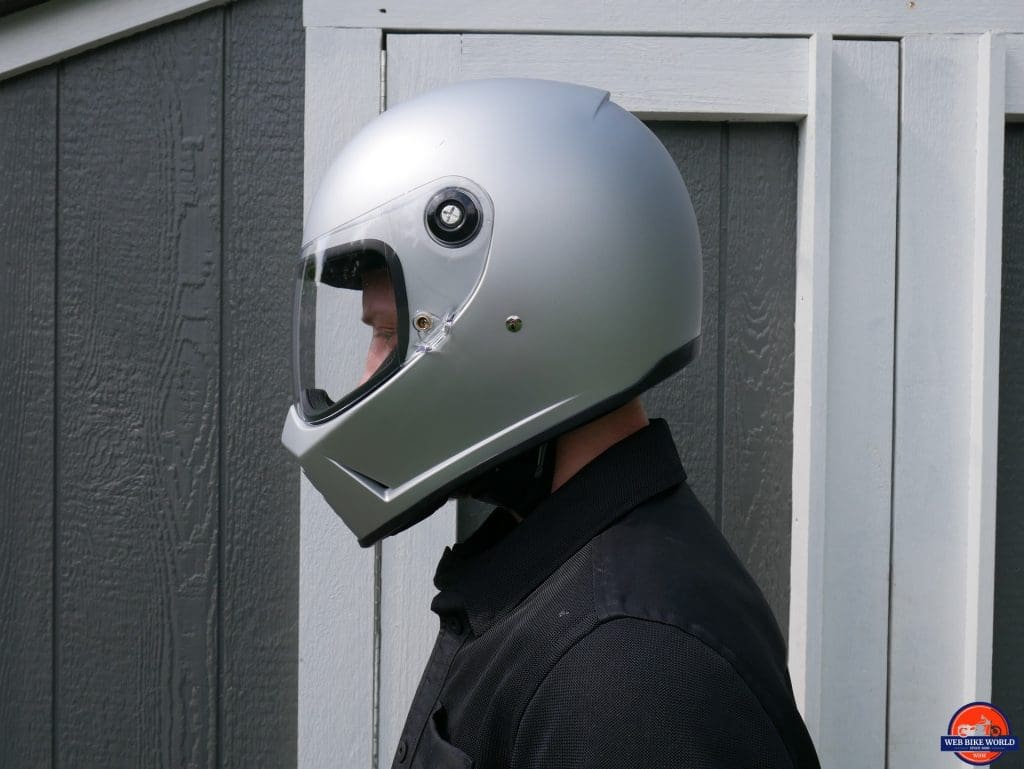 The cheek pads are snug on your face and the little neck curtain is close but doesn't choke you out. One thing that is a little restrictive is the placement of the chinstrap. It's a comfy chin strap, but it's positioned back kind of far. If you have a thick neck, you might find this uncomfortable.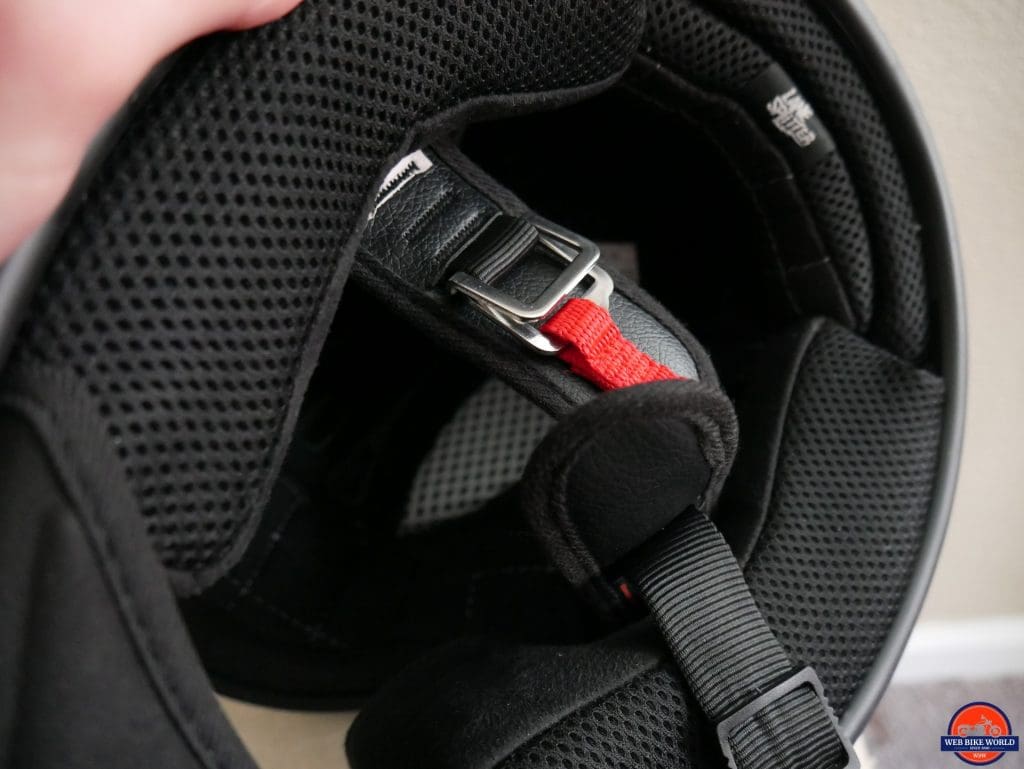 I wore a size medium based on the sizing chart and I noticed no hot spots or issues. The helmet was snug and secure, but not too tight. If you stick to the sizing chart, you should be just fine.
Airflow
The airflow kind of sucks in the Biltwell Lane Splitter. The helmet has a big exhaust vent up high on the back, but there are no brow vents.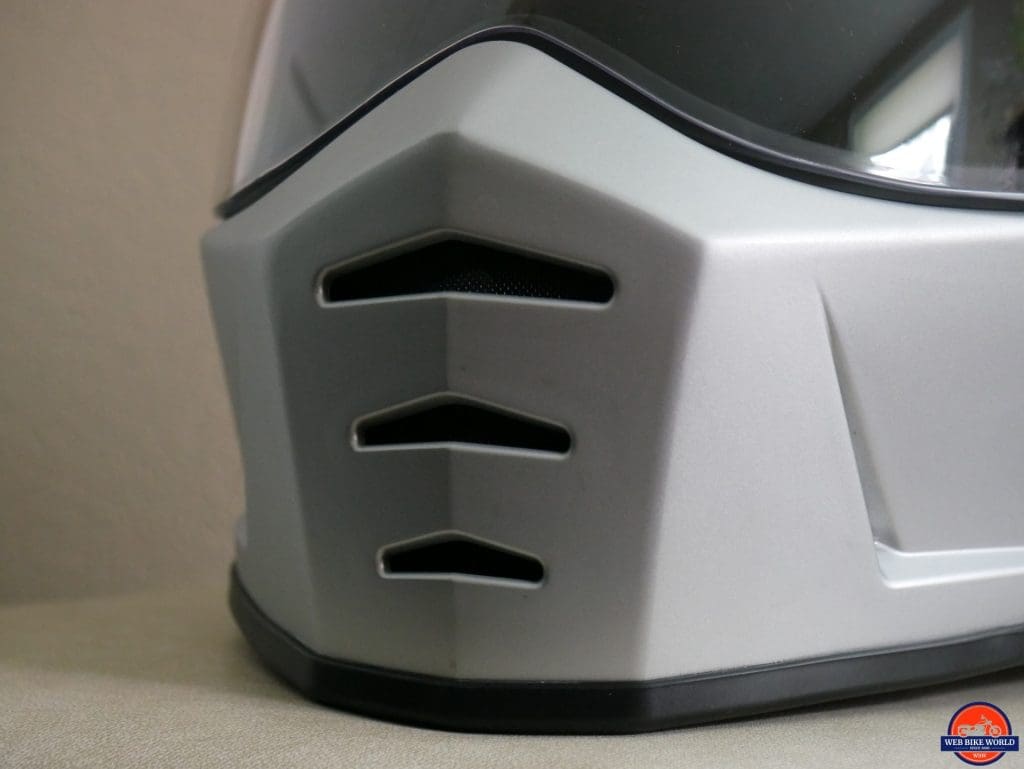 Instead, Biltwell packed all the vents in the chin bar. You can easily ride with the visor up and some air does get around even when it's closed, but good airflow through the helmet is minimal. It can be a stuffy lid at times.
What's worse is that the chin vents are always open. When you ride in heavy rain, as I did on more than one occasion, your mouth and chin will get wet. Biltwell should make these it possible to close at least the vents on the very front of the helmet so you don't have to experience mild waterboarding anytime there's a heavy downpour.
Interior
The interior of the helmet offers a comfort liner that's moisture-wicking, removable, and washable. The soft material is inviting and comfortable for even longer rides. The moisture-wicking effects of the materials do a good job, but my head still got sweaty on hot days.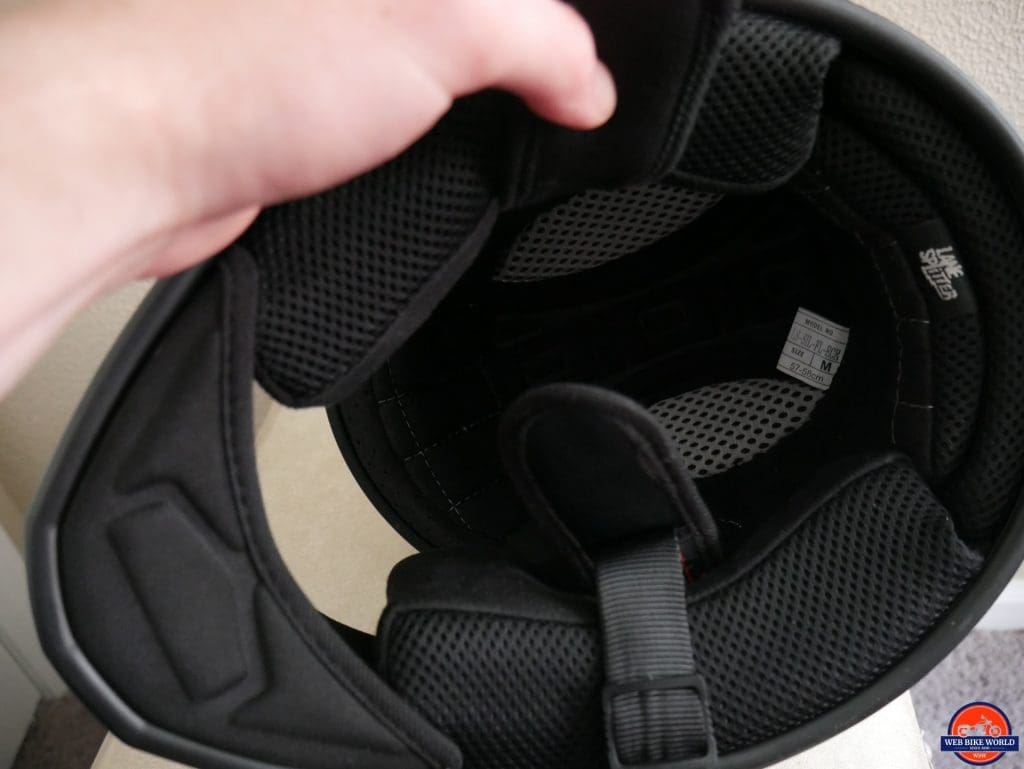 The padding inside the helmet and in the cheek pads is a little stiff. I would expect it to break in overtime, but even in its somewhat stiff state, I didn't find it to be too much.
All of the interior is removable, with the cheek pads and chin curtain all coming out in separate pieces. The cheek pads offer pockets with enough space for speakers so you can add a comm system if you want. Read our recent reviews on Intercom & Bluetooth systems here.
Visor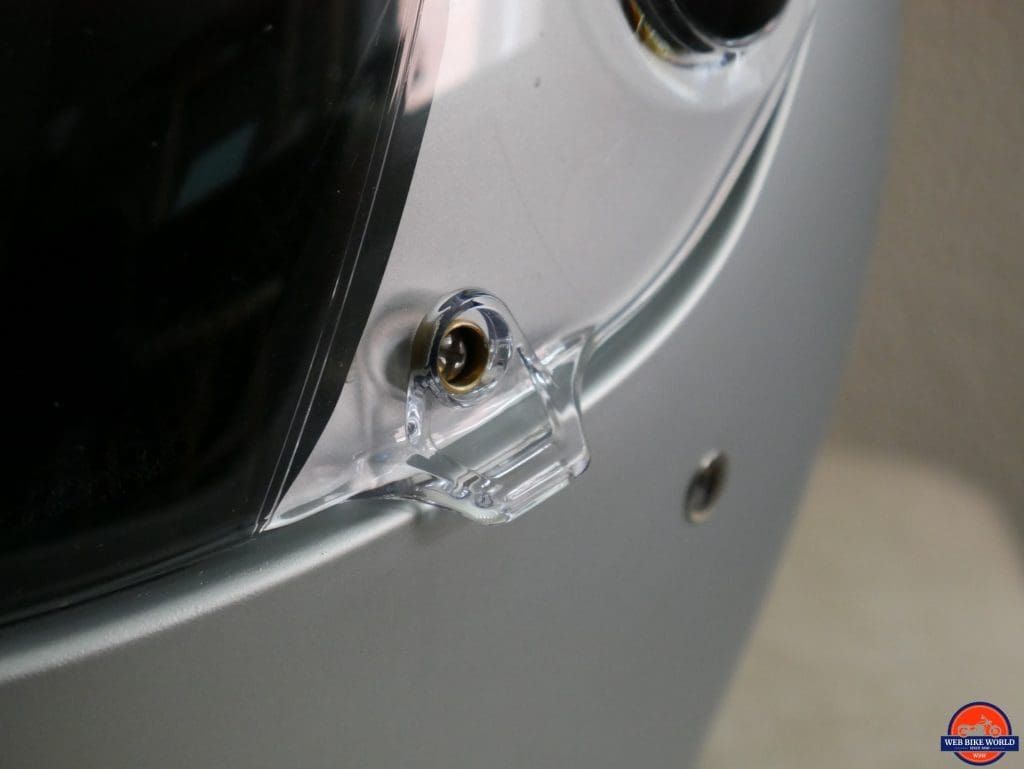 The visor is another place where Biltwell didn't do such a hot job. The little tab for raising and lowering the visor is on the left side of the helmet. It works fine for opening the visor, but not so hot for closing it. I would like to see Biltwell out a centrally located locking mechanism.
The visor itself is fine. It's supposed to be scratch and fog-resistant. I didn't experience any scratches on it but it did fog up on me in the rain once. Even with all those chin vents, I had to crack the visor to get some air in around the visor to clear up the fogging.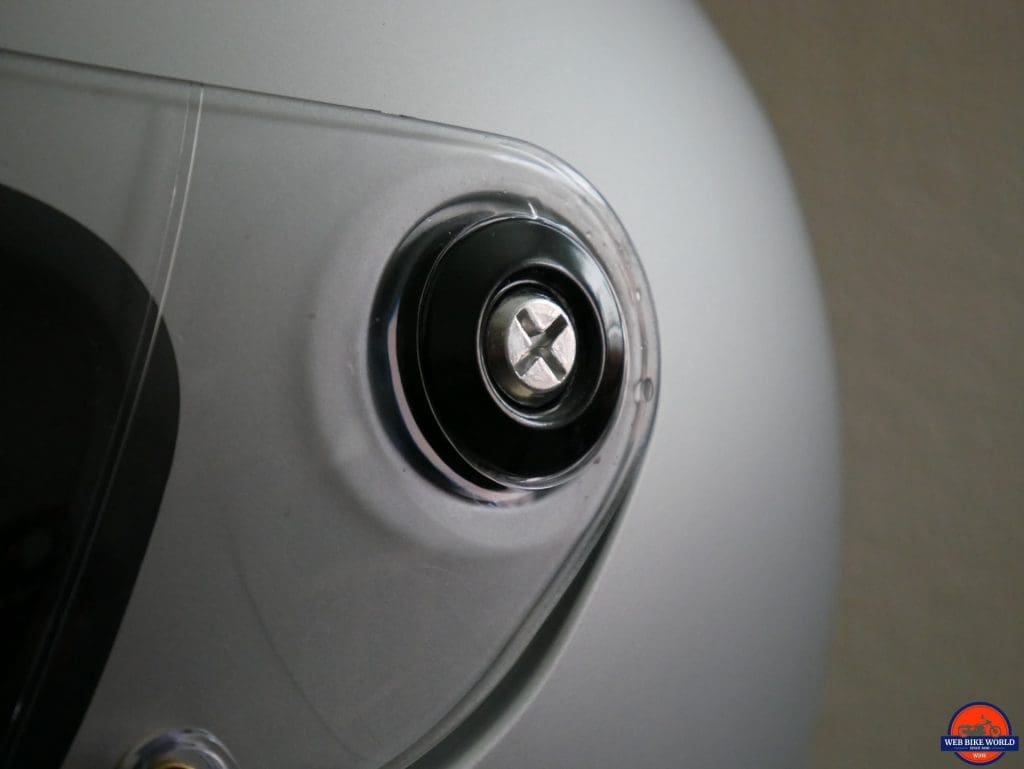 Also, removal isn't that easy, you'll need a screwdriver to get the job done. While this isn't a huge dealbreaker for me, I would be nice if Biltwell could incorporate a quicker way of doing things on future iterations of the Lane Splitter.
Road Noise
The helmet tries to do its best with road noise adding in a decent chin curtain and neck roll. These two elements do serve to help with noise.
However, the vents in the chin bar don't do you any favors when it comes to noise. There's a good amount of air coming in from them and that means a good amount of noise, too.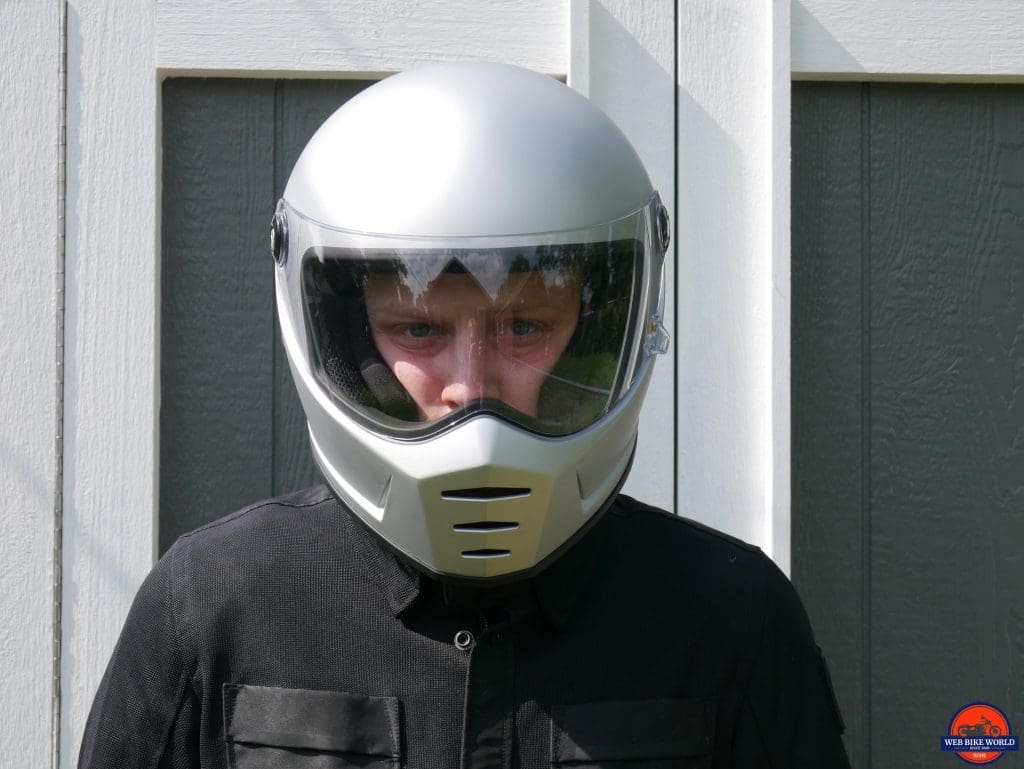 Also, I mentioned the visor previously, but it doesn't exactly seal. There's a rubber gasket around the edge of the eyeport on the helmet, but it's not an air-tight seal. This means you get a little airflow and a little noise even with the visor closed.
With all this said, I didn't notice any obnoxious whistling. It's a little loud, but at least it's not super annoying.
Conclusion
The Biltwell Lane Splitter is a stylish and sturdy mid-range full-face motorcycle helmet. It's far from being the most advanced at this price point, though it may be the most fashionable. If you're more of a hipster Luddite who wants to wear a modern helmet that's retro-inspired, then this is a good choice for you.
The drawbacks for this helmet come from the fact that it puts style over function. The vents and overall design look cool but they don't exactly perform the greatest. Biltwell could rethink the way the vents and visor operate to have a much more desirable helmet.
With all that said, if you want a basic, cool-looking helmet that fits round oval heads well, has quality construction, and you don't care about some of the fancier features out there nowadays, then this isn't a terrible choice.
Pros
Lightweight at 3.5 pounds
Stylish modern retro design
Comfy liner made of brushed fleece Lycra
Sturdy construction
ECE and DOT rated
Cons
Noisy via the chin bar vents
Vents poorly placed and always open
No pin lock
Visor doesn't fully seal and tab for opening/closing is poorly placed.
Specs
Manufacturer: Biltwell
Price (When Tested): $249.95
Made In: USA
Alternative models & colors: Several solid colors with an additional two graphics to choose from.
Sizes: XS to 2XL
Review Date: May 28. 2019