Bilt Techno 2.0 Bluetooth Review Summary
Review Summary
The Bilt Techno 2.0 helmet ticks virtually every box on the plus side for an integrated bluetooth intercom design. The Techno 2.0 is available as both a full-face and flip-up helmet and while the system may not be the most feature-rich (or lightest weight) helmet available -- and it is louder than average -- it does surprise in several categories. It's also an excellent value, especially considering the included Sena intercom system.
Pros
Very good build quality
Very good ventilation
Removable liner
Sena integrated Bluetooth system
Good overall value
Cons
Sizing runs small
Louder than expected
Needs more color choices
Bilt Techno Image Gallery
The Bilt Techno 2.0 Helmet With Sena Intercom Is Solid, Comfortable & Well-Made Helmet With a Few Rough Edges
The Bilt Techno 2.0 Sena Bluetooth Helmet is, as its name implies, the second generation of the Techno Bluetooth helmet concept. It's available as a full-face or flip-up helmet and both have a relatively clean and simple styling and a solid feel. Local riders who have seen the helmet but who weren't familiar with the brand concur.
Bilt helmets aren't intended to be an upper tier offering by any means and they are obviously built to a defined cost. But they do provide very good value for the money and this one includes a Bluetooth intercom made by Sena for Bilt (Cycle Gear). The Sena DWO-5 is designed as an OEM Bluetooth intercom that manufacturers can include in their helmets.
In fact, it is the real star of the Techno 2.0. Apparently, the system has been improved from the Techno 1.0, with a Bluetooth system upgrade and some helmet feature tweaking. Sizing of the Bilt Techno 2.0 seems slightly off, a common complaint found in many online reviews of this helmet. The size Large shown here is listed as fitting a 59-60 cm head, but it is a tight fit on me, even though I normally take a Large. It's closer to 58 cm, which is the upper end of a Medium.
As a mid-to-budget range helmet, the Bilt Techno 2.0 is well-made and feels solid but it has a few rough edges. However, if you find the right size, it is very comfortable in all aspects. Overall ventilation is good and the intakes do their job, albeit with a bit of noise generated within the helmet.
See Also: Helmet Buyers Guide, Helmet Review Home and all Bluetooth Helmet Reviews.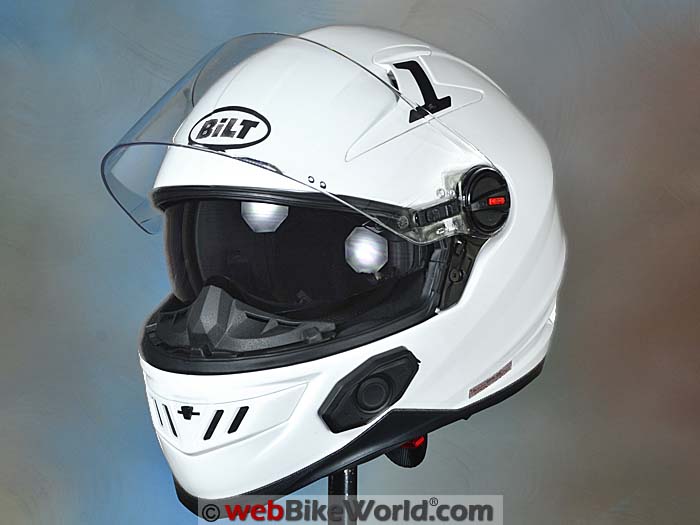 Background
The use of Bluetooth communication systems in motorcycle helmets has gone from a rarity to fairly commonplace since webBikeWorld reviewed the first Bluetooth intercom systems designed for motorcycle helmets about 13 years ago. Bluetooth intercoms are used for everything from listening to music, streaming GPS instructions and phone conversations to group communications.
More often than not, the Bluetooth communications system is mounted to a helmet as an accessory, while a few are integrated into the helmet design. There are pros and cons to each type.
For example, an accessory system can be moved from one helmet to another and usually gets quick firmware updates, but they usually aren't as smoothly integrated into the helmet with hidden speakers and microphone. Cycle Gear and their Bilt helmet line partnered with Sena to include the Sena DWO-5 Bluetooth helmet communication system into the Techno 2.0 full-face and modular helmets. The DWO-5 is apparently based on the original Sena SMH5 intercom (review) but with a new form factor and a few tweaks. We'll describe the Bilt Techno 2.0 intercom system in detail later in this review.
Paint, Graphics and Overall Quality
The Bilt Techno 2.0 helmet is good looking, with clean and simple styling and a polycarbonate shell. It's available in three colours: black, matte black and white and the finish on the white helmet used for this review is even, blemish-free and tough as well; a few bumps didn't even mark the surface. Overall quality is very good and the vent and exhaust inserts sit flush and work well overall but the vent sliders have a low-rent feel.
The face shield, eye port seal and shield mechanism have a "heavy-duty" feel and the well-formed components work together nicely. However, there's no getting around the fact that this is a $219.99 helmet that includes a Bluetooth communications system. A Shoei, Arai or even HJC it is not.
The locking face shield features four positive detents, although the face shield is fussy to remove and after removal, you'll end up with the two loose side plates, so be careful. The helmet includes a spring-loaded internal sun visor, engaged with a dual-action flipper on the left side; it's on or off only but the sun visor has a dark tint and it's nicely sized.
Removable breath guard and chin curtain pieces are provided; useful when the weather is cool or wet and they also help minimize noise within the helmet in a turbulent cockpit environment. The low profile DWO-5 intercom module sits on the left side of the chin guard and is very unobtrusive, with all the other components hidden from sight, most of them, less the speakers, in the left chin guard.
Score: We rate the Techno 2.0 a "Very Good" rating for overall quality, paint and general fit and finish. See the ratings category in the summary table at the end of the review.
Fit, Comfort and Internal Shape
I didn't have an opportunity to try on any Bilt helmets recently so I used the listed Bilt sizing chart, as many online buyers would. That led me to the decision to go for a size Large (59-60 cm), my normal helmet size and in the white finish.
For me, nine times out of ten a size Large helmet fits perfectly — or at least very well — with some variations, depending on the internal shape and padding. Only rarely has a Medium or XL been a good fit for me.
I even had the noggin (aka head) measured just before ordering the Techno 2.0 and based on that, the size Large should have been good. As it turns out however, the Techno 2.0 helmet in size Large fits nearly one size small. This has been confirmed by many commenters in the various reviews of the helmet. Just to confirm, I got a few friends to try the helmet and the consensus is that the Techno 2.0 runs small. Conclusion? If you're near the limit, order one size up.
A query to Cycle Gear support confirmed that the Bilt helmets only utilize one shell size, with different sized liners used to accommodate the range of sizes. Again, an artifact of the low price point.
I can say though that after continued use, the Techno 2.0 has broken in enough to feel comfortable as a size Large. The brow section is especially comfortable over the longer haul and for me, this is an indicator that the internal shape is "Slightly Narrow", in webBikeWorld parlance.
Speaker and Microphone Fit
The removable helmet liner has recesses to accommodate the Sena speakers so they don't intrude on the ears or overall clearance. Speaker positioning is good and I found no reason to utilize the spacers provided in the box.
The foam chin curtain can be removed with some effort and lots of care; it hides the battery and other wiring of the intercom system. But unless you need access to these components, my advice is to not try and remove the chin curtain.
Notes on Fitting Eyeglasses
Two of the users (including myself) wear eyeglasses and all of us have real issues in getting regular eyeglass temples to fit. That's mainly due to the thick side pads in the helmet and the fact that there is no defined cutout or slot for eyeglasses.
So inserting eyeglasses takes lots of wiggling and some force and sunglasses may fare even worse.
For more information on choosing and fitting a motorcycle helmet, please see the wBW Motorcycle Helmet FAQ page, which also includes a discussion on head shapes.

Score: We'll give the Techno 2.0 a "Very Good" rating overall for fit and liner comfort, with the caveats on sizing as described above.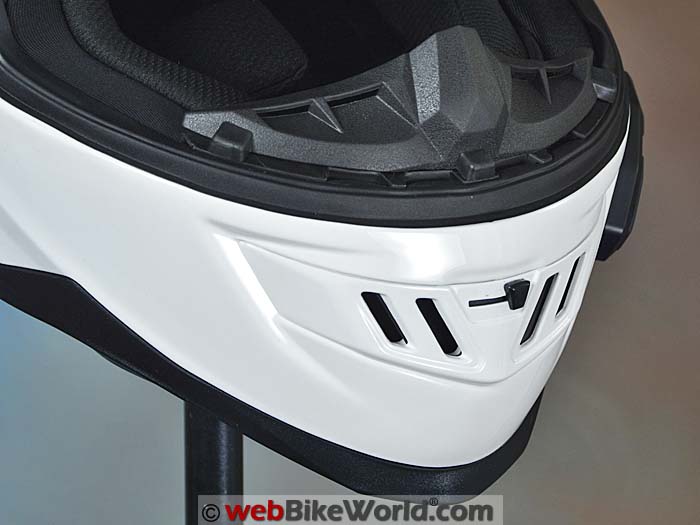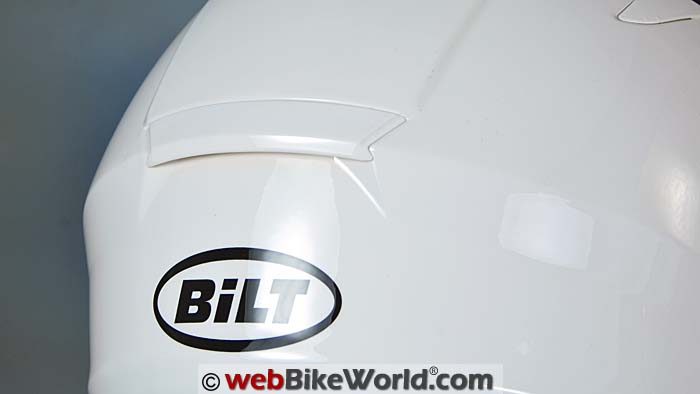 Ventilation
Ventilation in the Techno 2.0 is provided by a front four-slot vent, left and right upper slope vents and two lateral intakes towards the rear on each side. The exhaust vent is a fixed (open) dual-slot system in the centre rear. In general, ventilation is good, but the vents do generate some noise. The front vent has two positions and it operates with a small slider that works from the left to the centre.
Top vents open with a small rocker switch; forward is closed, back is open. These vents flow a lot of air when open, but they also create noise in the form of turbulence around the head and ears, which is noticeable with or without ear plugs. This seems to indicate that the front-to-back air flow management stream is being disturbed.
One contributor could be that the lower back (balance) vents aren't doing their job or at least not very effectively when combined with other venting.
Adding or removing the chin curtain and chin guards does influence air flow internally and on cool days and both pieces can make for a much more comfortable and quieter environment. But then these same pieces can complicate the on and off process…
The shape of the helmet shell serves to help reduce overall air intake and buffeting along the lower front, validated by doing some slight angulation adjustments on both faired and un-faired motorcycles.
How the ventilation will work when it is really warm out remains to be seen.

The helmet does not come with a Pinlock anti-fog insert. The eye port is average for horizontal visibility and average in the vertical plane.
Score: The Techno 2.0 gets a "Very Good" rating for ventilation.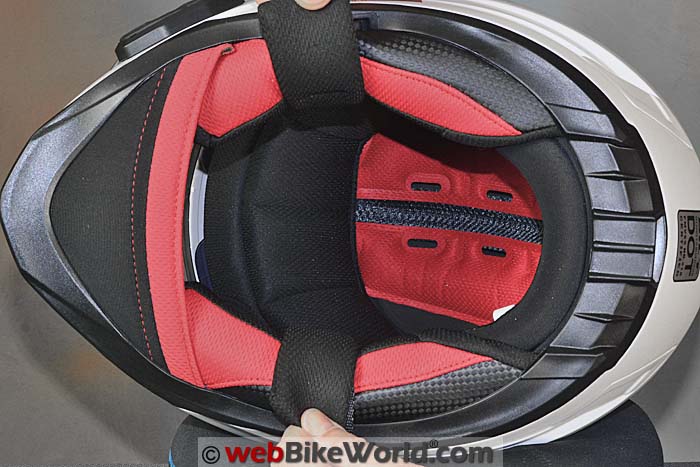 This Techno 2.0 helmet in size Large weighs 1794 grams (3 lbs. 15-3/8 oz.). While that is decidedly in the heavy range for a motorcycle helmet, the weight of the intercom system is unknown. The relatively complex face shield removal mechanism and the internal sun visor contribute to the overall weight also. Nevertheless, nearly 4 lbs. on your head is a lot of weight, although fortunately the weight is distributed evenly.
For more information, see the wBW Motorcycle Helmet Weights page, which lists the weights of all helmets we have reviewed to date.
Score: The Techno 2.0 gets a "Neutral" rating for weight with good balance.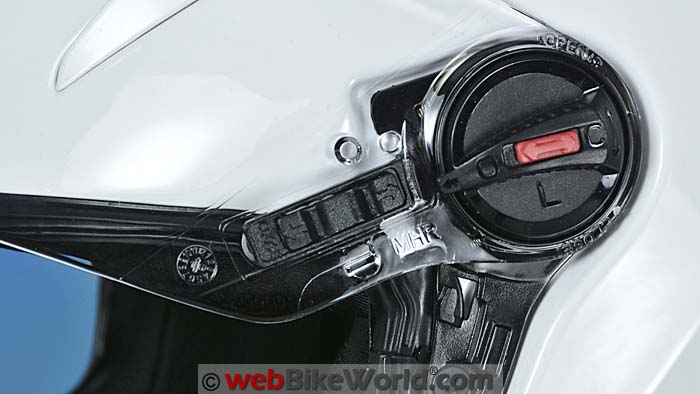 Noise Levels
There is no denying that the Bilt Techno 2.0 helmet is noisier than other helmets I currently own, such as the Arai XD4 (review) and Arai Corsair V (review); the SCHUBERTH C3 Pro (review) and a Scorpion helmet) and others. The source of the noise in the Techno 2.0 is both external and internal.
Depending on the windscreen coverage, ducking down a bit or angling my head down slightly works to minimize a lot of the external noise. With the breath guard and chin curtain in place on the helmet, noise levels tend to drop inside the helmet, although it couldn't be said that it's quiet. The large thick liner used in the helmet probably absorbs some of the internal noise as well.
Moving my hand above, beside and below/around the helmet results in some airflow changes, but not much regarding noise levels.
The internal noise seems to be generated by incoming air and some resultant turbulence, possibly attributable to non-linear airflow within the helmet; intake and outflow needs to be balanced and consistent and it isn't in this helmet.
Note that our helmet evaluations are a combined effort of several riders over time on different types of motorcycles with and without windscreens. Evaluators wear correctly fitted, high quality ear plugs (even when evaluating motorcycle intercom systems).
Always protect your hearing when riding a motorcycle. See the wBW Earplug Reviews for more information on choosing and wearing earplugs. Note also that perceived noise levels will vary, depending on the individual.
Noise can be caused by many factors, including helmet fit, the type of motorcycle and windscreen, wind speed and direction and even the rider's clothing.
For more information on helmet noise, visit the wBW Motorcycle Helmet Noise page.
Score: The Techno 2.0 gets a "Neutral" rating for noise control.
Video: Bilt Techno 2.0 Helmet
Face Shield, Eye Port, Removal
There isn't much that appears weak on the Bilt Techno 2.0 helmet and that includes the eye port construction, face shield and pivot mechanism. A one-piece gasket outlines the outer edge of the eye port and with the sturdy 2 mm thick face shield in place, an absolute seal is provided. I haven't observed any moisture ingress while riding in the rain nor when subjected to the shower test.
The face shield itself pivots on the quick release mechanism and provides four positive position settings from fully open to closed. In the lower position, the shield can be raised a half inch or so, allowing air intake for additional cooling and to provide defogging at low speeds, which is appreciated when wearing eyeglasses.
Face shield removal is quick and uncomplicated; move the small red sliders on each pivot cover or cap to the "O" position and rotate the covers downwards (anti-clockwise). The covers are then pulled away and the face shield removed. However, you'll end up with the two loose side covers, so be careful not to misplace them. Reversing this process and moving the red sliders to the "C" position locks everything in place. After doing this two to three times the simplicity of it all is truly validated.
(Editor's Note: My feeling is that the the system is antiquated compared to the release mechanisms found on HJC, Bell or Shoei helmets, for example.)
The shield mechanism and detents have a "heavy duty" feel, translating into some effort needed to open and close the shield. But to its credit it remains in the position set with virtually no vibration, no matter the road speed. It also has a sliding lock on the left hand side. But there is no mistaking that it takes a fair bit of pressure to operate and that the face shield will flex from the side being lifted, so pushing up or pulling down from the center reduces the flexing.
Internal Sun Visor
The integrated sun visor is the seemingly standard shape with a well-placed nose cutout and when deployed it sits well down, but clear of face surfaces, providing very good coverage overall. It operates via an on/off plastic rocker positioned on the left side of the helmet.
Some users will feel that it takes an overt amount of pressure to activate the sun visor and they won't be wrong.
Techno 1.0 vs. 2.0
We didn't review the original version of the Techno helmet (still listed as a closeout item), but it seems that the Techno 2.0 version is much improved over the first release. For example, one issue noted by some owners regards the battery or battery connection.
We haven't experienced any charging or battery-related issues with the Techno 2.0 but I still removed a few liner pieces allow me to check that the connection was solid.
Some owners have chosen to dig into the helmet and fix the issue themselves, although Cycle Gear apparently remains very active in addressing and resolving issues reported, particularly for new units.
Miscellaneous
The standard double-D-ring chin strap is more than long enough but perhaps not optimally positioned for all users. Two users commented that the strap sits further back or down on the neck than other helmets and can be somewhat uncomfortable over time.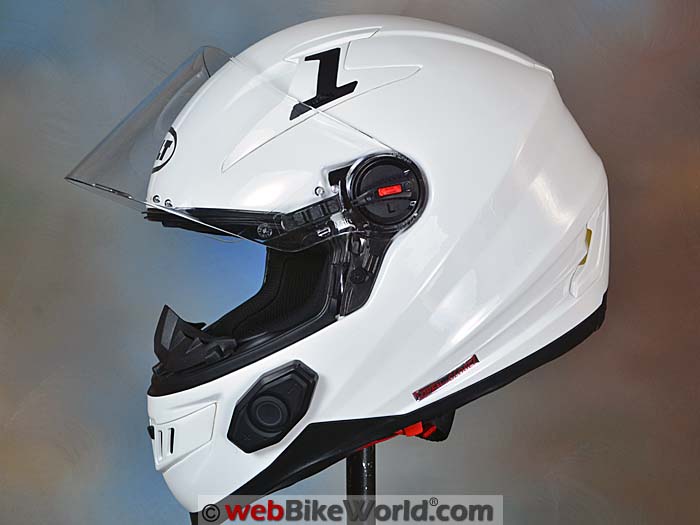 2.0 Bluetooth Intercom System by Sena
We saved what is arguably the best feature of the Bilt Techno 2.0 helmet until last and for good reason; it is likely to close the deal for many potential owners. The Bilt Techno 2.0 helmets feature a low-profile Sena Bluetooth intercom system. It's the Sena DWO-5 (v3.0) system.
It's claimed to have a nominal range of 400 metres (430 yards) and we got up to 500+ meters over open terrain. Performance, as expected, is reduced in hilly terrain or built-up areas where both electrical infrastructure and density become major factors.
Speaker output and clarity is excellent and intercom noise levels well controlled and on par with the original SMH5 models and other Sena systems, but not up to the standards experienced from Sena 20S and 10C models running the latest firmware.
The system incorporates most of the tried-and-true Sena intercom features, including Universal Intercom for cross-brand communications but no FM radio tuner.
Multiple device and selective profile pairing and Bluetooth stereo music sharing with another compatible headset are three of the seamless high-performance features found in all Sena systems including this one.
Features
The Sena DWO-5 intercom in the Techno 2.0 helmet is somewhat similar to the Sena SMH5 intercom (review), so you may want to read that review to become familiar with the various features.
The system in the Techno 2.0 is Bluetooth 3.0 and it includes the Sena "Universal Intercom" function which allows pairing with other brands of intercoms.
It also has the basics that are expected in a motorcycle Bluetooth intercom system in 2017: pairing with a smartphone, music streaming and even music sharing. Phone calls can be made using voice commands.
It has an automatic volume boost that adjusts the volume based on external noise volume and it will stream GPS navigation instructions.
The system has a claimed 8 hour talk time and 7 day stand-by time.
Quick Start Guide and User Guide
The intercom comes with a single sided, four-section foldable and portable cheat-sheet Quick Start Guide (.pdf) or the full Users Guide (.pdf) can be downloaded.
Size and Shape
With its angular octagonal shape and relatively low profile, the intercom module is factory installed on the left side of the shell just behind the chin vent styling and immediately below the face shield, well-placed for comfortable access. The intercom module has about the same overall profile of the original Sena 10R (review), although without the external battery pod in view.
The Techno 2.0 battery and wiring is housed internally, so the whole adaptation is clean and low-profile.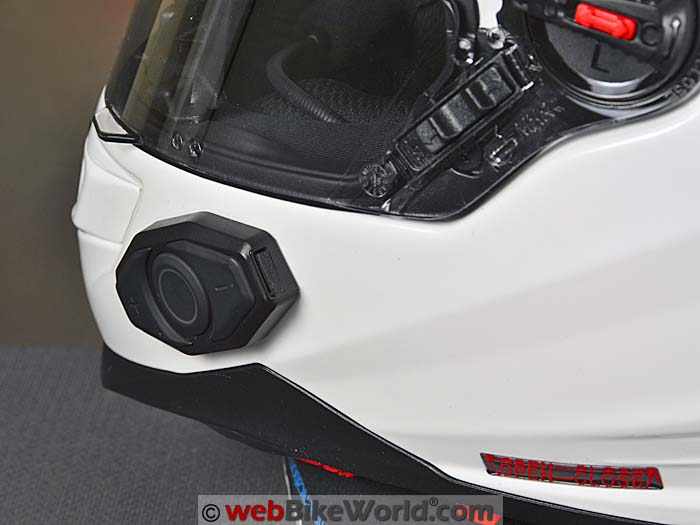 Controls
The intercom three input controls, aptly named Centre or main button and stylized Vol (up) and Vol (down) controls fore and aft of the centre control. The location of the controls allow a more direct lift of the hand/arm to access the controls rather than reaching further back on the helmet. As such, user interaction with the left side controls is quite easy especially with light and medium weight gloves.
Despite the lack of the Sena Jog Dial, the three controls do the job in allowing the user to interact with and utilize all system features. Typical with BT systems including Sena units, controls are multi-functional; sometimes by themselves and sometimes in parallel with another control.
For example, pushing the front and centre buttons simultaneously for a second or so brings the system to life, indicated by the visual battery level indication, then quickly followed by the familiar "Hello" voice announcement.
Cycle Gear Bluetooth Device Manager
You'll need to download the special Sena Cycle Gear Bluetooth Device Manager to update the firmware.
webBikeWorld Opinionator: Bilt Techno 2.0
Picks…
…and Pans

Very good build quality.
Very good ventilation.
Removable liner.
Sena integrated Bluetooth system.
Good overall value.

Sizing runs small.
Louder than expected.
Needs more color choices.
Conclusion
In looking for an economically-priced helmet with a Bluetooth intercom system, there are two main purchase options: a helmet with an integrated system or a helmet with an accessory user-installed intercom system. Each has pros and cons. An accessory system can be added to just about any helmet and you'll have many choices at various price points and feature sets. You can also move the accessory intercom to a different helmet if desired.
With an integrated system, installation of the module, speakers and microphone is completed at the factory and the system is usually more cleanly incorporated into the overall helmet design.
But when you dispose of the helmet, your intercom system is gone also. Something also to consider is that in the past, Bluetooth intercoms integrated into a helmet don't seem to get as many firmware updates. Also, history has shown that integrated Bluetooth intercom systems aren't updated as frequently as accessory systems, although presumably that won't be the case with Sena backing the Techno 2.0 system.
So there are factors to consider to be sure, but the Bilt Techno 2.0 helmet ticks virtually every box on the plus side for an integrated design…or at least so far.
The Techno 2.0 is available as both a full-face and flip-up helmet and while the system may not be the most feature-rich (or lightest weight) helmet available — and it is louder than average — it does surprise in several categories.
It's also an excellent value, especially considering the included Sena intercom system.
More webBikeWorld:
wBW Review: Bilt Techno 2.0 Bluetooth Helmet
Manufacturer: Cycle Gear
List Price (2017): $219.99
Sizes: XS-2XL Shell Sizes: 1
Made In: China
Review Date: April 2017
Colors: Black, white.

Rating Scale is subjective: Unacceptable, Poor, Neutral, Very Good, Excellent, Outstanding.