German-made BikeBox 24 has unveiled a weatherproof and convenient cover for your motorcycle that locks and prevents thieves from stealing your prized possession.
If your house doesn't have a lockable garage or you live in an apartment without a garage or you want to keep your bike secure while you're at work, this could be an option.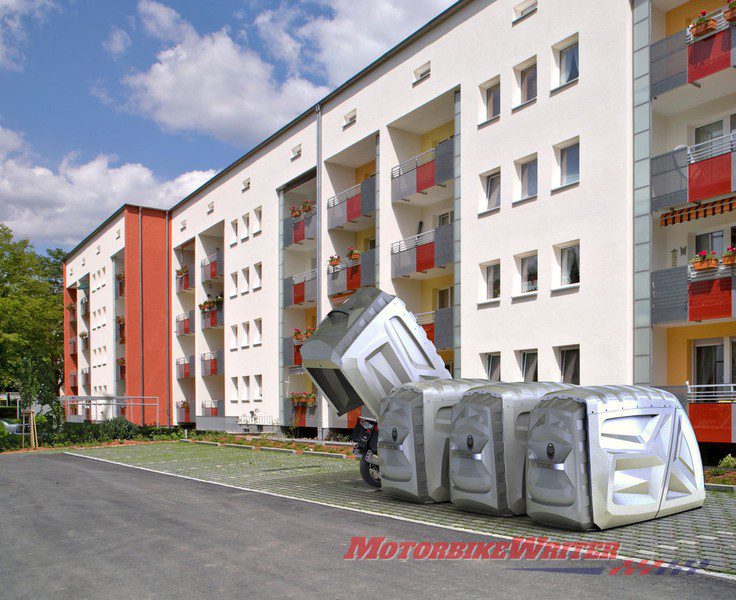 It looks like a portaloo, but it's made of high-impact plastic with a high-grade steel cylinder lock and can be transported to any location or bolted down to the ground for extra security.
They are not cheap, starting at €3490 ($A5,600, $US4075) for standard size and €4390 ($A7500, $US5125) for the large version. That's a bit more than an Aldi bike cover and even more than some riders' bikes cost!
However, managing director Guido Schäfer says prices may be defrayed by reduced insurance costs.
"Ask your insurance company too – a possible reduction in the insurance fee can also help your one-time investment and reduce your total costs," he says.
BikeBox measurements
Standard has internal measurements of 2.5m long, 0.9m wide and 1.47m high and weighs 150kg,= while the XL is  2.65m x 1.25m x 1.55m and weighs 180kg.
They both come in silver metallic with the rear in anthracite.
There are also three trailer kits so you can transport your bike in security starting at €9790 ($A15,750, $US11,400) to €10,990 ($A17,675, $US12,800).
The braked trailers weigh 1300kg, take a 650kg payload and handle a top speed of 100km/h.
In Europe, prices include delivery, installation and adjustment at the customer's home or work address.
BikeBox managing director Guido tells us they have a distributor in the US and are looking for a distributor to service Australia and New Zealand.