Big Buddy Heater Image Gallery
The Mr. Heater "Big Buddy" propane radiant heater is a portable "clean" burning solution for cold spaces.
It isn't perfect and it's a bit scary to use, but it does output a good amount of heat.
The heat output is about equal to the Dynaglo kerosene tower heater, claimed 23,000 BTU.
But the Big Buddy has no smell and no smoke and there's something to be said for radiant heat.
The Big Buddy is also more portable than an electric or kerosene heater.
As with any heater, you have to be very, very careful and follow the instructions and warnings to the letter.
But used correctly, the Big Buddy heater is a worthwhile addition to extend the maintenance and farkling season.
And it also meets the webBikeWorld "Dual Use" bonus category, because you'll have some heat when the power goes out or for your ice fishing shanty and more.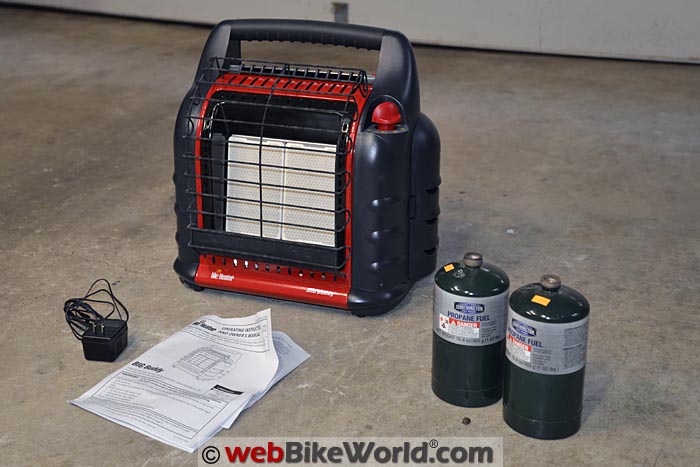 Introduction
Reviewing a propane heater may seem pretty far from the norm for a webBikeWorld review, but we've been using the Big Buddy heater in the garage all winter and it's been a real help.
And here we are, officially in Spring, so this review is about 3 months late. But what the heck — it's still plenty cold in many locations and this is prime time for getting the bike(s) prepped for warm-weather riding.
So maybe it is perfect timing for a review of a garage heater…
Why Propane?
We've tried a few electric space heaters but could never find one that was powerful enough to do any good. Plus, the electric situation in the garage leaves a lot to be desired — both in terms of output and outlets.
With just a single wall outlet, using a drill, light or heat gun along with the heater isn't possible. And fuse blowing is probable.
That led us to the Dynaglo kerosene "tower" heater that we've used for many years. It definitely puts out the heat, with a 23,000 BTU rating.
But it's smelly and it's becoming increasingly difficult to find good quality kerosene around here. Plus, there's the problem of storing the kerosene in winter and over the summer.
Then there's the wick. A kerosene heater uses a fabric wick, which must be cleaned and replaced occasionally. Replacing the wick is not something you want to tackle, believe me. It's a real PIA job.
So each year we're looking for the next best thing in temporary heat and this year, we stumbled upon the Mr. Heater Big Buddy propane radiant heater.
w

BW 

Video: Big Buddy Heater
Big Buddy Model MH18B
The model MH18B is the most popular Big Buddy design. The company makes (or imports?) a bunch of propane radiant heaters, from the $81.99 "Little Buddy" 3,200 BTU/hour model, which uses a single 1 lb. disposable propane tank, up to the MH18B.
They also make a bunch of industrial-spec "Salamander" heaters — the ones that look like a big tube and which have a huge, noisy blower.
They also make Canada and Massachusetts versions of some of the Buddy series propane radiant heaters. I'm not sure what the difference is but there must be some restrictions or design changes for those.
The MH18B ($151.99 list) has low, medium and high range control, with a rated 4,000, 9,000 and 18,000 BTU/hour rating.
It's very popular with campers, ice fisher-people and homeowners. Zillions of these things have been sold and, I guess, used successfully, because I have never read of any incidents with their use.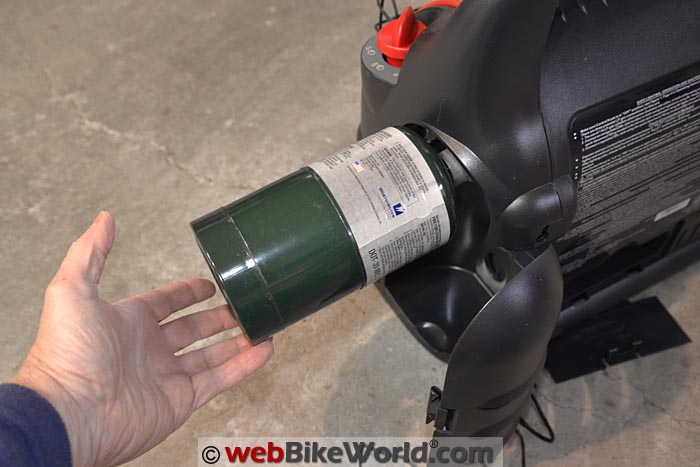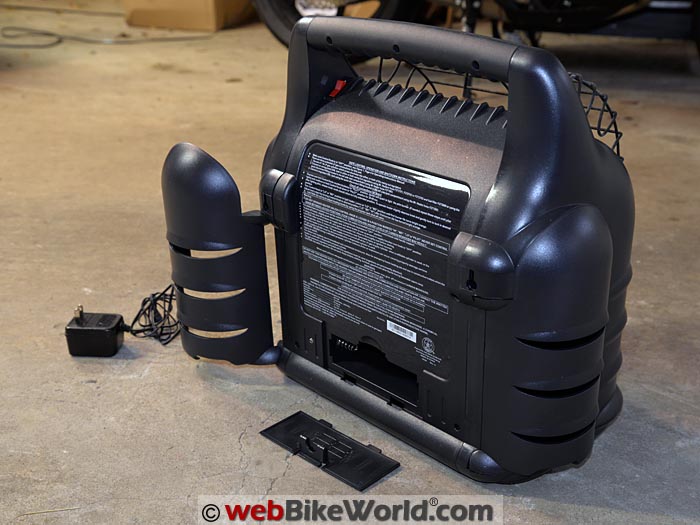 Using the Big Buddy
I'm not going to describe in any detail how to use the Big Buddy, because it's extremely important to study the Big Buddy owner's manual (.pdf) and follow the instructions to the letter.
I have to admit, I'm kind of scared to use it, for some reason. Or rather, let's just say I have a very healthy respect for it.
Perhaps that's because I've been using other types of heaters for many years and I'm not yet accustomed to the idiosyncrasies of a propane radiant heater.
Anyway, it just seems more scary than usual and more anxiety-inducing for me than using the kerosene heater, maybe because I'm not used to a system that uses propane under pressure.
But it's actually pretty straightforward. I found 1 lb. non-refillable propane cylinders at a local Walmart for $2.87 each. The cylinders screw into the standard fittings on the Big Buddy, which rotate outwards to make it easy to install the cylinders (see video).
Mr. Heater also sells a hose adapter kit that allows the Big Buddy to be connected to a standard 20 lb. propane tank, like you'd use for a barbeque grill.
Rick bought the adapter but we haven't used it; the instructions warn to never use the 20 lb. tank in an enclosed space, which seems odd, since you wouldn't be using a heater outdoors?
The two 1 lb. disposable propane tanks will run the Big Buddy on high for about 2 hours. Since it only takes about 15 minutes to heat the insulated garage from about 40 F to about 55 F, we usually turn the heater off after that.
55 F seems about the right temperature to work on motorcycles in the garage in winter. Of course, we're wearing winter clothing but no jackets.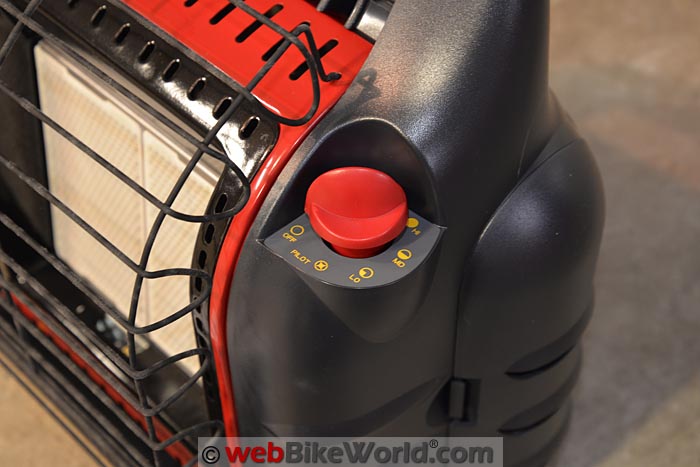 Starting the Big Buddy
The only trick to starting the Big Buddy is to remember to press and hold the dial when it's turned to the pilot setting. There's a piezoelectric starter that ignites the pilot. Hold that for a few seconds until the pilot light fires up, then dial up a heat setting.
The Big Buddy uses two ceramic mesh cores to radiate the heat. Only one is heated on the low settings and about half way through the Low/Med/High dial, the other side kicks in.
I usually turn it up to high and both sides rapidly heat up, turn red and radiate the heat.
The Big Buddy also has a built-in fan that takes either four D cells in the rear or it can use the included 110V adapter. We sometimes use the fan, which is engaged via an on/off rocker switch under the handle.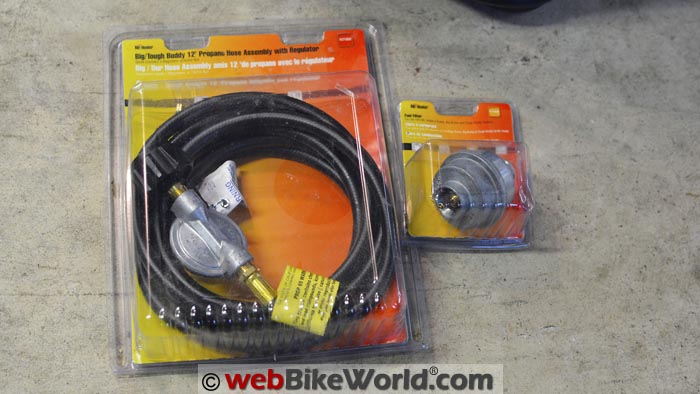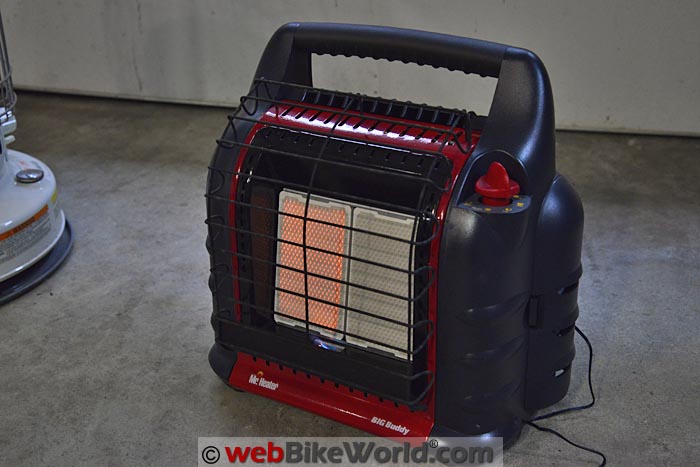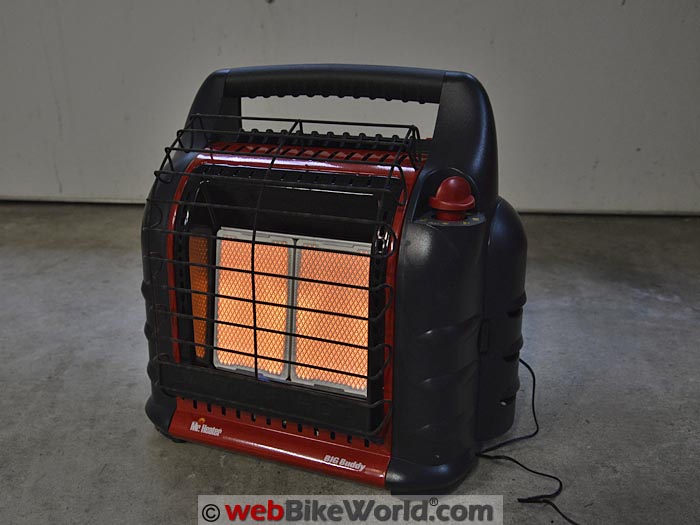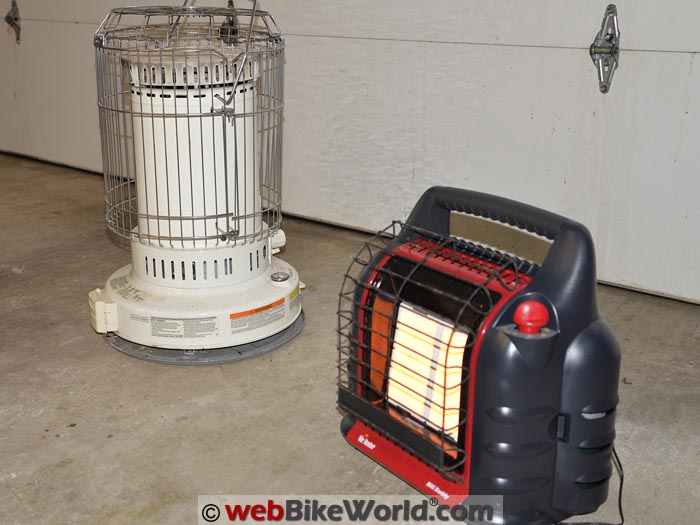 Conclusion
The Big Buddy propane radiant heater does a good job at putting out more than enough heat to make a garage warm enough to work on the bikes in cold weather.
The advantages are that it's "clean" and odor-free, almost instant heat. The heater is very portable and can be used with no electricity; no electricity is needed even to start the heater.
Also, the propane tanks store longer and better than a container of kerosene. And thousands of the Big Buddy heaters have been sold and are being used, so despite our trepidation, the danger is apparently minimal as long as you follow the directions.
Bottom line? We like the Big Buddy heater and it became our "go to" heat source for working on the motorcycles in the garage this winter.
w

BW

 Review: Big Buddy Heater
List Price (2016): $151.99
Made In: China
Colors: Gray/red
Sizes: Various heat outputs
Review Date: March 2016
Note:
 For informational use only. All material and photographs are Copyright © webWorld International, LLC since 2000. All rights reserved. See the webBikeWorld® 
Site Info page
. Product specifications, features and details may change or differ from our descriptions. Always check before purchasing. Read the
Terms and Conditions
!
Owner Comments and Feedback
---
From "D.C." (March 2016): "Nice review on the Big Buddy. In Minnesota that heater would be insufficient. I use a larger version by the same manufacturer (MH30TS) that attaches to the top of a standard 20 lbs. propane tank.
It has two burners and you can just use one if you like, plus it has a piezo ignition.
In a one car garage it keeps me warm except when it's really cold; then I add a cheap 5000 BTU electric heater. They even make a 3 burner, but that would eat fuel and it's bulky."
---
From "J.D." (March 2016): "I have been using the Big Buddy for 5 months now, winter comes early in Canada. Having tried several electric heaters , the  Big Buddy out performs anything else I have tried. The best portable garage heating solution on the market IMHO.
Regarding the differences in the Canada /Mass. heaters, the only difference is on the packaging in Canada states you cannot use a propane heater in an enclosed area because of CO2 concentrations. OK to use any were else.
I tested the unit inside using a portable CO2 detector for a week. Even on high after hours of running the detector showed no CO 2 present. Great product."
---
From "S.C." (March 2016): "I have been using one for about four years, and for the same reasons, I just didn't like heating the garage with my kerosene, the smell and it gave me a headache.
I use it in the garage and our 3 season room. I also refill the one pound propane using a adapter to refill from a 20lb tank to save some money."
---
From "K.M." (March 2016): "I will vouch for the warmth and safety of this brand of propane heater. I have a Little Buddy heater with the adapter to allow it to be run off of a standard propane tank (as you would use for a grill).
One winter our furnace control board bit the dust and we were left to rely on the Little buddy heater for a week. Outside temperatures were in the mid 20's at night, with highs in the 30's.
While we could not heat the whole house to a comfortable temperature, this little brother to the Big Buddy kept the family room in the comfort zone and prevented the rest of the house from dropping below 50ºF."