Welcome to our selection of the best mountain bike helmets for eBike riders. This article will cover our choices for the top entry-level, mid-range, and high-end eMTB helmets—picked for protection, value for money and versatility. We aim to include a mixture of open & full-face helmets, all of which are well-ventilated and cost-effective.
See Also: Every Different Type of eBike Currently on the Market
So, with that said, let's begin our list of the best eMTB helmets!
Entry-Level eMTB Helmets:
Helmets priced at around ~$50+, with bare minimum features.
Cairbull Full Face Helmet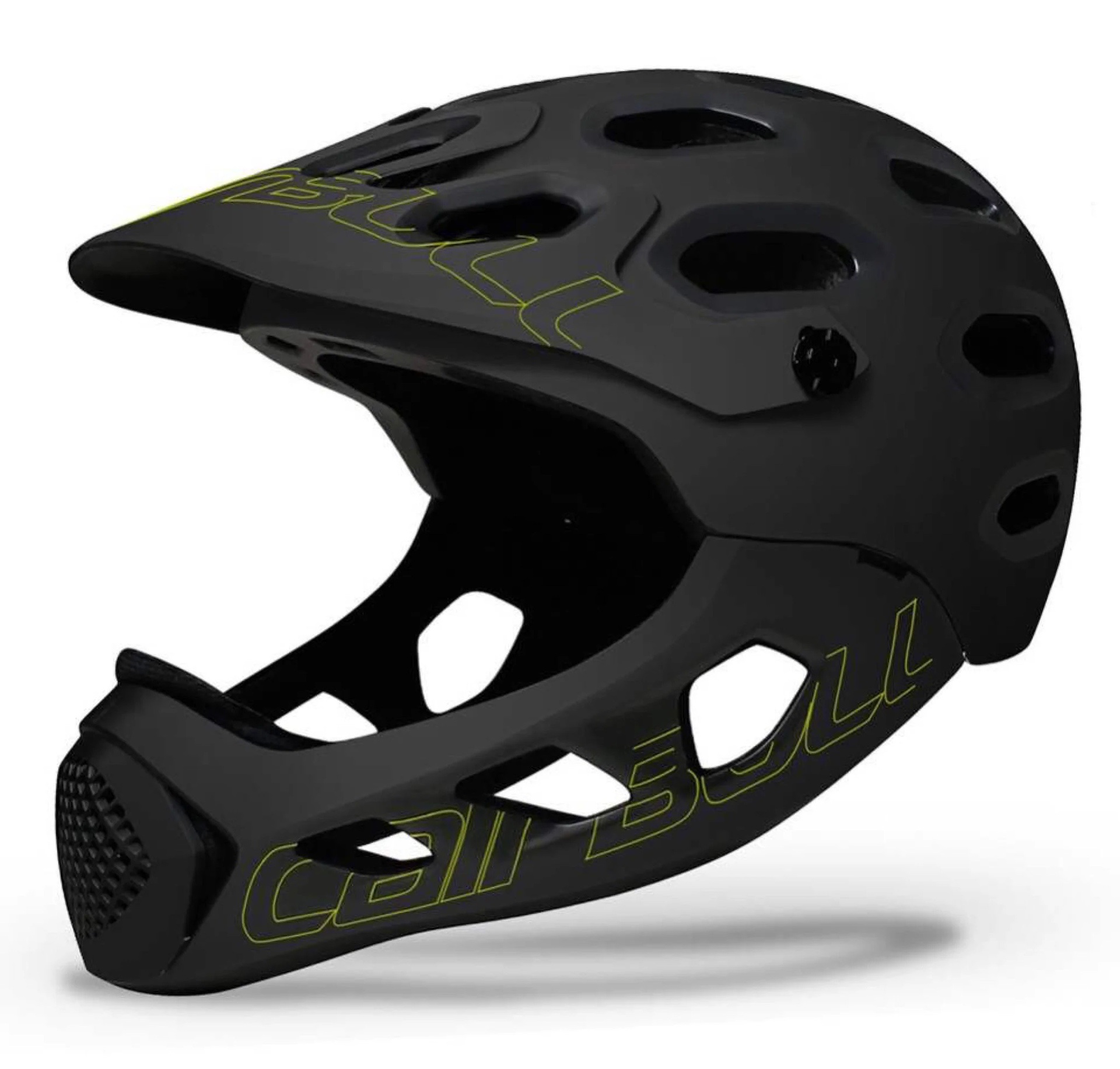 Why?
The Cairbull Full-Face offers everything we expect a budget eMTB helmet to contain, all at a pretty fair price point. It offers a surprising level of versatility for the cost, breaking into a full and half-face helmet.
This is mostly thanks to the detachable face covering, with the main helmet adjusted and tightened via a strap at the rear. As an entry-level eMTB helmet, we feel it definitely does the job. It should stop serious damage, although we wouldn't bet our lives on it.
Now, it definitely won't make you invincible, but it should offer a good level of base protection to your most vital areas. From your chin or cranium to the back of your head, even an entry-level full-face eMTB helmet should protect these points. The Cairbull full-face does just that, and only that!
Key Specs & Head Shape
Head shape: Long oval
Weight: 1.9 lbs (900g)
Certifications: CE EN 1078, CPSC 1203, AS/NZS 2063
C-Maniac Freeride Helmet
Price: ~$79.99
Where to Buy: Cratoni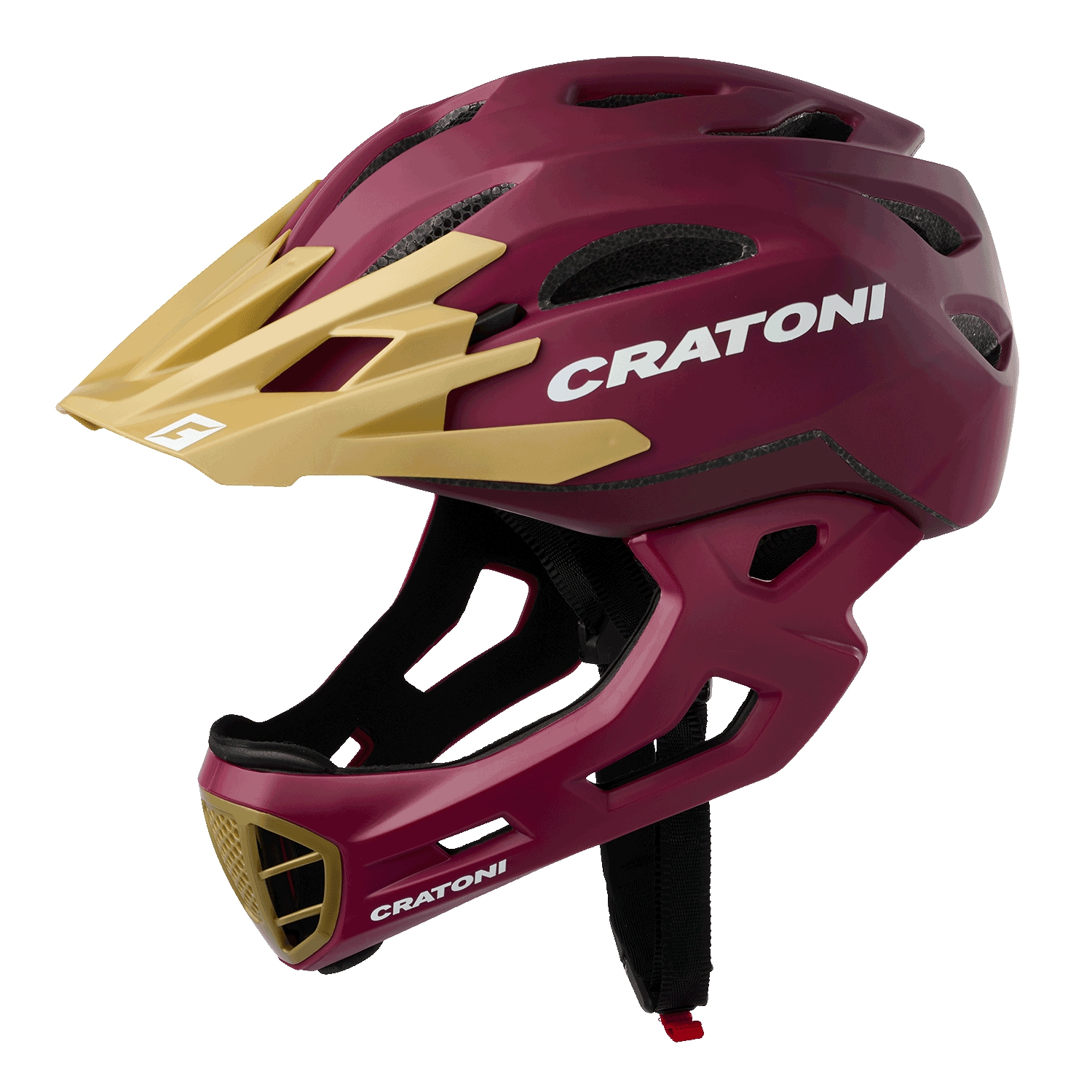 Why?
The Cratoni C-Maniac Freeride is another full-face eMTB helmet at a highly competitive price point. It's a standard mountain biking helmet with an added chin guard and fairly basic padding on both parts.
Much like the Cairbull, the C-Maniac Freeride's chin guard is fully detachable via a clip mechanism. Whilst the padding is a bit basic, this is still a huge improvement over standard "head-only" helmets. Perhaps best of all is the unisex design, making it suitable for men and women alike.
With 17 ventilation openings, staying cool during your daily ride will prove no problem. Lastly, the Cratoni C-Manic Freeride is very light, even for an eMTB helmet—weighing in at just 320 grams and further featuring a mosquito net, reflector, visor/shield, and more.
Overall, a great budget eMTB helmet with some thought-out engineering.
Key Specs & Head Shape
Head shape: Long oval
Weight: 0.85 lbs (390g)
Certification: CE EN 1078
7Protection M1 Full Face
Price: $109.99
Where to Buy: 7iDP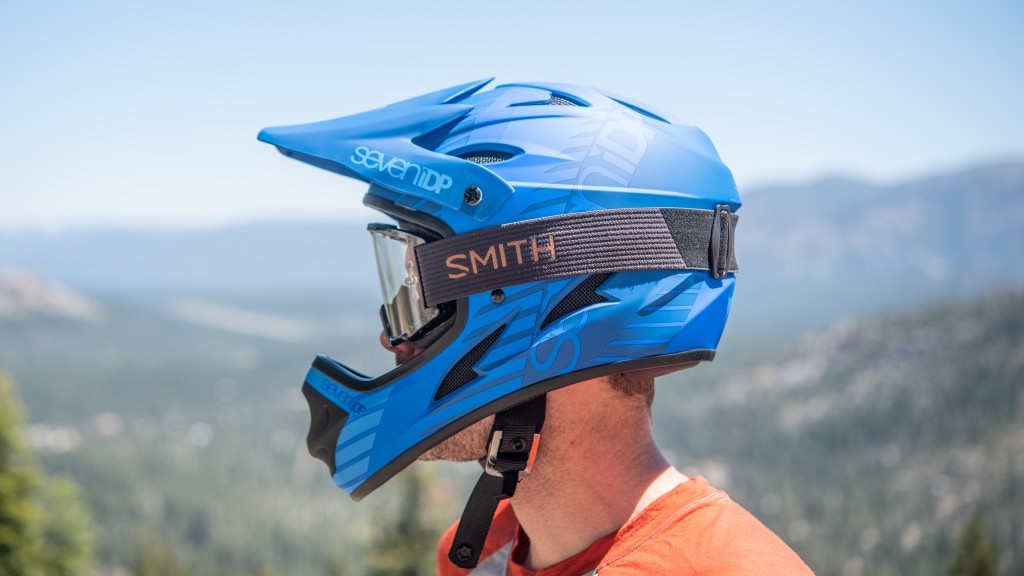 Why?
Last to grace our list of entry-level eMTB helmets – the 7Protection M1 Full-Face was mostly made for downhill trails, yet remains perfectly suitable for most aspects of mountain biking. The face-guard is fully molded and integrated into the helmet, resulting in a fully fused unit and lower face protection at all times.
The padding is good, although it won't prove as comfortable as the higher-end helmets. Despite this, it's lightweight and sturdy, with ample room to fit visors or goggles if necessary. It also contains a surprising 13 air vents to keep riders cool at all times, coupled with a front filter.
In our opinion, the 7Protection M1 offers great functionality for the price and definitely a top pick as an entry-level eMTB helmet. Plus, the design and decal are also pretty cool!
Key Specs & Head Shape
Head shape: Intermediate oval
Weight: 1.9 lbs (900g)
Certification: CE, CPSC, AS
Mid-Range eMTB Helmets:
Helmets priced at around ~$100+, offering good performance and features.
Sena M1 Bluetooth eMTB Helmet
Price: $169.00
Where to Buy: Sena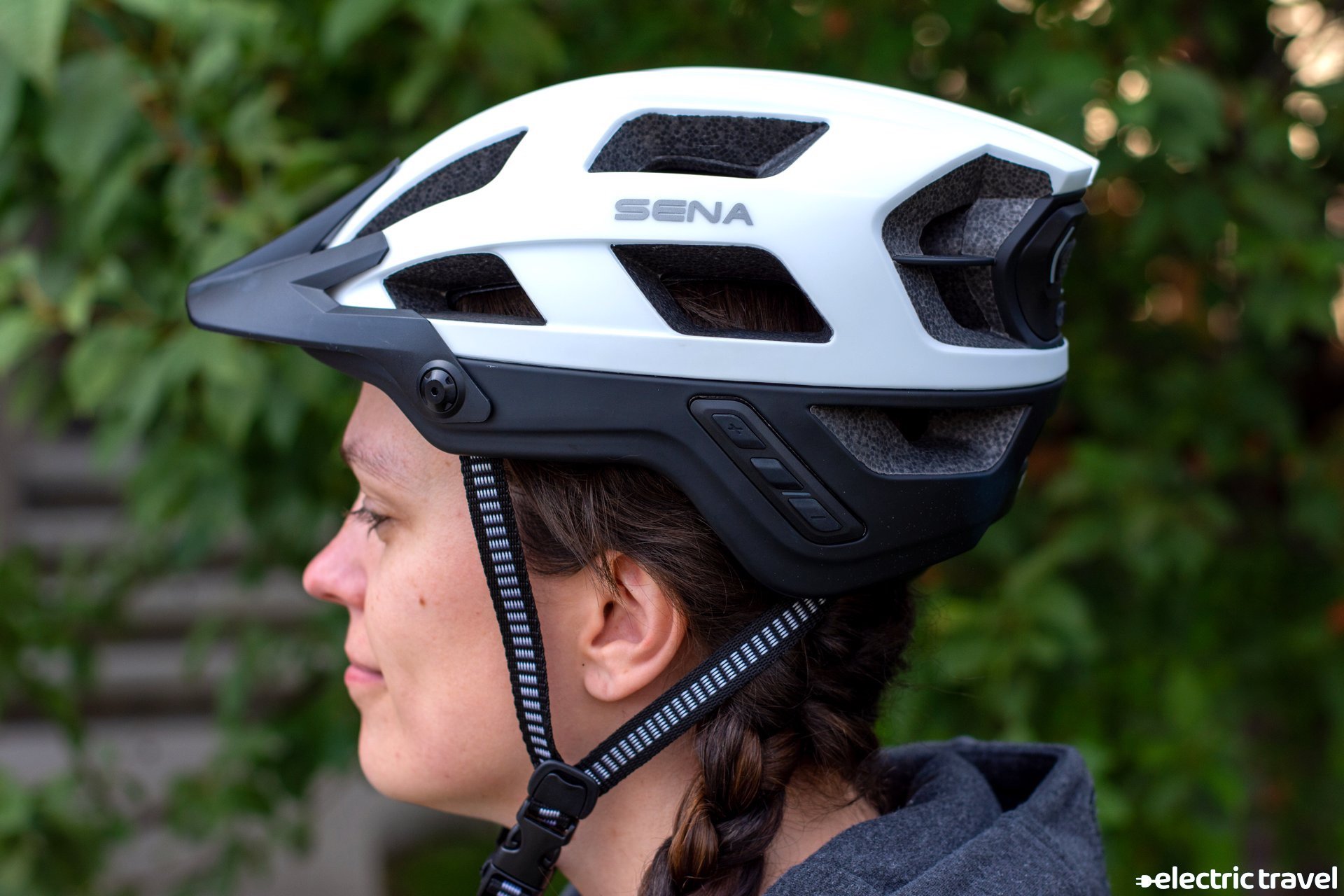 Why?
Although not full-face, we couldn't resist including this awesome mid-range eMTB helmet on our list. For starters, the Sena M1 is incredibly light, weighing in at just 0.95 lbs (430g) and has great ventilation, keeping you cool throughout your ride.
The Sena M1 is much more of a traditional eMTB helmet design, with a few fun features thrown in like Bluetooth speakers. That's right, the Sena M1 supports up to 15 hours of sound playback from a single charge, even including an integrated "intercom" functionality.
This is truly the perfect choice for anyone who finds themselves in a conversation or phone call during the trails… Or anyone who enjoys a little extra entertainment on their daily ride.
Key Specs & Head Shape
Head shape: Long oval
Weight: 0.95 lbs (430g)
Certifications: CE EN 1078, CPSC 1203
Our Review
O'Neal Sonus Split
Price: $99.99
Where to Buy: O'Neal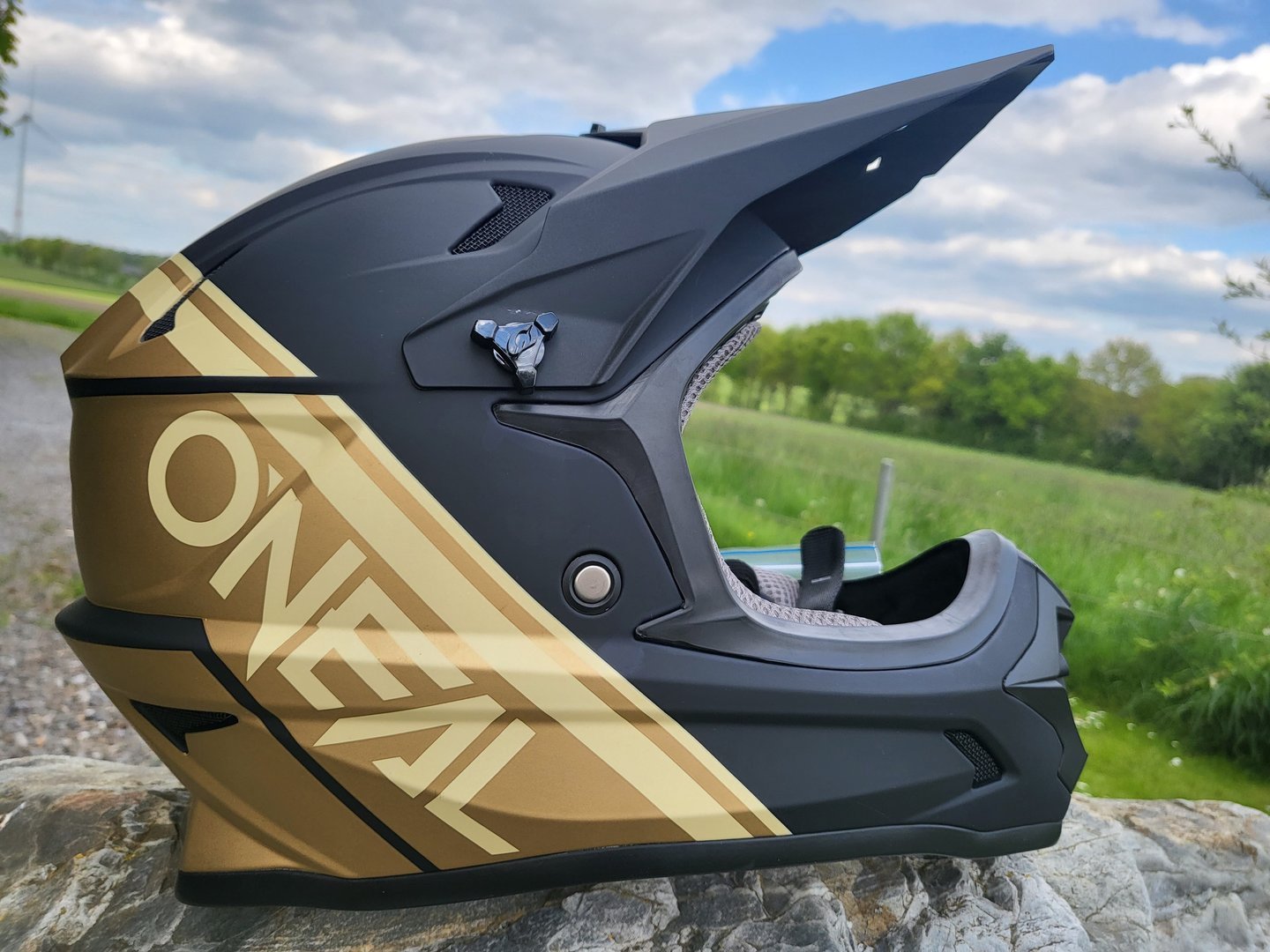 Why?
The O'Neal Sonus Split is a great step up from our entry-level full-face helmets. O'Neal has already proved itself a leading manufacturer of outdoor MTB helmets in the past, with the Sonus Split proving no different.
It's incredibly comfortable, with ample (also removable) padding and a fused full-face design. It further includes various vents for ventilation and cooling, keeping riders comfortable throughout their journey. Overall build quality is great, with the Solus Split meeting CPSC and EN1078 safety standards.
The Sonus Split boasts much better padding than previously featured helmets, despite its extremely competitive price point. Sure, it doesn't have Bluetooth like the Sena M1, but it's not made for leisure. This is much more of an eMTB sports helmet, made to protect you in the event of any high-speed downhill crashes.
Key Specs & Head Shape
Head shape: Round oval
Weight: 2.3 lbs (1050g)
Certification: EN DIN 1078
Smith Optics Session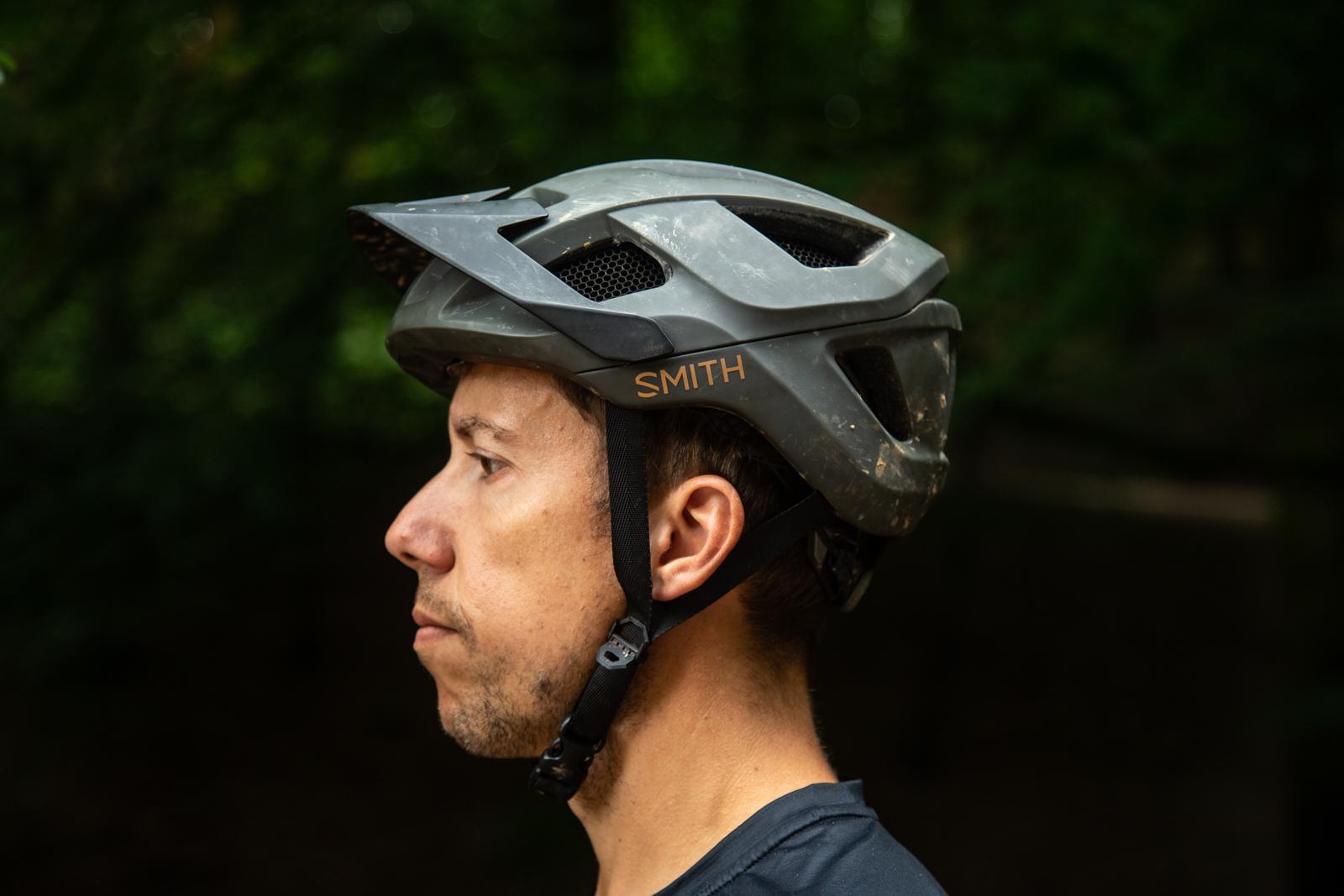 Why?
Smith Optics incorporates MIPS (Multi-directional Impact Protection) to offer increased safety and reduce the chance of injury. Smith claims that the Session helmet is made for those after speed and style, in "one protective package".
To be fair, they're not lying! It's incredibly durable whilst featuring a design engineered for performance and comfort. Sure, it's not full face, but sometimes you want to feel the freedom of the wind hitting your chin as you barrel it downhill.
With both CPSC and CE EN 1078 certifications, you can rest assured that the build quality is up to scratch. For head protection only, the Smith Session is one of the better helmets out there. With 15 vents for cooling and also goggle integration, it's also shaping up to be one of the most comfortable. Truly a top mid-tier choice for many eMTB riders!
Key Specs & Head Shape
Head shape: Intermediate oval
Weight: 0.83 lbs (376g)
Certification: CPSC, CE EN 1078
C-Maniac Pro MTB
Price: ~$114.99
Where to Buy: Cratoni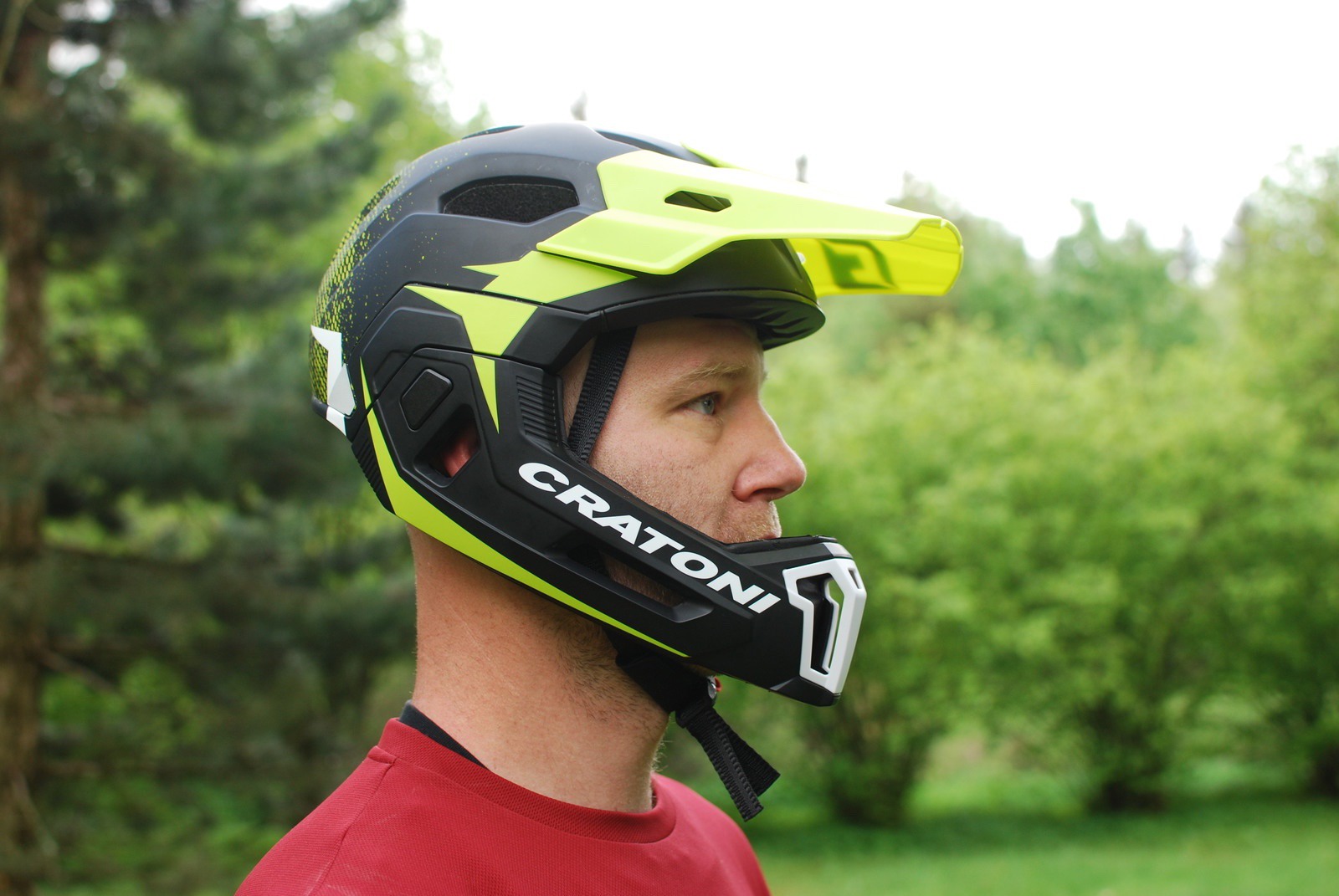 Why?
The C-Maniac Pro is another surprisingly tough, versatile and cost-effective eMTB helmet from Cratoni. With 14 vents throughout the design, staying cool on the move is easy. The removable visor is a top feature that we always love to see, remaining especially important for PEVs.
Seriously, there are few things worse than taking an insect directly to the eye at high speeds! The C-Maniac Pro is fully adjustable and suits riders of almost all sizes, thanks to the belt system. Not only this, but it's incredibly lightweight, weighing in at just 390g.
Lastly, the price point is highly competitive, with the protection and padding offered proving more than enough. Although we would have liked to see a little more padding on the sides of the helmet, it's overall a great pick and does its job well.
Key Specs & Head Shape
Head shape: Round oval
Weight: 0.86 lbs (390g)
Certification: CE EN 1078
High-End eMTB Helmets:
Helmets priced at around ~$150 – $200+, offering high-end performance.
Super 3R MIPS MTB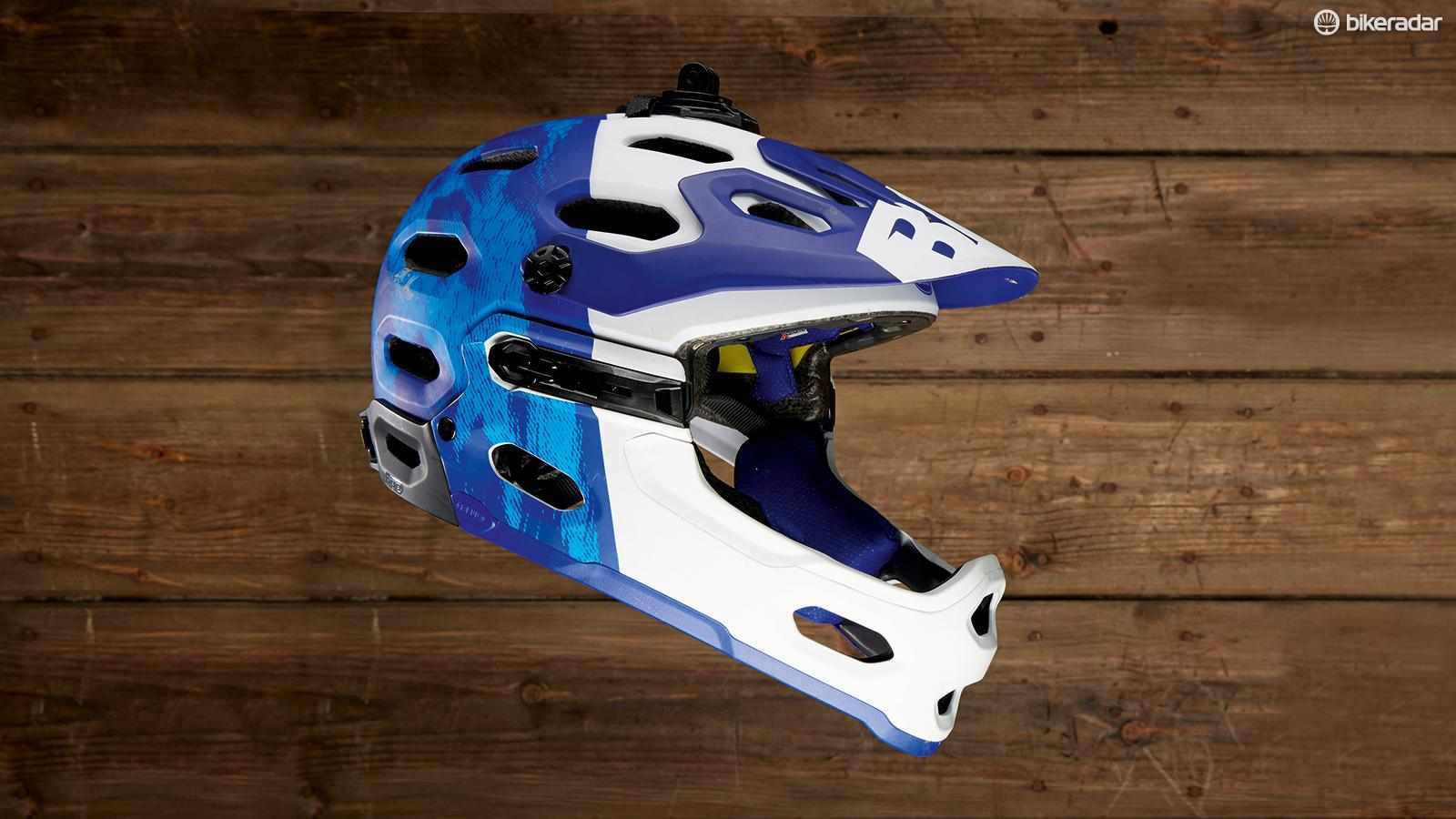 Why?
The Bell Super 3R was made with extreme mountain bikers in mind & designed for those who enjoy the challenge of "ever-changing terrain". It offers an encompassing full-face protection whilst maintaining ample ventilation with 6 vents to keep riders cool on the journey.
The lower chin bar is fully removable, allowing for versatile use and giving riders even more freedom of choice. This helmet also utilizes MIPS, significantly increasing the safety of this helmet and preventing any harmful rotational motions (often responsible for neck damage) during an accident.
Content creators will love this next feature, with the Bell Super 3R further including an integrated camera mount, perfect for GoPro footage. Whilst we wish it also included an integrated visor, aftermarket options are always available.
So, if you're looking for a full-face eMTB helmet, the Bell Super 3R is a great choice, and still competitively priced!
Key Specs & Head Shape
Head shape: Intermediate oval
Weight: 1.72 lbs (784g)
Certification: US CPSC, CE EN 1078
O'Neal Sierra RV.22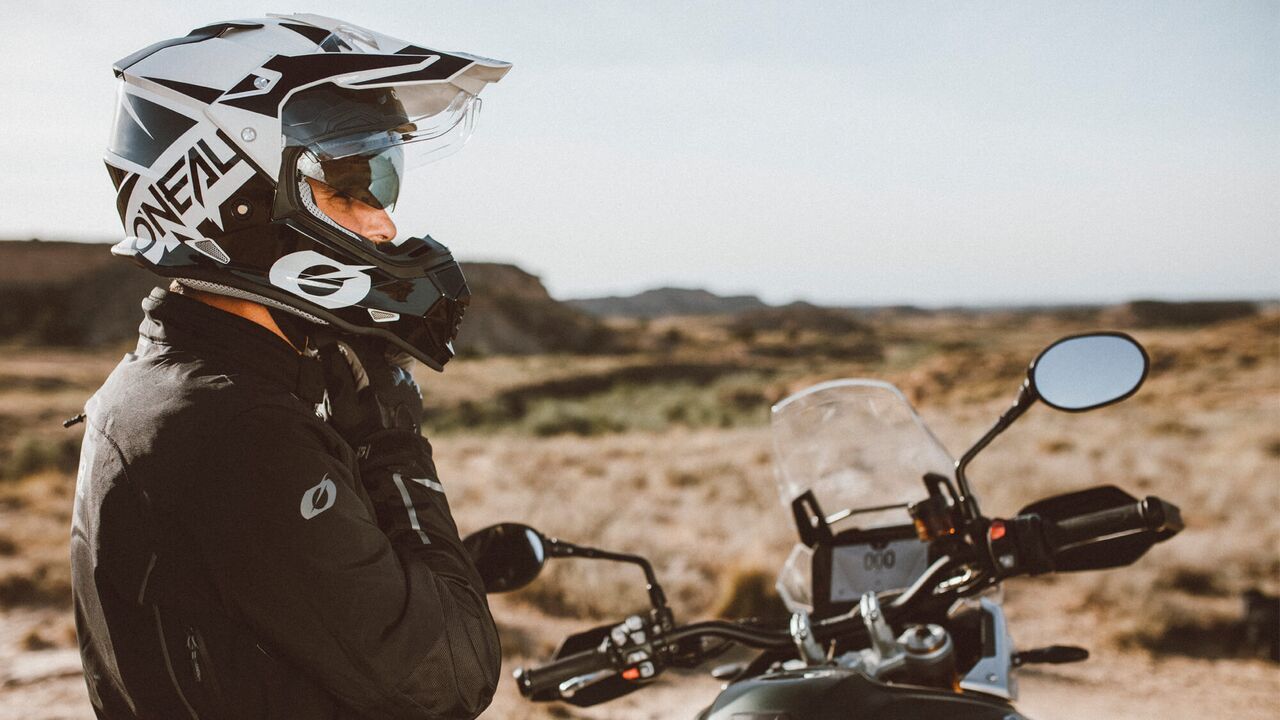 Why?
The Oneal Sierra R V.22 is a top-tier eMTB helmet, perfect for those seeking maximum protection. It's essentially a motorcycle helmet, with added ventilation and improved aerodynamics. It also includes Bluetooth-ready molded cutouts for riders to fit an optional speaker (must be bought separately).
The padding and protection are fantastic and well worth the price. The integrated visor is great and a significant step up from wearing goggles or fitting an after-market pair to another helmet. The Oneal Sierra R V.22 was definitely designed for Motocross, although we think it's perfect for extreme eMTB riders seeking unparalleled protection.
Despite all of this protection, the Oneal Sierra R V.22 maintains a fairly light weight of just 1590g (3.5 lbs). Honestly, you could wear this all day and not feel any strain or added pressure on your neck.
All in all, a superb addition to our high-end entries for the best mountain eBike helmets. Thanks to DOT certification, it even qualifies as a motorcycle helmet!
Key Specs & Head Shape
Head shape: Intermediate oval
Weight: 3.5 lbs (1590g)
Certification: ECE-2205, DOT
Bell MX-9 Adventure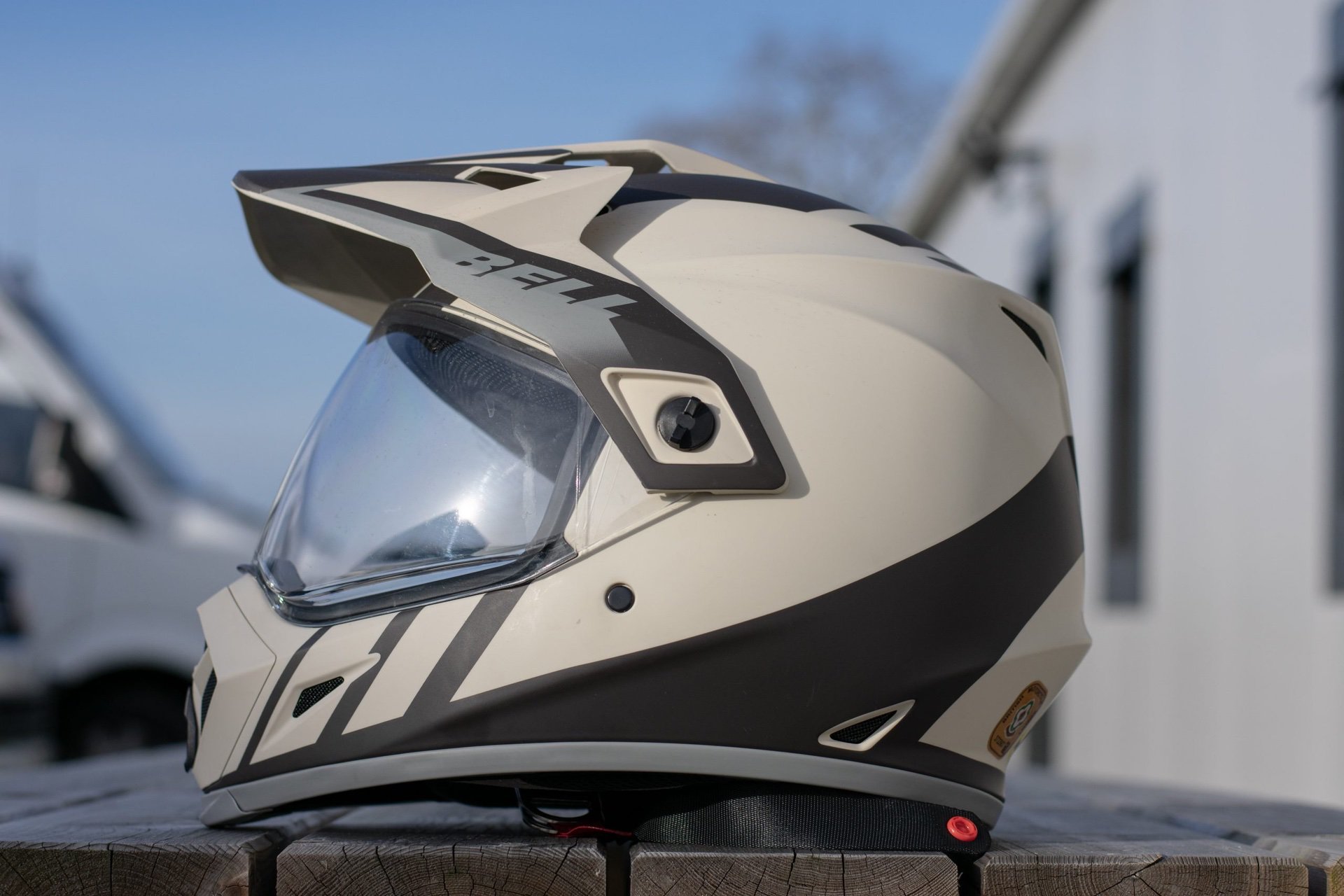 Why?
Another brilliant helmet from Bell—the MX-9 Adventure is designed with both on and off-road riding in mind. It's a borderline motorcycle helmet, with great ventilation and some extra features. For starters, the integrated face shield includes anti-fog and anti-scratch measures to keep visibility crystal clear at all times.
This face shield is also fully removable, perfect for those who stick to mid-speed street riding. For eMTB riders, a face shield like this is always a bonus, although the MX-9's tinted visor makes it all the better when riding on sunny days.
Unsurprisingly, the MX-9 helmet utilizes MIPS to offer maximum protection in the event of an accident. Despite proving itself a well-padded and highly protective helmet, the Bell MX-9 still weighs in at just 1698 g (3.74 lbs) and remains very fairly priced.
Want to learn how to ride safely on tricky terrains & how to prevent an accident? Read our off-road riding guide for electric scooters now, with plenty of advice applicable to ebike riders as well!
Key Specs & Head Shape
Head shape: Intermediate oval
Weight: 3.74 lbs (1698g)
Certification: DOT, ECE