J.D. Power Motorcycle Helmet Report
J.D. Power and Associates Reports: Arai Motorcycle Helmets Rank Highest in Overall Customer Satisfaction for Sixth Straight Year
Helmet Comfort and Fit Become More Important as Riders Age
(May 2004) For the sixth consecutive year, Arai ranks highest in customer satisfaction with motorcycle helmets, according to the J.D. Power and Associates 2004 Motorcycle Helmet Satisfaction Study released today.
With strong ratings from its customers for fit and comfort, color/graphic design, and ventilation, Arai ranks the highest overall among the nine helmet brands included in the study rankings.
"Arai continues to demonstrate its ability to produce high-quality products that satisfy its customers, making it a trusted brand among motorcycle enthusiasts," said Todd Mundorf, study director at J.D. Power and Associates.
Shoei, Schuberth, KBC, Nolan and Harley-Davidson follow Arai in the rankings, respectively, all performing above the industry average.
The study finds that style/color, comfort/fit and price remain the top three reasons for purchasing a helmet. Two-thirds of recent helmet purchasers cite style/color and comfort/fit among the top three factors that influenced their purchase decision, while almost one-half indicate that price was among the most important attributes.
The study also finds that as customer age increases, the propensity to choose a helmet based heavily on style and color decreases, with considerably more emphasis being placed on comfort and fit.
"Rider preferences for the type of bikes and helmets they buy tend to change with age and experience," said Mundorf. "Younger riders, particularly those who own sport bikes, place somewhat greater importance on a helmet that matches the latest color and graphic trends."
The 2004 Motorcycle Helmet Satisfaction Study is based on responses from more than 7,000 purchasers of new 2003 model-year motorcycles who provided information about their most recent helmet purchase experience and helmet use.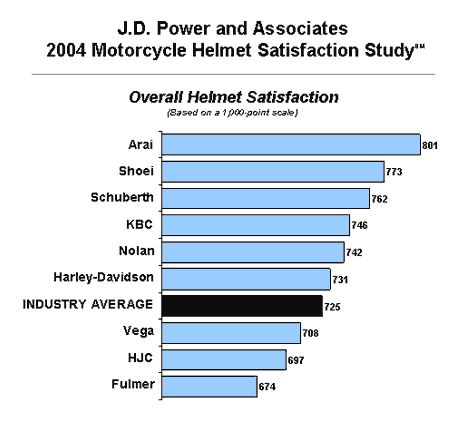 Other WebBikeWorld Helmet Posts