If you love riding bikes, you would know just how important it is to choose the right clothes. The pants that you wear need to be up for the rough and thrilling time you'll have. You also may need to carry around some little things with you when you're out riding, and you should be able to do that without being uncomfortable.
Motorcycle pants are designed to help you when you're riding and unlike regular denims that can get torn easily, many of these motorcycles pants are designed keeping in mind specific biker needs and requirements.
These 3 motorcycle pants have protective lining and helps make the riding experience a lot better.
1. Newfacelook Men's Motorcycle Jeans Reinforced With Protective Lining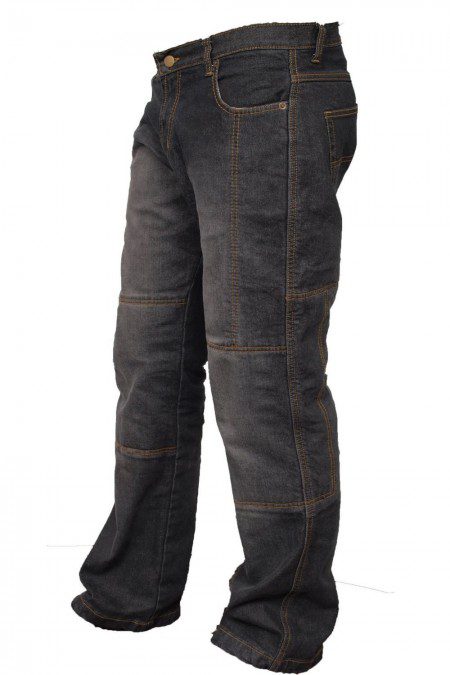 If you're looking for a pair of jeans that is both stylish and sturdy, then this is what you need. This motorcycle jean is made of 14 oz heavy duty fabric and has an incredible aesthetic appeal. Unlike most other brands out there, we do not provide minimal protective lining. Not only will you find strong protective 320 GSM aramid lining at Hips and Knees, but also at the thighs.
When you're riding your motorcycle, regular denim just doesn't cut it.
Going at 60 mph, you need a brawny pair of jeans that protects you without fail.
What would you love?
The aramid fibres that are used provide protection from not an abrasion, but from heat and cuts as well. In fact, this motorcycle jean provides resistance to flame up to 400c.
Not only is the product incredibly brawny, but looks incredibly smart as well. The minimalist design and a beautiful black hue make for an amazing combination. In addition to that, the seam of the jean has been carefully designed to make for a comfortable riding experience. It is no surprise then that we have received a lot of positive reviews from customers.
The Plus Points
The hard working people at Newfacelook pride themselves on this strong, chic and comfortable piece of denim. This is why we promise you a refund or an exchange if you do not feel satisfied with the product. This particular piece is one of our most popular ones, and for good reason.
In addition to that, you get protective pockets for your knees. You can also remove this pocket and place it at hip and thighs instead. You get all of this from the renowned Newfacelook brand at a great price. The product is available in black colour in almost every size.
2. Motto Wear Gallante Motorcycle Jeans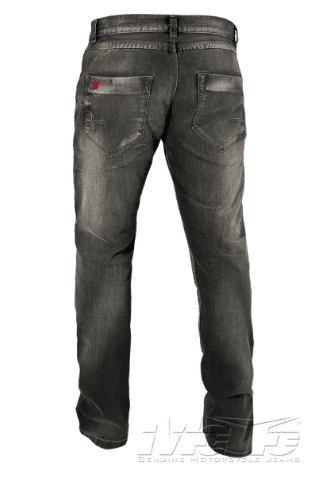 The company has a reputation for providing incredibly sturdy Kevlar denim, and a lot of credit for that goes to our Gallante Motorcycle jeans. They prioritize strength above everything, and that is why the product is made of original 100 % DuPont Kevlar, which gives you unparalleled protection. It is equipped with lining at all the critical places- Backside, Hips, Outer Thighs and Knees.
In addition to that, you get detachable and adjustable knee protectors from Sas-Tec and KNOX. To sum it all up, you don't need to worry about abrasions at high speed anymore, or even cuts or flames.
What would you love?
This stunning black colored jeans is available Large and Extra Large Sizes. Despite being a muscular piece of denim, it weighs only 2.4 pounds, meaning you don't have to drag around an unnecessarily bulky piece of clothing.
The reason these European manufactured jeans is a favorite among consumers is not only its strength, but also its style quotient. This unisex pair of jeans has a simple and clean design, doing away with the untidy stitching at knees. No matter what you decided to pair it with, the stunning faded black shade will make sure that it works perfectly.
The product is that it is fit for all situations. If you're planning to go on a road trip, the Jean will ensure that you are well protected in the harshest of weather. But at the same time, you can also use it as everyday wear without feeling the slightest of discomfort.
The cotton lining over the Kevlar has been provided specifically for that purpose. With the Gallante Motorcycle jeans, we have achieved the perfect combination of style, strength and comfort. The product has repeatedly been running out of stock, so you can guess how happy people are with it.
3. Newfacelook Men's Motorcycle Motorbike Jeans Reinforced with Protective Lining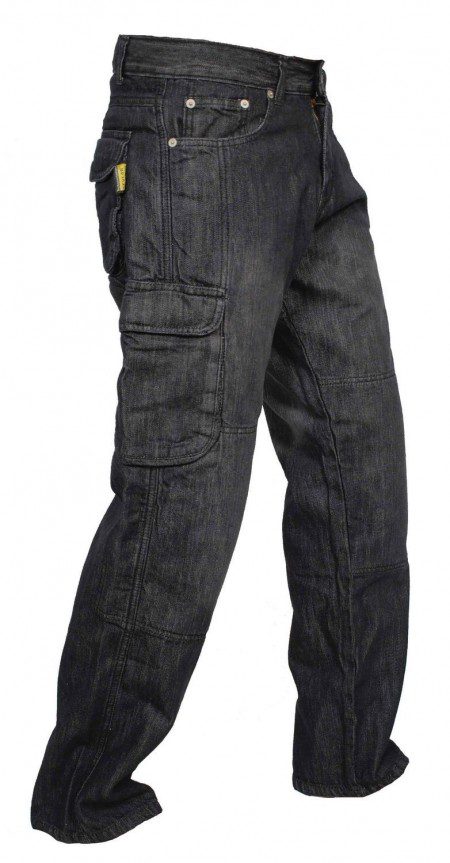 When it comes to Motorbike Jeans, there is no other brand that does it better than us. Staying true to our reputation, we have come out with this stunning pair of jeans. Made of sturdy 14 oz Denim, this heavy duty product ensures protection in all kinds of situations.
This is made possible with protective aramid lining at all the vulnerable places like Hip, Thighs and Knees. In addition to this, the jeans are also equipped with free knee protector pocket. This can be removed and attached to the thigh and hip as well.
What this means for you is that you are completely protected from abrasions and cuts alike. Even if you are going at 60 mph, you need not worry about any sort of damage whatsoever. As far as heat resistance is concerned, the aramid fibers used in jeans are flame resistant up to 400c.
Why would you love it?
This black colored stunning piece of clothing is great not only for the weekend getaways, but for everyday wear as well. Not only will you be adequately protected while riding the bike, but will look great once you get off it as well.
Another reason why this has been one of our best sellers is its comfort. No matter how long the ride is, at no point you will feel uneasy wearing it. The talented designers at Newfacelook have taken special care of that. We are extremely confident that you will love this Motorcycle Jean. If you don't, you get a full refund or exchange.
None of our customers have faced a problem with the fitting of the product, which is also down to the great number of sizes we have available.