Anyone who rides a motorcycle should buy and always wear a good, sturdy pair of gloves. Gloves keep your hands comfortable while riding and they protect against the elements and in the event of an accident.
I'm all for finding gloves with the absolute most protection and features like a good gauntlet, knuckle padding, and palm sliders, but understand that not everyone is going to choose the safest piece of gear every time they ride.
At the very least you need to wear some kind of motorcycle gloves built with strong materials that are well-crafted. Harley-Davidson is primarily known for its motorcycles, but the company makes some of the best gear out there, too. Here are ten of the best pairs of Harley-Davidson gloves out there.
1. Peshtigo Leather Gloves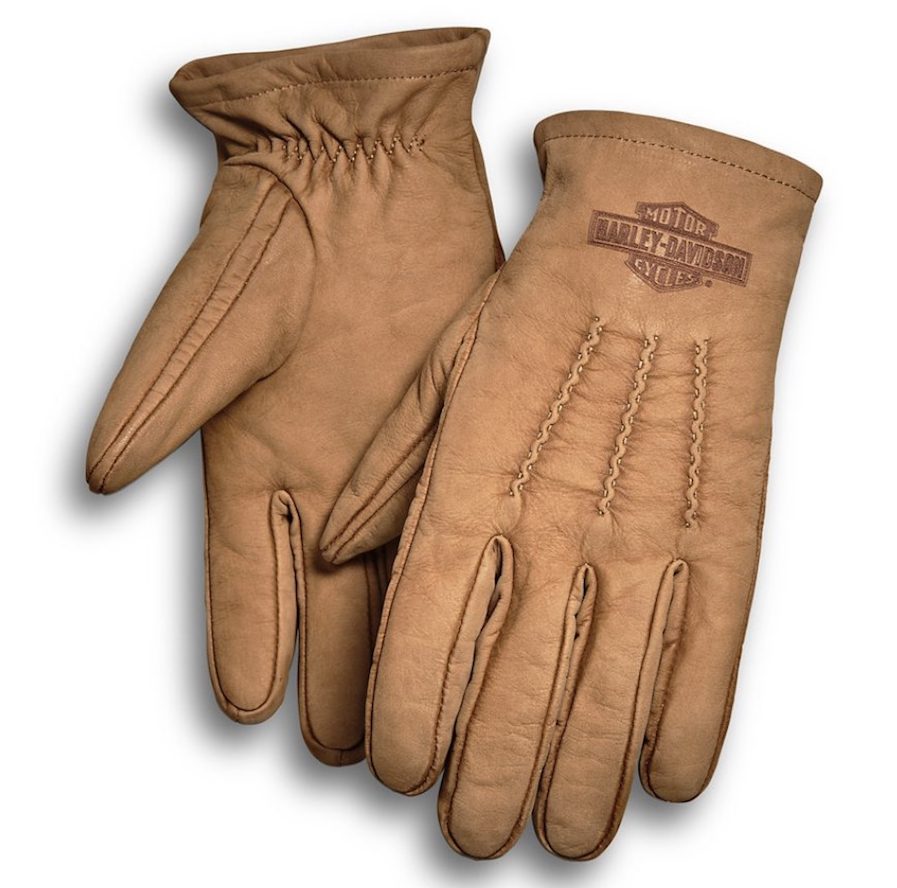 If you're a fan of old-school leather gloves, then you're going to love the Peshtigo Leather Gloves from Harley-Davidson. It's the mixture of classic style and quality construction that make these some of the best-selling motorcycle gloves on Harley's website.
While these gloves are modeled after classic work gloves, they are going to be more comfortable than a pair of gloves you can pick up at the hardware store, the company took pains to make them work for motorcyclists. The shape of the gloves was crafted to be most comfortable while riding, meaning they're not too bulky or stiff.
Here are the gloves features:
Ergonomic shape with a 15-degree curve to the fingers
Elastic at the wrist for a comfortable fit
Distressed leather for a classic, worn look
Laser-etched Harley-Davidson logo on the back
2. Circuit Waterproof Gauntlet Gloves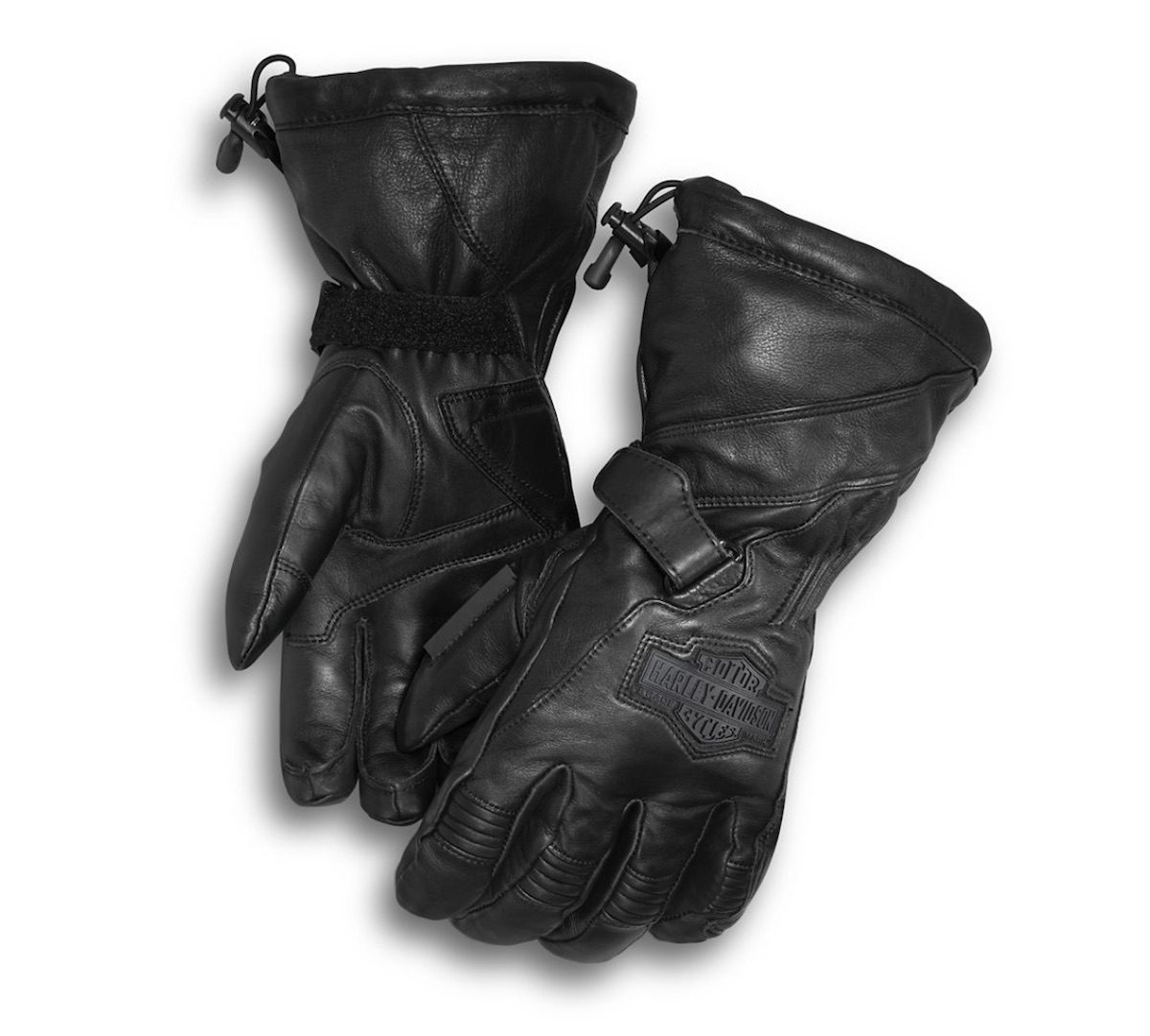 If you're looking for something with superior protection, leather construction, and plenty of style, the Harley-Davidson Circuit Waterproof Gauntlet Gloves are exactly what you need. The full leather construction and reinforcement in specific areas help them be safe gloves, and the insulation and waterproof design let them be comfortable even when the temperature drops.
These gloves feature the Harley-Davidson logo across the back of the hand in black. It's a not-so-in-your-face proclamation of your affinity for the brand, but it is noticeable. Pair this with premium features and you'll find few reasons to dislike these gloves.
Here are the features:
Insulated and waterproof design
Ergonomic thumb and 45-degree, pre-curved fingers
Roller buckle strap
Single hand usable cuff closure
Genuine cowhide leather
3. FXRG Lightweight Gloves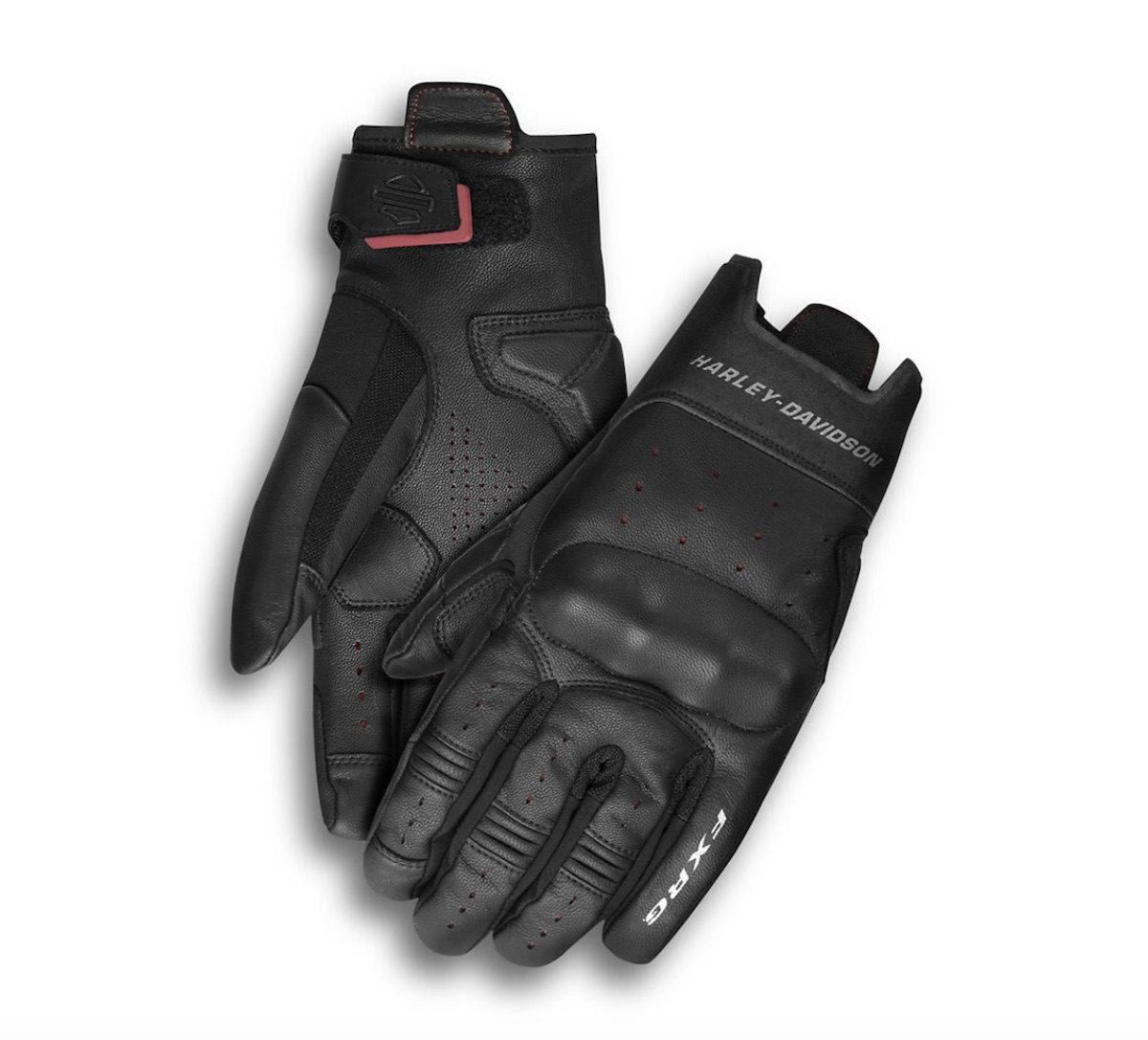 Want something that's not a gauntlet glove but still offers good protection? These FXRG Lightweight Gloves offer a mixed-media construction that blends style and comfort seamlessly into one unique and lightweight package.
The lightweight and breathable nature of the FXRG Lightweight Gloves means they're perfect for those warm and hot summer days. The unique finger scoop vents and Coolcore lining pulls the heat and sweat away from your hands keeping them as comfortable as possible.
Here are the features:
Perforated goatskin leather and mixed media materials
Ergonomic thumb and 45-degree, pre-curved fingers
Elastic flex material on two fingers and stretch material at the knuckles
Elastic at the wrist with an adjustable closure strap
Foam knuckle protectors and a reinforced palm
Touchscreen compatible fingertips
Finger scoops and Coolcore liner
4. Skull Touchscreen Tech Gloves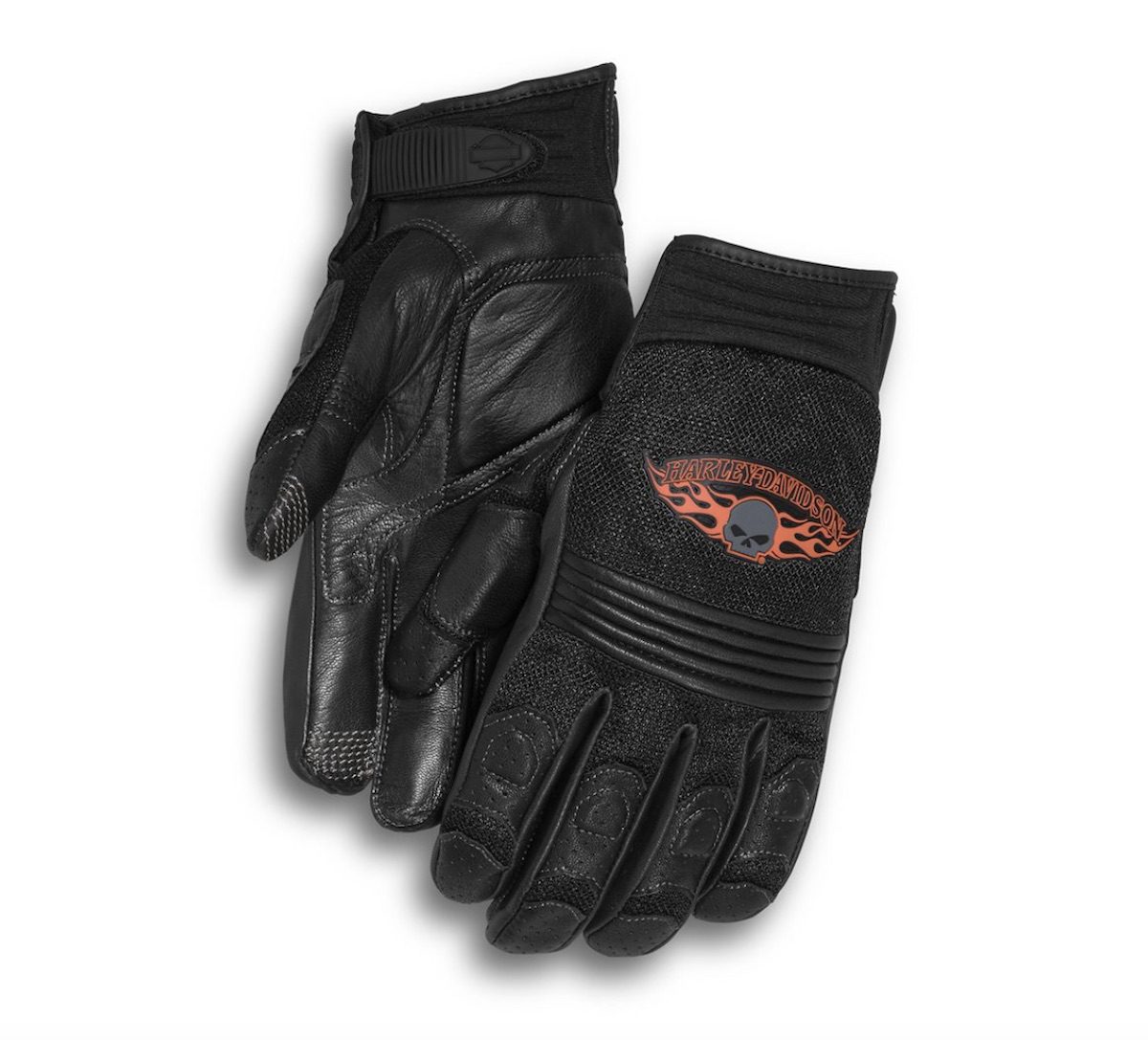 If the FXRG gloves shown above aren't what you had in mind then maybe the Skull Touchscreen Tech Gloves will be more up your alley. These gloves are designed for the modern age and have a bit more of a flashy appearance.
Made from goatskin leather and a polyester mesh material, these gloves are another smart option for summer providing plenty of airflow to your hands while still giving you some protection. The fact that you can easily operate a smartphone or tablet without taking them off is an added bonus.
Here are the features:
Perforated leather and mesh material facilitate good airflow
Ergonomic thumb and pre-curved fingers
Neoprene cuff with adjustable closure strap
Padded palm
Rubber Harley graphics
5. Commute Leather Gloves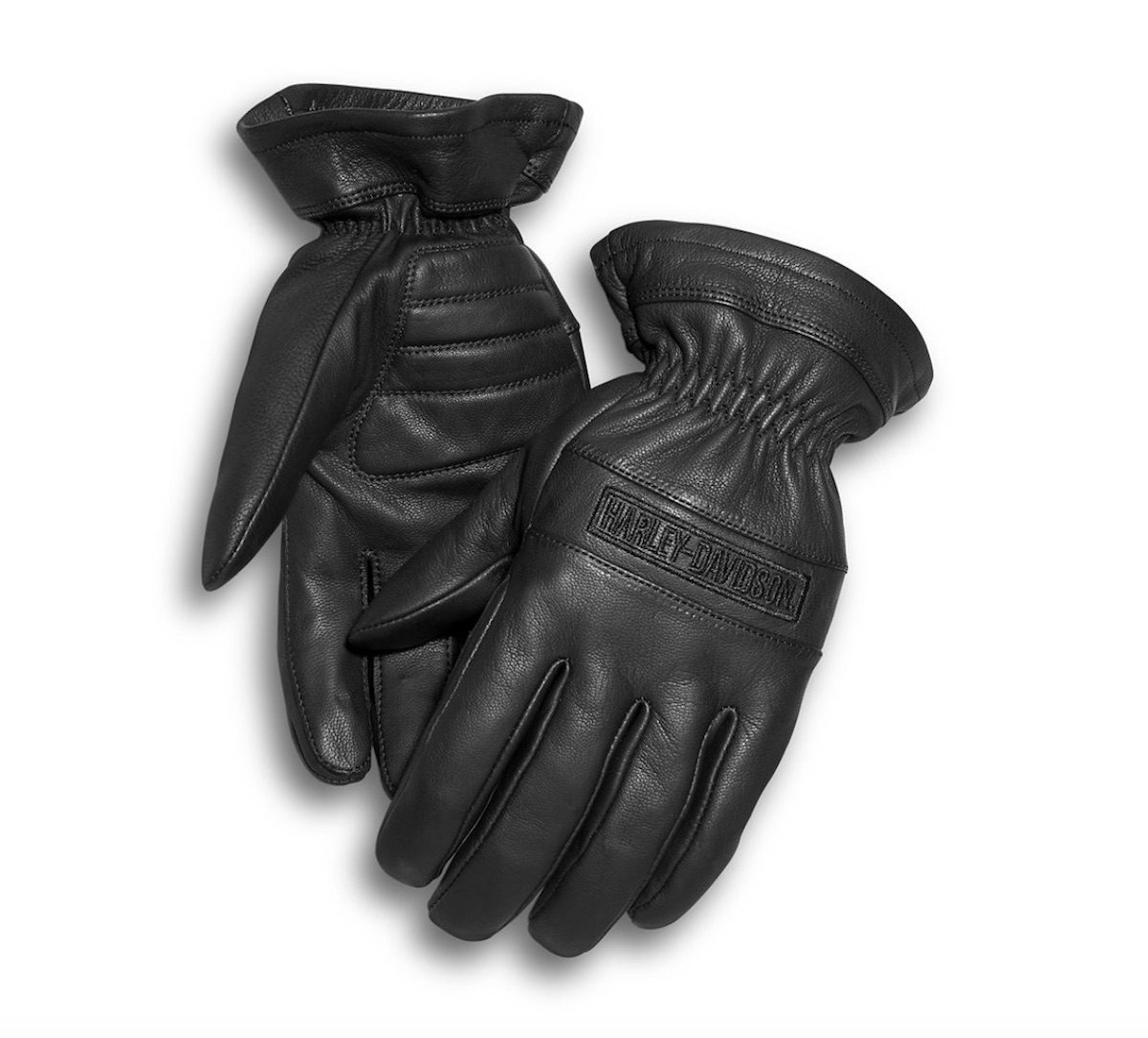 Closer in line with the Circuit Waterproof Gloves than the gloves above, the Commute Leather Gloves from Harley-Davidson offer a full leather construction with basic work-glove-like style. However, these gloves are a little more sturdy than the Peshtigo Leather Gloves listed above.
The Commute Leather Gloves offer a good gauntlet, padding in key areas like the palm, and a rugged look with Harley-Davidson stitched across the back of the hand. While they won't be the coolest gloves to wear, they still offer quality construction and good features.
Here are the features:
30-degree, pre-curved fingers and an ergonomically designed thumb
Padding and reinforcement in the palm
Comfort seams and an elastic wrist
Goatskin leather construction
A partial tricot lining
6. Wilder Insulated Gauntlet Gloves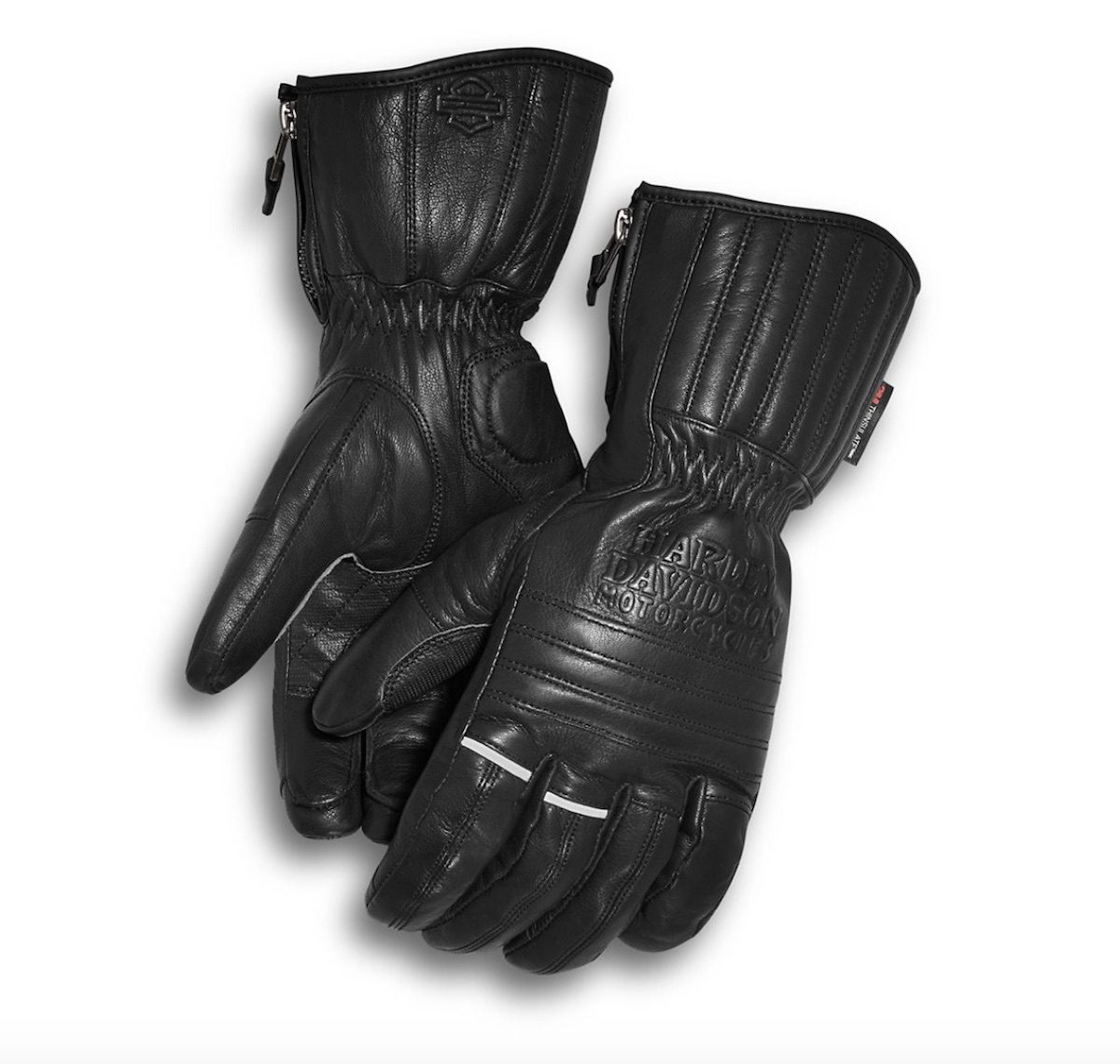 A step up in terms of protection, design, and insulation from the Commute Leather Gloves, the Wilder Insulated Gauntlet Gloves will help keep your hands safe. These gloves are also great for when the temperature drops and you want to keep riding.
The insulation was crafted using 3M and Thinsulate materials ensuring your fingers keep from freezing even as the temperature drops below freezing. These gloves also feature an extended gauntlet that will provide further protection and keep cold air from making it up to your jacket's sleeves.
Here are the features:
3M and Thinsulate insulation
Ergonomic thumb design and 45-degree, pre-curved fingers
Elastic at the cuff with a zippered closure
Anti-slip material over the padded and reinforced palm
Reflective material piping
Embossed Harley graphics
Goatskin leather construction
7. Stormy Leather Gloves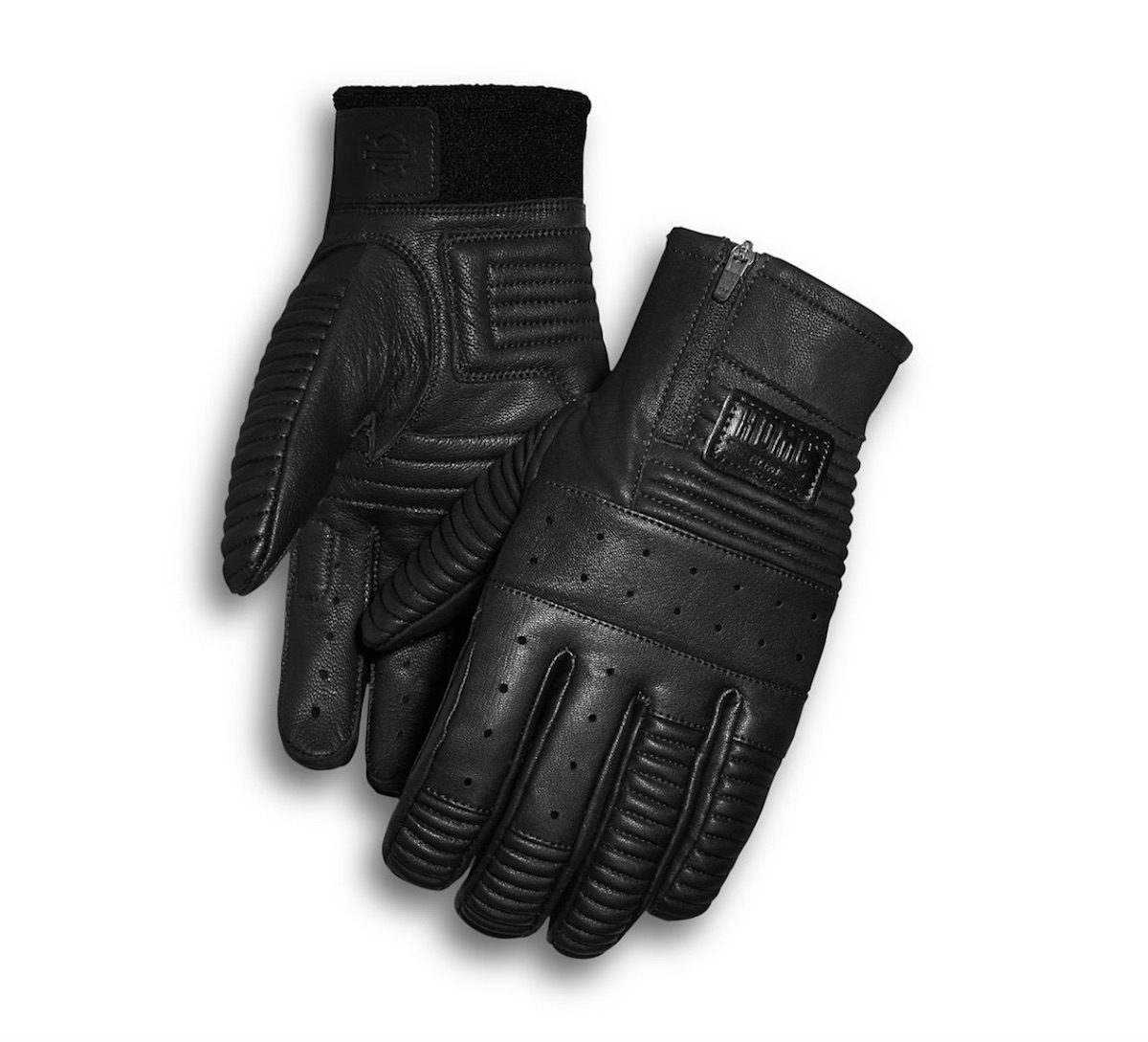 Do you like the zippered closure at the wrist in the gloves above but don't need something so heavily insulated or with an extended gauntlet? How about these Stormy Leather Gloves? These gloves offer a perforated leather construction that's good for warmer days.
They also offer an attractive style padding and reinforcement in all the right places and stretch panels and material so you can comfortably wear these gloves while riding. They feature a subtle Harley logo on the back of the wrist that's a tasteful addition.
Here are the features:
Reinforced and padded palm
Perforated goatskin leather along the back of the hand
Moisture-wicking liner
Ergonomic thumb and 30-degree, pre-curved fingers
Adjustable wrist velcro and a zippered closure
Touchscreen compatible fingertips
Tricot lining
8. Heated BTC 12V Waterproof Gauntlet Gloves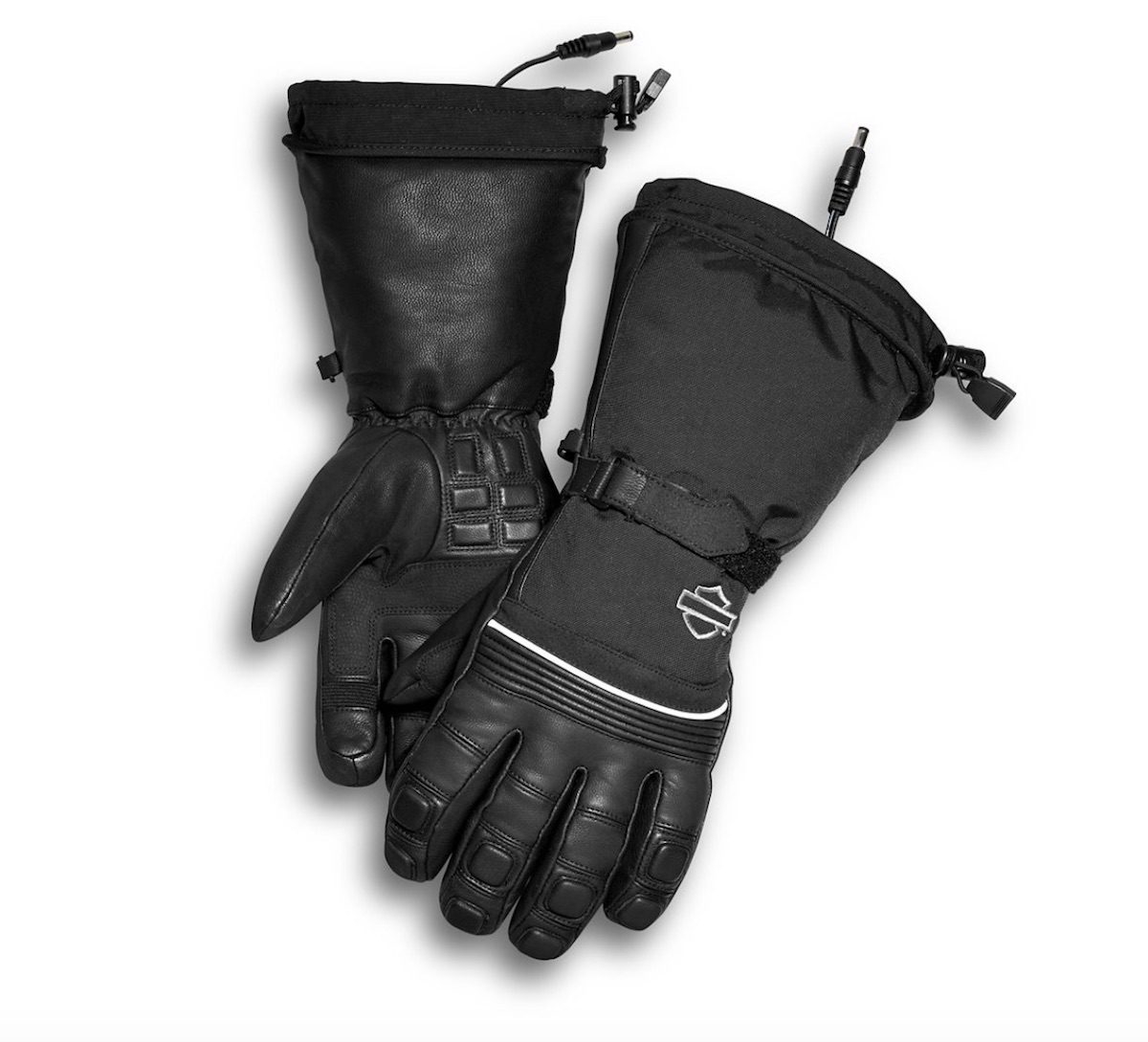 Back to the warm weather gear. The Heated BTC 12V Waterproof Gauntlet Gloves offer not only better protection from cold temperatures and the elements than the Wilder Insulated Gauntlet Gloves, but they also offer fantastic protection, too.
These gloves can be used with other heated gear or simply on their own, though you'll need to get the BTC 12V Switch which is sold separately. They work well as riding gloves even if you don't have the heating feature on, with plenty of features to keep you happy while you ride.
Here are the features:
Carbon nanocore heating system that heats quickly and evenly
Waterproof sheepskin leather and mixed media construction
3M and Scotchlite reflective material
Ergonomically designed thumb and pre-curved fingers
Stretch knuckle inserts
Padded palm with anti-slip material
9. Ratchett Gauntlet Gloves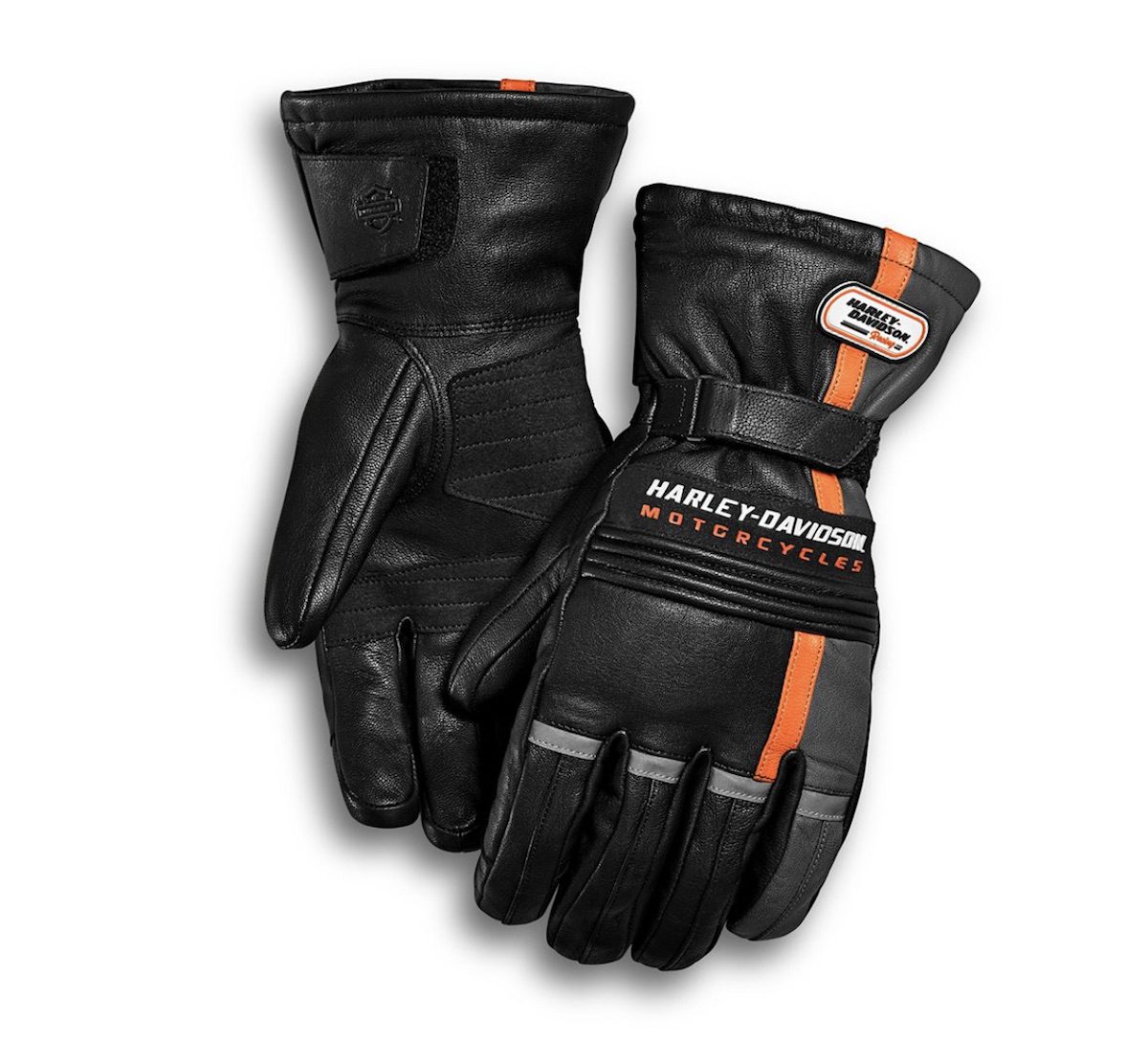 Sick and tired of all the plain black motorcycle gloves from Harley-Davidson? Get the Ratchett Gauntlet Gloves and add a little color to your life. These gloves feature Harley's well-known orange in two places on the back of the hand.
The gloves also offer a modern and tough-looking construction designed to keep your hands comfortable and safe while riding. While these gloves might be a bit too well-insulated for summer riding, they're perfect for early spring, fall, and winter riding.
Here are the features:
3M and Thinsulate insulation
Ergonomic thumb design and 30-degree, pre-curved fingers
Waterproof goatskin leather construction
Cuff adjustment and elastic wrist with a strap closure
Reinforced palm
3M and Scotchlite reflective material
Touchscreen compatible fingertips
10. Admiral Under Cuff Gauntlet Gloves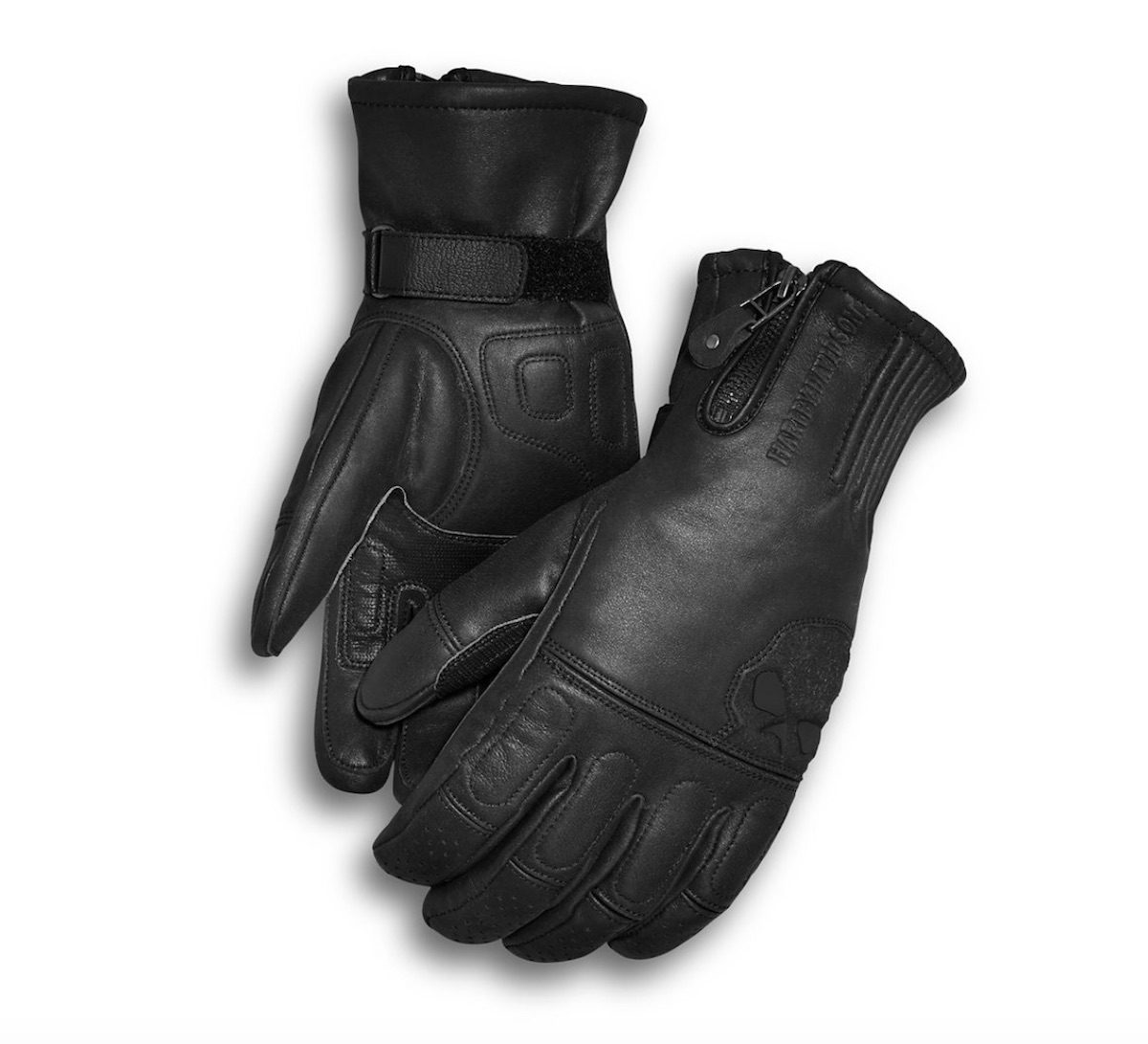 The Admiral Under Cuff Gauntlet Gloves are unique because—you guessed it—the gauntlet of the glove is actually designed to go under the sleeve of your jacket. It also helps that they're just really well constructed with some top-quality sheepskin leather.
You may find these gloves warmer in cold weather than some competitors due to the fact that they have a special heat-reflective lining that's designed to help retain the natural heat of your hands. This doesn't bode well for warm weather riding, though.
Here are the features:
Insulated with a heat-reflective liner
Ergonomic thumb design with 30-degree, pre-curved fingers
Envelope knuckle design and comfort seams
Power stretch gauntlet with an adjustable wrist and a zippered closure
Padded palm with reinforcement from anti-slip material
Distressed sheepskin leather construction with perforations on fingers