As important as the classic cruiser aesthetic and the iconic Harley-Davidson engine sound is the Harley-Davidson logo or emblem. The company has many different variations of it, and you can get numerous variations in the form of a decal.
If you're a true Harley fan, then you're bound to be interested in getting some extra decals for your motorcycle, truck garage, or really anywhere else. But what decals should you get? Don't worry, I've curated the best Harley decals below.
While there are other ones out there, these are the ones that best represent the brand and will help showcase your affinity for it.
1. Harley-Davidson Orange Vinyl Decal
Harley-Davidson's colors are just as recognizable as the logo itself. While many of the decals you'll find out there focus on the famous bar and shield shape, this one takes that idea to a new level by making the lettering the beautiful Harley orange.
If you look at the logo on the company's website, you'll notice this is the reverse of what the company usually does. This actually makes it stand out more. It's a decal that would look amazing pretty much anywhere.
The decal itself is made of high-quality vinyl and comes in a variety of sizes from 4 inches by 3 inches all the way up to 14 inches by 10.5 inches. The decal is made 100 percent in the USA and comes with an expected five-year durability whether it's used indoors or outdoors.
2. Harley-Davidson Bar & Shield X-Large Decal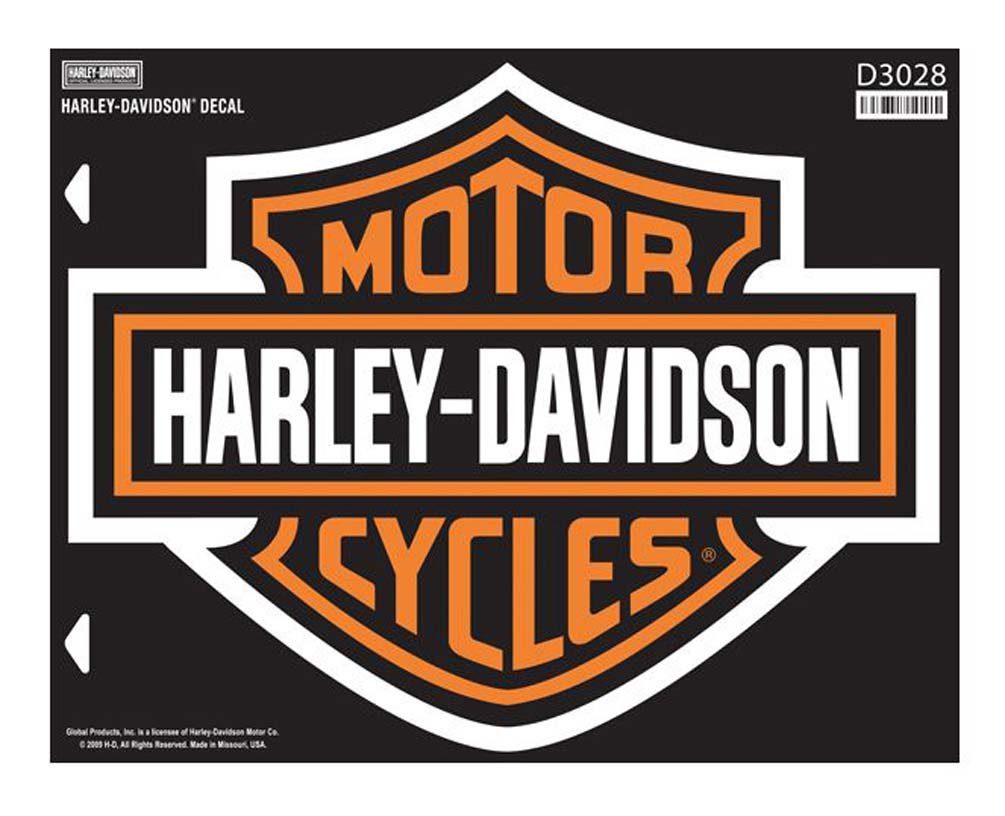 If you think the orange one is cool but not traditional enough, then you should check out the Harley-Davidson Bar & Shield X-Large Decal. This decal has the classic Harley logo in decal form. If you don't want to stray too far from tradition, this is the one to get.
Harley's logo doesn't need fussed with. It's instantly recognizable, and that's one of the things that makes it so special. The classic bar and shield in the proper colors will help you show off your appreciation for the brand.
This particular decal is an extra large, meaning it measures 19.5 inches by 15.25 inches. It's perfect for the outside of a window or for fitting over some item in your garage. If you want a decal that can showcase your love for your favorite iconic American brand, this is it.
3. Harley-Davidson Eagle Red/White/Blue Onz Decal

Harley-Davidson is often closely associated with America's national bird, the eagle, and the American flag and its colors. The company's rich American heritage is what drives these connections for the brand.
This is often found in Harley-Davidson's merchandise, and the decal shown above is a perfect example of how all these things can be brought together. While the overtly American symbolism isn't something that's for everyone, it is exactly what a lot of Harley fans look for.
This particular decal offers adhesive on the back, easy application, and measurements of 16 inches by 6 inches. This is a near perfect size for many different applications.
4. Harley-Davidson Gray and Black Bar & Shield Logo Decal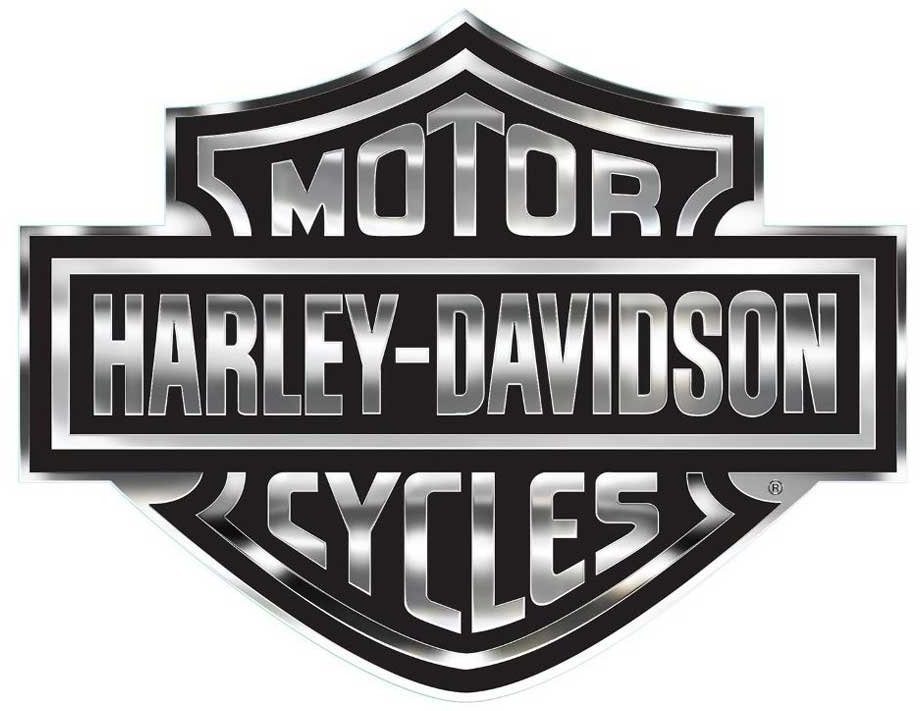 With chrome being such an important part of many Harley-Davidson motorcycles, it only makes sense that this would be translated to the company's logo. This look can also be found in decals of various sizes.
Chrome provides a unique take on the classic bar and shield logo design. Even in decal form, it adds something special to the logo and gives you something a little different than the decals shown above.
While the seller says that the colors are gray and black, one quick look shows you that what the seller says is gray is in fact chrome. This particular decal measures 30 inches by 40 inches and is perfect for your truck or trailer.
5. Harley-Davidson Orange Straight Wing Decal

If you liked the winged decal above but weren't crazy about having the American flag incorporated into the decal's look, then this straight wing decal in orange is a perfect alternative that still offers a bold look and similar shape.
The wings and the bar and shield work well together in this beautiful logo. Also, the Harley-Davidson orange features not only on the logo but in the wings, too, ensuring that they fit well together.
The decal measures a large 18.5 inches by 5.5 inches. The nice thing about this particular size is that it works well for a variety of applications.
6. Harley-Davidson Chrome Bar & Shield X-Large Decal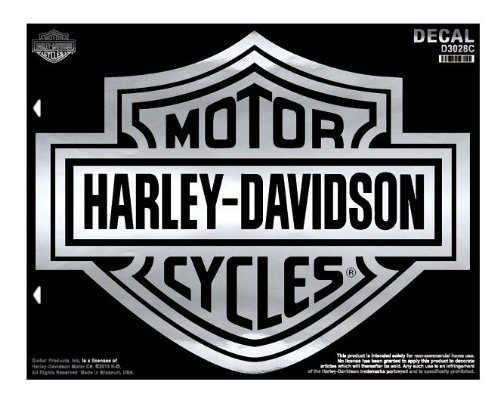 You didn't think we'd just showcase one chrome logo, did you? We had to have at least one variant, and this is it. This particular logo offers a flatter appearance with the chrome finish look on the logo.
The logo itself is also a little bolder overall, this might be exactly what you want or it might not, but it's nice to have options. The decal is still undeniably Harley-Davidson and will let everyone know that you're a fan of the brand.
The decal measures a large 19.5 inches by 15.25 inches, which means nobody will be able to miss this bold, chrome statement if you choose to make it.
7. Harley-Davidson White Die Cutz Graphic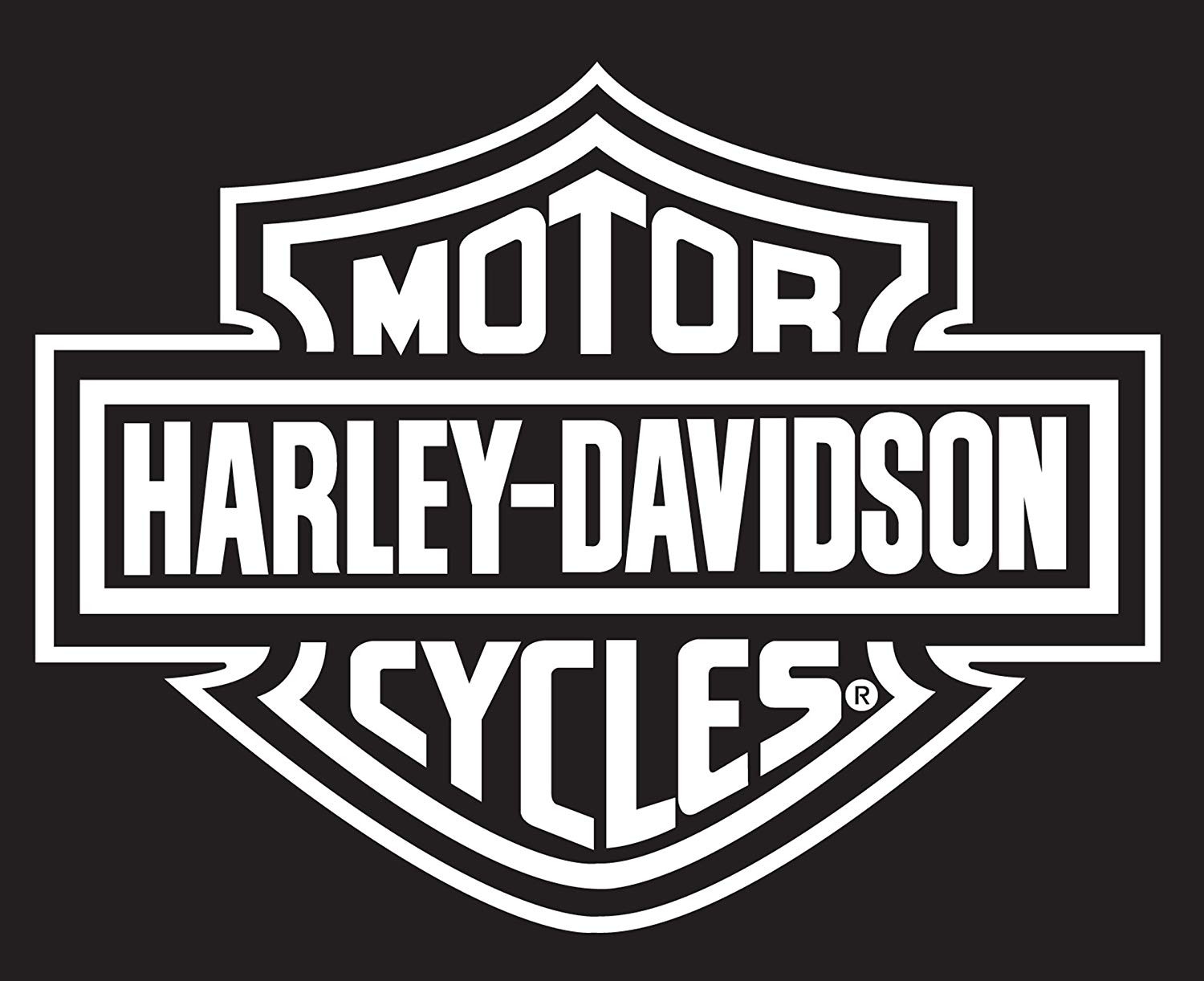 If you want something a little different, something a lot cleaner and extremely easy to see and read, then the Harley-Davidson White Die Cutz graphic is exactly what you should consider. This smaller decal looks perfect on some heavily tinted glass. It's very noticeable.
The white logo isn't a traditional look for Harley-Davidson, but the bar and shield shape and the crystal clear lettering show everyone who needs to know exactly what you think of the brand.
The decal is made of premium vinyl and is precision cut, too. It measures 5 inches by 4 inches and is supposed to be easy to apply to any surface that you could want to. Previous buyers have put it on trucks, motorcycles, and other areas.
8. Harley-Davidson Injection Molded Emblem Decal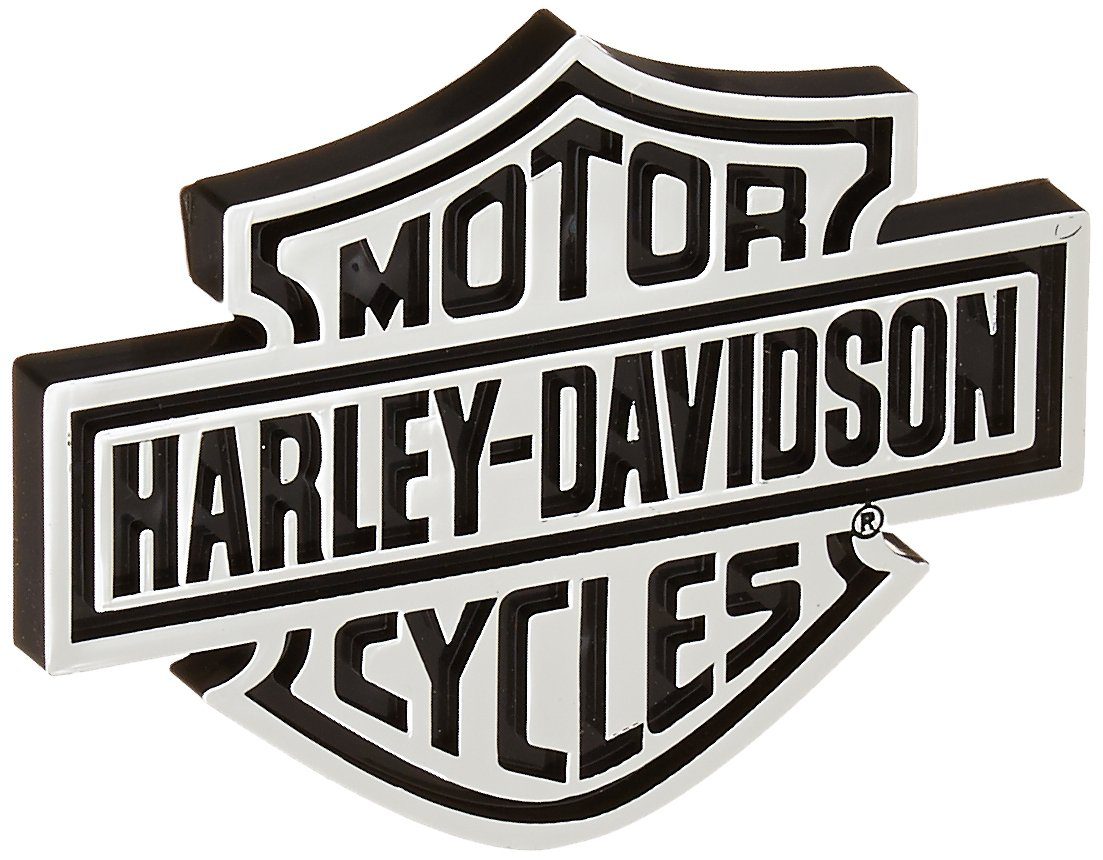 If a flat vinyl or sticker decal isn't cutting it for you and you need something with some depth to it and some texture, then this injection molded emblem decan is exactly what you need. It provides you with an extra dimension that the other decals here don't have.
The adhesive back means it can be applied to many of the same areas as the other decals included on this list. Truck rear windows, SUV rear windows, motorcycle tanks, etc. It will adhere to any smooth surface.
The decal measures 5 inches by 7 inches. It is gray and black in color. It's also proudly made in the USA, which is a rarity these days for many of these kinds of products.
9. Harley Davidson Chrome Silhouette B&S Die Cutz Decal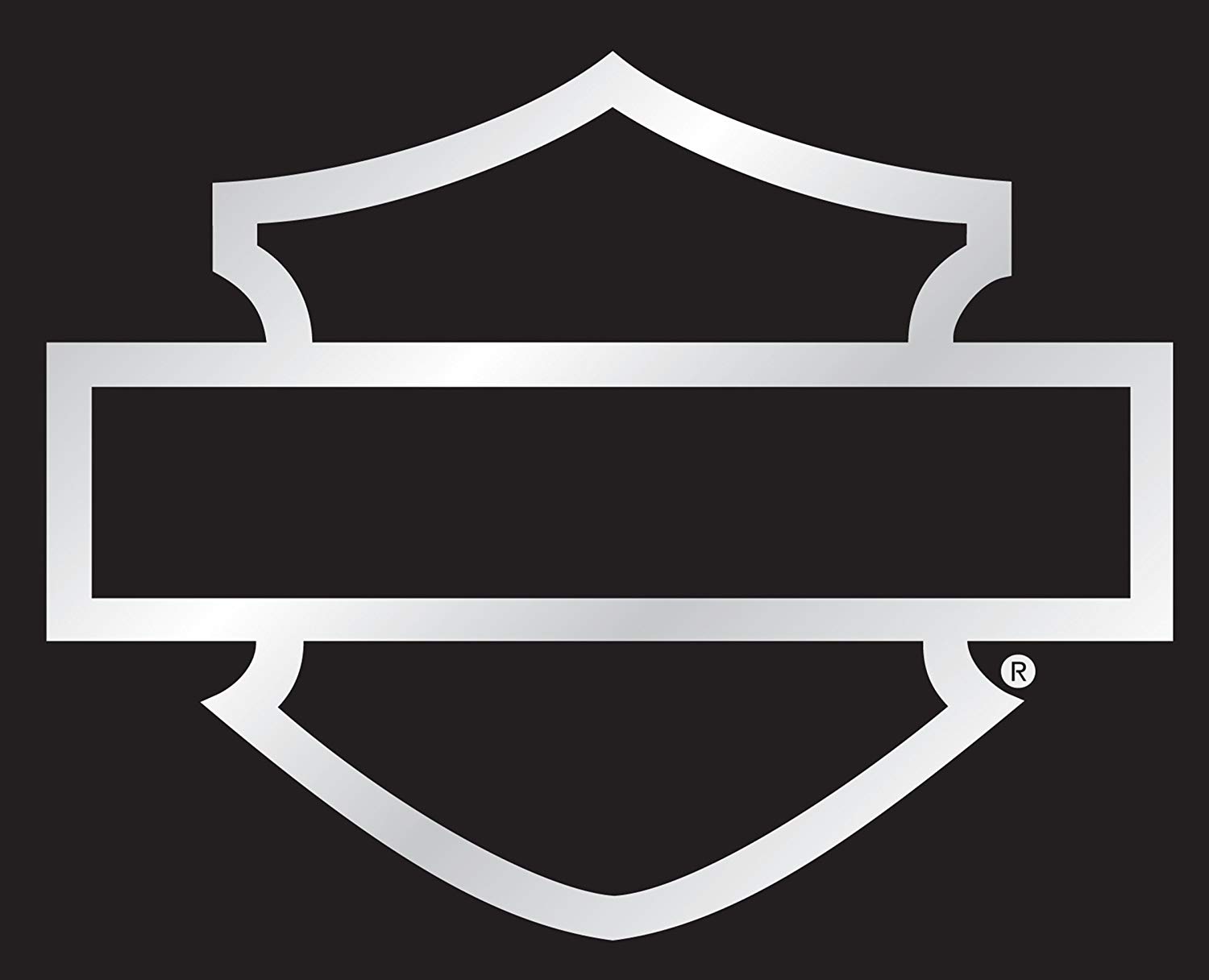 If you want something a little more subtle than all of the other logos above, then this chrome silhouette decal is the perfect solution. It takes the iconic bar and shield logo shape that Harley-Davidson uses but also doesn't have the words usually on the logo.
This minimalistic design is a subtle hint of your appreciation and pride in Harley motorcycles. Without a doubt, most people will still know what you want to showcase because the Harley logo is so well known.
The decal is precision cut from high-quality vinyl. It's also supposed to be very easy to apply. The decal is smaller than most others, too. It measures only 3.8 inches by 3.6 inches.
10. Harley-Davidson Night Rider Reflective Logo Decal Set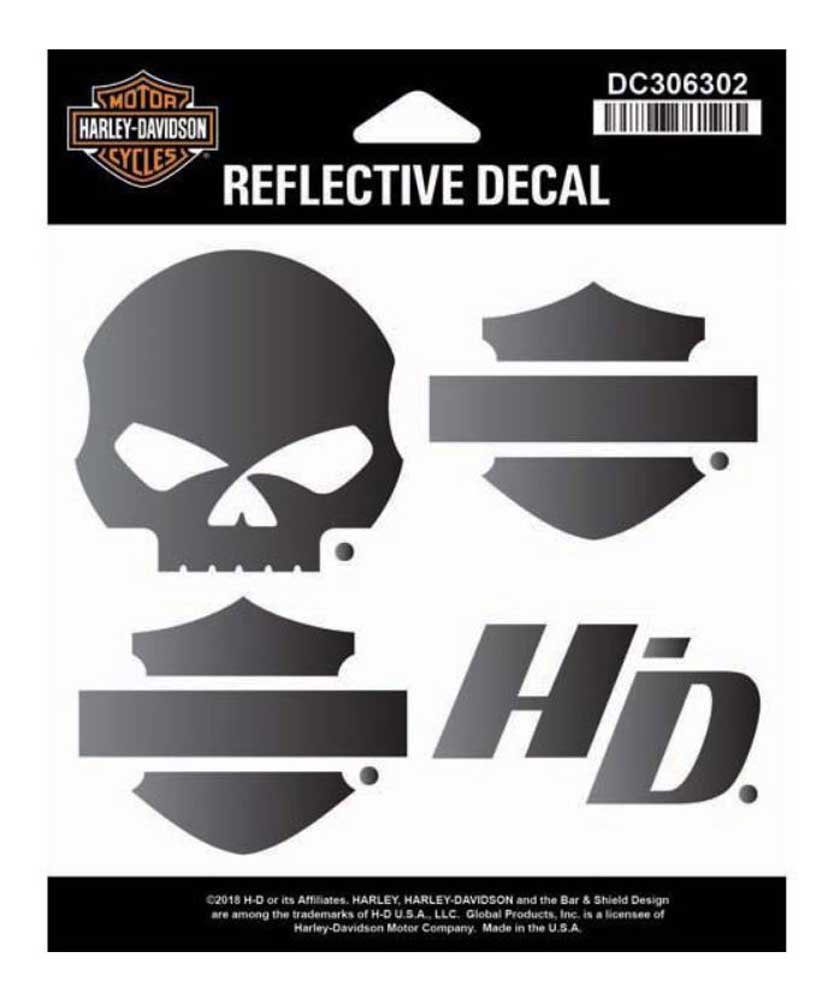 While all of the decals above are excellent options, what if you want multiple decals in one purchase? That's where the Night Rider Reflective decal set comes in. This set of reflective decals work great on a motorcycle or on your truck or SUV.
There are four different decals included in the kit. There are two bar and shield minimalistic designs, one that has the memorable HD, and the final one that's a skull. Each of them would work on their own, but they can obviously work well in a group.
While there are four decals in this set, they are each pretty small. The entire page that has all of the decals on it measures only 4.125 inches by 3.75 inches. This means these decals are perfect for a small spot that needs some good HD representation.