The Breakdown
The new for 2018 Bell RS-2 is a comfortable, good-looking, lightweight full face helmet that's perfect for everyday use. The eye port is large for excellent visibility and the internal sunshade is a practical addition to my daily commute. It's a little noisier than I would like but I was won over by just how comfortable it is to wear. Overall quality is excellent and the sub $300 price makes it a great value.
Pros
Super comfortable liner, Decent ventilation, Good value
Cons
Unorthodox size chart, Noisy, Visor doesn't fit perfectly
Background
I have been riding for the last few years with an RPHA 10 helmet, but I'd noticed lately that with time the EPS had begun to compress and it was getting loose. With the looser fit, it had become quite noisy and probably wasn't as safe.
It was time for a new helmet. I was trying to figure out how to approach my husband with this latest motorcycle need when I opened my front door, on my birthday no less, and lo and behold there sat a box from Bell helmets containing the new for 2018 RS-2.
Bell has been making helmets since the 1950's with a no-nonsense, function over form philosophy that I appreciate. They make motorcycles helmets in a variety of styles and price ranges. Their full-face helmets alone range from the race-ready Pro Star Flex at a premium price of $1,199.95 to the budget minded Qualifier helmet at $109.95.
At last weekend's flat track races I noticed that Bell helmets were a popular choice with many of the riders. Bell also makes car and bicycle helmets so there is a Bell helmet for just about any mode of transportation that requires protection for your noggin.
The RS-2, of course, replaces the RS-1 which has been in the Bell line-up since 2011. I've never owned a Bell helmet, but Rick did a very complete review of it back in April of 2011 and from what I can glean from that review the two helmets do not share very many components. I'll point out some of the major differences throughout the review.
First Impression
Right out of the box my impression of the RS-2 is it's a nice-looking helmet with a quality feel. All the components felt solid and fit with tight tolerances. The shell shape is pretty basic but it has nice lines to it and flows very well. The branding is understated and nicely incorporated and the vents were all integrated nicely.
The helmet came with a soft red helmet bag that will certainly stand out on my shelf full of gray and black covers. It also had a rather generic instruction manual included in the box.
Shopping Now? We Recommend:
webBikeWorld has worked closely with RevZilla over the years to provide our testers with products to review. In addition to being a great site to shop from, they're also a great partner.
RevZilla

Free shipping on orders over $40
30-day no-nonsense return policy
Excellent selection of all major brands
Awesome pricing
Fit and Finish
The RS-2 I received is the all-white version. With a solid colored helmet, it's a little difficult to assess graphics but it does make it very easy to see imperfections and blemishes. Even with my bionic eye, I could not find any orange peel or imperfections in the paint or clear coat. The Bell logos were nicely applied and I could not feel or see any edges.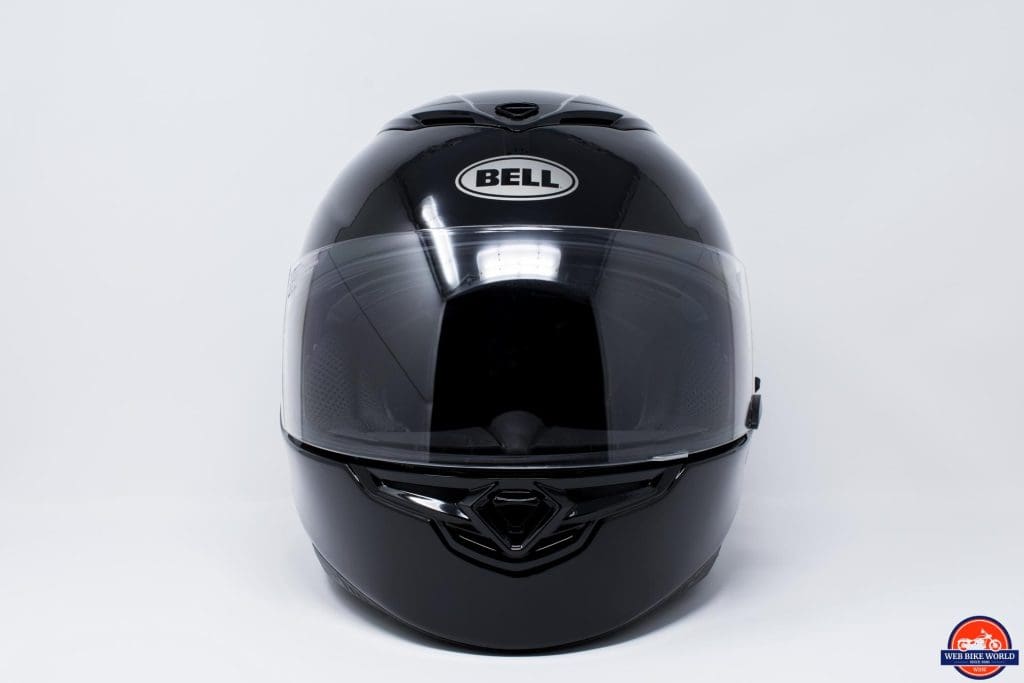 I prefer a white helmet for visibility but the RS-2 also comes in gloss black and matte black. I didn't have the opportunity to examine an RS-2 in either of the two graphic patterns, Tactical and Empire, but they look like attractive patterns and I have to imagine they are just as nicely applied as the logos on this one.
All the various parts of the helmet fit together nicely with close tolerances. There are no loose threads or blemishes in the liner fabric or retention strap. The moving parts all have a solid feel and there are no ragged edges anywhere.
Sizing
As Rick noted in his review of the RS-1, Bell Helmets uses a non-standard size chart. This may be good if you're between sizes but you will need to pay close attention when you order. I take an extra small in all other brands but Bell starts their size chart at 54 cm for an XS which is one cm larger than every other major brand.
Unfortunately, this makes it a cm too large for me since my head measures 53 cm. It did pass the roll-off test however and I found it actually fit me fairly snugly which could be a testament to the very cushy liner.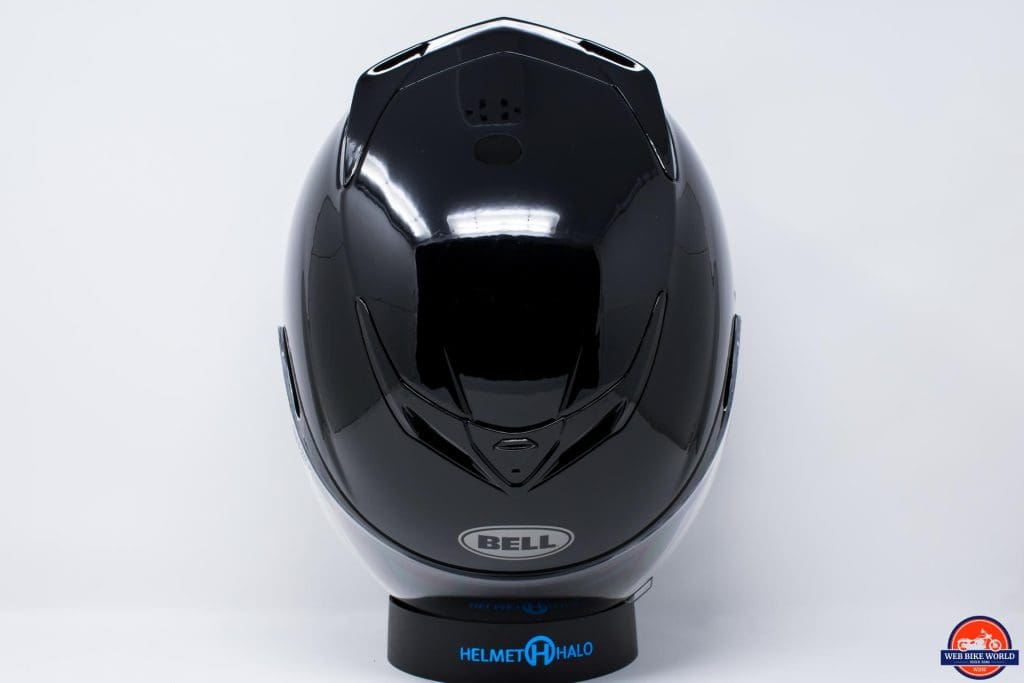 The crown has a very neutral shape and fits my very neutral oval head quite well with no gaps in the front or sides. The helmet does have more generous proportions on the sides where my ears fit, than other helmets I've owned.
Sitting it next to my RPHA helmet you can see the difference in how wide it is through the horizontal plane with the RS-2 having a more rounded shape on the side. This is a good thing for me.
Every other helmet I've owned has pinched the top of my ears to the point of being very painful on long rides. It also fits my face snugly without giving me chipmunk cheeks, which I appreciate. Because of the generous fit on the sides, this may fit those with rounder heads a little more comfortably.
The helmet in size XS is also almost a full inch shorter in the vertical plane than my RPHA (measured on the inside). I'm not sure if the EPS is thicker in the crown but I suspect it's because the liner is plusher. As a result, the speaker pockets fit closer to where my ears are and the helmet doesn't come quite so far down my neck so the chin strap fits tighter – all good things!
I have actually found this to be the most comfortable helmet I've owned and after weeks of riding with it, I've decided to ditch all my other helmets and moved this one to the front of the line.
Construction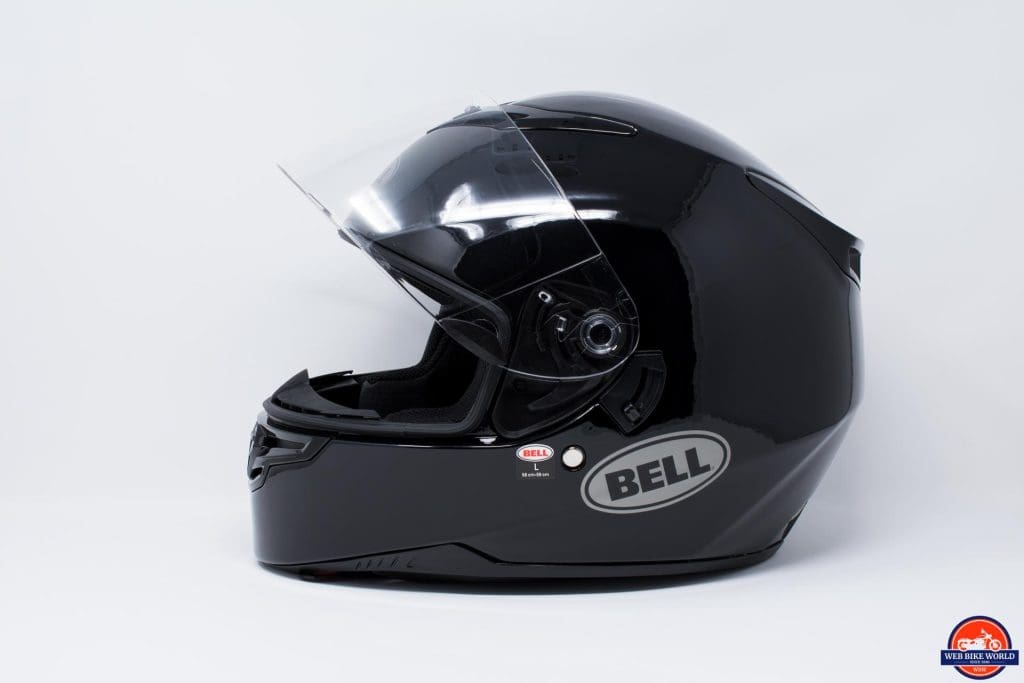 Shell
The outer shell of the RS-2 is made from a lightweight fiberglass material and comes in 3 shell sizes. Having a very small head I appreciate the different shell sizes more than most. A helmet that's as compact as possible is a big plus for a woman of small stature.
In the case of helmets, 'one size fits all' doesn't work in terms of either looks or safety. It's also noticeably lighter than my RPHA and I can feel the difference when I'm riding which adds a lot to the comfort on long rides.
The shell does not have a lot of flex in it and passes both the DOT and ECE certifications. It does not quite measure up to the RS-1 in this regard however since it met the SNELL guidelines.
I imagine the addition of the internal sunshade was the demise of the SNELL designation but since I like the sunshade and have never owned a SNELL certified helmet I'm ok with that, but of course, you'll have to make your own choice on that one. Like all of you, I'm hoping never to test that particular feature.
Shopping Now? We Recommend:
webBikeWorld has worked closely with RevZilla over the years to provide our testers with products to review. In addition to being a great site to shop from, they're also a great partner.
RevZilla

Free shipping on orders over $40
30-day no-nonsense return policy
Excellent selection of all major brands
Awesome pricing
Liner
The liner is one of the best features of the RS-2 which is one thing that doesn't seem to have changed from the previous model.
The liner is called X-Static, an XT2 silver liner which is woven with silver threads to keep you cool and the helmet smelling nice. It is seriously soft and plush. Just below the crown is a mesh section that extends all the way around the rear of the helmet to aid with ventilation.
The liner is eyewear compatible with channels on either side to slide the bows through. I was able to slip my regular glasses on without difficulty and they were quite comfortable once on.
It also has speaker pockets molded into the EPS. They are covered with a mesh pocket that you can slip the speakers into but that put them too far from my ears, so I stuck them on top. The liner molds around my SENA 30k speakers nicely.
The neck roll is made of a soft leather-like material edged with the liner fabric where it contacts your neck. It fits tightly to the helmet shell but there is room to slide my SENA base plate in. Bell claims their helmets will accept a variety of intercom brands which is nice since a lot of helmets these days have their own systems and aren't compatible with other intercoms.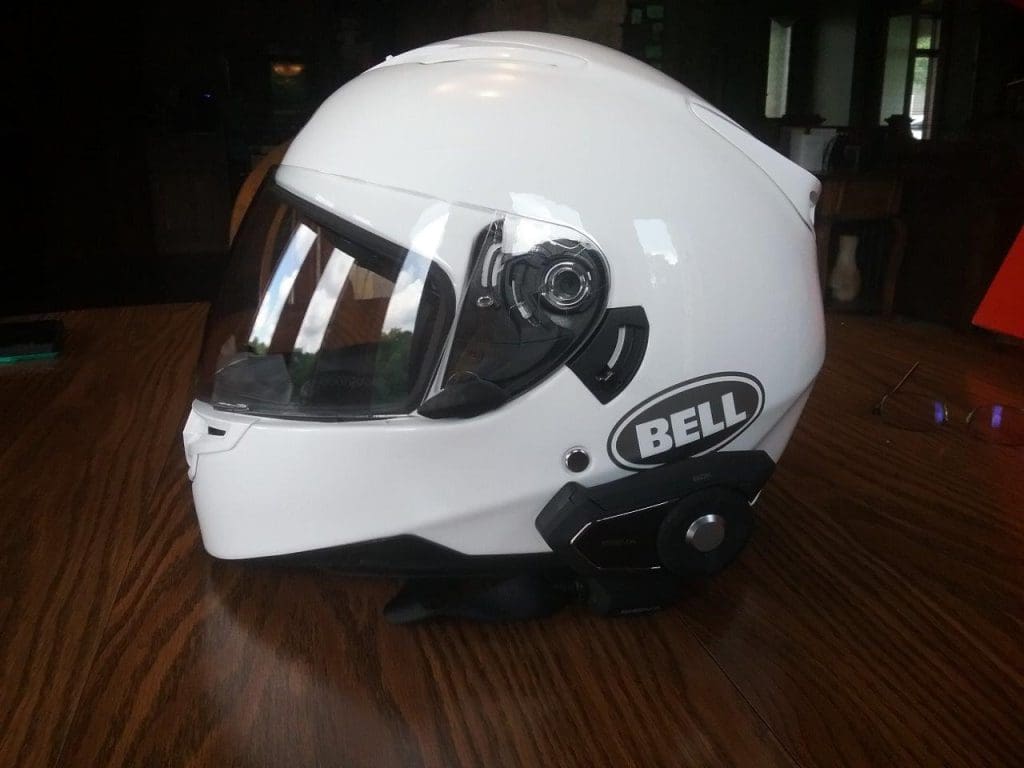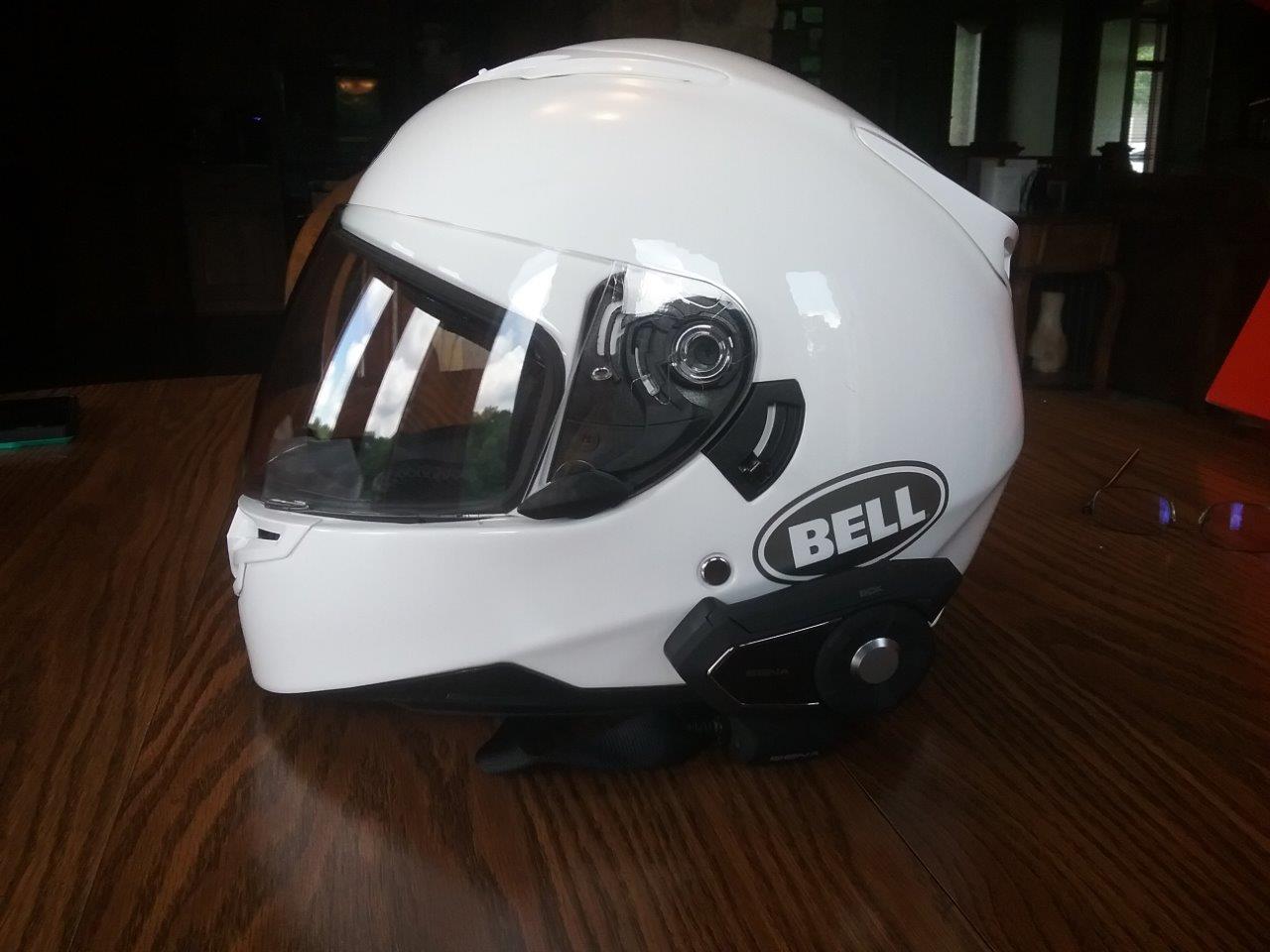 Visor
The visor has very good optical quality and better than average top to bottom view. It does not come with a pin lock insert but it must have an anti-fog treatment on it because it was very resistant to fogging on cool mornings despite the fact that I ditched the breath guard 5 minutes after I got it.
It does fit a little different. It doesn't clip down to the chin bar when you close it, rather it sits up on top of the lower gasket. The visor also doesn't have any sort of locking mechanism although I can't say I've ever had a visor blow open and this one never budged even at the uh, upper end of the speed limit.
It also did not pass the leak-down test even though it has a fairly thick gasket that goes all the way around the perimeter of the eye port. I got caught in a sudden downpour on my way home from work one day and sitting at a stoplight rain started to drip down the inside of the face shield.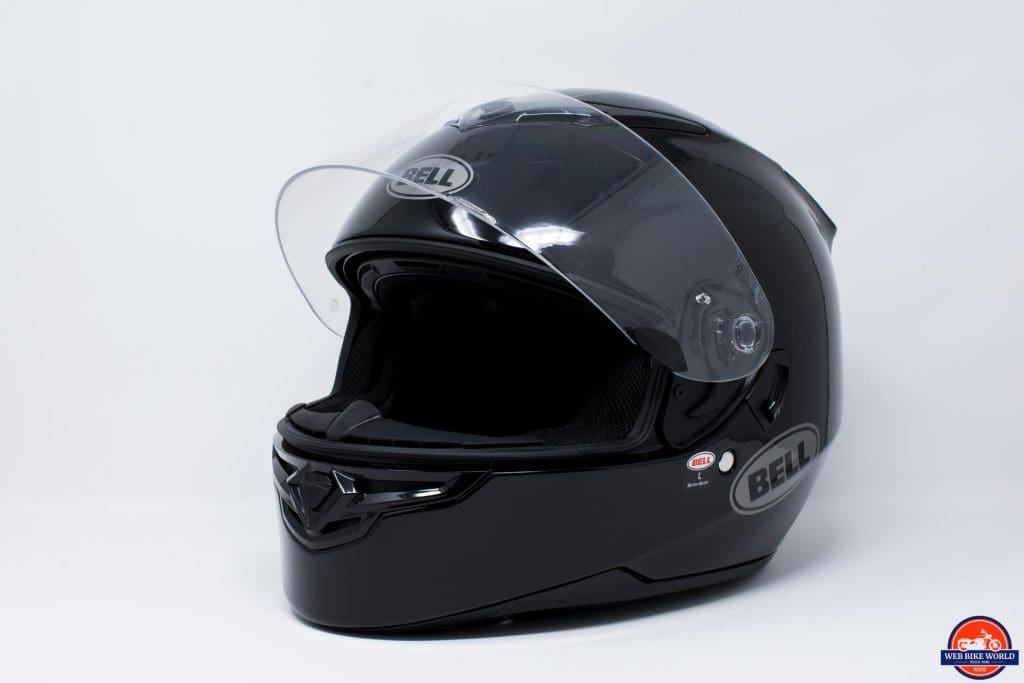 The visor is quite thick and has very little flex to it. The first detent is ¾ of an inch, more than I like for defogging, but after that, it travels through a series of micro-detents that have a very positive feel. The lift tab is on the left and is just large enough to find easily with gloves on.
This helmet does have the Bell 'ClickRelease' visor so it is interchangeable with their other full face models plus it will fit all their tinted visors including their transition photochromatic model if you wish. That universal fit may also be why this one doesn't seem to fit real precisely.
I don't change out or remove my face shield very often but this helmet does have a very easy removal system. You just raise the visor up all the way and pull down on the lever on each side and it pops out of the side plate. To put it back on you just have to line everything back up (there's a guideline on the side plate) and snap it back in.
Internal Sunshade
I happen to love having a sunshade integrated into my helmet. It's so easy to use and is more comfortable than wearing sunglasses. This one is as dark as allowed and has pretty good coverage although I wouldn't have minded another ½ inch or so.
The lever to deploy it is on the left side and is one of the sturdier sunshade levers I've seen. Usually, they're kind of flimsy. You can stop it about halfway down if you need to for late afternoon shade. The sunshade does have a little bit of distortion at the lower edge. It did not impede my view of the road but I could see it when I lowered my gaze to look at my instruments.
Shopping Now? We Recommend:
webBikeWorld has worked closely with RevZilla over the years to provide our testers with products to review. In addition to being a great site to shop from, they're also a great partner.
RevZilla

Free shipping on orders over $40
30-day no-nonsense return policy
Excellent selection of all major brands
Awesome pricing
Chin Strap
I'm not quite as enamored of the double D-ring retention system as some of the other reviewers on this site. I have never mastered the art of threading it through the dual rings with my gloves on. Invariably on the hottest day of the year, I forget to buckle up before I put my gloves on.
I actually prefer a micro-ratcheting system but the double D-rings do work and are a pretty simple system with no moving parts to break.
The chin strap has a magnetic clip at the end to hold the extra length of the strap so it doesn't flap around in the wind. I liked not having to fuss with a snap but you do have to be careful with your helmet around your tins since it sticks to anything metal including your fenders (don't ask me how I know this). I was relieved to find it did not scratch.
I found the strap padding to be very soft and just the right length for me.
Noise Management
This was my one area of disappointment with this helmet, but it may be at least partially because of the way it fits my head than with the construction of the helmet. I experienced a lot of wind and engine noise coming up through the bottom making it a lot noisier than I hoped.
Some of it's because it has a roomier fit in the sides and the neck roll does not fit up tight under my ears. But part of the problem lies with the construction of the neck roll itself. It's not very wide.
The neck roll on my RPHA measures 2.5 inches wide while the RS-2 neck roll is less than 2 inches wide. This makes for a rather large gap between my skin and the helmet, especially towards the rear of the helmet. When I put my hand under the side of the neck roll the noise disappears.
I did not notice any noise from the upper vents so I think this helmet would be much quieter if it fit a little tighter around the bottom. I also did not notice much noise coming through the face shield even with the rather unorthodox fit. Inserting my speakers did block some of the noise as I positioned them right up against my ears.
Ventilation
The vents on the RS-2 also look to be a holdover from the RS-1 although the brow vents are lost on this latest model due to the internal sunshade. The chin vents are above average, with the lower 2 vents directing air up behind the face shield while the upper 2 vents have direct channels through the chin bar on either side.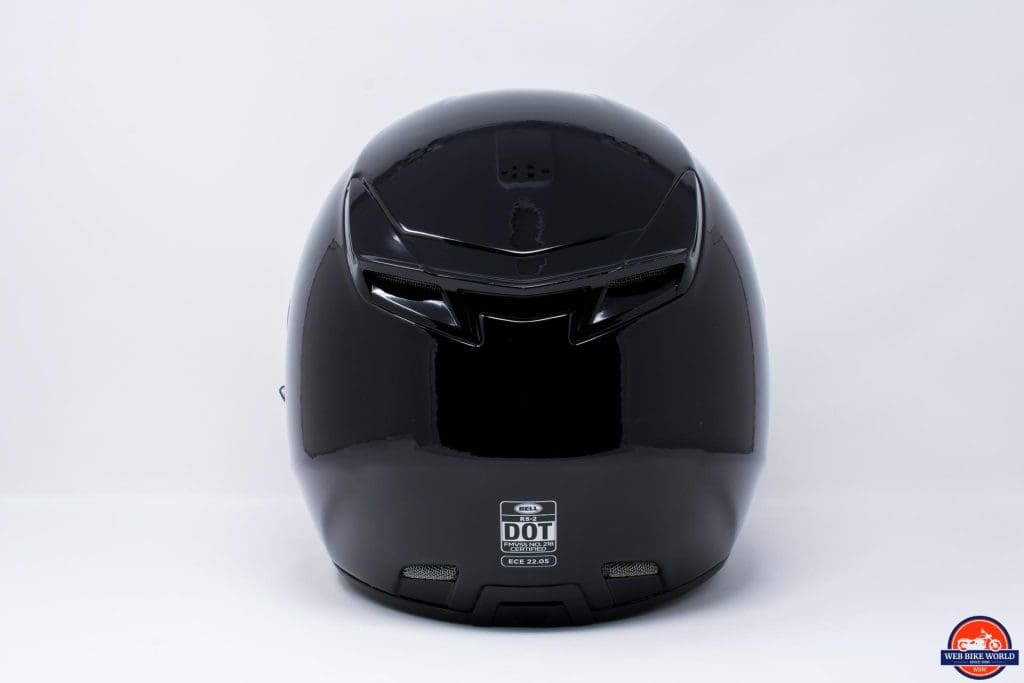 The top vent openings are covered on the inside by the liner but this seems to direct the air up and over my head through the shallow channels cut in the EPS. I don't feel any direct airflow, but I can feel the cooling effect as the air is pulled through the helmet and out the 5 rear exhaust vents.
There is a removable chin curtain that helps control the air coming up from below.
Conclusion
Overall I found the RS-2 to be a good-looking, super comfortable, very functional everyday helmet.
Although it sacrifices the SNELL rating and brow vents of the RS-1 the addition of the internal sunshade makes it more practical for the way I ride. It's not the quietest helmet I've ever had but with the addition of my speakers, it's certainly tolerable.
The RS-2 retails for $299.95 which I think is a good value for the quality and feature set.
Pros
Super comfortable liner
Decent ventilation
Good value
Cons
Unorthodox size chart
Noisy
Visor doesn't fit perfectly
Specs
Manufacturer: Bell Helmets
Price (When Tested): $299
Made In: USA
Alternative models & colors: Gloss Black, Matte Black, Empire, and Tactical Graphics
Sizes: XS – XXL
Review Date: 8/24/18
Shopping Now? We Recommend:
webBikeWorld has worked closely with RevZilla over the years to provide our testers with products to review. In addition to being a great site to shop from, they're also a great partner.
RevZilla

Free shipping on orders over $40
30-day no-nonsense return policy
Excellent selection of all major brands
Awesome pricing
Bell RS-2 Helmet Image Gallery