The return of iconic American Bell motorcycle helmets to Australia after 18 years' absence is great news. Not only are they a quality brand with a historic cache of cred but they also arrive at very competitive prices.
Monza Imports boss John Chiodo says they fought hard to bring the Bell motorcycle helmets in at close to internet pricing. Prices range from $119.95 for a Shorty open-face to $699.95 for a Carbon Star sportsbike helmet.
Bell history is etched in the consciousness of mature-aged riders through the many iconic images such as the cult film, On Any Sunday, or the Bell helmets worn by king of cool Steve McQueen (in racing cars as well as on motorcycles) and you can forget the scene in World's Fastest Indian when Matt Munro (played by Anthony Hopkins) sits up on his motorcycle on the salt flats of Bonneville and his white Bell 500 almost takes his head off? Bell is not just a motorcycle helmet manufacturer, but has also made helmets for car racing, bicycles and even the Star XF for drag racing.
They are worn by Nascar racers, F1 drivers and even three- (soon to be four) times V8 Supercars champion Jamie Whincup. Other famous Bell wearers include 500cc champ Kenny Roberts, MX star James Bubba Stewart, Nascar legend Richard Petty, Tour de France cyclist Jens Voight and mountain biker John Tomac.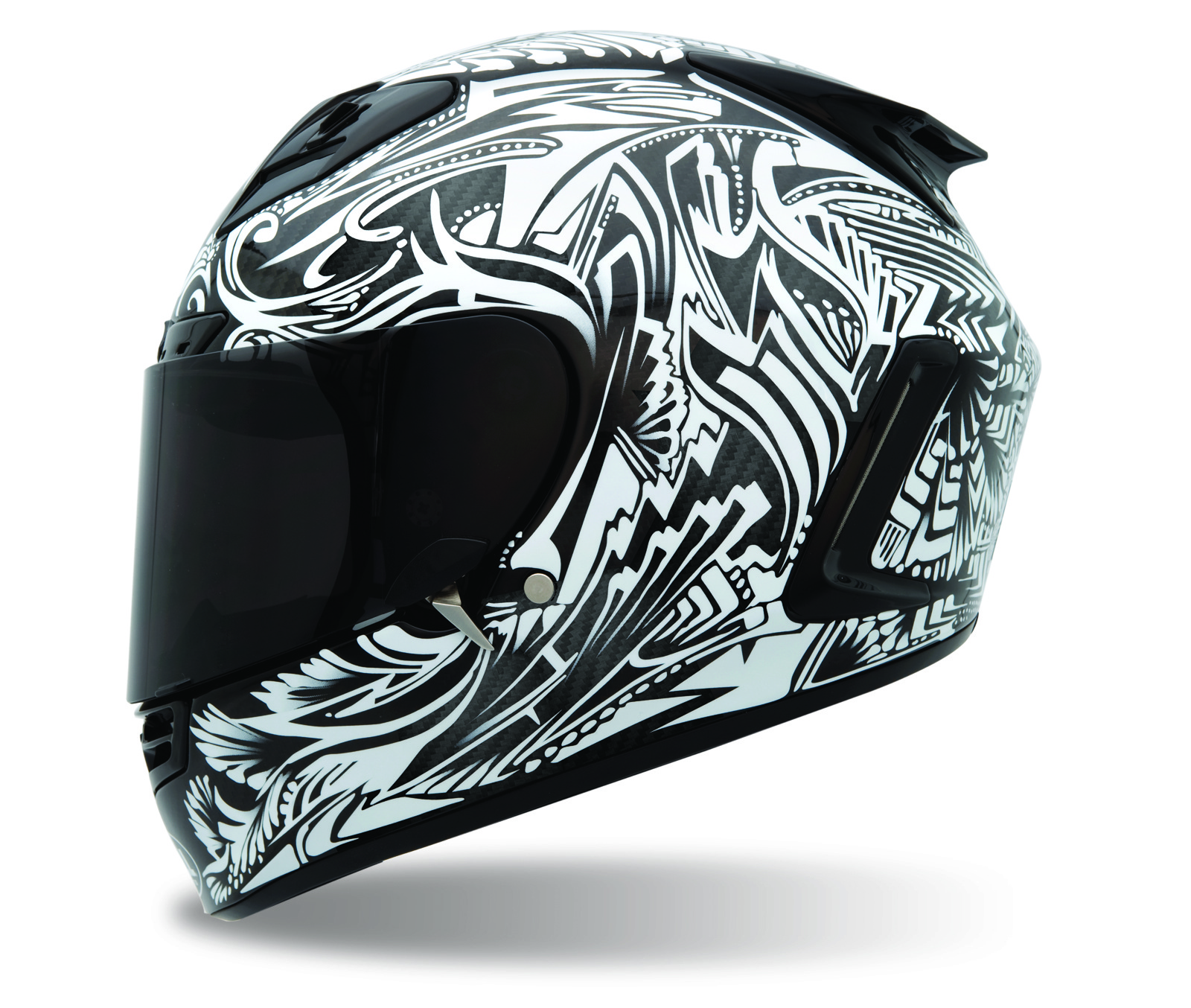 There are 10 models in the range, all with a five-year warranty and each available in six sizes and a range of colours and graphics. Some of the graphics have been designed by Californian artist Skratch and some by LA motorcycle customiser Roland Sands. There are three street bike full-face helmets, three open-face and four motocross/off-road lids.
Top of the tree is the Star helmet which comes in standard ($599.95) and carbon ($699.95) which is 5 grams lighter. These were originally designed for open-wheel racing and have always been very stable at high speed. The new helmet was designed in a wind tunnel in Washington and features velocity flow ventilation which is common to all the street and off-road full-face helmets. It's basically an efficient venting system that not only sucks the air in the front, but blows it out the back thanks to an aerodynamic lip like a car's rear spoiler.
This helps create negative pressure at the back of the head to suck out the air and reduce buffeting.
Australian Superbike racer Daniel Stauffer says there is little wobble when you sit up at top speed and do a shoulder check to see who's chasing you down into turn one at Phillip island. Other features are a one-button quick-release visor removable and washable liner, magnetic strap holder and speaker pockets.
The RS-1 street helmet at $449.95 has most of the Star features with a kevlar/fibreglass composite shell, but much quieter for longer touring duties, rather than racing. The visor is also fog and scratch resistant.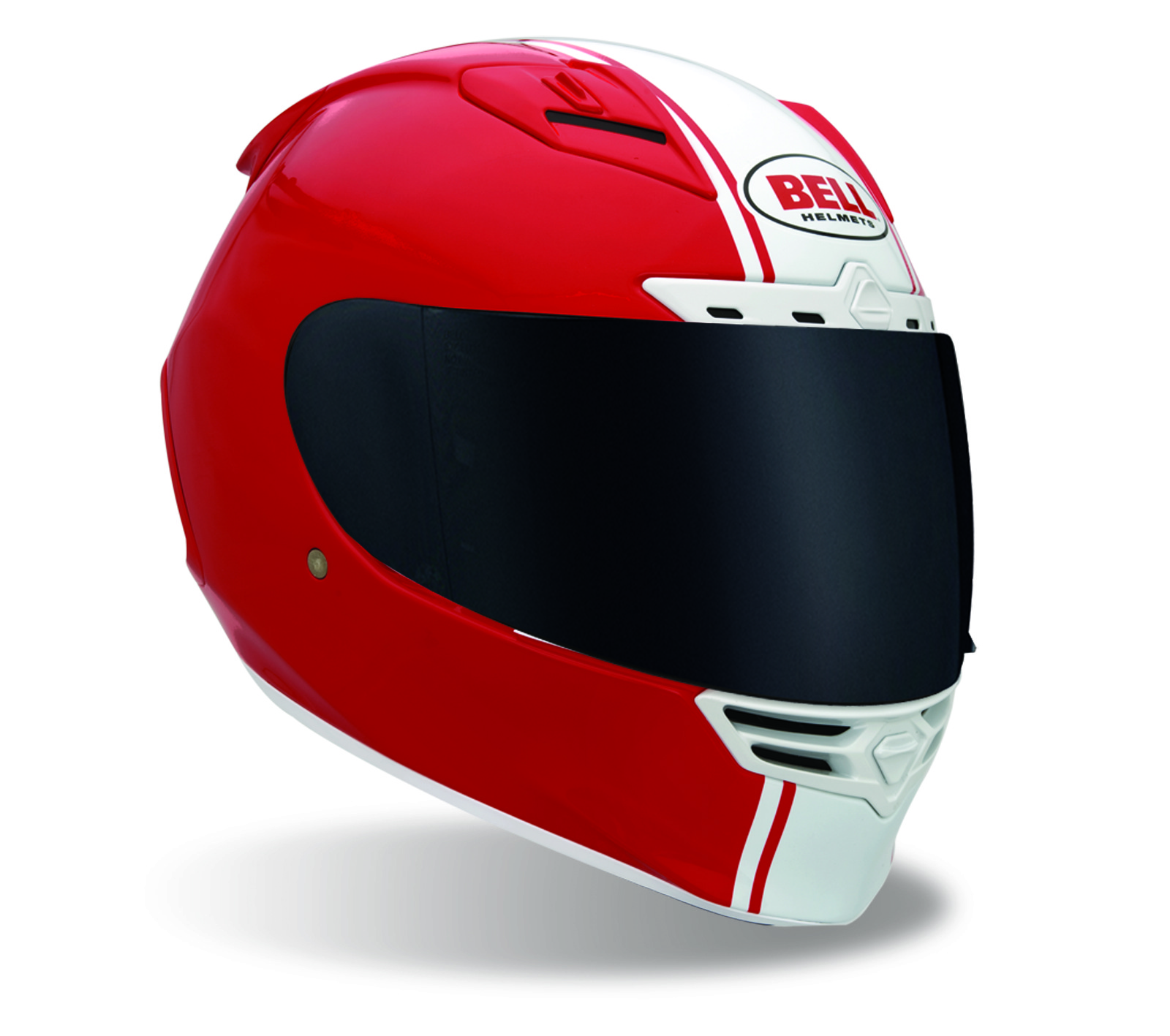 I bought the affordable and ultra-chic Custom 500 open face which is a modern-day retro version of the helmet made famous by McQueen. At $139.95 they will probably become a cool collector item with riders having several in different graphic designs. I got the "sharpie" design and Bell sent me a Roland Sands Design "Freedom Machine". The fibreglass helmets have a very comfortable quilted silky liner and the lowest profile of an open-face helmet. Even at high speeds there is no lift off your head.
The Mag-9 open-face helmet is designed for both cruiser and scooter riders with its drop-down visor ($30), detachable peak and inbuilt sunglasses. There are eight configurations for this polycarbonate helmet to suit most wearers and conditions.
Cheapest of the Bell motorcycle helmets is the Shorty half-helmet at $119.95 which has a zip-off neck roll and ear covers for the ultimate breeze-in-the-face effect without that feeling that it is going to blow off and take your head with it.
Bubba Stewart wears the carbon Moto 9 ($499.95) MX helmet which is highlighted by hi-tech innovations that make it safer.
It has magnetic cheek pads which can quickly be pulled out without having to take the helmet off. This makes for safer removal of the helmet without stressing the neck of an injured rider. The liner is made with X-Static material that kills germs and there is a removable pad in the top where you can insert inflatable bags that also help remove the helmet from an injured rider.
The MX-2 is a $239.95 fiberglass MX helmet while the SX-1 at a low $139.95 has a poly shell.
There is also a range of Bell merchandise such as t-shirts, caps, and retro puffy jackets available.