Bell Mag-8 Motorcycle Helmet Review Summary
Have you ever wondered what happened to Bell motorcycle helmets?
Bell owned the market seemingly forever, and the distinctive Bell logo was everywhere.
Bell was the Arai, Shoei and Suomy of its time, and their helmets adorned just about every motorcycle rider and racer in the U.S.A.
If you were serious about motorcycle riding, you owned a Bell helmet.
Well, it's a long story.
Bell was purchased by Bieffe, the Italian helmet manufacturer.
One thing led to another, and the Bell name all but disappeared from the street motorcycle scene, but it developed a strong reputation in bicycle helmets and off-road motorcycle helmet markets throughout the world.
But guess what?
The Bell name was recently reacquired from Bieffe, and Bell helmets are now available again in the U.S.A.
As a measure of their commitment, Bell also opened a motorcycle helmet design and testing facility in Santa Cruz, California to develop, prototyped and create the tooling necessary to manufacture the new designs.
Bell has an extensive selection of Snell M2000 and DOT FMVSS 218 motocross and off-road helmets, and they've recently developed a line of open-face motorcycle street helmets that offer some unique features for that market.
The Mag-8 shown here has a European style and flair that definitely makes it stand out from the crowd.
We're guessing that the Mag-8's styling might fall into the "love it or hate it" category, but we really liked it right out of the box, and one thing's for sure — it turns a lot of heads going down the street.
We think it's one of the coolest open-face designs around, and the bonus is that it also offers more comfort than any other open-face helmet we've tried.
You've probably noticed that we have so far only reviewed full-face and flip-up helmets on webBikeWorld, so this is a first.
We're big proponents of motorcycle safety, and full-face helmets are part of a safety strategy that works. In fact, none of us could remember the last time we wore anything but a full-face helmet.
So the Mag-8 is a revelation, and has definitely got us thinking.
Its stylish good looks and very comfortable liner really add to the enjoyment of motorcycle riding — it's wonderful to feel unencumbered by a full-face lid, especially in the hot and sticky summer months.
If you're a long-distance rider, the Mag-8 would make a great touring helmet and it would also look perfect on a scooter.
 Fit and Sizing
The size large fit my round shaped head perfectly, but Bell also sent along a size XL liner just in case. That's right — the Mag-8 has a removable liner!
This is either a first for open-face helmets, or we've been away from that market for so long that we're clueless.
All of us here at webBikeWorld wear "skullcap" helmet liners whenever we ride anyway, which help keep our helmets "springtime fresh", and mitigates the need for a removable liner, but this is a nice feature all the same.
The Mag-8's liner is surprisingly thin, but it seems to do its job very well, with no pressure points or hard spots to be found.
Bell designed the Mag-8 to have huge ear pockets; they're about 75mm (3″, all inch measurements approximate) across and 40mm (1-1/2″) deep.
The pockets extend out to a thin plastic liner just on the inside of the helmet shell, allowing the potential fitment of all sorts of motorcycle helmet speakers favored by touring riders.
Even with the thin padding and absence of foam in the ear pockets, we found the Mag-8 to be surprisingly quiet; quieter even than many full-face helmets.
This could be due to the lack of any turbulence that is sometimes caused by air coming up under the chin bar on full-face helmets.
We always wear earplugs when riding, so your experience may be different, but the Mag-8 seemed relatively quiet both behind a fairing and on a "naked" bike (Editor's Note: See the wBWEarplug and Hearing Protection page for more information on choosing and fitting earplugs).
We were concerned that the fixed painted visor would create too much lift or buffeting at speed. But it's virtually unnoticeable, with maybe a very slight sensation of helmet lift at speeds of 60mph or more.
A couple of riders didn't notice it at all, and one or two mentioned that it was only very slightly noticeable, so our opinion is that it's not a problem.
The overhanging visor does serve to keep some sun out of the rider's eyes, and the air slips right through it. Unfortunately, the underside of the fixed visor isn't painted, which gives it a bit of a cheap look, but it really isn't noticeable unless the helmet is flipped over.
The rest of the paint on the Mag-8 is acceptable, it has a nice shine and the blue metalflake color is vibrant, but there are a few spots where the paint seems a bit thin and a couple of the edges have a barely noticeable paint drip or two.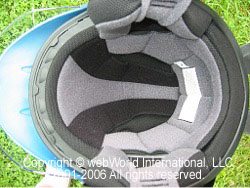 The Mag-8's clear visor raises and lowers without the use of detents, so there are just about an infinite number of positioning choices.
The friction mechanism that holds the visor seems to be powerful enough to resist air pressure, at least at any of the speeds we've tried.
It would be nice if the visor could be raised about another 15mm or so, because at its topmost setting it remains slightly in the rider's upper peripheral vision, but this isn't really a problem.
The visor could probably also be removed completely if desired.
The visor is absolutely crystal clear, and offers a big, wide view of the road.
It's kind of fun, because it's one of those rare helmets where almost 100% of the solid portion of the helmet is out of sight, and it gives a nice feeling of riding down the road without any wind blast but with full protection.
The visor is very tall at 162mm (6-3/8″), so it covers the face to almost down below the chin. Depending upon the size of the rider's nose, the visor can fog up slightly, but a quick touch ofFogTech or Cat Crap anti-fog coating cures this problem in a jiffy.
The Mag-8 has a wide, black bumper that covers the entire bottom of the helmet, offering decent protection when the helmet is placed on a table or the ground.
The helmet is attached using the tried-and-true "D-ring" system, and Bell provides a small elastic band for tucking up the extra piece of strap.
There are a couple of padded sections of material that protect the rider's chin from chafing. And finally, there are four narrow air vents at the top of the visor opening in the helmet shell that direct some air on top of the rider's head.
The Mag-8 weighs 1454 grams, and it's DOT FMVSS 218. See the wBW Motorcycle Helmet Weightspage for a comparison of all of the helmets we've reviewed.
Conclusion
We don't often use open-face helmets, but the Mag-8 has us thinking. It's comfortable; it's cool in hot weather; we think the styling is much nicer than other types of open-face helmets and it's attractively different.
This would make a great helmet for a touring bike, a scooter rider or those who feel claustrophobic when wearing a full-face helmet.
wBW Review: Bell Mag-8 Motorcycle Helmet
Manufacturer: Bell Powersports
List Price (2006?): $129.95
Colors: Blue, Red, Graphite, Black, White. Sizes: XS to XXL
Made In: Korea, designed and tooled in U.S.A.
Product Comments: Comfortable, surprisingly quiet, crystal-clear visor and unique styling. Removable liner is rare in an open-face helmet. Meets DOT standards. Five-year warranty. Weighs 1454 grams (3 lbs., 3-1/4 oz.). Review Date: 2006 (?)
Note:
 For informational use only. All material and photographs are Copyright © webWorld International, LLC since 2000. All rights reserved. See the webBikeWorld® 
Site Info page
. Product specifications, features and details may change or differ from our descriptions. Always check before purchasing. Read the
Terms and Conditions
!
Owner Comments and Feedback
---
From "C" (August 2011):  "I have been using a Bell Mag 8 Silver helmet for about two years. It is the best helmet I have ever used.
I have been riding for over 60 years. I wear glasses and this is the only helmet I can put on while still wearing my glasses.
This is a great feature for me. I also have a full face Bell and getting my glasses on after putting on the helmet is a struggle.
The Mag 8 is quieter than my full face and has very little buffeting up to about 65 mph. Depends on the head wind. For long trips and prolonged high speed I use my full face. But I miss the sun shade of the visor.
The weather where I live is 100+ in the summer so ventilation doesn't do any good, especially in traffic. I liked my Mag 8 so much that i bought a second one as a spare. Great helmet!"
---
From "H.J.R." (3/10):  "Okay, maybe the Bell Mag-8 isn't comfortable in Arizona. I live in Central Alabama, where we have unrelenting high humidity and temperatures bouncing around triple digits all Summer.
You can stand in shorts in the shade and feel the sweat dripping down your legs. And this remains my favorite helmet, bar none. I find it the most comfortable, quietest, and best helmet I have ever worn.
But then, maybe I'm nuts riding an old-style air-cooled Honda Nighthawk 750.
More important to me, the Mag-8 is the only quality helmet that combines a face shield and sun visor. No matter how hot it gets, I want the former for the highway, and the latter when the sun is high and ahead.
Tinted shields, glasses, whatever, a opaque visor over my forehead like a hard baseball cap is a must."
---
From "D.F." (11/09):  "I just returned from a 4 week July trip through Arizona, New Mexico, Texas and Oklahoma. Believe you me, this helmet is not cool as the article says. The Mag 8 has no ventilation flow whatsoever.
What looks to be air scoops on the visor lead into a solid helmet shell. I suffered from heat exhaustion on the return trip through Arizona, and I attribute this problem to my head baking with no air flow in the Bell Mag 8 oven.
I have taken this same trip numerous times in the past with helmets that had air ventilation and had no problem. If you ride in a cool climate, this helmet is great."
Editor's Reply:  The Mag 8 is now several years old; our review was published before we started dating articles, I'd guess perhaps in 2004?  The Mag 8 design is now outdated and obsolete, in my opinion, and it would not be my choice in open-face helmets today.
For hot weather riding, I suggest the Nolan N43 Air, the Givi X.01 or the SCHUBERTH J1. I wear a SCHUBERTH J1 when the weather gets hot and humid here in the Mid-Atlantic.
Also, just for the record, the review above does not say that the helmet has good air flow. It does say "…there are four narrow air vents at the top of the visor opening in the helmet shell that direct some air on top of the rider's head."
The review was written prior to the standardized helmet review format we use today.
---
From "J.S." (8/09):  "I recently purchased this helmet based on your review. I love the look and what it was supposed to do.
My first real test was last weekend. I did about 500 miles in very warm and slightly windy conditions. While I enjoyed the feel of air coming in under the shield, the lack of air getting to my skull left my hair soaked.
I found that the helmet has serious lift in the wind and I was constantly trying to get it even tighter to prevent the lift. It didn't work.
I also found it to be exceedingly noisy compared to my Bell full face. If anyone wants a good deal on a slightly used Mag 8, let me know. I'll even wash the liner. In my opinion, this helmet is only good for in town riding. I feel like I wasted $100."
Editor's Note:  Helmet lift is usually caused by a helmet that is too large, preventing a snug fit or an internal shape that does not match the shape of the rider's head. See the Motorcycle Helmet FAQ page for more information on helmet fit.
---
From "D.A." (5/09):  "I recently bought a Bell Mag 8. The reason I bought it is that I wear glasses and with the Mag 8, they are easy to put on and wear with the helmet. Full face helmets can be a real challenge for wearers of glasses. This helmet makes it quite easy.
I also like the visibility: wider than most full facers, and more vertical view as well. While this helmet does not protect the chin as a full face helmet does, it does surround the lower jaw bone's outside corners, where it connects with the skull. I'm really pleased with mine."
---
From "J.H." (2/09):  "I purchased a Bell Mag 8 helmet based solely on your review. I was in the market for a new open-face helmet. I had a couple things that I was particularly interested in (Had to have).
I wanted a white helmet.
I wanted one that was comfortable.
I wanted one that had a face shield or the ability to attach a face shield.
It shouldn't cost a fortune. 150$ US was my limit.
It had to have the capability for an intercom, headphones hook up.
I found all of this and more with the Bell Mag 8.
I ordered two Mag 8 Helmets, one for me and one for my wife, both in size Medium and both Pearl White for 90$ US each. I could not find a true white, but the pearl white was close enough to the color that I wanted.
I have a black bike but as you know a white helmet is much more visible. After initially trying on the helmet and attaching the headphone/intercom system, I took a short afternoon ride. First impressions:
PROs
Bell Helmets are the most comfortable that I have even worn. I am not sure if it is the shape/size of my head but there are no pressure points anywhere.
I previously purchased a Bell Zephyr (full face) based on your review. The helmet goes off/on my head without effort and is extremely comfortable while riding or while stopped.
The helmet was very quite just as you had indicated in your review. In fact, the Mag 8 may be quieter than the Zephyr full face. I am not sure why, but it seems so. There is no wind buffering from the visor/shield combination and the helmet does not feel top heavy.
TThe helmet is very light weight. Since it is fiberglass, this helmet (3/4 style) is lighter than the helmets I have previously owned that were made from poly.
I especially like the built in visor and shield combination. I think this is what sold me on the helmet in the first place. It looks a bit unusual from the onset, but the functionality outweighs the aesthetics.
Now this is not to say that I think this is an ugly helmet; on the contrary, I really like the looks.
In fact, once I saw the helmet in person rather than from a computer image, I was extremely impressed with the design and really liked the styling of the helmet overall. My wife will not ride without a face shield.
The Mag 8's built-in shield is just the ticket for her comfort and safety.
The built in shield is crystal clear with no distortion. It easily moves from the down position to the up position with just a push. There is no binding in the movement. Once in the up position the shield did not attempt to fall or move even at highway speeds.
Attaching a headset/intercom was very simple, so far as running the ear speakers within the helmet. The cheek pads easily remove as does the inner liner (see CONs on intercom connection).
The paint/finish and overall quality of the helmet seem to be first class. Personally, the quality of the liner, padding outweighs the quality of the paint/finish when I am in the market for a helmet.
Who cares what the helmet looks likes if it is not comfortable to wear. I am all about functionality over looks. The cheek pads were not stiff and immediately conformed to my face without effort.
CONs
This is maybe a pro and a con, depending on the perspective.
The Mag 8 has a rubber bumper that goes around the bottom of the helmet. This makes the helmet a bit lighter, but it was challenging to attach my Harley-Davidson stock intercom/headset.
I had to fold (bend) the runner upwards a bit in order to allow the clamp to catch on a more stable part of the helmet. Other types of intercoms units may have similar issues. However, a work around is not that difficult to engineer.
I had even thought about cutting a small portion of the rubber bumper in order for the headset clamp to have the ability to attach directly to the helmet. If I see that my initial method will not work properly then I will make the necessary adjustments.
I would highly recommend this helmet to anyone in the market for a new open face helmet.
As this is the second Bell helmet I have purchased based 100% on the review from webBikeWorld, I have been 100% satisfied with both purchases.
Just as we are sometimes brand specific, I think Bell has finally gotten back into the mainstream market for a low cost, high quality helmet.
Maybe another contract with Wal-Mart may be in order for the complete Bell Helmet line instead of just a few random styles.
Keep up the good reviews!  Thank You!"
---
From "J":  "I just bought a Bell Mag-8 helmet and am extremely pleased by it. I actually purchased it before I read this review. It fits my head perfectly (I have a really round head). The helmet construction is excellent and the finish is immaculate.
Now this is what I call value for money. I am one of those who feels claustrophobic in a full faced helmet."
---
From "D.J.":  "I just bought one, I really like it."
---
From "H.R.":  "Scanning through your pages, I decided to look again at the Bell Helmet comments. When I first bought my Mag-8, I wrote to you about the vibration noise at high speeds of the visor against the helmet.
Like D.A., who had a problem with the visor, after my two messages with you I sent an email to the Bell people in Illinois.
After some exchanges in information, I sent them my helmet at their cost and they sent back a new one as a warranty. Getting the new helmet, I found some information and other items that were missing from my earlier purchase from the Helmet Shop.
In use, I find that after I lower the visor, if give a gentle push upward on the visor I hear a "click" sound, and then nothing rattles during the ride. I still find it to be the greatest helmet I have ever owned.
I just regret that Winter riding last January made me use a full face for warmth."
From "D.A.":  &"I bought two Mag-8 helmets (one for myself, another for my wife) the day before I got my new bike. We chose the Mag-8 partly for the European styling but mostly for what was described as the ratcheting visor.
It seemed it would tuck out of the way nicely for low-speed cruising and had deep ear wells for communications.
When we got the helmets mine had a problem right away. With the visor stowed all the way up it had a tendency to drop about 1/2″ on it's own; it wouldn't stay all the way up.
My wife's helmet worked like a champ, however, and she was tickled pink. I set to finding the problem, and the first thing I did was try to tighten the side screws but this had no real effect.
I took both visor assemblies apart and discovered that her helmet had a "moat" (for lack of a better term) around the little raised island where everything fits together on both sides, and that her visor had a little pawl that engaged the bumps inside the moat – this is the "ratchet" system.
My helmet had no such thing; the helmet shell was smooth and there was no pawl on the visor.
I thought this was interesting, and called the service center via the 800 number on the website.
In short order I was connected to an extremely helpful if somewhat befuddled lady by the name of Jan who found it odd that the helmets were different.
She had one available and it was like my wife's helmet. She said she'd draw another from stock and get back with me ASAP.
The next day she called sounding very confused – the one she drew from stock was like mine – no ratchet system, and it worked fine (it was rather funny hearing her talk as she jiggled the helmet all over the place trying to make the visor drop).
Between the two of us we surmised that the clear tacky stuff between the visor and the shell was apparently there to induce enough resistance to movement so that while you could raise and lower the visor it should stay in place wherever you left it.
She did some more research and we discovered the "problem".
My wife's helmet was made in 2004, mine was made in 2005 and they were made in different Asian countries.
At some point during this period the design of the visor retention was changed from "ratchet" to something they call "press fit" which negates the moat and visor tooth. She admitted that their website had not been changed to reflect this, nor had their documentation.
Also, the visors they advertise on their site (the smoked ones) are designed for the "old" helmets and will not work on the "new" ones.
I had fabricated a work-around in the mean time by making O-rings from some suction cups I had laying around – the clear kind you use to hang stained glass things on your windows.
The circumference was big enough so that the outer edge was larger than the outer edge of the little island everything bolts to, so I merely cut the inside out of the cups, put them around the island where the groove is on my wife's helmet and it worked like a champ.
I did not wish to exchange my helmet, although Jan offered to do just that. "A bird in hand…" as they say.
She thought it unsatisfactory that an end-user should have to modify their product and while I agreed with that I liked my helmet too much to be without it so to ease the situation she offered to send me a nice smoked visor for my helmet (the "new" kind, which are not advertised).
I accepted, and left the experience completely satisfied with Bell's commitment to customer satisfaction.
As with other users I have experienced little to no lift on the helmet at speeds up to 75mph, even with the visor up. The peripheral view is excellent, although I did experience buffeting with the ear pads removed.
I ride a 2006 Yamaha Road Star Silverado — the buffeting might be worse if I had no windscreen but I don't think I'll remove it to test that.
I was initially worried that I wouldn't hear as well with the ear pads in, but after riding a few hundred miles without them I put them in and will probably leave them in due to the increased snugness of fit and quieter experience.
The addition of the ear pads greatly reduced the buffeting and since we plan on wiring the helmets for communications, they'll more than likely stay in.
I would certainly recommend this helmet, and would chalk my experience up to a fluke."
---
From "D.":  "I read the Bell Mag-8 review and due to the review decided to buy one assuming it fits me well. I researched them further and I think I found the reason some people have problems with them. The older models are different. Different ear pieces and non-removable liner.
I assume other changes were made too, and these things are probably all responsible for the vast differences in people's experience with them… (a webpage) that shows the old model at the top in silver and the rest of them are 05's.
Read the silver one's descriptions compared to the rest and also note the silver one says "last year's model". They apparently listened and fixed the problems some were moaning about.
Thanks for the review by the way…this helmet seems like just what I want, though of course that remains to be seen when I check them out this weekend, but it's sure looking good in all the respects of importance to me."
---
From "H.R.":  "After reading your review on the Bell Mag-8, I tried contacting every shop within 100 miles, but no one carried it. So I finally bought it by phone.
It is the perfect helmet — a good sun block from painted fixed sun visor, no drag at high speeds, and comfortable with visor shield up or down. It is also the most quiet helmet I have ever used, except for one niggling distraction.
At high speeds (over 50 mph), with the face shield down, the fixed painted visor vibrates against the top of the helmet, with an annoying and distracting sound.
I guess if my bike was a loud engine, or helmet was not so quiet, I wouldn't notice it, but it is distracting.
I tried tightening the screws, but if they get too tight, then face shield won't go up and down easily. Any ideas on how this might be fixed?"
I wrote back, asking H.R. if the motorcycle had a fairing, which could be causing some buffeting which affects the helmet. I also suggested he might try some rubber O-rings or rubber insert under the visor. He responded:
"I've been reading your reviews and think they are a great service. This is not the first time I sought out a product based on your evaluation. I do have a Plexifairing 3.
The bike is a Honda Nighthawk 750, and without the fairing I am in a chest-battering wind-rocket.
The top visor has some "give" in the position, moving a bit as the shield is raised or lowered, and that is the obvious cause of the vibration — I've played with the screws on the side, but you tighten it too much and you can't move the shield easily.
The rubber insert is an idea, if I can think of how to position it.
Still, even with the vibration, it is the coolest helmet I've ever had, in both looks and comfort. The lack of wind noise is an added plus at a level that no other helmet — open face, full face or flip-up — has ever given me.
With the ear plugs in, I could be sitting in my wife's Camry. The vibration is a minor annoyance at worst, and it will still be my number 1 helmet."
---
From "R.G.":  "I love full-face helmets, but I had a minor accident recently because they limit my peripheral vision. I knew a visored open-face helmet would be the best answer to my problem.
I just bought a Bell Mag-8 after reading your review and am VERY pleased with my new helmet. The fit and finish is EXTREMELY good with absolutely flawless paint (black) and soft, removable liner.
You were right when you said it fits rounder heads better.
The visor is another delight because it gives the impression of wearing a skid lid with the safety of a DOT helmet. From the view I get, I hardly realize I'm wearing a helmet at all.  Thanks and no worries."
---
From "J.S.":  "Thanks for the review on the Bell Mag-8 helmet. I purchased one based on the information you provided and am very pleased. It is easily the most comfortable helmet I have ever worn.
Now, if I can just find a use for the seven other helmets hanging in the garage…"
---
From "T.L.":  "Based upon your review, I purchased two new Bell Mag 8 helmets. I don't know what they sent you, but they are not what I got !!  The ear pockets do not exist, and my ears are being CRUSHED.
There is no provision or space to install radio headsets. The lining is NOT removable, it is glued in. There is absolutely no ventilation, I live in Florida, and my head is melting."
Thanks for visiting webBikeWorld and for your email, T.L.  Sorry to hear about your helmet problems!  I'm not sure why there are differences in your Mag 8. We report it as we see it in our reviews. We have no connection with Bell Powersports, financial or otherwise.
Our Bell Mag 8 has a removable liner – the spare liner is sitting right next to me here on the desk, and the liner in our Mag 8 snaps in and out. Check along the back of the helmet to see if there are snaps?
Unless they've changed the design since we reviewed it, which is possible. Also, there's a ton of room in the ear area on the helmet we have, no lining at all. We never said that there was a provision for speakers, only that the potential exists.
I have revised the wording of this sentence in the review to avoid any confusion.
There's no ventilation in the Mag 8, but the helmet is so small compared to a full-face helmet I wouldn't think that any ventilation is needed, or that any type of air vents would even work, because the air comes right over the rider's face and into the helmet.
The only helmets that might allow more air through might be a half-helmet, but they offer almost no protection in a crash.
If you haven't already, I suggest you contact them to see if they can help. – wBW Editor.
---
From "S.F.":  "Bought my wife a Bell Mag-8 helmet based on the wBW review. She had tried 4 other helmets but none was comfortable. The Bell Mag-8 was the charm – comfortable and quiet, just as in the review.
She likes hers so much, I'm going to buy one for myself."