Barry Sheene's 1976 title-winning XR14 RG500 GP Suzuki has been restored and the Japanese manufacturer has produced two videos of the restoration process.
Here is the first video:
And here is the second:
This comes as an announcement is imminent on the joint British-Australian film production on the wild and crazy life of the two-time world champion.
It's simply titled "Sheene" and here is a video teaser.
The film project was announced in February 2016 but there have been no announcements since, including who would play the lead role, however Ewan McGregor is the hot tip.
"Sheene" is based on his biography "Barry: The Story of Motorcycling Legend Barry Sheene" by his teammate Steve Parrish and MotoGP commentator Nick Harris.
IO Films Australia and Deep Spring Pictures UK are developing the film with a script from Ian La Frenais and Dick Clement who previously scripted "The Commitments," "The Bank Job," "Flushed Away" and "Across the Universe" and TV series "Auf Wiedersehen Pet" and "Lovejoy."
XR14 restoration
Meanwhile, the restoration of Sheene's '76 GP bike was performed by his race engineer, Martyn Ogborne, who retired last year as Suzuki's UK technical manager.
The Suzuki XR14 RG500 belongs to the Sheene family who shipped it to the UK last year for the 40th anniversary of the championship.
While they had it, Suzuki UK decided to restore it to its former glory with the help of GP technician Nigel Everett.
There is no word on when the bike will be returned or where it will be displayed.
That could be revealed in the second video instalment on June 6.
Barry Sheene bio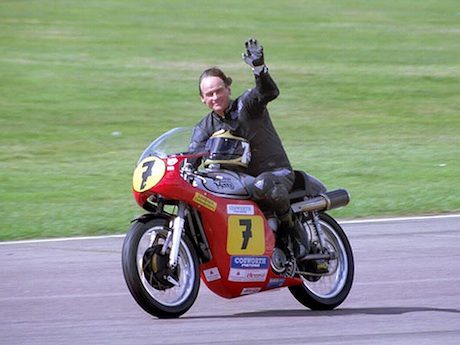 Barry was well loved in his native Britain as well as his adopted Australia where he died of cancer at the age of 52 in 2003.
He was born in London in 1950, and was back-to-back world 500cc champion for Suzuki in 1976-77 after a spectacular crash at the Daytona 200 in 1975.
Barry almost died in the crash that would have ended many other riders' careers, yet he came back stronger than ever and more determined to win.
He was a talented racer and tough competitor whose titanic battles with American Kenny Roberts are legendary.
The Cockney larrikin and playboy also lived a crazy off-track life and counted rock stars Ringo and George Harrison as his friends.
His racing style and partying lifestyle was credited with bringing motorcycle racing to a more mainstream audience.
Barry should also be credited with improving the safety of tracks and the development of the first motorcycle back armour.
He won 23 GPs and retired in 1984 to move to Australia where he was a TV sports commentator, property developer and well known for his series of Shell ads with similarly laconic racing driver Dick Johnson.