The danger of wire rope barriers is overstated by riders and representative groups, according to a leading authority on safety barriers.
"Riders killed in barrier impacts is less than 1% of all road fatalities," says Transport and Road Safety (TARS) Research Centre Emeritus Professor (Road Safety) Raphael Grzebieta.
"It constitutes around 5-6% of all motorcycle fatalities. In other words, any changes to current designs of road barriers will have almost no effect on reducing rider fatalities and serious injuries," says Raph who claims to be the "world authority on motorcycle-into-barrier impacts".
The professor once said every motorcycle should come with an alcohol interlock, ABS and other electronic rider aids, while riders should be "lit up like a Christmas tree".
His comments seem to carry weight with authorities: Victoria has mandatory hi-vis for novice riders and from November 2019 all new bikes in Australia will be required to have ABS or combined braking systems.
Biggest danger
"It is not wire rope barriers that are killing or can potentially kill motorcyclists. It is alcohol, drugs, speed and not abiding by traffic laws that are resulting in motorcyclists being killed on Australia's roads. Let's make that very clear please," Prof Grzebieta says.
His comments follow a recent call for a halt to the rollout of WRBs and TV ads extolling their safety and long-time campaigning by various national and international rider representative groups.
CLICK HERE if you want to the sign her anti-WRB petition.
The professor says barriers constitute around 5-6% of all motorcycle fatalities. In other words, any changes to current designs of road barriers will have almost no effect on reducing rider fatalities and serious injuries.
Australian Motorcycle Council chairman Shaun Lennard seems to agree with the professor. He suggests the proliferation of cheaper wire rope barriers on straight sections of highway means more money can be spent on providing safer barriers on winding roads where riders are more likely to hit them.
Risky business
Prof Grzebieta says his research of motorcycle deaths reveals that of all Australian motorcycle fatal crashes in the years 2001 to 2006 (inclusive), the motorcyclist was at fault or partially at fault in 84% of crashes.
Of these, the motorcyclist was demonstrating risky riding behaviour in 70% of crashes (excessive speed, alcohol, drugs, disobeying a traffic control law, riding without a licence or any combination of these).  
"If you want to tackle motorcycle deaths and serious injuries focus on these issues first," he says.
"We are hopefully also about to start a new project to update this research and suggest a range of injury countermeasures. We have a highly experienced rider on the team as well as epidemiologist, medical researchers and crash investigators."
Barriers 'save riders'
The professor says Swedish researchers found that wire-rope barriers reduced motorcycle fatalities by about 40-60% depending on location.
"Median barriers prevent vehicles hitting motorcyclists," he says.
He pointed to an incident on the Centennial Highway in New Zealand where two motorcyclists would have been wiped out had the barriers not prevented a vehicle from crossing the road.
Fast forward to the 5:30 minute point of this video.
"I believe that section of road is still fatality free to this day," he says.
He also provided this video of a similar incident in Sweden (go to the 20-second point with a rider passing at 29 seconds).
"The barriers also prevent motorcyclists from taking significant risks overtaking vehicles where there are double lines," he says.
"In fact last week in Poland I saw three motorcyclists zoom past a bus I was travelling on (that was travelling at the speed limit of 70km/h) overtaking on the on-coming traffic side of double lines coming up to a blind corner. Obviously, these three riders have a death wish."
He rejected claims that WRBs are only safe for cars under 1500kg and not safe for motorcyclists and drivers of SUVs, trucks and buses.

"WRBs actually are very safe for cars, SUVs and have also redirected buses and trucks on a large number of occasions," he says.
"They are much safer than W-Beam and concrete barriers because of their ability to be flexible and more forging of the impact.
"Sweden installed their 2+1 system throughout their country over a 10-year period and halved their road fatalities as a result. It is a huge success story.
"Their fatality rate is at 2 per 100,000. Ours is around 5.6 per 100,000 I believe."
Victoria WRBs
He acknowledges that Victoria is installing WRBs at a "furious rate".
"As a result, Victoria's 2017 fatalities have fallen from 290 to 258. The 2018 year is on target to fall to 238, he says.
"The WRBs really do work well at preventing fatigue head-on and run-off-the-road crashes, which kill so many road users.
"It is clear the WRBs are the safest. TAC and Vicroads wouldn't be installing them if they weren't and nor would have Sweden."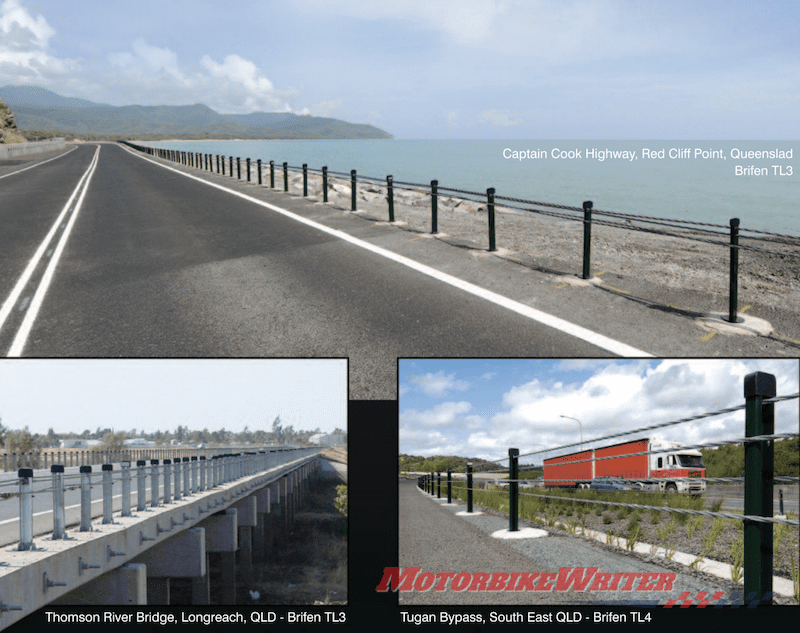 The professor claims W-beam guardrails (Armco) are more dangerous than WRBs.
"If any criticism of any barrier system should be targeted by motorcyclists it should be these barriers," he says.
"Half of the deaths are riders laying down the motorcycle and sliding into the very hard W-Beam posts.
"I guarantee you that a rider would not be 'knocking down four uprights' of W-beam posts. I can also guarantee you a rider will get sliced up hitting those Charlie posts poking out at the top of the W-beam 1cm or so at 100km/h.
"The other half of barrier-involved rider deaths are riders sitting upright when they hit the barrier. Half of those (1/4) slide along the top of the W-beam where the W-beam and Charlie posts (C-sections) slices riders up like a chain saw and the other quarter go over the top into the hazard being protected."
Rub rail recommendation
Prof Grzebieta says his research recommends that for winding roads, a lower rub rail should be installed to protect riders who slide into them. These rails were recently installed on the Old Pacific Highway, NSW.
"However the numbers you would protect are very, very small. This is the optimum solution for a country as large as Australia," he says.
"Regrettably, we can't do much about those riders sitting up right striking the W-beam barriers presently although I have suggested a covering over the Charlie posts would be worth exploring by barrier manufacturers.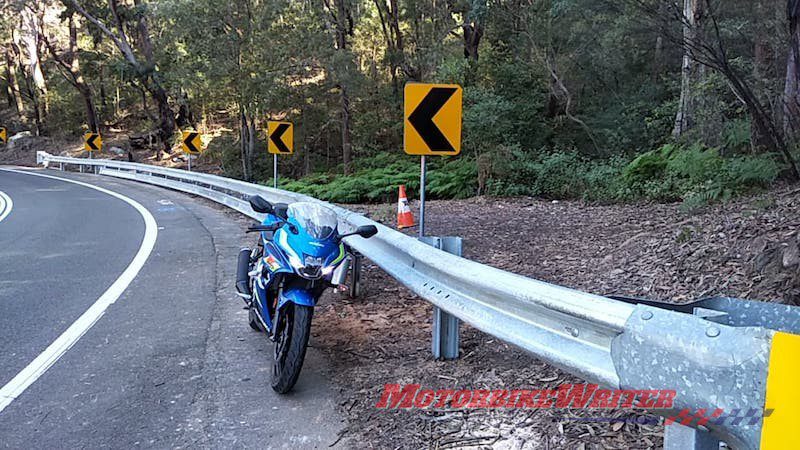 "One of the Swedish researchers has developed just such a system and it appears to work very well. Nevertheless, this would assist with ¼ of them. You will not be able to protect the other ¼ who will simply fly over the top of the barrier – and it wouldn't matter what barrier you had."
He says the problem is that W-beams do not work very well for cars, SUVs and heavier vehicles.
"However, in the hilly winding roads they tend to be used more frequently. WRBs aren't used in such areas as there are issues with sharp curves and rope tension during a vehicle impact."
Prof Grzebieta says US data shows that putting any kind of in a barrier in front of a hazard such as a tree or pole is highly protective.