Barbour International Jacket Review Summary
It doesn't get more classic or retro than this, folks. You're looking at the Barbour International, which has been in production just as you see it here since — get this — 1936! And since what's old is new again in our Retro is Golden age, the International is now red hot. The Barbour International jacket is now being distributed by British Motorcycle Gear in the U.S.A.
These are the same folks who bring us the Belstaff goodies, so get 'em while you can, because you never know what tomorrow will bring… Look through a book with photographs of the motorcyclists of yore and it's obvious that the International jacket was de rigueur riding apparel for the serious motorcycle rider.
Barbour's own website has some of the statistics: 97% of the competitors in the 1957 Scottish Trials wore Barbour and they were the official motorcycle police jacket in 14 different countries. And other than WWII, when there were no international motorcycle events, Barbour was worn "by virtually every British international motorcycle team from 1936 until 1977". How's that for a pedigree?
The Barbour International Jacket
Most Americans probably got their first introduction to Barbour clothing via the characters in "All Creatures Great and Small" or one of the other interesting British shows on public television.
Like many other things, we've pigeonholed our British cousins with stereotypes involving tweed, Wellies, snorkers and Barbour jackets. But hey, it could be worse, right?
I lusted after a Barbour jacket and finally saved up enough scratch to buy one — almost exactly 20 years ago. My Bedale still looks like new and it's even hipper now than it was back then.
And the nice thing about it is that it works — whenever it rains, summer or winter, the Bedale's waxed cotton keeps me warm and dry.
Some of you may recall that we reviewed the Belstaff Trailmaster not too long ago, which uses a construction that is very similar to the Barbour International and is a classic in its own right.
But the Barbour is one of a kind, with its classic slanted left-hand chest pocket instantly recognizable in the vintage photos of classic riders and their mounts.
The four big cargo pockets with their real brass snaps can hold lots of junk.
Bulging bottom pockets seem to indicate a serious off-road rider, because back in the International's heyday you'd have to carry spare plugs, points and who knows what else to keep running.
The huge brass zipper with its big pull ring on the left-hand side (of course!) give the owner a trip back in time with every zip. When's the last time you saw a brass jacket zipper??
And although the waist belt really does help to keep the jacket watertight in a blow, most owners will probably slip it out of the loops and toss it.
But the neck belt should be left hanging from that soft moss-colored corduroy collar to ensure that "The Look" is kept intact.
Speaking of The Look, the Barbour is also instantly recognizable by its classic signature tartan interior cotton lining, which is also very comfortable. And best of all is the "Made in England" label, along with its gaggle of Royal seals, attesting to Barbour's official appointments to various Kings and Queens.
The International certainly doesn't replace any of the modern motorcycle jackets with their high-tech fabrics, CE-approved armor, Gore-Tex liners and Nylon zippers.
The decision to buy a Barbour International comes from the same set of illogical emotions that "force" one to come to the decision that only a Moto Guzzi Le Mans, Ducati Paul Smart 1000 or Triumph Thruxton will do as the next bike.
Owners of those classics or any other vintage British or European make will surely want to complete The Look by going all the way with an International. And while you're at it, how about a pudding bowl helmet and some stringback gloves?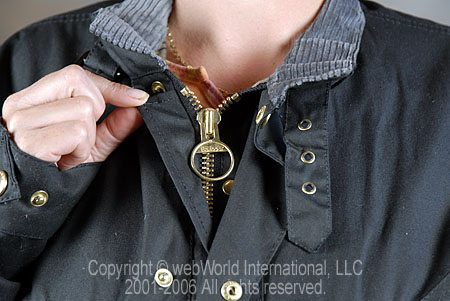 But it's more than nostalgia — the great thing about the International is that it looks (and works) just as great off the bike as on, so you'll be the envy of the pub when you're wearing it.
As an old-time Barbour Bedale owner, I can tell you that the waxed cotton (the only way they could keep anything waterproof back in the days before Gore-Tex) is sticky at first and attracts lots of lint, cat hair and other assorted fur-balls and cat hair tumbleweeds, especially in the International's near-black color.
But after a few outings, the wax stiffens up and the jacket will get that wonderful broken-in patina that Barbour owners know and love. The jacket can be re-waxed if necessary, either by the owner or by sending it back to Barbour for a refurbishing.
Which is another nice feature about buying a classic that's been in production for 70-odd years.
Barbour is always there to fix it should something go wrong. Try doing that with your globally-sourced mesh jacket and see how far you get!
w

BW

 Review: Barbour International Motorcycle Jacket
Available From: British Motorcycle Gear
List Price (2006): $378.00
Colors: Black waxed cotton.
Made In: England
Sizes: S-3XL (36/38 to 50/52)
Review Date: July 2006
Note: Item provided by a retailer, distributor or manufacturer with these Terms and Conditions.
Note:
 For informational use only. All material and photographs are Copyright © webWorld International, LLC since 2000. All rights reserved. See the webBikeWorld® 
Site Info page
. Product specifications, features and details may change or differ from our descriptions. Always check before purchasing. Read the
Terms and Conditions
!
Owner Comments and Feedback