Have our automobile clubs abandoned their support for motorcyclists, publication of motorbike articles in their magazines and services for motorcycle riders?
A quick survey of the Australian automobile clubs reveals scant regard for motorcyclists, despite about 10% of their members being riders. Tell us about your auto club's advocacy for riders in the comments section below.
The RACQ advocates for motorcyclists, largely due to the efforts of one man, technical and safety officer Steve Spalding, a Suzuki Bandit fan, and also publishes a monthly article by MotorBikeWriter on its website, while the NRMA has had a motorcycle journalist from time to time who writes occasional reviews.
The other state automobile clubs barely mention motorcycles, but the worst seems to be the RACV whose president stated (RACV Magazine Dec/Jan p11): "Why have the city's footpaths become parking bays for motorcycles? They hinder traffic. Would a better use of this space be cycling lanes similar to many European cities?"
Rodney Brown, an RACV member, long-term motorcycle advocate and until last year No.1 member of the Motorcycle Riders' Association of Australia (MRAA), says the RACV does not want motorbikes on the footpath, in bus or cycle lanes, nor "using up road space". (Rodney made an application to State Member for Macedon Mary-Anne Thomas for the use of bike lanes, however the pedestrian and cycle lobby groups appear to have already knocked that on the head.)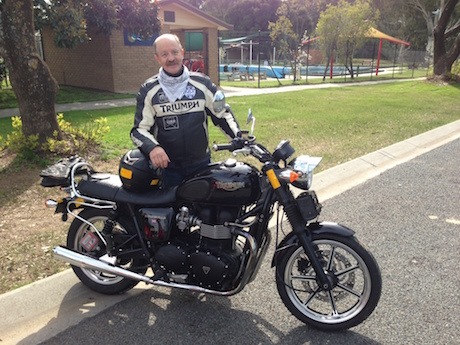 Rodney says two RACV Board candidates for last year's election who supported motorcycles were unsuccessful.
The candidates had called for motorcyclists to have a seat at the RACV table for motorcycles and scooters and access to RACV services; continued focus on safety for cyclists, motorcyclists and scooter users; and ongoing review of regulations surrounding use of road space to better cater for cyclists, scooters and motorcycle users; and protecting and enhancing equity for all forms of transport – motorbikes, scooters, cyclists and motorists. "All have a right to co-exist".
"Of concern to me is that the RACV has a representative on the government's Motorcycle Advisory Group (MAG) and it concerns me how motorcyclists are actually viewed and portrayed by the RACV when we are rarely mentioned in their monthly magazine," he says.
"It has been proven in many countries that motorcycle and scooter riders are a large part of the solution to reducing pollution and congestion on roads.
He points out that motorcycles were integral in the creation of the RACV in 1903 when two-wheelers dominated traffic two-to-one, but now, he says, the RACV seems to have abandoned motorcycles.
"We are rarely mentioned as legitimate road users in the RACV magazine," he says.

He says the RACV is no longer an automobile club at its core, having diversified its insurance, travel and other services.
This is similar to all auto clubs in the nation. Few have any motorcycle articles in their magazines or motorcycle journalists on their staff.
"The RACV has thousands of members and I am certain many, including their own staff members, ride motorcycles and/or would be interested in motorcycle-related articles promoting and advocating for motorcycling," he says.
"Many motorcycle clubs make their runs and overnight stays in our struggling country towns. This helps boost morale and adds much needed tourist dollars to those areas. Riders have always been very welcomed by the locals. Articles of these types of events would make great reading for your members."
Rodney has called on RACV members to write to Kevin White, President and Chairman of the Board, and express their dismay of the apparent lack of commitment by the RACV towards motorcycles and scooters in Victoria. Email: letters@royalauto.com.au
How do you rate the automobile club in your state in relation to supporting motorcyclists and publishing articles about motorcycles? Please have your say in the comments section below.