Aftermarket automatic emergency brake lights could help save riders from one of the most common crashes – the rear-ender.
Stoptix activates the stop light when it detects the bike slowing down under engine braking so that following motorists do not suddenly get surprised by a rapidly slowing motorcycle.
It's a common practice for riders to use engine braking rather than brakes and it can cause them to get shunted from behind.
The patented Stoptix brake light uses a g-force sensor to activate the lights, rather than having to manually hit the brakes.
It's basically a replacement for your standard bulb so there is no need to modify your wiring system. It costs only $US59.95 (about $80 plus about $9 postage) which is pretty cheap insurance against a rear-ender.
They say it is brighter, lights up faster, lasts longer and acts as a back-up if the manual system stops working.
It will not be accidentally activated by road roads, or bike vibration or if you are coasting.
As they say, Stoptix increases visibility via early deceleration indication and reduces your chances of being rear-ended.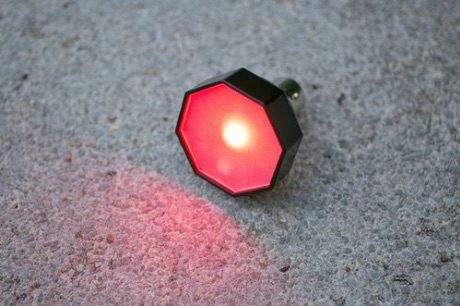 Indicating deceleration one second earlier at 100km/h is 27m of additional stopping distance for following vehicles.
Similar emergency brake systems are being added to some luxury cars and there is talk of some legislators making them mandatory on new vehicles.
Stoptix is a product from American company MechOptix founded by Jeff Hammock, an avid motorcycle rider since 14.
Their website tells how Jeff came to invent this important safety device.
A 1996 cross-country motorcycle ride almost ended tragically when Jeff neared the D.C. metro area as part of the Ride to the Wall event on Memorial Day weekend to honour MIA and POW soldiers. His own wife almost rear-ended him when he downshifted instead of applying the brakes, a natural and common riding style.

This close call led to an idea for an automatic brake light that worked even if the brakes were not used.  Jeff knew that the only solution that would be readily accepted by his fellow riders was if this technology could replace the original brake light bulb using the same socket — no bolt-on part and no modification to the wiring.  PC board technology has caught up with the idea so in 2013 Jeff designed Stoptix Automatic Brake Lamp that offers the peace of mind in knowing that your brake lights will light up every time they should.
Safer brake lights in group riding
We can see the use for these brake lights in other riding circumstances, not just in traffic.
In group riding, it is important to tell the person behind you that you are slowing down.
If a rider starts to slow and the next rider doesn't pick it up until too late, the next rider tends to panic and jam on the brakes with dangerous implications.
Stoptix is designed to fit most bikes with a horizontal socket and bulbs using a BAY15d metal lamp base, but won't fit rear-loading bulbs.
It has CE certification and is claimed to meet or exceed stop lamp standards worldwide. However, please note that the Australian Design Rules on vehicle light modifications are complex.
They are designed to not only assist motorists with quality light, but also protect other road users from glare.
While we can't see these causing a problem from a legality issue, you should check they do not affect your motorcycle warranty.
The device can also be fitted to cars, trucks and bicycles.