One of the most important Vincent motorcycles in the world, an Australian speed-record-holding 1951 Black Lightning, is going to auction.
The bike was built by special order and imported new into Australia by Tony McAlpine in 1952. It will be auctioned at Bonham's annual Las Vegas motorcycle auction on January 25, 2018.
Vincent Black Lightning number 7305 is one of only about 30 Black Lightning models built by the Stevenage, England, factory.
At the time of its build, another well-known Vincent nicknamed "Gunga Din" was undergoing work in the factory.
When they were completed, the bikes drag-raced on a nearby airfield. McAlpine's bike was said to be a clear 30 yards (27.4m) ahead of Gunga Din.
Factory records indicated speeds in excess of 130mph (209km/h) in third gear.
McAlpine sold the bike to Australian racer Jack Forrest who crashed it two times out of three races. Forrest Elbow on the famous Bathurst circuit is named after him.
It was quickly sold to three-times Australian representative to the Isle of Man TT, Jack Ehret.
In 1953, Jack smashed the existing Australian speed record on the Vincent with an average speed of 141.5mph (227.7km/h).
He also clinched numerous race victories throughout Australia and become renowned around the globe. 
Jack owned the bike until 1999 and kept it in original, unrestored and running condition in Melbourne.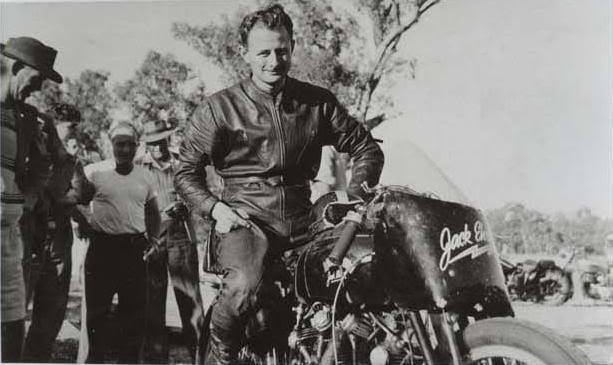 Jack last raced the Lightning at Oran Park in January 1978.
The Lightning was last raced by Jack's son, John, as an outfit with passenger Evelyne Scholz at Eastern Creek, NSW, in 1993.
Jack passed away in 2001 aged 78.
His bike has been recommissioned by Vincent master Patrick Godet.
Most famous Black Lightning?
There may be some dispute about whether it is the most famous Vincent Black Lightning.
That title could also be claimed by the bike famously ridden on the salt flats at Bonneville by Rollie Free wearing only a half-helmet, goggles, slippers and a bathing suit.