After several Australian toy runs were cancelled, restricted or went "virtual" in 2020 due to the Covid pandemic, it appears many will return to full strength this year.
Organisers are now gearing up their toy runs as states begin to ease restrictions and come out of lockdown.
After a tumultuous year that affected the livelihoods of many Aussies, charity events such as these are desperately needed and warmly welcomed by local communities.
These toy runs not only raise funds, but mainly non-perishable goods and new toys for families in the lead-up to Christmas. Check the conditions of donations at your local event first.
Most toy runs also feature elaborately decorated riders and bikes.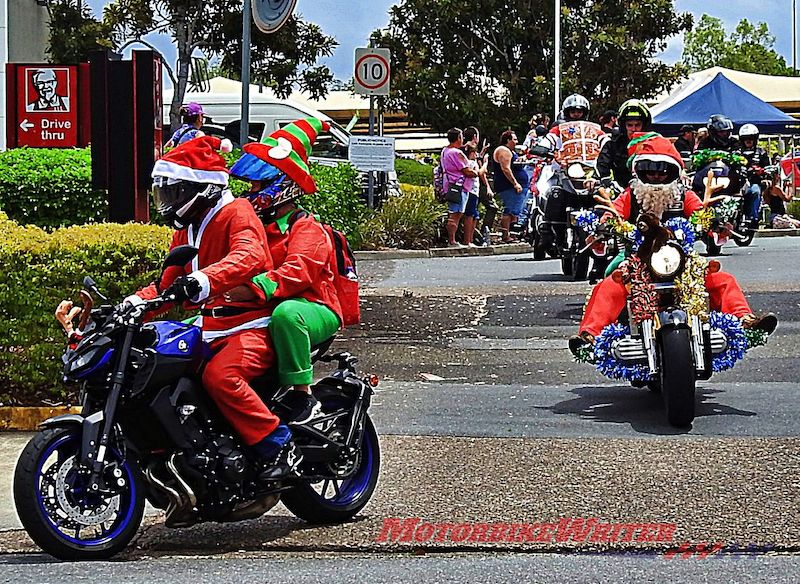 Last year the oldest and one of the biggest toy runs, Bikers for Kids Newcastle Toy Run was restricted to just 50 motorcycles. This year the 44th running of the Newcastle event is back to full capacity on Sunday December 5 and organisers say they are planning for their biggest toy run yet.
In fact, most toy run organisers are expecting large turnouts this year after the lockdown.
One of the first toy runs is the Toy Run for Father Bob in South Melbourne on 24 November. That is not to be confused with the Melbourne Toy Run which so far does not appear to have a confirmed date yet.
In fact, several of the usual toy runs are yet to confirm dates, so I suggest you continue to check the Facebook pages in your local area to see if the events are returning.
NSW and Victoria have suffered the biggest lockdowns and restrictions in the past year so their toy runs were the most severely affected last year.
Other states were less affected.
Here is what we know so far:
Despite some restrictions last year the 42nd Annual MRA Toy Run in Tasmania still had 500 bikes and they are expecting a whole lot more bikes in Hobart this year on December 4.
In Queensland where there have been few restrictions, it seems most rides are back.
The Sunshine Coast Ulysses Branch and Salvation Army Christmas Toy Run is on 14 November, the Brisbane Santa Ride is at New farm Park on December 5, the Ipswich Toy Run is on Sunday 12 December and the Towoomba Toy Run is on 19 December.
South Australia's MRASA Toy Run is on 12 December in Adelaide.
The Bendigo Motorcycle Toy Run is on November 28.
If your local area has a toy run, please leave details in the comments section below.