Australia's first electric motorcycle company, Fonzarelli, has won the Australian Good Design Awards' Automotive – Best Exterior category for their fun, electric, dual-sport Grom-sized NKD minibike.
The Sydney-based company which also produces electric scooters were among 800 entries in the awards.
Fonzarelli founder Michelle Nazzari says the NKD, launched in October 2019, had to meet environmental and performance targets but also an "electrifying aesthetic".
"From stuntmen to old school riders, we've enjoyed a host of great feedback on our 'street-legal beast'," she says.
"But to be recognised as delivering the year's most impressive exterior across the entire automotive category is an incredible endorsement."
There are four NKD models:
NKDa (80km/h top speed, 50km range) from $6990;
NKDs (100km/h top speed, 100km range) from $9990;
NKD+ (100km/h top speed, 150km range) from $12490; and
NKDx (100km/h top speed, 200km range) from $14990.
Fonzarelli designs and engineers the bike in Redfern, Sydney, and manufactures them in Adelaide.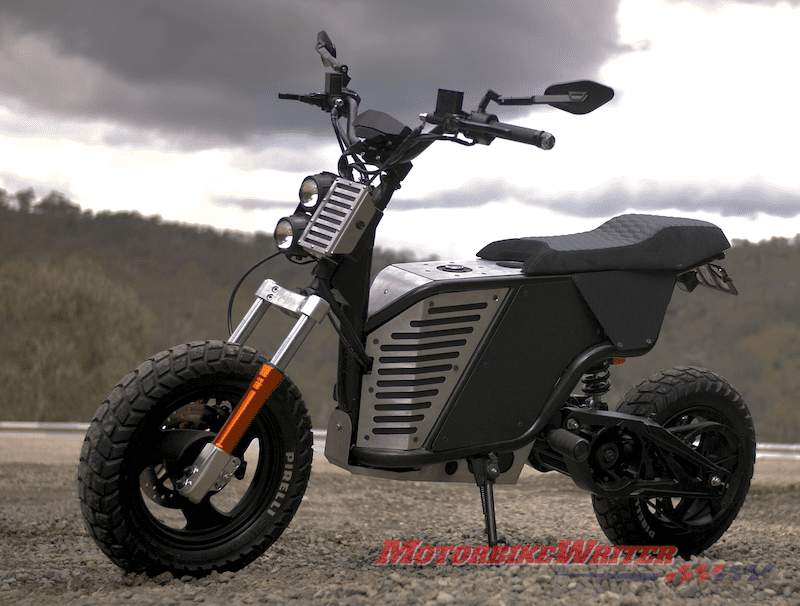 Good Design Awards judges praised the NKD for its innovation and design:
"The styling of the NKD ticks the box and scores big for developing a solution that targets global emerging trends. NKD answered the need to move towards greener and more sustainable mobility solutions," the judges said. 
"The use of recyclable materials and ability to tap into renewable energy adds to the positive environmental messaging of the brand and product.
"In a world where everyone is looking for individuality, the NKD can be customised and personalised to suit individual taste. The 'meccano' styling has that retro handmade feel about it, reinforcing that custom appeal. It doesn't appear like a mass-produced product, giving it a sense of uniqueness and intrigue.
"The jury loves how the retro custom styling is in complete contrast to the technology and powertrain that sits within. It's very cool. 0-100 in 3.9 sec… WOW!
"Overall, the NKD is a cool step towards the shift to more environmentally friendly mobility solutions. Low running costs, high performance, range, customisation, safety, low service costs, the use of recyclable materials all add to a well thought out solution."