Motorcycle companies have a strong association with aftermarket exhaust companies such as Triumph has with Arrow exhausts.
The first accessory most riders add to their bike is an exhaust system so it stands to reason that bike and exhaust manufacturers would forge strong links. Other examples are Suzuki and Yoshimura, BMW and Akrapovic and Ducati and Termignoni.
They just wouldn't sound the same with other aftermarket pipes, would they?
I've owned two Triumphs with Arrow exhausts and they sound "just right". Not too loud or aggressive, but a nice trombone note.
Australian Arrow importers Link International say they will son ave shipments arriving of slip-on left and right-side reverse-cone mufflers for Triumph's new T120 series of Bonnevilles to compliment the recent arrival of slip-on mufflers for the Thruxton and Thruxton R.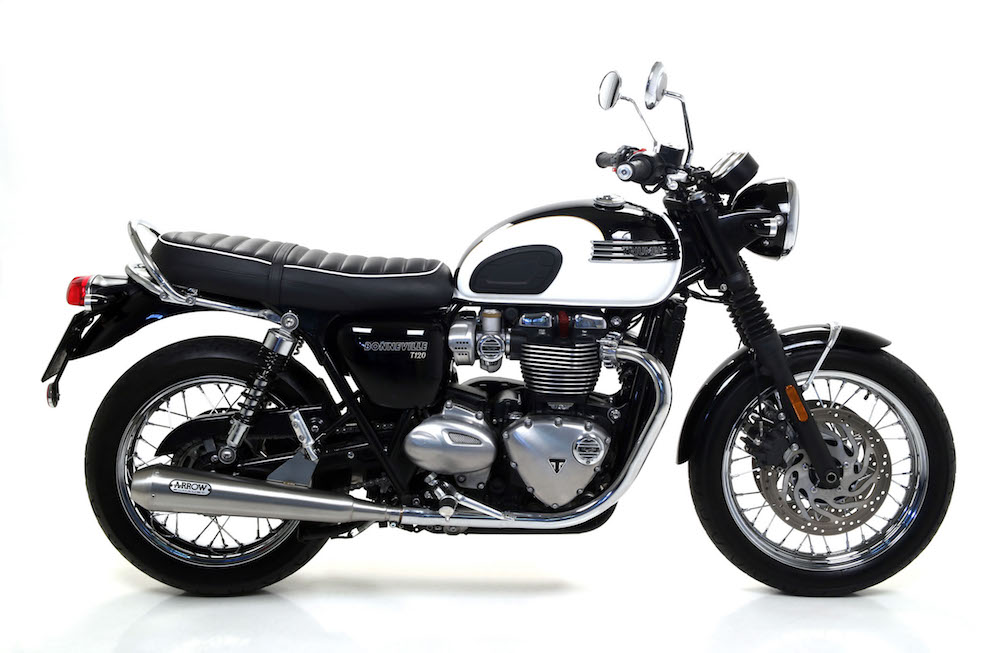 "These road-legal mufflers are noise compliant to ADR 83.00 and feature a removable dB killer for closed course or competition use," a spokesman says.
In other words, remove the baffles at your own legal peril.
Both types of mufflers are made from nichrome stainless steel, a durable steel used for making the jet pipes in turbine aircraft engines.
The Thruxton and Thruxton R mufflers are available to order now for $1649 a pair.
The Bonneville T120 mufflers are availalbe for pre-order with delivery towards the end of February 2017 for $1649 a pair
Arrow exhaust specs 
Thruxton 1200 / Thruxton 1200R
Part number:

82-718-51PRI

Length: 450mm

Inlet diameter: 38mm

Outlet diameter: 50mm
Bonneville T120
Part number: 82-718-53PRI

Length: 450mm

Inlet diameter: 32mm

Outlet diameter: 50mm