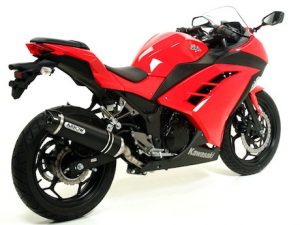 Arrow exhausts has given a legal power boost and aural extra for owners of Australia's most popular bike, the Kawasaki Ninja 300.
You can hear the aural pleasures of the Arrow full system and slip-on muffler in the video at the top. The slip-on muffler also increases the Ninja 300 top-end power from 36.06hp to 38.67, while the full system increases power to 40.34hp. More importantly, the full system also fills out a slight lag in power at the start of the midrange.
Queensland importers Link International say that, despite improving power, the Arrows exhausts are legal under the learner-approved motorcycle scheme rules across Australia as the Ninja's power-to-weight ratio remains under the 150kW per tonne limit.
The lightweight Arrow Ninja 300 mufflers come in aluminium, aluminium dark and titanium finishes, all with carbon-fibre end caps. Prices start at $435 and they come with a noise homologation certificate and sticker, and bolt straight on as a direct replacement for the OEM muffler.
The current range of Arrow mufflers for the 2009-2013 Kawasaki ZX-6R will also fit the new ZX-636R.