Can wearing a hi-vis vest actually lead riders to being prosecuted for impersonating police?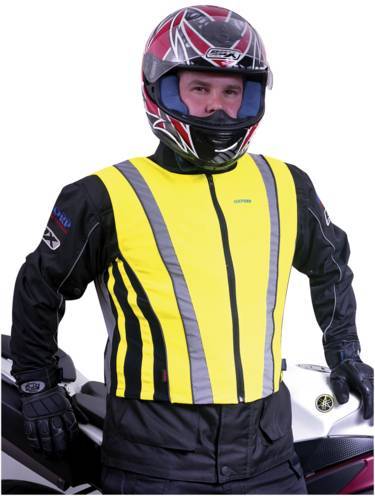 Some hi-vis motorcycle vests could have you mistaken as a police officer. It is no surprise then that motorbike riders are concerned that the mandatory wearing of hi-vis clothing may expose them to potential criminal liability for police impersonation.
In most countries, you are deemed impersonating an officer if you wear a similar uniform for the purpose of deception or committing a crime.
If not, then you should be ok. Still, there are some bike riders who are disinclined to wear hi-vis gear for various reasons, one of which is the concern about being seen as impersonating an officer.
So we asked motorcycle lawyer Tina Davis of East Coast Lawyers for the Australian interpretation of the law and this is what she wrote:
What does the law say?
In the Australian state of Victoria, the wearing of hi-vis clothing is mandatory for learner riders. However, the law in Victoria is very strict when it comes to impersonating police or protective service officers.  Simply, it states that, "A person who is not a police officer, protective services officer or police recruit must not, in any way, hold himself or herself out to be a police officer, protective services officer or police recruit".
If found guilty there is a hefty fine of up to $18,200.40, a term of imprisonment for 1 year, or both.
Fortunately, Victoria is the only state that currently imposes the mandatory requirement for hi-vis while riding a motorcycle.
The law in Queensland states that, "a person, who being other than an officer lawfully entitled to do so, wears the uniform of an officer, or a colourable imitation thereof, is guilty of an offence".
There are three exemptions to this rule: "except with the consent of the commissioner, or for the purposes of a theatrical circus or similar entertainment, or for the purposes of a ball, carnival or similar occasion for wearing fancy dress."
If guilty, the fine is up to $11,385.00.
Recent police impersonation cases
To date, our research has not revealed any cases where a rider wearing hi-vis clothing has been charged with impersonating a police officer.
But police impersonation is a lot easier than you think. A recent case involved two men who used a downloaded emergency service "siren" application to impersonate traffic police.
In April 2015, a father and son were robbed by offenders impersonating police officers. They were then assaulted before the offenders left with a wallet and mobile phone. 
The purpose of police uniforms
The purpose of a police or emergency services uniform is to make it easy for the public to quickly distinguish. To have multiple hi-vis riders on the road looking like police officers tends to undermine the purpose of the police uniform.
What can I do if I am mistaken for a police officer?
Be calm and explain your situation. Do not be aggressive or overly argumentative. A police officer needs a reasonable suspicion to charge you with police impersonation, but the proper procedure is to simply comply and then fight it in court later. Trying to resist may expose you to an obstruction charge.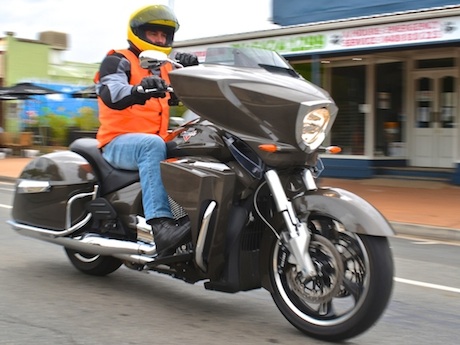 What other situations will I need to protect my legal rights?
Do not approach someone directly who may initially mistake you for being a police officer. There is always a chance that they may react defensively. Maintain some distance while you clarify the situation.
On the road, always be alert to other drivers and how they might react. Maintain a safe distance from other vehicles while riding and avoid following too closely. If you are riding behind them and they suddenly slow down and pull over, try to safely pass them.
The information in this article is provided by Tina Davis in conjunction with Bond University JD law student Kristoffer Ryan Famaran Diocampo. Tina and her husband, Richard, will be riding along the coast of Croatia later this year. If you have any questions about your legal rights, you can

email Tina

or contact her at 1300 720 544. Kristoffer focuses on individual rights under both Canadian and Australian law. He has an interest in the VLAD laws in Queensland as well as legal rights for motorbike riders affected by another driver's negligence.