Arai Signet-Q Review Summary
Arai Signet Image Gallery
The new Arai Signet-Q is an update to the popular and long-lived Signet.
It has the typically flawless paint, quality and construction expected from an Arai.
And although the price is steep, there is a noticeable difference between this helmet and what some might call the lesser brands.
Indeed, a strong argument can be made that the cost is an equitable tradeoff for the feeling of security and peace of mind provided by an Arai helmet.
This is a helmet that will most likely perform admirably throughout its five-year life expectancy, outlasting those lesser helmets, so the price difference, when amortized, may be minimal.
Place the new Arai Signet-Q next to the nearly-new Arai RX-Q (review) — as we did in the photo below — and you'd be hard-pressed to tell them apart.
Indeed, it may take an experienced helmet evaluator or long-time Arai owner to notice a difference even after trying both helmets on.
But, a difference there is. Five millimeters overall front-to-back isn't much (about 3/16″), but the elongated shape may very well eliminate the dreaded forehead "hot spot", creating pleasant riding bliss for many owners.
That's because the Signet-Q is an Arai "Long Oval" shape, while the RX-Q is an "Intermediate Oval"; about the only real difference between the two.
The Signet-Q is the latest update of the popular Arai Signet, which was a popular helmet that was a bit overshadowed by its more famous siblings in the Arai lineup…until now, that is.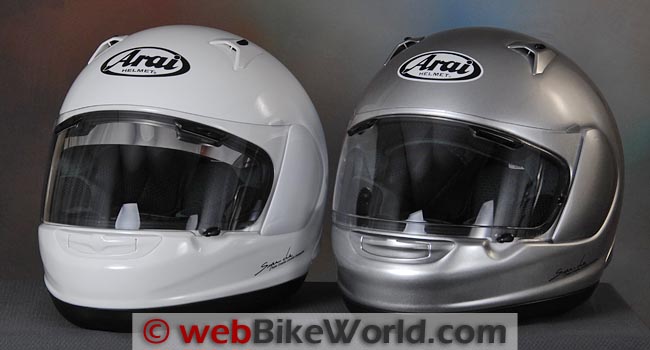 The Evolution of Arai Helmet Internal Shapes
We have been reviewing Arai helmets for many years. Right around the time of the demise of theArai Quantum II (review) in the U.S. market, Arai started to change — or should we say "evolve" — their internal shape philosophy and strategy.
At first glance, that would seem a strange course to set, because Arai was the only motorcycle helmet company in the world that 1.) Recognized that human heads come in different shapes; and 2.) Actually made helmets to fit those shapes.
Arai marketed themselves for years on that fact and they still do. But the evolution has toned down the severity of the shape differences and given them a softer edge.
A casual Arai wearer or someone who tries an Arai every once and a while in a motorcycle shop may not notice the difference, but noticing and reporting on these differences is our job. And notice we have.
Back in "the old days", when you put on an Arai "Long Oval" helmet — like the Arai Profile (review) — you knew it was a Long Oval, narrow shape — no ifs, ands or buts about it.
Likewise, the Arai "Intermediate Oval" was also noticeably different and narrower than most of the "Neutral" helmets offered by other brands.
And the Arai "Round Oval" fit of the Quantum II was heaven for true round-heads like our Editor.
All three of those shapes were distinctly and noticeably different and together they covered the spectrum of motorcyclist head types.
The Arai head shapes have become less radical over the last year or so. First — and most significantly — Arai dropped the Quantum II, the only helmet with a Round Oval shape.
They have also reduced the differences between the Long Oval and Intermediate Oval shapes to a certain degree.
The blade-like original Long Oval internal shape has now been made broader at the top and wider at the sides, while the intermediate oval is now round enough that Arai apparently felt comfortable in eliminating the Quantum II from the lineup and steering round-heads to the RX-Q.
Both the Long Oval and Intermediate Oval Arai helmets are now very similar to the "Neutral" fit found on other helmet brands.
It's like Arai moved in about 2σ in from the tails on the standard distribution of helmet shapes in this webBikeWorld Motorcycle Helmet Shapes chart.
So, am I complaining? Not at all! In fact, I think this shape change (which, by the way, is our interpretation based on years of experience in evaluating Arai helmets and would probably be denied by Arai) is a good thing.
Motorcyclists in the 3σ tails won't like it, but, quite frankly, how many of them are out there?
Arai's move towards the mainstream will bring many more riders into the brand, because now there are more Arai helmets to choose from that will fit more rider head shapes.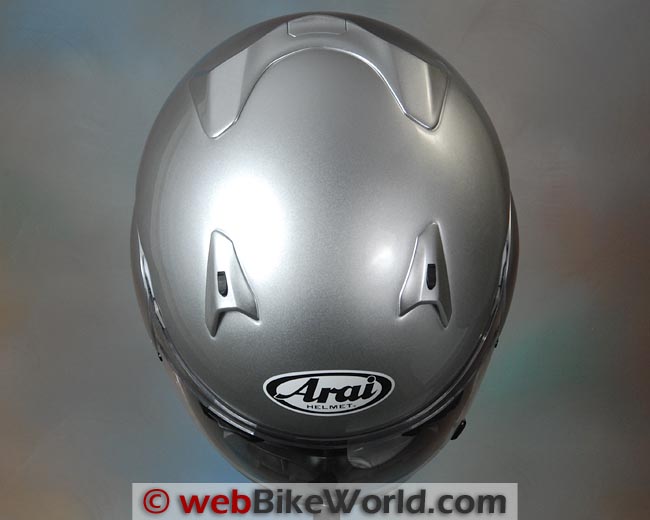 The Arai Signet-Q
This evolution has been made crystal clear in our evaluation of the Signet-Q.
This is a helmet with the (new) Arai "Long Oval" shape that, in the previous Long Oval iteration, would probably not fit me, due to its narrow internal profile.
In fact, the original Signet and Profile were two helmets that were out of the question for me, even with my "Neutral" head shape.
The "evolved" Arai shape — combined with the typical Arai firm-yet-plush padding — feels fuller and more comfortable.
It fits every person who has tried it — even our notoriously round-headed Editor, who now thinks the Signet-Q might even fit better than the Intermediate Oval RX-Q he's been wearing since Arai dumped the Quantum II.
Put on the RX-Q or the Arai Corsair V (review) and then immediately swap it for the Signet-Q and you'll feel a slight but noticeable difference.
There's more room at the forehead and chin and just a touch of narrowness at the cheeks (that can be mitigated with a new set of cheek pads).
The difference is nowhere near as radical as, say, comparing a Quantum II to the Arai Profile, but it's just enough to suddenly make the Signet-Q feel, well, much more roomy comfy than the previous iteration of that narrow shape.
The Signet-Q also now means that the RX-Q and the Arai Vector 2 (review) are the other Arai street/sport helmets with the Intermediate Oval shape, setting up a competition between the two street-oriented models that may end with the demise of one?
Arai Signet-Q: Paint, Graphics and Overall Quality
If you're already read the Arai RX-Q review (or the Vector 2 review for that matter), then you pretty much know everything there is to know about the Signet-Q.
The Signet-Q is nearly indistinguishable from the RX-Q, other than the slightly elongated internal profile of the Signet-Q.
But where the Editor's RX-Q had just a few and very minor small imperfections, this Signet-Q is flawless in every regard.
The silver metallic paint is simple but beautifully applied, with a thick-feel clear coat that should offer years of protection.
One of the differences you pay for in an Arai helmet is the proven ventilation system.
The top vents and chin vent on the Signet-Q have been seen many times before on previous Arai helmets, but it's a proven and simple design that works.
The vents snap open and closed like the switchgear was made of metal, and that's quite unlike most other helmets, where the buttons feel like they're going to crumble like a week-old chocolate chip cookie on the first try.
The Signet-Q — like the RX-Q — meets both the DOT safety standard and is Snell approved in the U.S. (and meets ECE 22.05 in Europe). The shell and the construction feels strong and protective and there is a noticeable difference when you put an Arai helmet on your head.
The padding in the Signet-Q feels good and it's comfortable, and it does feel a bit more plush than the RX-Q. The Signet-Q also has the new removable padding under the top portion of the head liner that allows for a custom fit shape.
The fabric Arai uses on the Signet-Q looks very similar to that used on the RX-Q, but the Signet-Q doesn't feel quite as scratchy as the RX-Q, although the difference (if any) is very minor.
Perhaps Arai has changed the material supplier since our RX-Q arrived, which was one of the first helmets off the production line.
During the time I was evaluating the Signet-Q, temperatures ranged from the mid-80's down to the mid-60's.
In warmer weather, I did sense that the liner material started to feel a bit rough, as it does on the RX-Q, and also the moisture wasn't wicked away as efficiently as I'd like.
I wish Arai would standardize on a more comfortable liner material, such as the type used in the old Quantum II or even the Vector-2.
The chin strap hasn't been improved though; it has the same too-short padding underneath. This has now been an issue with the last three Arai helmets we've reviewed.
So here it is again: Arai — time to add another 25 mm to the chin strap padding, OK? It's a strange miscue on an otherwise near-perfect helmet.
Score: I'll give the Signet-Q an "Outstanding" rating for overall quality, finish and operation of the moving parts. See the Summary Table at the end of this review for a description of the rating system.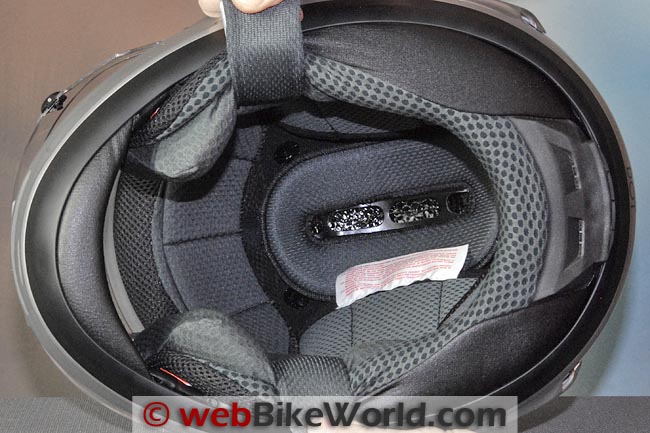 Arai Signet-Q Helmet Fit, Internal Shape and Liner
I'm not sure how much more I can say about this here that I didn't already say in the extended Introduction, so I'll make it brief.
The Signet-Q has a very slightly narrower internal shape than the RX-Q, which is characterized by the slight extra room at the forehead and chin and a very slight narrow difference along the sides.
I've been wearing the RX-Q and Signet-Q so often recently for this review that I've forgotten how other helmets feel in comparison.
We no longer have the Shoei Qwest (review) around, but if memory serves me correctly, the Signet-Q and Qwest have a similar internal shape and feel.
Where the RX-Q can feel slightly snug on a round-headed rider, the Signet-Q loosens that up just enough in the fore-and-aft dimension to provide relief, without giving the vise-like narrow side pressure from the old Arai Long Oval shape.
Arai says this size large Signet-Q should fit a 59-60 cm head, which is pretty accurate, although depending upon the narrowness of the head shape, it may fit up to a 61 cm.
I discovered by coincidence that the Signet-Q has an internal shape and fit that is very much like aSuomy Spec-1R Extreme (review).
The "revised" Arai Long Oval and Intermediate Oval shapes feel much more like the "Neutral" shapes of other helmet manufacturers.
That a round-headed rider can now wear a Long Oval Signet-Q and actually feel more comfortable than ever is a true sign of the difference.
This may disappoint the true Long Oval types, but apparently there aren't enough of them — just like there weren't enough of the true Round Oval types — to justify continuing the old shape.
Note that the Signet-Q has 5 mm thick removable pads under the very top of the headliner that can be removed. Doing so will make the helmet feel more like the traditional Long Oval shape by adding vertical room at the top of the helmet.
Also, Arai offers a variety of cheek pad thicknesses, which can be used to further customize the fit of the helmet.
The shape issue was discussed in detail in the "Helmet Fit" section of the Arai Vector 2 review, so I'll refer you to that article rather than repeat it here. All I can say is…ditto for the Signet-Q.
I think the Signet-Q is everyone else's "Neutral", but since Arai calls it a Long Oval, I'll rate it a "Slight Narrow" in the webBikeWorld internal shape classification scheme.
More information on helmet fit can be found in the webBikeWorld Motorcycle Helmet FAQ page, along with the chart that lists the helmet weights of webBikeWorld reviewed helmets and also by shape on the webBikeWorld Motorcycle Helmet Shapes page.
Score:  I'll give the Arai Signet-Q an "Outstanding" rating for fit and comfort and a custom-fit internal shape that should make many riders very happy.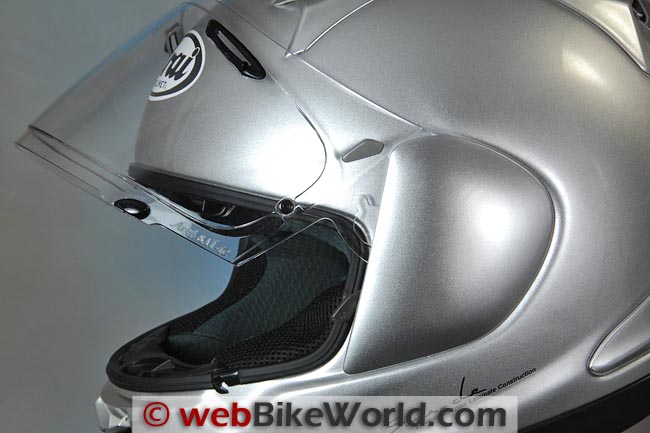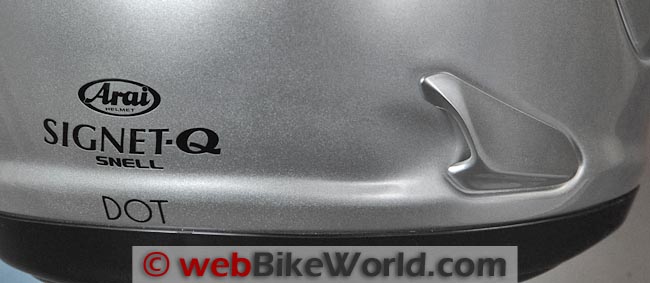 Arai Signet-Q Face Shield, Eye Port and Visibility
The eye port of the new Signet-Q — like the Vector-2 — is claimed to be 5 mm wider on both sides compared to the previous versions of these helmets.
Perhaps due to the slight differences in the internal shape of the Signet-Q, the difference in visibility is not as noticeable to me and I'd rate the outward visibility as slightly better than average.
The visibility out the top of the eye port is better than average however.
The face shield used on the Signet-Q is also supposed to be the new 5 mm longer design, but again, I don't notice the difference, although I don't have an older Arai helmet to compare.
The face shield on this Signet-Q seems looser than I remember on previous Arai helmets. It doesn't really stay in a raised position, as illustrated in the video below.
Perhaps the friction adjustment under the side plates can be changed, but I haven't bothered because I usually lock down the face shield anyway when riding.
There remains some controversy on the use of the Arai side plate system, but I don't change a face shield that often so it doesn't bother me one way or the other. It's different and it takes some practice (here's how in this YouTube video).
The Signet-Q comes with a Pinlock anti-fog insert (review), called the Arai "SAI Max-Vision Anti-Fog shield" system (despite the engraved "Pinlock" brand name on the face shield!). This is one of the few differences between the Signet-Q and the Vector-2.

Score: I'll give the Signet-Q an "Excellent" rating for the overall quality and operation of the face shield and eye port and outward visibility.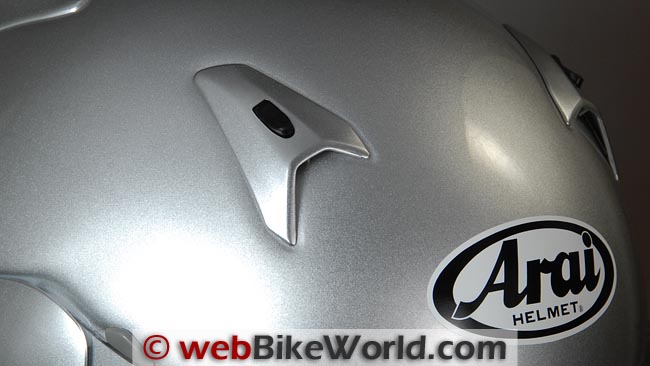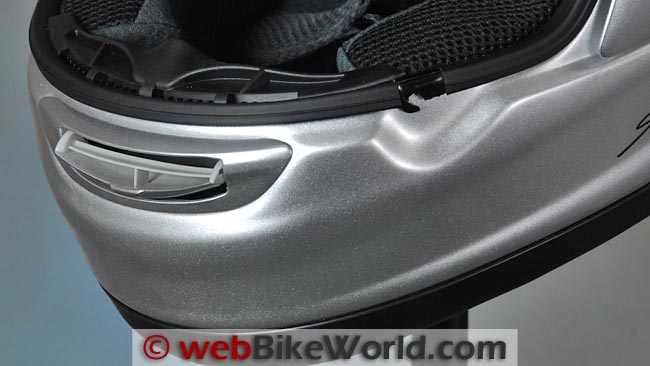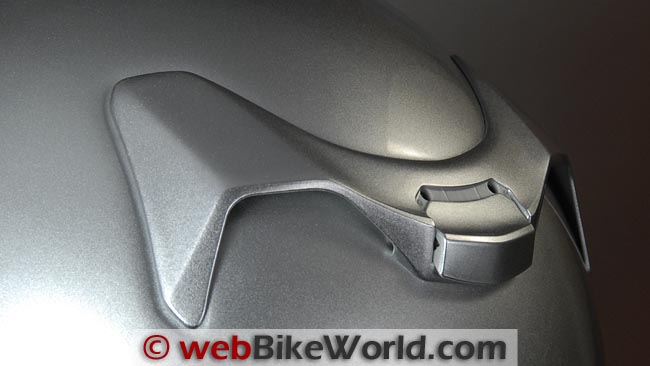 Arai Signet-Q Ventilation and Air Flow
The Signet-Q is definitely a conservative evolution of previous Arai styling and features, which has been seen before in helmets such as the Quantum II and RX-Q.
The helmet ventilation system on the Signet-Q is also right out of the Arai playbook.
It provides excellent ventilation that is better than most helmets (much better, in most cases), but I don't think it feels quite as effective as the simpler ventilation system in the Vector-2 for some reason.
The top vents on the Signet-Q don't seem much different from Arai helmets of 10 years ago. The rocker switches are a touch larger and they snap open and closed in a similar manner.
When they are open, I don't feel a rush of air over the top of my head, but there is air moving through and the system works well.
The chin vent also snaps smartly open and closed; it's the traditional Arai "sugar scoop" design, mentioned in other webBikeWorld Arai helmet reviews and slightly revised, starting in the Vector-2.
A port through the chin bar allows air to flow through and the rest of the air flows up in back of the face shield.
The face shield includes the brow ports found on other Arai helmets, but for some reason, they don't seem to be as effective on the Signet-Q compared to the RX-Q or Quantum II in my experience with those helmets.
The rear exhaust vent is similar to the RX-Q design, with a single slider that opens or closes the vents.

Score: I'll give the Signet-Q an "Excellent" rating for ventilation and air flow.
Signet-Q Noise Levels
Overall, I'd say the Signet-Q is relatively quiet, perhaps just slightly better than average in this regard. It is very similar to the old Quantum II in this regard.
The top vents of the Signet-Q do make a slight whistling sound if the helmet is in the upright position.
The sound increases on a touring bike with a windscreen that directs air at the top of the helmet, but the sound disappears as the head is tilted forward and the air isn't caught by those forward-facing vent covers.
The turbulence and noise around the bottom of the helmet seems well controlled.
But I do notice some turbulence-induced noise around the lower rear portion of the helmet if I'm riding a sportbike or sport-touring bike with my head tilted slightly forward.
I can place my hand around the back and eliminate the noise, so this may be due to the difference in internal shape and padding of the Signet-Q.
Otherwise, the Signet-Q is relatively quiet; not remarkably so like the new SCHUBERTH SR1 (review), but probably slightly better than the average helmet.
Note that our helmet evaluations are a combined effort of several riders over time on different types of motorcycles with and without windscreens.
Evaluators wear correctly fitted, high quality ear plugs (even when evaluating motorcycle intercom systems).
Always protect your hearing when riding a motorcycle. See the wBW Earplug Reviews for more information on choosing and wearing earplugs.
Note also that perceived noise levels will vary, depending on the individual.
Noise can be caused by many factors, including helmet fit, the type of motorcycle and windscreen, wind speed and direction and even the rider's clothing.
For more information on helmet noise, visit the wBW Motorcycle Helmet Noise page.
Score:  I'll give the Signet-Q a "Very Good" rating for noise control.
w

BW

 Video: Arai Signet Q Helmet
Arai Signet-Q Helmet Weight
This Arai Signet-Q in size L weighs 1624 grams (3 lbs. 9-1/4 oz.), coincidentally the same weight as the Arai Quantum II (review) in size XL
The Signet-Q weight compares favorably with the Bell Star 2010 (review) in size L at 1628 grams; the Shoei Qwest (review) in size L at 1648 grams; and the Arai Vector 2 (review) in size L at 1611 grams.
The Signet-Q is heavier than the  Arai RX-Q in size L at 1597 grams, probably due to the additional top vent and Pinlock insert in the Signet-Q.
The Signet-Q meets both DOT and Snell 2010 safety standards, so actually the 1624 gram weight is very reasonable, considering that the OGK FF-3 (review), which was once considered to be a very lightweight helmet, is nearly identical at 1623 grams and does not meet either DOT or Snell standards.
The comfortable yet firm padding of the Signet-Q and the outstanding fit, combined with the Arai "organic" shell shape and minimal protrusions, makes the helmet feel like it's slicing through the air with excellent balance when riding.
All of these weights are available on the wBW Motorcycle Helmet Weights page, along with a chart that lists the helmets by weight and shape on the wBW Motorcycle Helmet Shapes page.
Score:  The Arai Signet-Q gets an "Excellent" rating for its low weight and excellent balance.
Miscellaneous
The Signet-Q has a double D-ring chin strap retainer system, but the padding underneath is too short and rather thin, just like the RX-Q and Vector-2. This is an easy fix that Arai really needs to address.
Arai provides a 5-year warranty on the Signet-Q, which should effectively cover the life of the helmet.

Conclusion
The Arai Signet-Q has been updated in the modern Arai idiom and our guess is that it will come out of the shadows to overtake the RX-Q as one of the most popular Arai helmets ever.
The comfortable Signet-Q fit, with it's slightly longer front-to-back dimensions, should fit many more rider head shapes.
If you've ever experienced forehead pressure or the "hot spot", try a Signet-Q, even if you think your head was too round for an Arai Long Oval of the past.
Ironically, the true "Long Oval" head shapes may find the evolved Signet-Q internal shape to be not to their liking — but I'm not certain about this. We'll wait to hear from owners to learn more.
As we say in every Arai helmet review, yes, you're going to pay more for an Arai. For some motorcyclists, there isn't any other helmet, period. I'm not necessarily one of those, but I can say that after all the helmets we've reviewed, an Arai is different.
There is a feeling of solidity and security about the Signet-Q that just isn't there in most helmets.
The Signet-Q will probably last through its entire expected life span of 5 years, performing admirably and comfortably.
Owners of other brands will probably have gone through two or three helmets in that time, so in the end, there may not be as much of a price difference as you think.
NEW! Arai Signet-X Review
w

BW

 Product Review: Arai Signet Q Helmet
Manufacturer: Arai Helmets (USA)
List Price: $609.95 to $739.95
Colors: Solids and graphics.
Made In: Japan
Sizes: XS-2XL
Review Date: October 2011
Shell Sizes: 3 (estimated)

Rating Scale is subjective: Unacceptable, Poor, Neutral, Very Good, Excellent, Outstanding.
Note:
 For informational use only. All material and photographs are Copyright © webWorld International, LLC since 2000. All rights reserved. See the webBikeWorld® 
Site Info page
. Product specifications, features and details may change or differ from our descriptions. Always check before purchasing. Read the
Terms and Conditions
!
Owner Comments and Feedback
---
From "B.G." (February 2015): "I'm new to Arai helmets, but not to helmets in general. The Signet-Q is my 1st Arai helmet. Overall, I agree with the given assessment.
I'm riding a supersport in stock windshield configuration. There's lots of turbulence for me from mid-chest up to just at the neck/head interface. This is important for my noise considerations.
It's a very noisy helmet for me when I do not block the lower helmet-to-neck interface with clothing (a turtleneck, scarf, heavy coat collar: something).
There's also the sense of a pressure differential on my ears.
That is, I get pressure generated "underneath" the ear swells, and the helmet ear swells do not block it. The pressure is not alleviated by opening or closing venting.
It feels like someone pressing my ear drums inward. It's very annoying. It is due to high pressure air underneath the helmet forcing it's way past the foam pieces.
I can block it with my hand, and the helmet is instantly much quieter. The same is true when I use the clothing to block it, or if I ride a non-sport bike with a wind shield. Then, it's a much quieter helmet.
Otherwise, it's a fine helmet, very high build quality.
Also, it's one of the very few (it seems) still on the market that fits my long oval head shape nicely, and leaves sufficient (just barely) room in front of my lips-to-helmet chin interface. I'm kissing the microphone full time.
[ADDENDUM]: I was informed of a feature of the new series Arai Signet-Q that I did not know about during my first submission. The new series helmet has a feature not discussed in the review, a "pull down chin curtain".
I don't know what Arai calls it, so I'm stating it as best I can.
Where some helmets offer a cloth chin curtain, the Signet-Q offers a plastic curtain that pulls out and down to offer a similar protection.
I was skeptical that it would be effective for noise reduction, and I can now report that I am pleasantly surprised that it works very well.
The helmet is quieter (tho still noisy), and the pressure from the air stream, against my ear drums, is now greatly reduced.
Editor's Note: All full-face Arai helmets have the pull-down chin curtain, it has been described in other webBikeWorld Arai helmet reviews.
We haven't found it to be as useful or functional as the "normal" chin curtain types found on other helmets, but it's good to know that it has solved your problem.
---
From "R.K." (May 2013): "After several years of wearing lower-end helmets and thinking they were all pretty much the same, it was time for a new helmet. I spent 8 months shopping, researching, reading reviews and trying on different makes and styles.
I soon realized they are NOT all the same!  I decided to go with an Arai Signet Q.
It is by far the most comfortable helmet I have ever worn.
The custom fit interior is awesome. Fit and finish are 2nd to none. Ventilation and air flow is great. Top and brow vents flow a lot of air. I can wear my glasses with no problem. Love the locking face shield!
I am somewhat disappointed with the noise level. I wear ear plugs when riding and it is still what I would consider a louder than average helmet. My cheaper helmets are just as quiet or even quieter.
At this price and level of quality I would expect less noise. Not a deal breaker but…
I agree that the chin strap should be a bit longer an better padded but again not a deal breaker. After almost spending $560.00 on this helmet, I found a local dealer selling it for $478.00 and the deal was done!
Overall, this is by far the best helmet I have ever owned and am very happy with it. You DO get what you pay for! A couple of weeks after I bought my Signet Q my wife bought one too."
---
From "R.P." (July 2012): "After reading your article on the new Arai Signet-Q I'd have to say I concur with your assessment.
I have had three Arai Helmets in the last 18 years starting with the Quantum (review) (X-Large), Signet (X-Large) and a Profile (review) in Large the last two years.
I recently purchased the Signet-Q (in a Large) only 200 miles ago. I had to buy helmets larger (XL) than my size (L) for the length front to rear proving to be noisy.
The Profile in a (L) proved to be too tight and painful across the brow area of the forehead and I had to purchase the most narrow (15 mm) cheek pads as the helmet never gave way to become more comfortable.
Too tight around the crown, painful above the brow with a deep indentation for hours after removal, cheeks so tight I had to blow out my cheeks not to bite them inside closing my jaw.
No, an extra large was not the better fit, proving to be too loose.
I went to a local dealer when I was informed Arai would be custom fitting helmets so I figured, I'm not happy so let's try.
As soon as I sat down he identified the problem while looking at me that the Signet-Q (he said) was reshaped to correct, more relief in the forehead area.
He stated that the Profile was shaped more like a foot ball and the Signet-Q was more squared at the forehead to relieve the pressure commonly complained about from the too narrow shape of the Profile. I suffered from it and it made sense to me.
After measuring me as a Large and fitting the Signet-Q sans cheek pads I felt nirvana.
Nice and comfortable around the crown and forehead and most important, nicely fitted around the ears. Still close and yet the ears didn't fold over and my eye glasses easily slip in and out.
When fitting the stock 25 mm cheek pads they were acceptable, not pinching my cheeks, raising my glasses and I didn't have to do the blow fish act, yet they weren't perfect so we tried the 15 mm and while very comfortable I felt they were too loose.
Fitted the 20 mm and ideal, just enough pressure to locate the helmet, I could clench my teeth without taking skin off the inside of my mouth and yet they could break in as usual without fitting loose.
FYI the fitting was more than just measuring the circumference of your head at the crown. It included a wire shaper that recreated the shape of your head from front to rear at the crown as well as side to side.
He transferred those shapes to paper via tracing with all pertinent information. You really see the varying shapes of people's heads as he proceeds from one to another.
Arai collects this information to better match your head shape to a helmet contour at the time of fitting but also as a library for continuous improvement.
Two hundred miles later I have a comfortable, painless and quiet environment for my head to safely reside in.
I'm pleased to remain an Arai customer, appreciate their continued pursuit of perfection and that they listen to the customer for guidance. I disagree with current Profile wearers that Arai have abandoned them.
I believe this is the better overall shape as I have never seen anyone with a pointed forehead and can't imagine squaring or relieving the shape slightly at the forehead wouldn't be beneficial to all."
---
From "D.C." (April 2012): "In the FWIW arena – I wore the Signet-Q for about a 60 mile ride last night. I discovered that I had trouble putting the helmet on while wearing my Bose in-ear buds that I usually connect to my iPhone (or iPod).
And when I tried to take it off – yipes!
So I tried a pair of the 3M 1120/3702 Soft Foam Ear Plugs (the orange ones with 4 increasing size bulges).
It's not an apples to oranges comparison, but, I did notice more noise than with the Shoei Neotec (review) (but I did have my local NPR station playing while I was wearing the Neotec), so, I need to take a ride with the 3M foam plugs in for true comparo
I didn't seem to notice heat and moisture build up at rest in the Signet-Q vs the Neotec, but, still more than than my HJC IS-Max (review).
I think I need to remove at least one of the layers in the cheek pads, but, they weren't painful; definitely snug, which may not be a bad thing. I don't think I had big indents in my cheeks when I removed the helmet, but, I didn't really check either.
But, overall, I like it. In general, I think I have become more of a modular fan, especially with the flip down visor as a great feature. I'm guessing I'll be wearing the Neotec most of the time."
---
From "B.M." (March 2012):  "Thank you so much for reviewing this helmet! I was all set to buy a Signet-Q in neon yellow. I was replacing a Profile, since that is the only helmet I can wear without getting blinding headaches.
I don't like spending so much money on a helmet to begin with, and to think I almost made this very costly mistake is scary.
I now bought a new closeout Profile helmet, but I sure hope Arai (or some other manufacturer) will make a helmet that specifically fits a long oval head. Normal head shape people already have enough choices.
Just to illustrate the difference in head shape — my head circumference measurement is (in inches) 21 3/4. Front to back is 11 1/4, side to side is 8. My husband's circumference is 22, front to back is 9 3/4, side to side is 9 3/4.
I wish helmet manufacturers would include the interior measurements of their helmets, rather than just the circumference.
Most helmets feel okay just trying them on, it's only after riding for about 30 minutes or longer that poor fit becomes noticeable. Then it is too late to return a helmet that doesn't fit properly.
Thanks for the work you do in reviewing products!"
Editor's Reply: Some of the retailers are saying that the Signet-Q is the same shape as the Profile or even narrower, but we don't agree.
I asked Arai about the shape issue at the Dealer Expo in February and although they didn't directly admit it, they did indicate the shapes are "evolving". I'm planning on visiting the Arai offices soon and will ask about this again in more detail.
---
From "J.M." (January 2012):  "(Regarding the revised Signet-Q internal shape). That's great for you, that you have a normal head shape, but you don't *need* another helmet choice, and what are we mutants with weirdo noggins supposed to do now?
I spent years in uncomfortable helmets that were too big (just to get it on my head) and potentially dangerous until I found the Profile.
Now I'm left to hunt for a helmet again that doesn't cause searing headaches and bruises on my forehead, or where my chin doesn't touch the chin bar.
I'll probably try the Shark RSI, but leaving the Arai line doesn't make me happy.
I'm sure Arai losing my business (and that of other "aerodynamic" riders) won't matter as much as the reduction in costs associated with producing a helmet that only fits a tiny percentage, and I can't fault them for that.
Thank you for doing these reviews and providing a valuable resource.
I recommend you any time someone asks "what helmet should I get" and tout that getting a helmet that fits your head shape is way more important than what it looks like or what your friend uses. Now I know not to spend the money on a Signet-Q."
---
From "G.Z." (November 2011):  "Great review. I'm glad they brought back the Signet. After reading the article, I purchased a Medium after having three previous Large Arais over the years (2 Signets, then a Profile).
Fit is nice and snug. The pinlock clear visor is fog-proof. They brought back the chin skirt that pulls down. One negative- my Sena bluetooth speakers don't velcro to the liner material.
Huge bonus: they have shaped the interior to allow wearing glasses without pushing the arms into the rider's temples."
---
From "K.G." (November 2011):  "I want to thank you for the Signet review. It was time to replace my lid and upon hearing that the Signet was rounder than other Arai helmets — I went out and made sure I found an Arai Profile in my size.
I tried other helmets but the Vector wasn't narrow enough, while the Sharks don't allow me to wear glasses (and my latest 2 pairs of glasses have the skinniest arms ever made). So, once again, thanks for the heads up."
---
From "J.W." (October 2011):  "Was interested to read your as-usual thorough test report of the Arai Signet-Q, and was struck by the problem I (and as far as I'm concerned, Arai, as well) had when I tried to buy an Arai, and instead went with HJC.
Moto dealers here in Nashville do not stock Arai, what with the economic downturn, they say they can't sell them in any numbers.
If you then try to buy one online, there is no way to know or determine which head shape you belong to.
I wore out your reviews. I wore out Arai's website. I researched the web for weeks.
I even went to Home Depot, bought a couple of those Irwin woodworking clamps and measured my head left to right and front to back ( . . . if I only had video of that . . . . ).
Plus, I'm a 2XL in HJC, which was one more point of concern regarding internet purchase, how many would I have to send back before I got one big enough, if ever?
I was more than willing to pay for Arai's quality.
But until they can devise some method to measure my head to determine the "shape I'm in" just as they measure the circumference to determine size, they are putting themselves at a competitive disadvantage and I can't buy one, as much as I would like to.
As Always, wBW is my go-to site for reliable information, and thanks for all you do !"
Editor's Reply: Thanks for the feedback, not sure if you found our Helmet FAQ, which describes head shapes?
It's not that big of a deal actually and as we've discussed in the last few reviews, most manufacturers are converging on a "neutral" head shape anyway.
If you already own a helmet like an HJC, and it fits, then you know your head shape. Just match it up with helmets of the same shape in our Helmet Shapes chart and you should be all set.
Most HJC helmets are fairly neutral, so a Signet-Q should fit, and Arai has plenty of cheek pad and liner options, plus the internal removal pads up top, to customize the fit.
Your problem will probably be the XXL issue rather than the internal shape. Also, the webBikeWorld affiliate retailers have very generous return policies on helmets."
---
From "D.H." (October 2011):  "Thanks for your usual top-notch evaluation.
As a rider with an "aerodynamic" shaped head and close to 100,000 miles in various generations of the Signet, and of late, the Profile, when I first learned of the supposed reincarnation of the Signet I was amped.
Unfortunately, after trying on a Signet-Q my excitement turned to extreme disappointment.
I really wanted to like the Q, even more so because of the larger eye port and updated Max-Vision Pinlock system (I've been using standard Pinlocks on my Profiles); however, the Q's fit is exactly as described by you, which means a strange and poor fit for me.
What baffles me is why Arai would build a new "not-quite-so-oval" helmet, name it after its long-standing line of (very) long-oval shaped lids, and then remove the only (very) long-oval Profile from its line-up.
Did Arai believe we wouldn't try the Q on?
Effectively, we pointy-faced riders are left out of Arai's line-up for 2012, and as you well know, there is nothing really close to extreme oval-ness (is that a word?) of the Signet/Profile line (although the Shark RSI comes close and may work for some).
To me, personally, this is Arai's biggest blunder since it tried to halt online sales, but in the broader view it may net Arai more sales as the Q will fit more riders than the Signet/Profile line.
Hey there Shoei: here's a niche just waiting to be filled! (Just don't go halfway like the X-11). I'll be ordering one or more NOS Arai Profiles before they sell out, and I suspect I won't be the only one."
Editor's Reply: Exactly how I felt when they discontinued the Quantum II!