A solid replacement for the Quantum, the RX-Q has the usual Arai quality and attention to detail.
Nothing is really new here though — no revolutionary venting system, face shield or other radical features.
The liner material feels a rougher and the padding isn't as plush as the old Quantum II, but, I'm happy I found a replacement!
It took us forever to obtain an RX-Q for a webBikeWorld review.
The helmet was announced in the Spring of 2010, and we're knocking on Fall's door, but at last we finally procured one…albeit in plain ol' vanilla white.
It's not even the richer-looking "Diamond White" metallic version, but hey — there's nothing wrong with white and this one will act as a blank canvas for some new ultra-bright reflective stickers we have coming soon.
And there's a bonus — white is supposed to be one of the most visible helmet colors available.
When I first hear that Arai was discontinuing the Quantum in the U.S., I was dismayed. After all, my Quantum II was the only helmet out of the 140+ we have reviewed to date on webBikeWorld that was a perfect fit for my very round head.
Why would a company that prides itself on offering helmets to fit every head shape all of a sudden abandon us round-heads?
To add insult to injury, the Quantum is still being distributed in Europe. So it's not like they burned up the molds.
Perhaps Arai is secretly working on a Round Oval replacement for the Quantum?  We can hope…
[UPDATE:  This just in — apparently, the new "Quantum" sold in Europe is the RX-Q carrying the old Quantum name!  So the much beloved "Round Oval" Arai Quantum truly is dead. RIP. More on this in the Owner Comments section below.]
So I was very anxious to try the new RX-Q, which has what Arai calls its "Intermediate Oval" shape. None of the other Arai Intermediate Oval helmets I've tried, like the Arai Vector (review) or the new Corsair V (review) have fit quite as perfectly as my Quantum.
Should I expect anything different with the RX-Q?
A hint came in the name of this new helmet. "RX" from RX-7 and "Q" from Quantum. Could it be?
I also decided to try a different sizing strategy with the RX-Q. My 60.5 cm head usually falls between a large and extra-large size, and in the past, I've gone with the XL because my head is widest at the temples.
Most narrow or slightly narrow (our terminology) helmets end up feeling like my head is being squeezed in a vise that might have been hand-crafted by Torquemada.
But there's always something to learn about helmets, and I recently had the opportunity to run some back-to-back longer term evaluations of helmet pairs of the same make and model that were identical except in size: L and XL.
I discovered that size can sometimes make a difference in a helmet in more ways that one might think. For example, some helmets that don't quite fit correctly in size XL are more suitable in size L.
This just demonstrates once again the importance of finding the correct fit for your head. There isn't a lot of consistency in the internal shapes across brands.
You really must try on each helmet in a variety of sizes to learn the differences, and the more you try, the smarter you'll become.
The Arai RX-Q
Maybe Arai has the best marketing department in all of motorcycling, or perhaps there's some truth to their story. Or maybe a little of both. But one thing's for sure: Arai has an incredible reputation for quality and safety.
Not too long ago, Arai quality was head-and-shoulders above the rest but over the decade plus that we've been reviewing helmets, the average level of quality of has risen dramatically.
We've commented on this in other helmet reviews — you can easily find high quality helmets today for less than $200.00.
So my feeling is that Arai has a lot of competition and some of those competing helmets have more features with designs that border on radical.
But one thing remains: Arai has an outstanding reputation for safety, backed up by the many famous motorcycle racers who rely on the brand, literally for their lives.
Arai is also a very conservative helmet manufacturer, so if you care more about technical details than you do about fancy duct work, internal sun shades and other semi-useful features, Arai's your brand.
While the plain round shell of the RX-Q, especially in this antiseptic white, looks about as basic as they come and almost homely, there's a reason for Arai's design conservatism.
They claim that a shell with minimal number of protrusions or angles has better crash performance because those features can catch on the ground and twist during a fall.
Arai also continues to use fiberglass for their helmet shells because they claim this material can be designed to spread the load forces more evenly.
And the company also has a strategy to minimize the number of pass-through holes in the helmet shell by including features like the unique face shield brow venting system and an external rotating mechanism for the face shield.
It all makes sense, and who am I to argue with success?  Many motorcyclists and motorcycle racers have proven time and again that the formula works.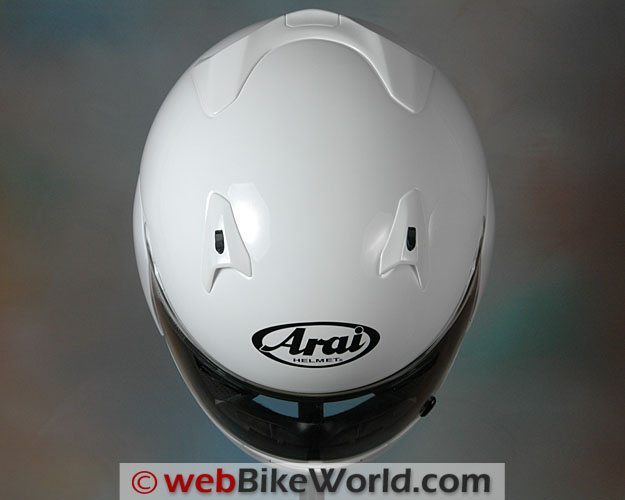 Arai RX-Q Paint, Graphics and Overall Quality
Arai has scored number one in motorcycle helmet customer satisfaction in each of the twelve J.D. Power And Associates Motorcycle Helmet Satisfaction Studies that have been conducted — an enviable history.
My experience has been less satisfying, with some Arai helmets not quite up to the reputation. This RX-Q isn't perfect; for example, one of the features promoted by Arai is their hand-made helmet shells.
Personally, I'd feel more comfortable if I knew that a computer-controlled machine was laying on the 'glass, because I'd have more confidence that the shell thickness was consistent all the way around.
Check out the video below and you might be able to see some of the slight imperfections in the helmet shell that show up as shadows as the helmet rotates on the turntable.
Otherwise, this RX-Q is solid and all the moving parts operate with a quality feel.
The upper vent scoops and rear exhaust covers are apparently attached with double-sided tape, which may sound like corner-cutting but was done on purpose so the parts will quickly part company with the shell during a crash rather than staying put and twisting the rider's head.
The chin vent snaps open and closed and it does a very good job at pumping in air, as do the on/off rocker switches on the top vents, which are identical to those used on my nearly 6-year-old Quantum II (review).
I can't comment on the quality of the painted versions of the RX-Q, but high-quality paint and graphics have always been a hallmark of Arai helmets, so I have no reason to doubt that other examples of the RX-Q are up to snuff.
The white paint on this one is thick and evenly applied, right down to the special "Hyper Ridge" around the bottom of the helmet, that is claimed to have the same thickness as the rest of the shell, something missing from competing brands (according to Arai).
Arai also claims that the hand-formed helmet shells and the technology they use allows for a smaller shell, which helps avoid the "fish bowl" effect that some owners report with helmets that look out of proportion to their head size.
Choosing the size L over the XL may have helped me in that regard also.
Also, the liner fits perfectly inside the helmet shell, something that is apparently not easy to accomplish, based on many of the other helmets we've reviewed that have loose-fitting liners. The liner in the RX-Q fits like it was custom made.
Score:  Overall, I'll rate the Arai RX-Q as "Outstanding" for paint and quality. See the Summary Table at the end of this page for a description of our rating system.
Arai RX-Q Helmet Fit, Internal Shape and Liner
As mentioned above, the Quantum has apparently been discontinued in the U.S. with no "Round Oval" helmet to take its place.
My experience with other Arai "Intermediate Oval" shapes in the past made me skeptical about Arai's claims that the RX-Q would be a suitable replacement for Quantum owners.
So I was enormously relieved when I ripped open the box for the first time and plunked the size large RX-Q on my head. It fits very nicely indeed — in fact, I'd have to say it's relatively close to the same fit I found in the Quantum II.
What a surprise! My Quantum II in size XL with optional cheek pads now feels loose, probably in part due to compression of the liner.
The RX-Q has a roundish fit at the top and pretty much all the way around, slightly narrow at the sides, although I haven't tried a comparable XL to see how it might differ.
The size L is nice and snug, as it should be (and I'm sure an experienced Arai fitment expert would tell me my XL Quantum is too big). The RX-Q has a "race" type fit on my head that is snug but comfortable.
I've worn it for hours at a time without a problem, although I do think the standard cheek pads are probably just a tad tight for street use. I plan on stopping by the local dealer next time I go to town to try a set of the next size thinner pads.
So after wearing the helmet and getting feedback from other riders, I'd have to say the RX-Q has a "Neutral" shape in the webBikeWorld lexicon. How can I say otherwise, if it fits a lot of head shapes, including my very round skull!
It is not quite the same fit as the Arai Vector as I remember it, so I'm not sure if the Arai "Intermediate Oval" shape has changed over time, or if it's different only for the RX-Q.
I tend to think not, but I never did try a Vector or Corsair V in anything but XL so it's difficult to compare.
Also, I think the size L fits true to size and should work for a 59-60 cm head…or up to a 60.5 cm head like mine.
One curiosity to mention is the small breath guard on the RX-Q, which just touches my nose about half-way up, giving a tickling sensation. I'll have to trim the rubber to fit; not a big deal.
But there is another difference that is apparent in the RX-Q compared to all of the other Arai helmets that have come through here. The liner material feels rougher than any other Arai I've worn, including the Corsair V.
The material used in the RX-Q appears to be the same as the material used in the Corsair, so perhaps it's the firmer fit that is pushing the fabric more tightly to my skin, but in the hot weather we've been experiencing this summer, the RX-Q feels very scratchy.
I lent the helmet to the crew without saying anything, and then asked what they thought when they returned, and everyone agreed.
The material is not the same as the plush, smooth and oh-so-comfy fabric used in my old Quantum. It probably isn't helped by the padding, which feels Mercedes-seat-firm in the RX-Q compared to the Quantum with its 1950's Cadillac-style softness.
And one other nit: the chin strap padding on the RX-Q is very thin and it isn't long enough, so the nylon webbed chin strap chafes against my neck. This is a problem that I'll have to resolve, perhaps by adding a micro-fleece tube to one end of the strap.

More information on helmet fit can be found in the webBikeWorld Motorcycle Helmet FAQ page, along with the chart that lists the helmet weights of webBikeWorld reviewed helmets and also by shape on the webBikeWorld Motorcycle Helmet Shapes page.
Score:  I'll give the RX-Q an "Outstanding" for an internal shape that should fit a wide majority of head shapes (and my hard-to-fit bean). I'll give the scratchy-feeling liner material a "Neutral" rating and the chin strap design and padding gets a "Poor".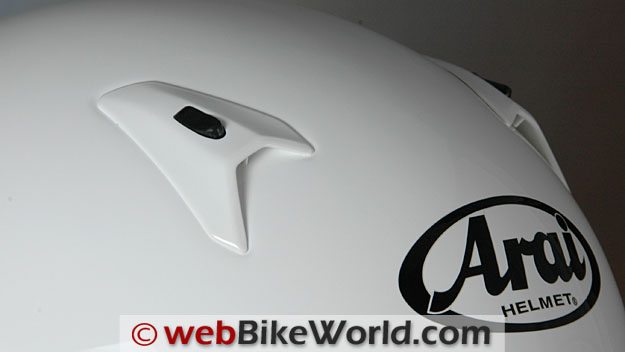 Top vents on the RX-Q are standard Arai and they work well.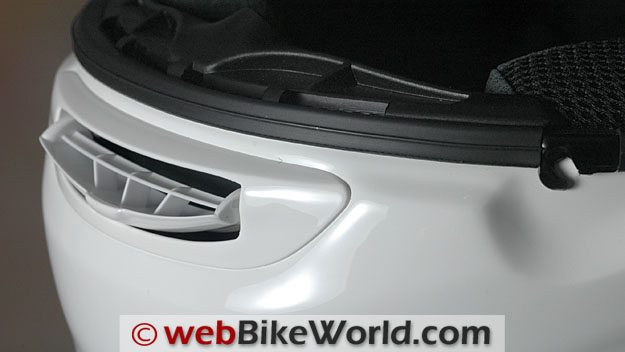 The big chin vent on the RX-Q flows a lot of air into the helmet and up to the face shield.
RX-Q Face Shield, Eye Port and Visibility
Arai claims that the RX-Q uses the same eye port configuration as the RX-7. It provides excellent visibility. While the view out of the eye port is not as dramatic as, for example, the Nexx XR1R (review), it is better than average.
During the RX-Q evaluation, I brought the Quantum II along for occasional comparisons. Wearing the RX-Q and then swapping it with the Quantum demonstrated a big difference between the two in terms of outward visibility.
Both the side-to-side and top-to-bottom view from inside the RX-Q is decidedly better.
The RX-Q has the standard Arai face shield system used for many years on many of their helmets — for better or worse. I had a few problems with this system as it is implemented on the Quantum, with a broken side pod at one point that required a trip to a local dealer to order a set of replacements.
The reason for the side pods, according to Arai, is that the design allows a smaller cavity in the sides of the helmet where the rotating mechanism might sit. This, they claim, makes for a stronger helmet shell.
I've learned to live with the system, mainly because I don't change face shields very often (and I have never removed the shield from the Quantum again since I broke that side pod a few years ago!).
Also, the friction system used to hold the face shield when it is raised allows a virtually unlimited choice for positioning, which I like. And finally, if they really are on to something in their theory on helmet shell strength with the side pod design, then I guess it's worth it.
Oh, and one more thing: the face shield does not twist or torque when raised or lowered.
Arai says that a deliberate effort was made to eliminate as many protuberances on the helmet and face shield, thus the shield does not have a lift tab, only a locking snap at the lower left.
It works well but it may take some time for new Arai owners to become accustomed to using it, as it holds the face shield tightly to the eye port.
One thing for sure about the "snap 'n' hold" system: it keeps the face shield tight against the eye port gasket.
The gasket completely surrounds the eye port (not all helmets have this feature), and the combination of the tight fit and full gasket make the face shield watertight.
We gave the RX-Q our standard water intrusion evaluation and not a drop gets past the gasket; indeed, the nearly 6-year-old Quantum is equally watertight. So this system works and I think the face shields on Arai helmets in general fit tighter than most other helmets.
The unique characteristic of the Arai face shield is the brow vents built into the upper edge. They snap open and closed and direct air through scoops built into the top of the eye port.
This system works well and again, no problems in nearly 6 years to report on the Quantum, so I'm a believer.
The face shield on the RX-Q does not include a Pinlock system, but many additional face shields, in a variety of tints, along with accessories are always available for Arai helmets, especially since this shield design has become a standard, used on Arai helmets for many years.
The RX-Q face shield is labeled as meeting VESC-8 standards. I measured it at 2.10 mm thick.
The weather is too warm to evaluate the anti-fog capabilities of the face shield on the RX-Q, but we have found that the Clarity Defog It (review) coating works very well on Arai face shields.

Score:  I'll give the RX-Q and "Excellent" for above average outward visibility and the sealing performance of the face shield.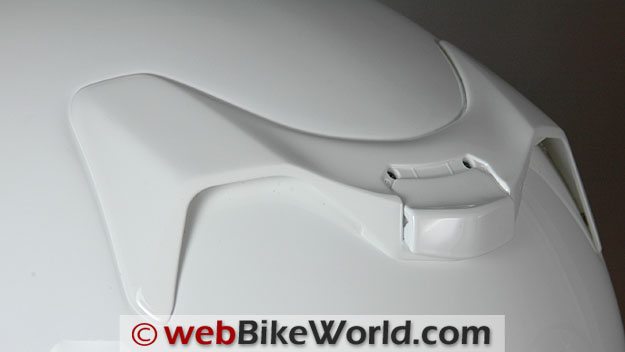 Ventilation and Air Flow
The ventilation system on the RX-Q is again standard Arai. I guess you can say it's been developed over many years and it performs very well, albeit with some noise.
I have no complaints regarding the ventilation system on my old Quantum, and the RX-Q system feels about the same.
The two upper vents snap open and closed with small rocker switches, which I've become accustomed to over the years so they're now easy to locate and operate when I'm wearing gloves.
They work well; I don't feel air directly flowing on the top of my head, but I can sense that air is moving through the helmet. Those big scoops can generate some noise though in certain situations, as I'll discuss in the next section.
The chin vent on the RX-Q is the standard Arai "sugar scoop" style. It rotates downwards through two clicks and it allows a lot of air to enter through the chin bar.
The air flow is split; some travels up behind the vestigial breath guard and the rest travels through the mesh in the center channel through the chin bar.
One thing we've learned about that channel in the middle of the chin bar, behind the chin vent: it isn't the best placement when using an intercom, because the wind noise can interfere with the VOX on most systems.
It took a while to figure this out, but I usually have to put some duct tape over the vent in the chin bar when I'm using a microphone.
The RX-Q has an exhaust spoiler at the top with a slider that opens or closes two additional holes. The helmet also has two more always-open vents in the lower rear.
All told, the system works very well and nothing has been changed, as far as I can tell, from the standard Arai ventilation setup.

Score:  I'll give the RX-Q ventilation system and operation of the parts a score of "Outstanding".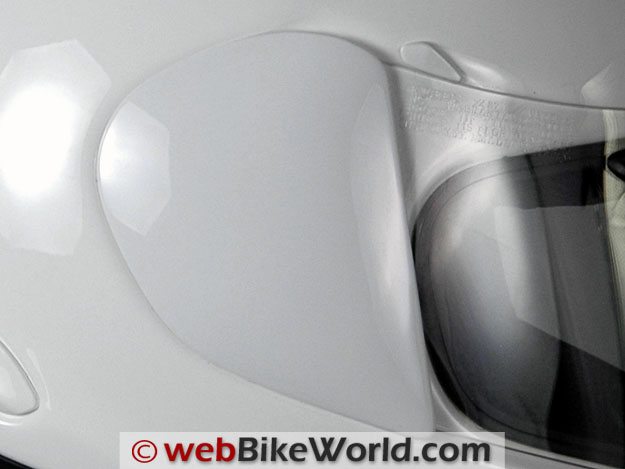 The standard Arai side pods cover the face shield rotating mechanism.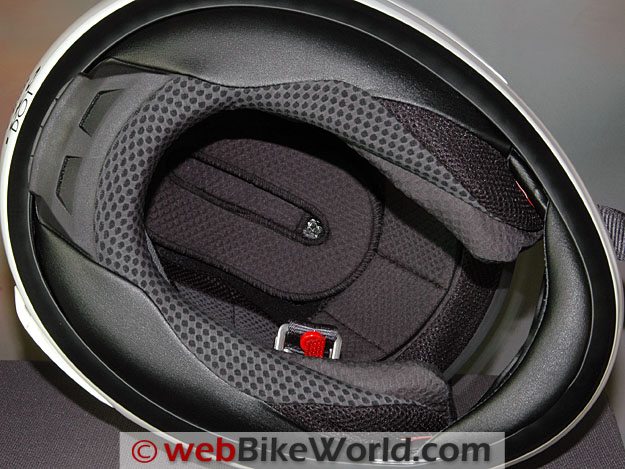 Liner material used in the RX-Q is not as plush as the old Quantum II.
Arai RX-Q Sound Levels
Those forward-facing top air vent scoops on the RX-Q are almost identical to the type used on other Arai helmets, like the Quantum. Nothing has changed in the noise department — they will whistle with the "blowing over a Coke bottle" effect when the rider is sitting upright.
Lean forward about 10 to 15 degrees though, like when you're in the sportbike or sport-touring riding position, and the whistling noise pretty much disappears.
The chin vent and other features on the helmet seem to control noise fairly well. The RX-Q certainly isn't the quietest helmet I've worn, but it's better than average.
Arai said they redesigned the lower edge and neck roll slightly, but you can see from looking at the photo of the liner that the neck opening is not round.
On certain head/neck shapes (like mine), there is a slight gap in the padding behind and below my ear, which creates wind noise.
I can reduce the noise by placing my hand over this area, so like most helmets, it would be nice to have more material added to the neck roll in this area.

Score:  I'll give the RX-Q a "Very Good" for slightly better than average noise levels and ability to control noise.
wBW Video: Arai RX-Q Helmet
Helmet Weight
This Arai RX-Q in size large weighs 1597 grams (3 lbs. 8-1/4 oz.). This is an excellent result, putting the RX-Q in the lower 1/3 or so of the helmets weighed for webBikeWorld reviews.
For comparison, the Nexx XR1R (review) in size XL weighed nearly the same at 1588 grams and we considered that to be a very light helmet.
The Akuma V-1 Ghost Rider (review) (L) weighs in at 1591 grams; the Arai Quantum II (review) (XL) at 1624 grams; the Bell Star 2010 (review) (L) at 1628 grams and the Shoei X-Eleven (review) (XL) at 1635 grams.
Other helmets that might be shopped with the RX-Q include the Shark S900 (review) (L) at 1565 grams and the Arai Corsair V (review) (XL) at a hefty 1758 grams.
Arai goes on at length to discuss the lower center of gravity, smaller relative shell size and low weight of the RX-Q and I'd have to agree.
The helmet feels centered and not top heavy at all, which definitely adds to the overall comfort level, especially on longer and/or windy rides.
All of these weights are available on the wBW Motorcycle Helmet Weights page, along with a chart that lists the helmets by weight and shape on the wBW Motorcycle Helmet Shapes page.
Score:  I'll give the RX-Q an "Outstanding" for relatively low weight and excellent balance.
Miscellaneous
The RX-Q, like all Arai helmets, carries a five-year warranty. The chin strap uses double D-rings. Different sized cheek pads and liner parts are available for the RX-Q to allow a custom fit.
The RX-Q meets DOT and Snell 2010 safety standards in the U.S.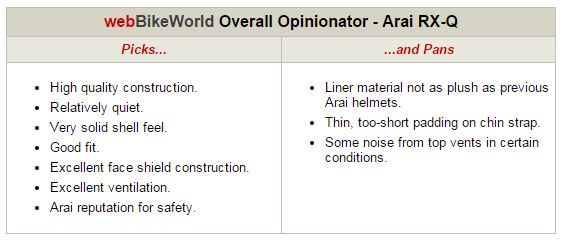 Conclusion
I've been very anxiously awaiting a replacement for my Arai Quantum II helmet with its "Round Oval" fit.
The good news is that the RX-Q is a suitable replacement. While it lacks the soft, plush liner and padding that was a hallmark of the Quantum, I'm pleased that this size L fits my very round head — even though in theory it shouldn't, as it is the Arai "Intermediate Oval" fit.
Apparently, Arai has discontinued its Round Oval helmets in the U.S.A.
The RX-Q is relatively light weight, has solid construction, an excellent seal between the face shield and eye port gasket and very good balance. It also has that Arai reputation for safety.
So I can suggest to Quantum owners that you may want to try the RX-Q as a suitable replacement. Perhaps Arai will develop another Round Oval helmet in the future, but in the meantime, the RX-Q deserves a look.
wBW Review: Arai RX-Q Helmet
List Price (2010): $545 to $675
Made In: Japan
Colors: Solids and graphics.
Sizes: XS to XXL Shell Sizes: 2
Review Date: May 2009
Note:
 For informational use only. All material and photographs are Copyright © webWorld International, LLC since 2000. All rights reserved. See the webBikeWorld® 
Site Info page
. Product specifications, features and details may change or differ from our descriptions. Always check before purchasing. Read the
Terms and Conditions
!
Owner Comments and Feedback
---
From "K.H." (July 2012): "First of all, thanks to wBW for providing such excellent gear reviews. I rely on them a lot.
I have been wearing bargain helmets for about 15 years now and for the most part, they have been OK, but not much to brag about.
But, on the other hand, I also didn't feel that any helmet could be worth the big bucks that some demand (Arai and Shoei come to mind). So, I kept plugging along with the cheaper helmets.
After a frustrating experience with an HJC IS-16 (review), I bought a used Shoei RF-1000 (review), just to see what these higher priced helmets had to offer without risking paying new price. The difference was like night and day. Love the RF-1000.
Since the RF1000 was used and I didn't know its history or manufacturing date, I decided to look for a replacement asap.
I was primarily looking for Shoei helmets, but a friend had bought an Arai RX-Q right before selling his bike and getting out of motorcycling and had never worn it.
So, I got a very good deal on a new Arai. Without that, I would probably never have considered an Arai due to the cost.
After about a week, I am very impressed. First of all, I have never had a helmet fit me so snugly that didn't give me pressure points or headaches. It is a good kind of snug, probably the safest kind of snug.
I agree with everything you have said in your review. My biggest nit would also be the rough helmet liner. Not terrible, but not smooth either.
But, after I have gotten a bit used to it, I have noticed something that might be a factor in why Arai made it a bit rougher. My old RF1000 is very smooth and plush inside.
But, I have to admit that the years of sweat and so forth have made it a bit "slick" inside, even after washing. It is like the "pile" of the fabric has been worn down and almost "polished".
Unfortunately, this sheen on the surface allows it to slide more on my head, even though the helmet fits really well. I wonder if Arai roughened up the surface a bit so that it does not slide or move on the rider's head?
Considering their focus on safety, it might be why they made that change. Perhaps wBW can look into that with Arai?
Fortunately, the rough interior is only noticed as I put it on and take it off. Mostly as I put it on. Once the helmet is on, the interior of the helmet really grabs my head and it isn't moving and feels just fine.
A good example is when I turn my head to do a check before merging or lane changes. My Shoei, even with a snug fit, will be pushed by the wind enough to move. The Arai doesn't budge a bit when turning my head.
Part of that may be the difference in how they fit (snugness), but part might also be the "grip" of the RX-Q interior fabric.
I have come to believe that helmet noise is often a result of fit as well as helmet design. Since my RX-Q fits snugly and has a very snug fit particularly towards the bottom of the helmet, I think it is the quietest helmet I have ever worn. Part of that is Arai's design and part is the fit.
I love the face shield (except for changing it) and how it doesn't have firm detents and allows me to easily move it up or down as little or as much as I want and it stays in place without having to notch into a certain place dictated by detents.
Plus, other helmets detents caused a lot of noise inside the helmet as you raise and lower them. It is nice to have the visor go up and down in total silence.
The venting is interesting. Very subtle, but it really works. Have been riding in 100-degree heat recently and have been much more comfortable in this helmet than any I have ever used.
I don't feel a big blast of air in particular spots, but do feel this continual modest, gentle breeze that seems to radiate throughout the helmet and not focused and blasting onto one spot.
I love how the brow vents send air to my temples and ear region.
Never had a helmet do that and it is so nice to get some ventilation to that area. The air from the chin vent can actually be felt (most of my old helmets didn't produce much air in that area on my fully faired ST1300).
As you move the chin vent through the range of its adjustments, it changes the direction of where the air goes from being primarily toward the shield to primarily towards the lips and chin without noticeably changing the volume of air.
Very nice to change the direction of the air and I can actually feel the change in direction.
I can't state enough how nice it is to have venting that works that does not focus and blast noisily onto one spot or two.
Some people complain about Arai not having a quick connect chin strap.
Personally, I like D rings better and feel I could trust them more in a crash situation than some of the quick connect latches I have seen on some helmets. Plus, they are nice to use with helmet locks.
All in all, a great helmet and I look forward to several years of use with it. It is built really well and I highly recommend it."
---
From "R.D." (March 2012):  "I also currently have a Quantum II that is going to need replacing soon. Like the author of the RX-Q review I have a round head and take an XL size.
However, my big problem with most helmets is helmet speakers. In most helmets, I can either have speakers or ears, but not both. The Quantum II size XL is just barely adequate, but I have been thinking about going up to the XXL in hopes of more ear room. I've used HJC and Shoei as well, but the Arai is so much quieter than those others I'd like to stick with them."
---
From "B.C." (02/11):  "Once again, thanks for hosting this site as the best open source helmet info on the web…. First impressions of the Arai RXQ:
The RXQ was my first big-dollar helmet purchase following four decades of riding with basically budget helmets. The fluorescent yellow model combined with the apparent safety rating was too hard to pass up. I expected to be thrilled. Hmmmm…..after using it about a week, it now sits in the closet awaiting a passenger that needs a loaner.
The Arai RXQ is a well finished and purportedly safe product, to be sure, but it fell well below my expectations. Prior to purchase, I went to an Arai dealer to have my noggin measured for a good fit. Just to be safe we consulted the sizing chart and upped one size to make room for the doo rag I usually wear.
Here's the bottom line, despite consulting a dealer to help size, the Arai RXQ didn't even come close to fitting. The cheek pieces were incredibly tight and there was virtually no room between my lips and the front of the helmet. It was so close that breathing was a problem. I've been riding for decades, have owned a TON of different helmets, and never had this problem before. Hmmm…
After pulling out the cheek pieces and removing all available yellow foam padding, I was able to get the helmet on…and surprisingly, the top half of the helmet fit tightly, with break-in, possible even comfortably. But the front to back dimensions for the lower half of the helmet remain incredibly narrow.
Here's the message, Arai RXQ helmets have a flattened front-back aspect, and the average Joe will struggle with sizing and comfort.
The lining materials in the Arai have a rough texture. After 2 days of pulling the Arai on and off I noticed a my cheeks and forehead were getting really tender. Both cheeks were missing enough skin to bleed. Yikes, that's never happened before….not even with cheap helmets. Hmmm..
Having wedged the RXQ onto my noggin, I took it out for several rides just to see what the Arai mystique was all about. Surprised yet again. it may not be the noisiest helmet I've ever owned, but it's right up there. I expected some reasonable noise damping from a helmet that cost this much. Nope. Hmmm….
Side to side visibility for the RXQ is great, but the lack of a padding ridge, lack of room for dark glasses and no built in shading mechanism made getting away from sun glare just about impossible in this helmet. It was a serious and unexpected detractor for all of my daytime rides. Hmmm…..
Considering the state of competition in todays helmet market, it seems to me that Arai is stuck somewhere in the mid 1980's with respect to innovation and design. For costing 3 times as much as similar Snell/DOT rated contenders, in my experience, there's nothing to recommend Arai for the general public. I really wanted to love the Arai RXQ, especially after laying out $500+, but honestly, the Arai mystique remains a mystery to me.
Editor's Note: Arai has a large selection of cheek pads and helmet liners in different thicknesses that may help you customize the fit. It sounds like your dealer may have led you astray with either the wrong size or wrong helmet. You may want to try an Arai Vector or Profile for comparison, or perhaps another brand of helmet?
---
From "D.K." (9/10):  "First of all I have to say your review of the RX-Q was spot on with my own experiences, having purchased an XL Quantum 2 last year and now a new Large RX-Q this year I found the exact same differences you wrote in your review, right down to the breath guard touching my nose.
I performed a back-to-back comparison and found the RX-Q to be significantly quieter than my almost new Q2, although given Arai's marketing claims, I was hoping for even less wind noise.
My RX-Q is painted Diamond Grey and I think the quality of the finish is very good, possibly better than the Q2 (in Silver Frost).
My one complaint with the RX-Q is that the face shield does not stay in position, the friction lock system is a bit loose and the face shield only has two positions, fully open or closed. I plan to call Arai tech support to see if they can help with this issue.
You commented on the roughness of the interior fabric which, while not as plush as the Q2, is still nice and doesn't feel cheap like in other helmet brands. The chin strap is fine for me but I agree that it could use a bit more padding for increased comfort.
Overall I like the RX-Q more than my Q2, not needing both I will be selling the Q2 before long. Thanks wBW for providing such unbiased reviews!"
---
From "R.T." (09/10):  "I just finished reading the Arai RX-Q helmet review and I would like to point out that new Quantum distributed here in Europe is not Quantum II you know from US but it is in fact RX-Q with round shape more suitable for customers in Europe.
I checked both Quantum II distributed in US and my brand new Quantum I just purchased in the Czech Republic and they don't match.
All vent mechanisms and vents positioning of new Quantum in Europe is identical to RX-Q in U.S. Also the new SAI shield (introduced with Corsair V I think) is used on both RX-Q and Quantum in Europe. BTW it might be good to point out that shields from older Arai helmets won't fit the new RX-Q.
I think that Arai just tailored the shape of new RX-Q in US and Quantum in Europe to fit majority of the customers in each region as otherwise the helmets are identical as far as I can judge from video and pictures on your web site and my Quantum.
Thanks for the great reviews that already helped me to choose the right gear more than once!"