Arai is a very popular Japanese company that is a leader in making world-class helmets. It is difficult to categorize a helmet maker as number one because the parameters for measurement are different.
Arai didn't want to be just another average helmet company, and that is when the innovation was incorporated in the helmet designs. The specialty of Arai helmets is that every helmet is specifically hand-built. Highest quality and safety guarantees are the special characteristics of Arai helmets. That is why it is one of the leading helmets chosen by top racers in the world.
The Arai Quantum X helmets review shows the unique features of this helmet that make it one of a kind and a good option to consider.
Benefits
The Quantum helmets from Arai are known for their protective technologies. Riders with a round head shape find it difficult to find a comfortable helmet, no matter how much money they spend on it.
The Quantum X helmets from Arai are exclusively designed for riders with a round head shape while every other manufacturer simply focuses on oval head shapes. The additional width inside the helmet and balanced length make this helmet very comfortable for riders who have a round head shape.
If you have an oval head shape, you don't have to worry as the fit can be customized with the interior liner. The Quantum X helmets are slightly pricey, and they can be purchased for around $650-$750.
Features
The Quantum X helmets are available in different versions such as Quantum X Box, Quantum X Shade, Quantum X Sting and Quantum X Hi-Viz. All these helmets share a similar profile, and they only differ slightly in terms of graphics and colors.
The Quantum X helmets are full-faced helmets that weigh around 3.6 pounds. It is one of the lightest helmets that you can find in this price range. All the premium features are present in this helmet, and you won't regret the money you spend on this helmet.
Build Quality
The Arai helmets are known for their superior build quality. The helmets are not machine made. Looking for absolute perfection will leave you disappointed. However, the handmade helmets are extremely well built, and unless you look very closely, you won't find any kind of discrepancy.
The build quality of Arai has not changed in several years. Arai continues to experiment with shell materials, and if you want a high-end fashion helmet, you have to look elsewhere.
The shell of Arai Quantum X helmets is made of Peripherally Belted Super Complex Laminate Construction (PBSCLC) fibers which reinforce the resilient shell around the base and sides of the helmet. This is great in energy dispersion during a collision.
Interior
The interior liner of Quantum X helmets are luxurious and everything you expect from a premium helmet. The cheek pads and interior liner are completely removable and washable.
The padding has anti-microbial Eco Pure liner material. If you need customization with cheek pads, you have to buy the Corsair X liner separately. To ensure a comfortable fit, Arai has used foam pads in different shapes.
The emergency cheek pad release tabs are useful to get medical assistance from emergency personnel in case of a collision. While removing cheek pads, you have to be careful because the liner is fitted differently compared to other helmets in the market.
Face Shield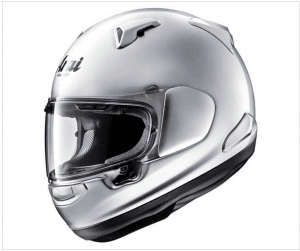 The new face shield introduced with the Corsair X helmets is also adopted for the Arai Quantum X helmets. The pivot axis point of rotation for the face shield is lowered, and it provides the best fit for street riders. This simple change enables Arai to create a smooth surface on the helmet.
The Variable Axis Shield (VAS) can be opened and closed easily using a superior latching system. It is different from other Arai helmets, and you may need some time getting used to it. The shield can be cracked open slightly in the anti-mist position to prevent fogging. The Max Vision provides superior visibility in all seasons, and it is useful in the 3/4th riding position.
The face shield doesn't come with an anti-fog coating. Instead, you can install Pinlock inserts easily with this Pinlock ready face shield. If you want to wear eyeglasses, you can wear it comfortably with this helmet.
Ventilation
The top and chin vents are adjustable, and Motorcycle Helmetsthe ventilation levers are easy to use. They are not what you might have experienced with other helmets, and it requires some time to get used to it.
Once you create muscle memory, you can open and close the vents easily. When closed, the vents create a tight seal protecting you from all kinds of natural elements.
You have to be careful while inserting the intercom system because the chin vent allows a lot of air inside and it can create unwanted background noise while you try to have a conversation.
Other Factors for Consideration
The absence of a sun visor could be a disappointment for some bike riders. However, it must be compromised to get the Snell rating.
The face shield changing mechanism is different compared to other helmets in the same category. However, with a few training swaps, you can change the face shield without the use of any tools.
You can manage wearing sunglasses inside the face shield or go for a dark tinted face shield instead. Many bikers prefer to have a photochromic face shield, but this design is yet to be incorporated by Arai. You cannot go wrong with the features that come with this helmet and you may purchase it without any hesitations.