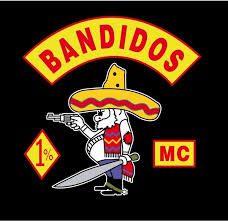 Queensland now claims to have the toughest anti-bikie laws in the world.
The Vicious Lawless Association Disestablishment Bill 2013 was successfully rushed through Parliament and passed at 2.50 this morning. That's less than 12 hours after it was introduced.
The purposes of the Bill (now an Act) are to "disestablish" declared outlaw motorcycle clubs by imposing extra jail time for office-bearing bikies, extended times before being eligible for parole and encouraging "snitches".
The Act must be reviewed in three years.
So what happens now?
Since these laws constitute a basic denial of human justice they are bound to be contested actively in the courts, tying up the legal system for some years. The outlaw gangs certainly have the money to afford expensive and protracted legal representation.
Other states have tried similar crackdowns and had them overturned in the High Court.
Now it's Queensland's turn to go through the lengthy and expensive process.
The Government has also introduced the Tattoo Parlours Bill and the Criminal Law Criminal Gangs Destruction Amendment Bill that provide an extra 18 months' jail for any member of a criminal motorcycle gang found to own or operate a tattoo parlour, and up to seven years jail for those members who gather in groups.
However, these new laws are all about punitive measures when the bikies are arrested. It doesn't give the police any more power, intelligence, assistance or funding to actually investigate or arrest the bikies.
The only action taken to make criminal life more difficult comes under the Criminal Law (Criminal Gangs Disruption) Amendment Bill which has declared 26 clubs as criminal organisations. (Declared gangs and clubhouses are listed below.)
Members are banned from attending their clubhouses and hanging out in groups of three or more. They are also banned from promoting or recruiting for their clubs.
So what will happen is the outlaw gangs will take off their colours, go underground, move their meeting places, disguise themselves and, if cornered, fight it out rather than going to jail for extended periods.
There may even be more blood on the streets than there is now.
Certainly criminal bikies are not going to roll over and say, "ok, I'll stop being naughty because you are going to stand me in the naughty corner for too long".
Meanwhile, the demonising of leather-clad riders on big, black motorcycles will flow through to the general, law-abiding motorcycle community.
Those law-abiding recreational motorcycle riders are going to have to put up with road rage, misguided community anger and police harassment as the boys in blue try to sort the good riders from the bad bikies.
At present, many riders don't see that they will be inconvenienced at all. That's why we still only have 3597 signatures on our online petition (click here to sign) and a few hundred on circulated paper petitions.
I hope law-abiding riders are not harassed and otherwise inconvenienced.
However, there are already enough riders complaining about road rage and police harassment that indicates my hopes may be in vain.
Gangs declared criminal organisations: Bandidos, Black Uhlans, Coffin Cheaters, Comancheros, Finks, Fourth Reich, Gladiators, Gypsy Jokers, Hells Angels, Highway 61, Iron Horsemen, Life and Death, Lone Wolf, Mobshitters, Mongols, Muslim Brotherhood Movement, Nomads, Notorious, Odins Warriors, Outcasts, Outlaws, Phoenix, Rebels, Red Devils, Renegades and Scorpions.
Clubhouses/ businesses where gathering is now illegal: 11 Frodsham Street, Albion; shop 5/1 Thorsborne Street, Beenleigh; 6 Enterprise Street, Boyne Island; shed 14/136 Aumuller Street, Bungalow; 200 Hartley Street, Bungalow;
1/16 Ern Harley Drive, Burleigh Heads; 34 Lemana Lane, Burleigh Heads; unit 3/7 Lear Jet Drive, Caboolture; 104 Spence Street, Cairns; unit 3/37 Caloundra Road, Caloundra West; shed 1/5 Garema Street, Cannonvale; shed 4/11 Ryecroft Street, Carrara; 31 Selhurst Street, Coopers Plains; unit 7/12 Hayter Street, Currumbin Waters; unit 5/17 Cottonview Street, Emerald; 11 Greer Lane, Eumundi; shed 3/85 Hanson Road, Gladstone; unit 3/31 Tradelink Drive, Hillcrest; unit 5/29 Pound Street, Kingaroy; 15–17 Avian Street, Kunda Park; unit 5/1 Chain Street, Mackay; 4 Keats Street, Mackay; unit 4/55 Cronulla Avenue, Mermaid Beach; 4 Ellen Street, Moorooka; 31 Unwin Street, Moorooka; 1 Zena Street, Mt Isa; unit 2/12 Lawrence Drive, Nerang; unit 5/144 Eumundi Noosa Road, Noosaville; 2 Millchester Road, Queenton; 26252 Peak Downs Highway, Racecourse; shed 12/13 Turley Street, Raceview; 36 East Lane, Rockhampton; unit 1/26 Rowland Street, Slacks Creek; unit 2/8 Proprietary Drive, Tingalpa; shed 4/14 Civil Court, Toowoomba; 209 James Street, Toowoomba; units 3 and 4/82 Leyland Street, Townsville; 29 Matheson Street, Virginia; 81 Ingham Road, West End; and 391 Montague Road, West End.