Our series on Alpinestars gear for hot weather riding concludes with a look at the Alpinestars Street Cargo Pants, which are sort of a cross between street jeans and mesh motorcycle pants.
The Cargo Pants can be purchased one size small, as these were, for wearing solo, but they're also designed to be worn as overpants if they are ordered at the normal waist size.
I've been mixing and matching summer gear lately, comparing the differences between the Alpinestars Air-Flo Mesh Pants, the Ergo Painter Pants (jeans) and the Street Cargo Pants shown here.  The weather has remained super hot and humid, exactly the right conditions to evaluate these type of alternatives to leather.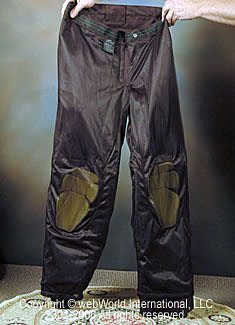 When the temperature reaches about 90 degrees F it really becomes just too uncomfortable for motorcycle riding no matter what type of clothing I'm wearing.  Even full mesh jackets and pants eventually reach the limits of comfort.
When it gets that hot, I'll admit that jeans may be the only way to go.  But I'm just not sure where these Street Cargo Pants fit in.  They don't have the air flow properties of mesh and they're much heavier than jeans.  The Polyester fabric blocks most of the air that might help cool the rider.
Perhaps they will work better in a narrower range of temperatures, like during the beautifully extended fall weather we get here in the Mid-Atlantic.  But then I'll probably be back to wearing leather anyway…
The Street Cargo pants are comfortable enough for what they are.  They're made from 100% Polyester fabric, with a full-length (and also 100% Polyester) permanently attached fabric liner.  I don't want to know what might happen to my skin with a coating of melting Polyester during a slide, so on second thought, perhaps it is more sensible to wear these as overpants?
The waist is cut like a pair of street jeans.  It has belt loops, slash hand pockets in front, a zipper and a single metal button snap at the waist.  The waist has no elastic, which is a shame.  I normally take a size 36″ waist and ordered these to fit by themselves.  They're a size 34 and they fit comfortably.
There is a touch of elastic in the back of the pants just below the waist.  This elastic is covered with a fabric flap that I guess is also designed to allow some air venting.
They do have a bit of styling flair with their cargo pockets on each leg, to the side and above the knee.  There's a sort of strange opening just below the cargo pockets that I guess is supposed to allow air to flow up the rider's thigh, but I don't notice this happening when I'm riding.
The pants do have a side zipper that starts down at the ankle and opens up to the knee.  This is presumably to allow easier ingress and egress when they're worn as overpants.  Two sections of Velcro, one at the cuff and one about mid-calf, keep the leg opening fastened.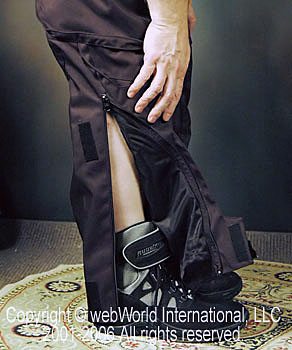 The legs are not tapered and they are shaped with a kind of stovepipe effect that gives enough room down below.  The cuffs are too wide to tuck in to riding boots, but they work well with something like the Kochmann Scout boots, which unfortunately are too hot to wear in temperatures over about 80 degrees or so.
The Street Cargo pants have removable CE-approved armor in the knees but there is no other armor or padding anywhere in the pants.
The Cargo Street pants can also be worn with the Alpinestars T-Stunt 2 mesh jacket or the Alpinestars ACR Air-Flo jacket but the pants do not have an attachment zipper.  Also, you may want to also take a peek at our reviews of Bohn Underwear Body Armor and Knox Cross Sport Shorts.  Both of these work great under jeans or pants like these.
Conclusion
I'm not sure what else I can say about the Alpinestars Street Cargo pants.  As you can tell, I'm not really thrilled with either the design or the way they function.  They seem too constraining for hot weather use and I'll be wearing something with more protection when the weather gets cooler.
However, that's just my opinion.  I do like the styling and they will probably work well as a pair of knock-around pants for casual riding.  They might also be a relatively good compromise for long distance adventure riding.
By the way, sorry about the poor quality photos.  Our Nikon D70 died; apparently there are a batch of the originals that have a problem.  Nikon's fixing it for free and we hope to get it back in time for the next review
Note:  For informational use only.  All material and photographs are Copyright © webWorld International, LLC – 2000-2011.  All rights reserved.  See the webBikeWorld® Site Info page.  NOTE:  Product specifications, features and details may change or differ from our descriptions.  Always check before purchasing.  Read the Terms and Conditions!
Product Review:  Alpinestars Street Cargo Pants

Available From:  Alpinestars
Suggested Retail Price:  $119.95
Colors:  Black.  Sizes:  28″ to 38″ waist.
Made in:  China