Alpinestars SMX6 v2 Vented Boot Review
Review Summary
To put it bluntly, the Alpinestars SMX6 v2 Vented boots need to be in your gear set considerations, if not already in your gear set, if you ride a sportbike of any kind. They flow just enough air to keep your feet cool, especially when combined with sweat-wicking moto socks, and are immensely supportive without feeling like your foot is in an overly stiff boot. 
Materials & Build Quality
Pros
Extraordinarily comfortable after just an hour or two of wearing in
Snug, but not to the point of feeling like it's squeezing your foot
Almost 360 degrees of protection
Flows just enough air in every situation to keep your feet at a comfortable temperature
You can definitely feel the powersports/racing pedigree that the boots descends from
Cons
Not waterproof
Nothing else I can find. These are very good boots
In the world of motorcycle gear, a lot of emphasis is placed on helmets and jackets. This isn't a bad thing by any measure, as those are two of the most important areas to protect. However, a lot of people miss out on the fact that their feet are just as, if not more so, critical to protect. How often have we all seen someone out there riding in a nice helmet, great jacket, good gloves, but they're wearing sneakers or hiking boots on their feet?
When it comes to protective equipment, there really isn't any room for compromise. In fact, during most motorcycle crashes, your lower extremities, namely your legs and feet, are far more likely to be injured, be it from the bike falling on you or impacting the curb, getting hit by another vehicle, or landing on your feet after a highside. You need reliable, high quality gear, which is why when I was given the opportunity to test out the Alpinestars SMX6 v2 Vented boots, I didn't even need to think twice about it, especially as Calgary, Alberta, Canada's weather is… volatile, to say the least. It could be a heat wave one day, and then snowing the next, even in Summer! 
About Alpinestars
Alpinestars was established in 1963 in the small Italian town of Asolo. Commitment to innovation has led Alpinestars to become a world-leading manufacturer of professional motorsport racing products, motorcycling airbag protection, high-performance apparel, technical footwear, and helmets. They are also involved in many forms of motorsports, including top tier series such as Formula 1, NASCAR, MotoGP, World SBK, AMA Supercross and Motocross, MXGP, Dakar, MotoAmerica, and more has led.
Their motto is: "One Goal. One Vision." Innovation is key to this, and they strive to constantly improve their products for customers of all levels, from the casual rider to the weekend racer and beyond. That One Goal is to protect riders and drivers, and that One Vision is to do so with the most advanced, high tech, and high performance gear possible.
The Alpinestars story is well worth a read. See their story at About Alpinestars.
About webBikeWorld's Review Policy
This product was provided at no cost by Alpinestars via our partner RevZilla for this review. Despite our affiliate relationship with RevZilla, we do not allow brands to influence review scores or content. Please see our review policies for more information.
We here at webBikeWorld believe that you can't just try something out once and give an honest opinion of it. Any product we test is actually used by our testers, and as such, I have used the Alpinestars SMX6 v2 Vented boots as my only riding boots this season including June, July, and August of 2023.
Alpinestars SMX6 v2 Vented Boots Features, Fitment, & Comfort
Features
One of the standout features of the Alpinestars SMX6 V2 boots is, as it says on the label, their ventilation system. Prior to these boots, the only pair I had were waterproof touring boots, namely the Forma Trace boots. In hot and sunny weather, having my feet in those boots led to them getting quite warm, even hot. As a result, as your feet help moderate your body's temperature, it was not uncommon for me to get home from a ride absolutely drenched in sweat.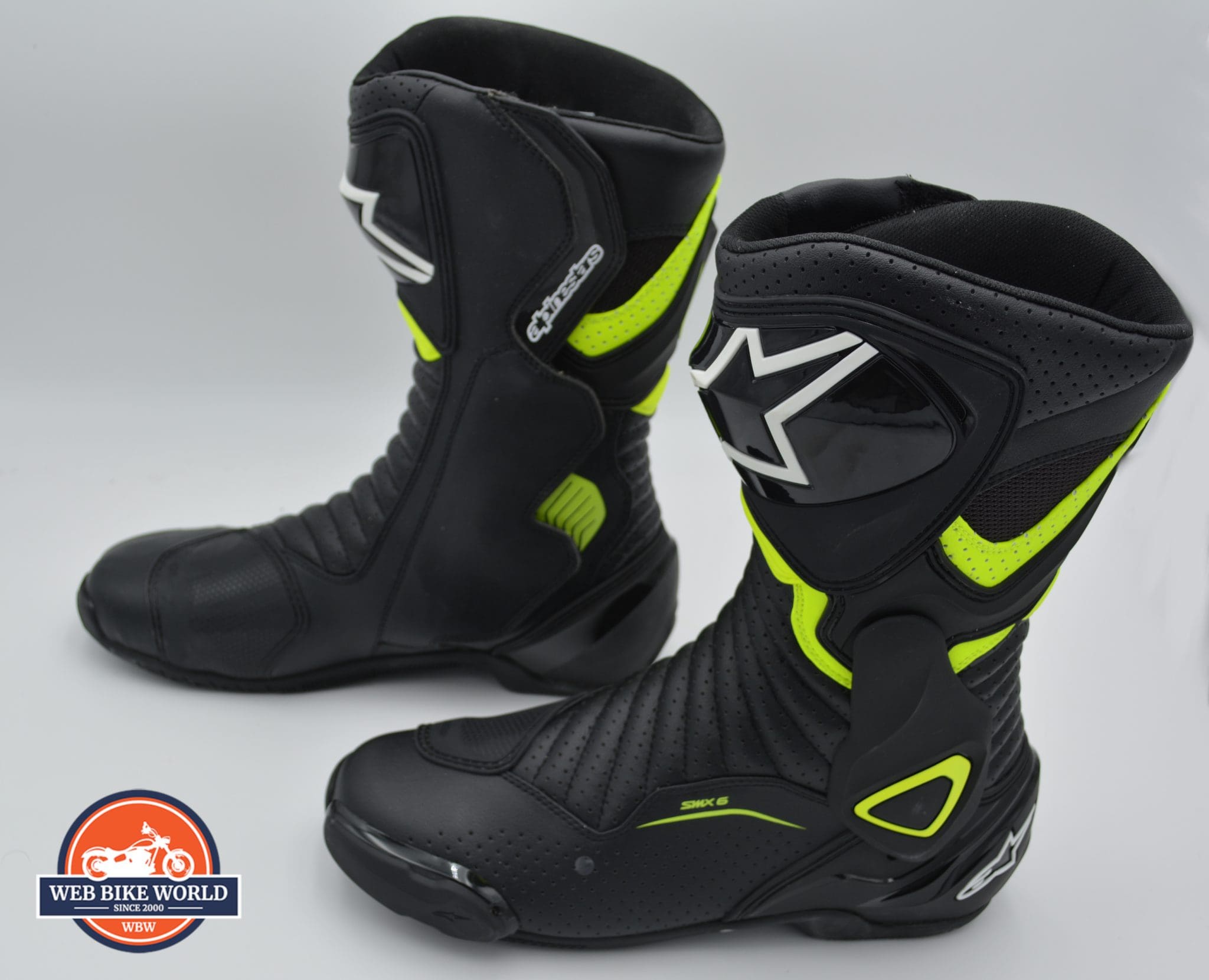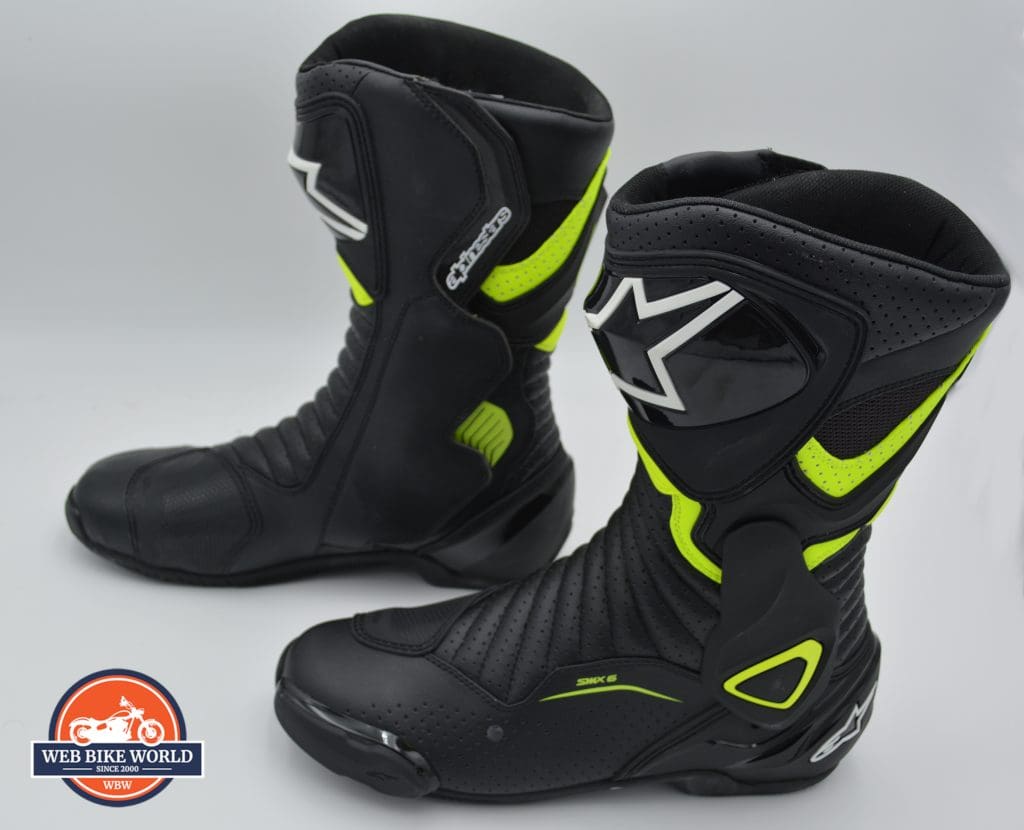 These boots, however, are equipped with a vented design that allows ample airflow to keep your feet cool and dry, and even when standing beside the bike, they allow for heat to escape by being highly breathable.
The boots are constructed with a blend of materials that provide both protection and flexibility. The TPU protection on the shin, calf, heel, and ankle areas offers an almost 360 degree aspect of protection.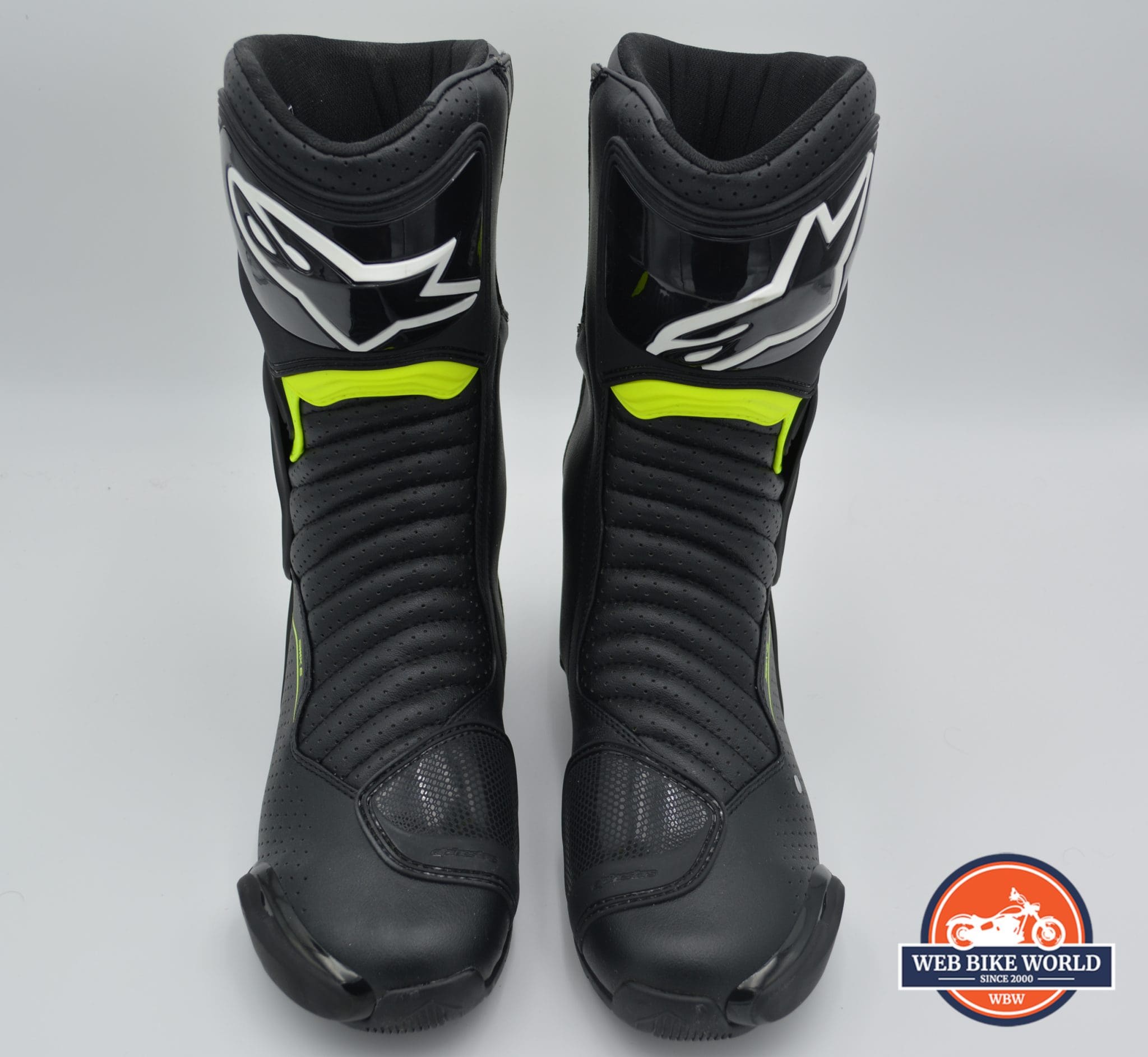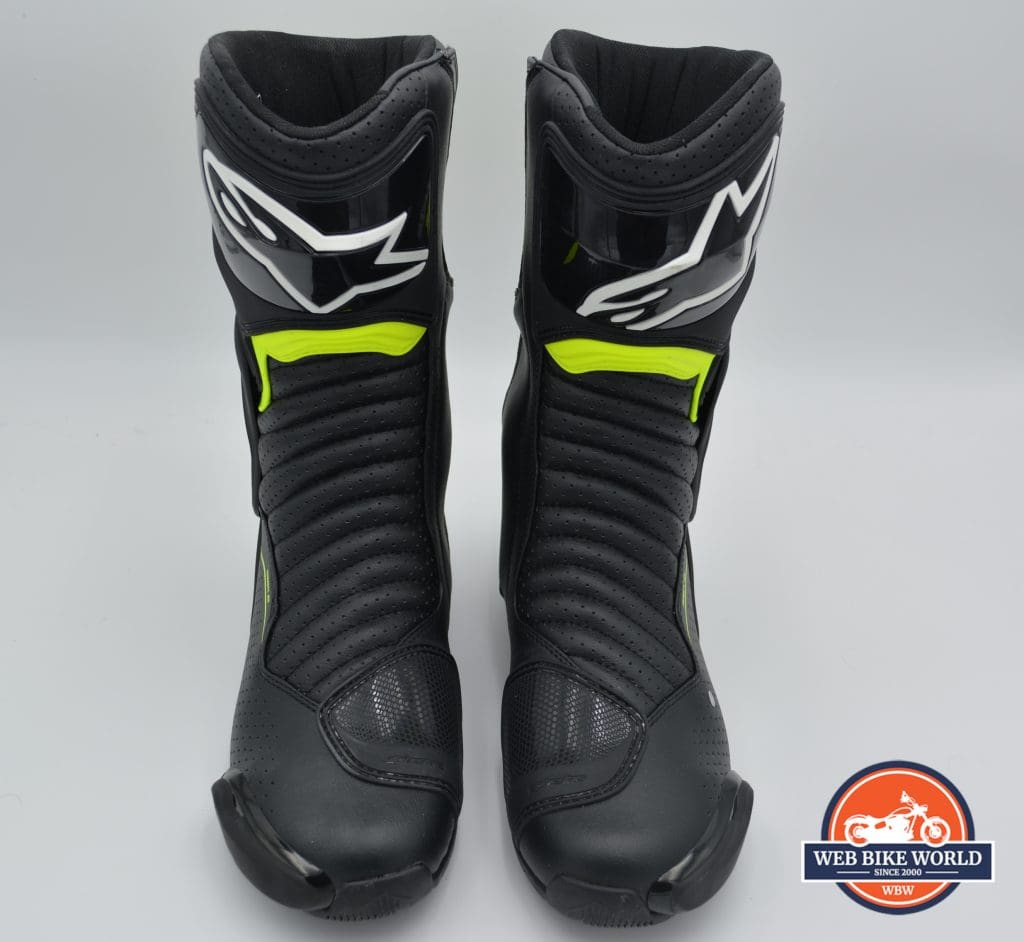 It should be noted here that the ankle armor of the boots is internal, while the external support acts as an anti-torsion exoskeleton to prevent your foot from twisting should you come off the bike. As well, all of the armor on the boots is certified to CE EN 13634 Level 2 standards, meaning that they are valid for track-day use.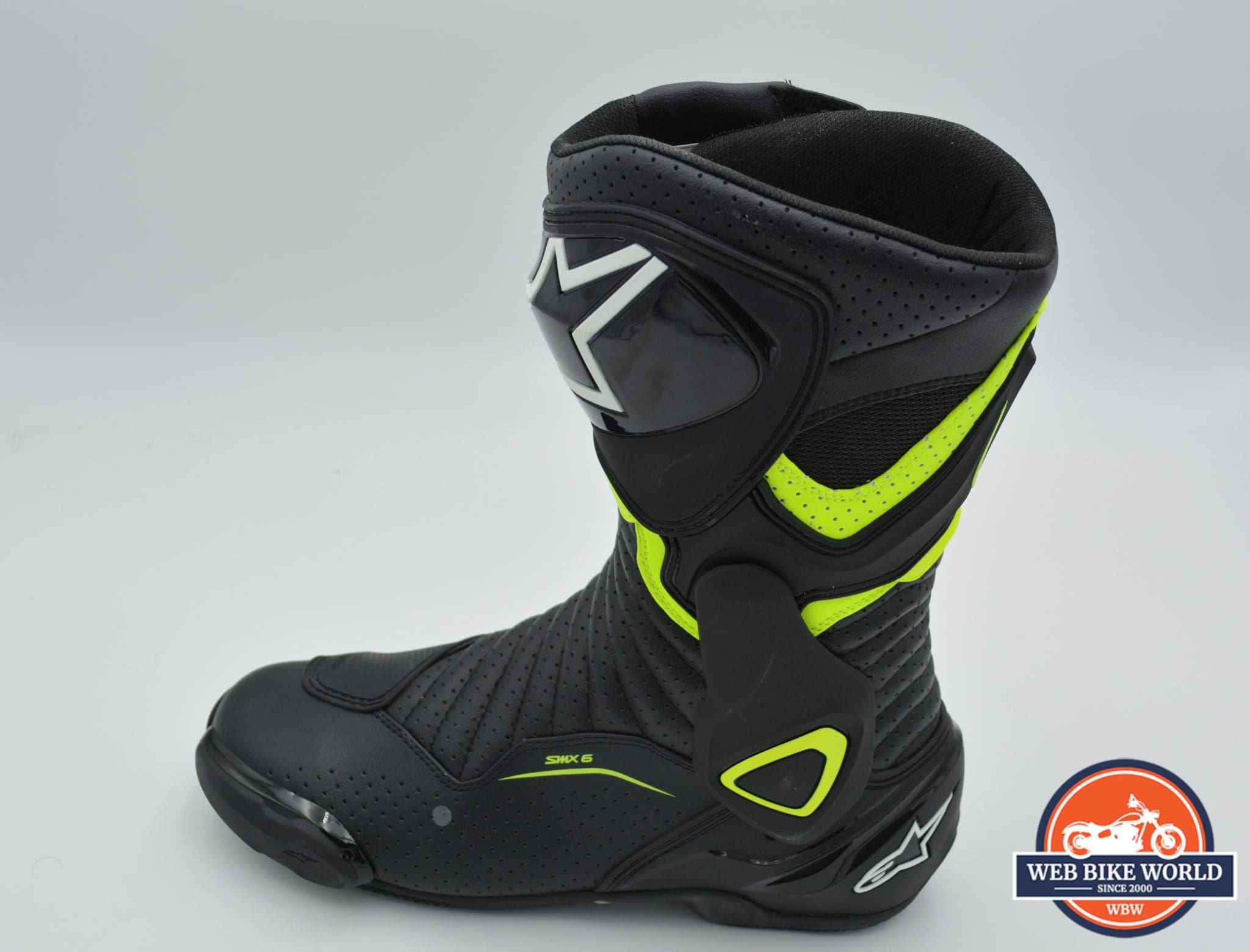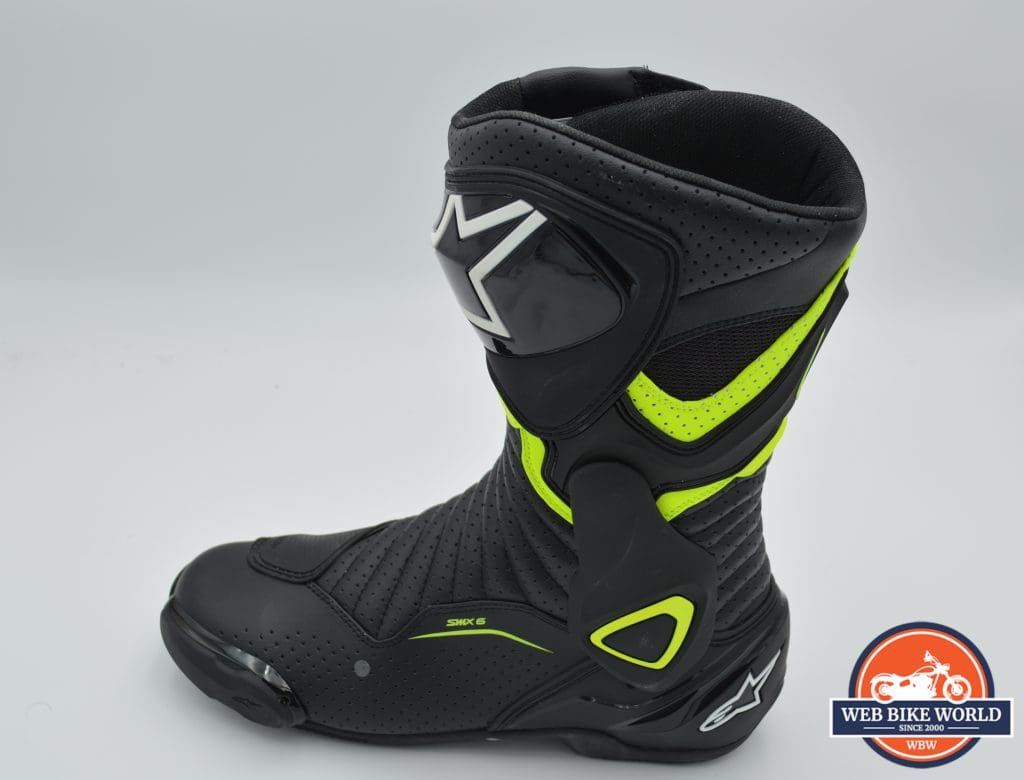 Also included in terms of armor are removable/replaceable toe sliders, and an integrated shank support in the sole to offer excellent rigidity while also remaining flexible. Several accordion zones around the ankle and heel allow for comfortable walking in the boot, without compromising on protection.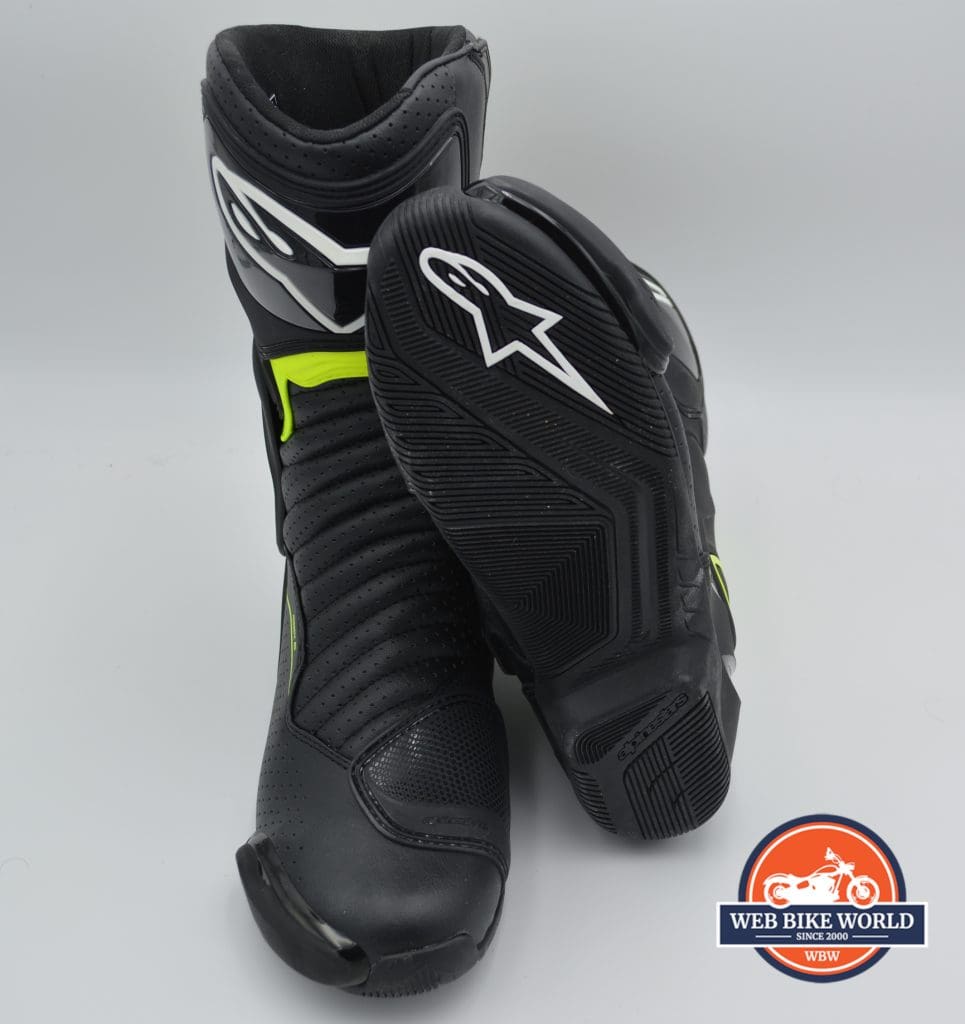 The sole of the boot is made of anti-slip rubber material, and features an angular pattern that provides excellent grip on both the ground and on pegs. It also passes up into the heel, which has a reinforced area that provides extra stability for when you have your foot down on the ground while astride your bike. It's something I never even thought about, but now that I've felt how it works, it just… works.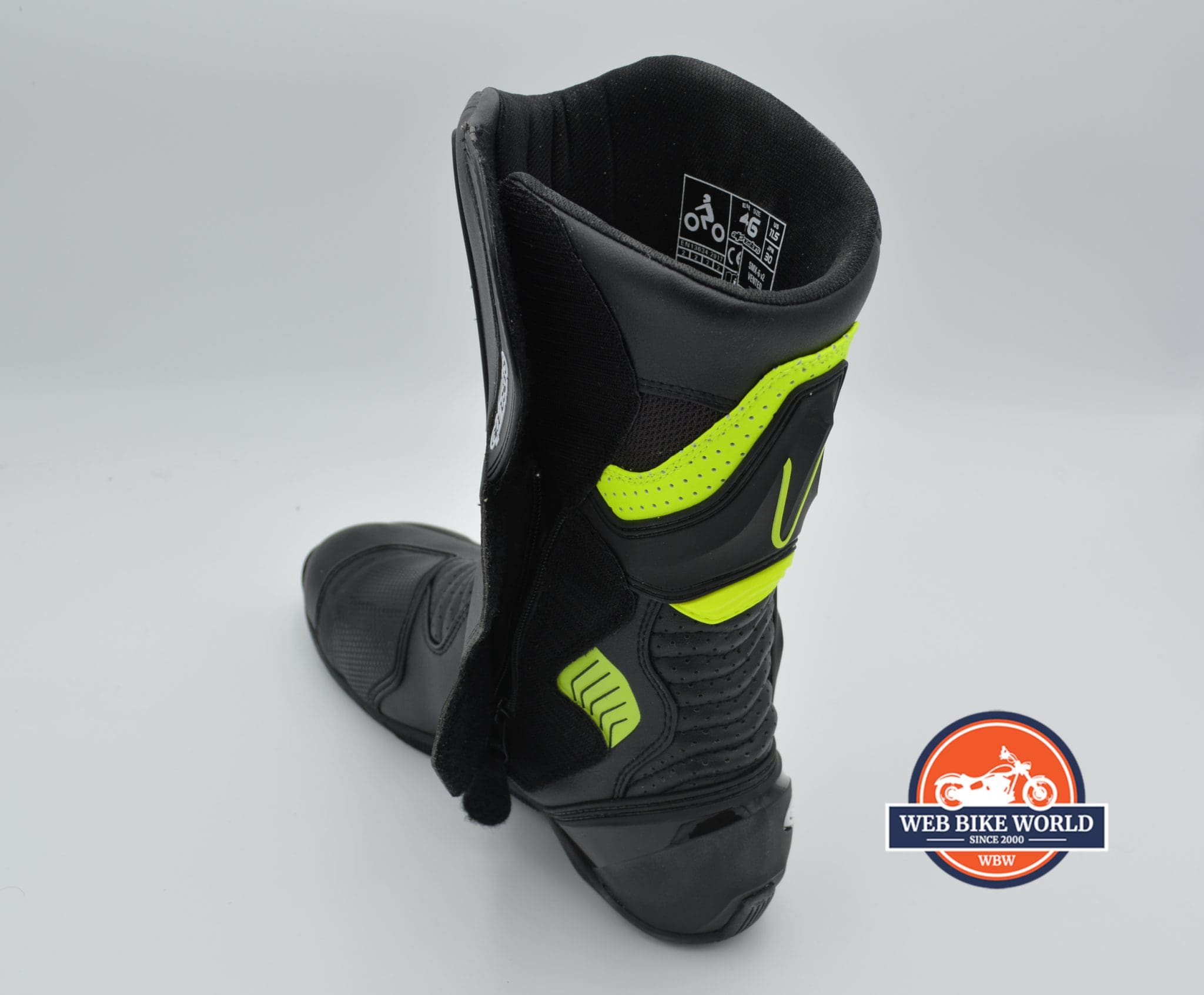 The closure system is double locking, in that an ankle height zip snugs your feet into the boots, with the zip carrying a Velcro tab that locks it into place, over which you close the calf flap, which sandwiches the tab between the Velcro pads that hold it closed. This prevents the zip from slipping down, as well as locks in the calf and shin protection.
The boots are made very well, too. There are no loose seams, and everything feels very solidly built and attached. The boot is made entirely of microfiber synthetic leather and microfiber soft-touch cloth on the inside, with some lycra zones for stretch and breathability.
Fitment
I am a Euro size 46, as that is the sizing Alpinestars uses. Initial fitment was very tight, to the point I had to use a shoehorn to get my foot all the way into the boot. Wearing them around the house for just an hour, however, they stopped feeling stiff and tight, and started to fit in what I would label as "snug."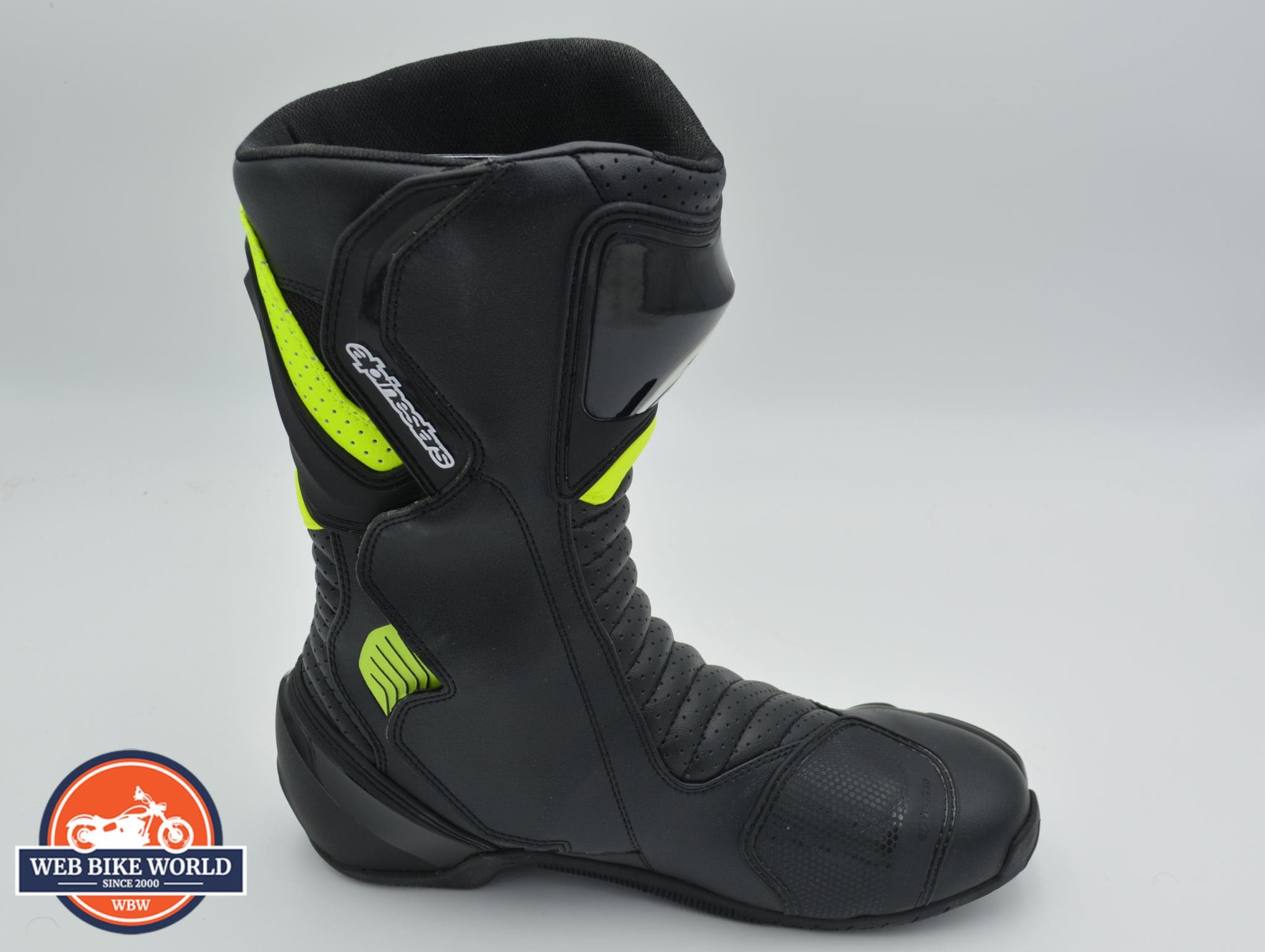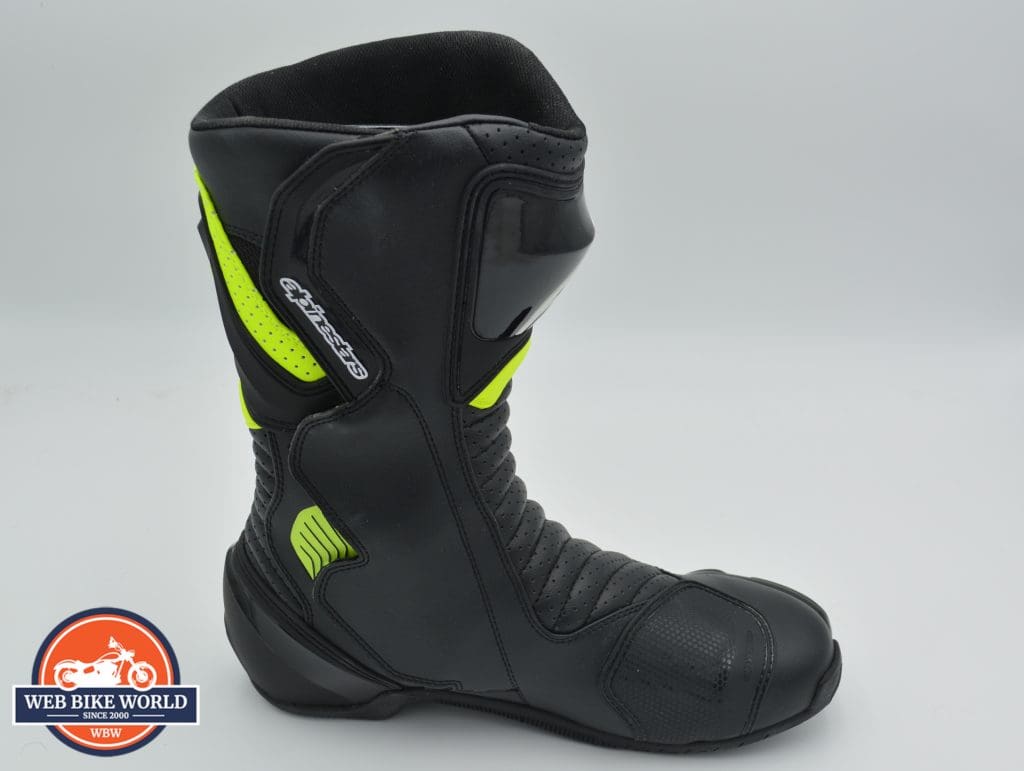 That initial stretch-in of the boot seems to have been the only wear needed, as the next time I went to put them on, my foot slid home without issue. I should mention here as well that I wear motorcycle socks whenever I go riding, and as they are slightly thinner than your average everyday sock, that possibly aided with fitment.
The zip does hold the ankle quite snugly, but it's in no way uncomfortable. In fact, even comparing the boots to my normal everyday shoes, it is probably the best fitting piece of footwear I own!
What really seals the deal, if you'll pardon the pun, is that the calf closure is fully adjustable. Just pull the flap over the Velcro area until it is snug, then press it together and it doesn't budge. Even when you flex your foot in every which way, there is no sound of the Velcro tugging or adjusting, it just holds it nice and firm.
Ventilation & Comfort
As I mentioned above, these boots conformed to me after just about an hour of wear in, and even after nearly two months of riding, they still fit just like they did after that first day. The insole is soft but supporting, and the boot as a whole, after you get on your bike and start riding, gives you a great feeling of being there, but not at all in a "My boots are too tight" way. Indeed, it is much more in the "My feet are safe and protected" sense.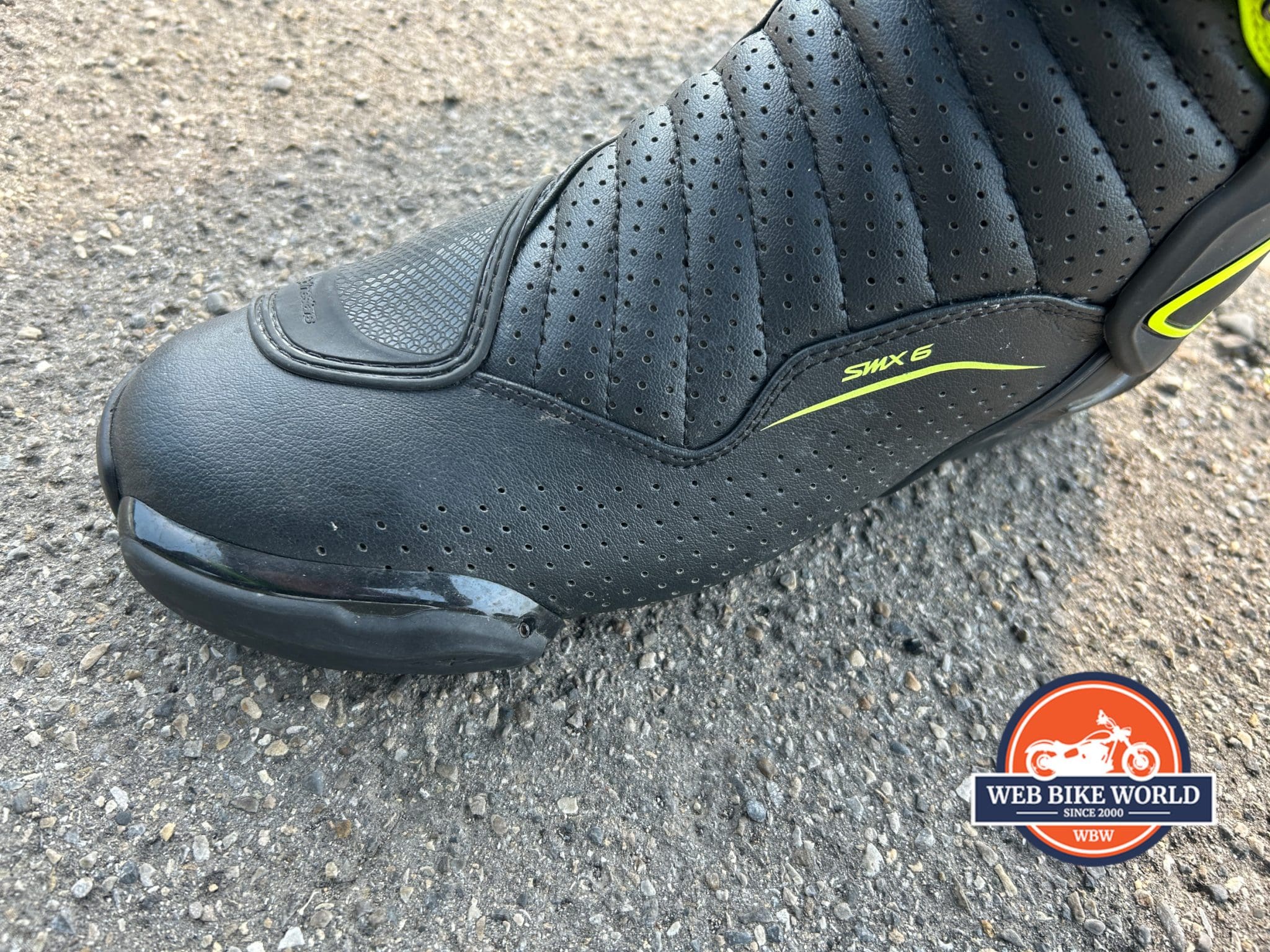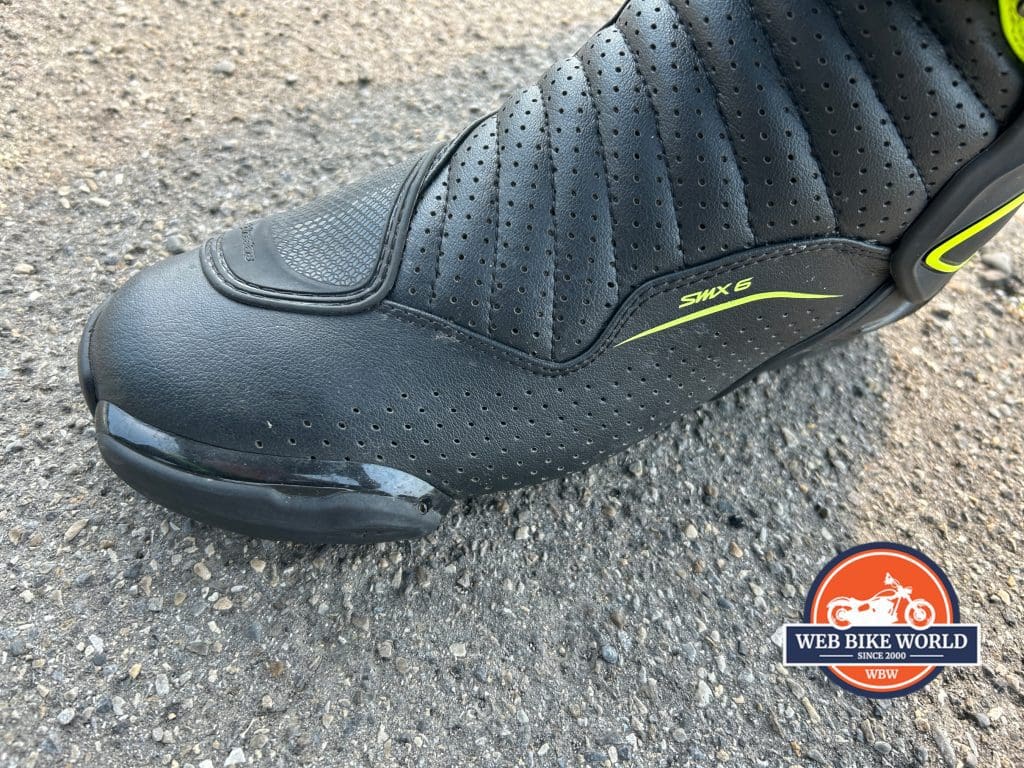 In terms of ventilation, only the main body, that is the sides and upper of the foot, are ventilated. The shin guard and calf areas are so covered in armor that there really is no room for ventilation, but the accordion flex zone on the upper is ventilated as well. 
The ventilation isn't as much like how a mesh jacket works, passing air completely through with little to no resistance. It appears to function a lot more like how perforated leather jackets work, in that the heat escapes through the perforations and is carried away by the wind. As I will discuss in a moment, the only time I really felt like wind was passing through the boots was when up to appreciable speed.
The Alpinestars SMX6 v2 Vented Boots In The Real World
In the timeframe I was wearing these boots, I experienced pretty much every type of weather Calgary has to offer. I had a couple of days on the bike when it was well above 30 C (86 F), and on one day I was caught in a hailing downpour that came from a rapidly formed storm cell which led to a tornado North of the city!
I also had many days when the temperature was moderate and seasonal, hovering between 20 to 30 C (68 to 86 F), and through it all, the boots performed perfectly.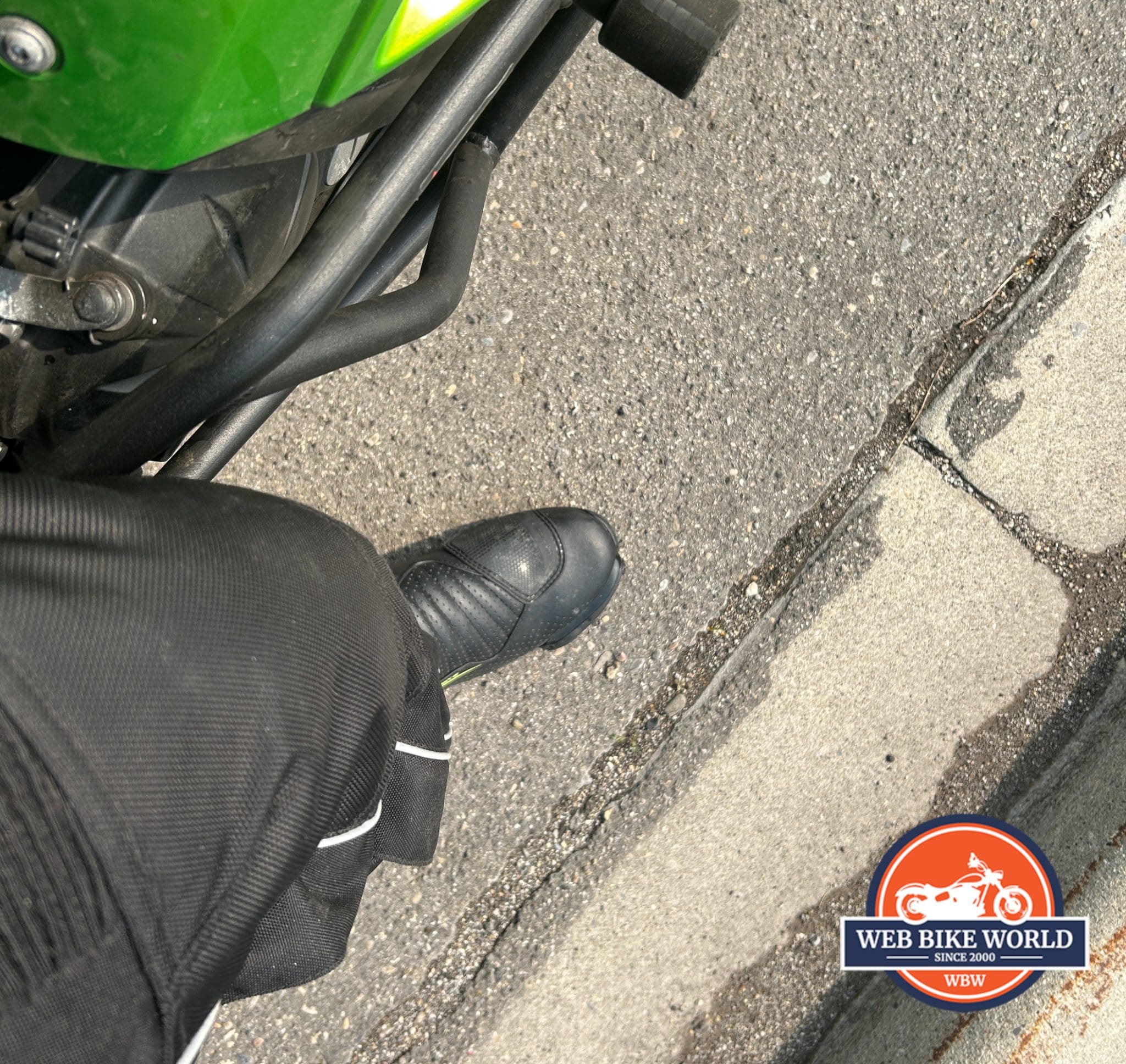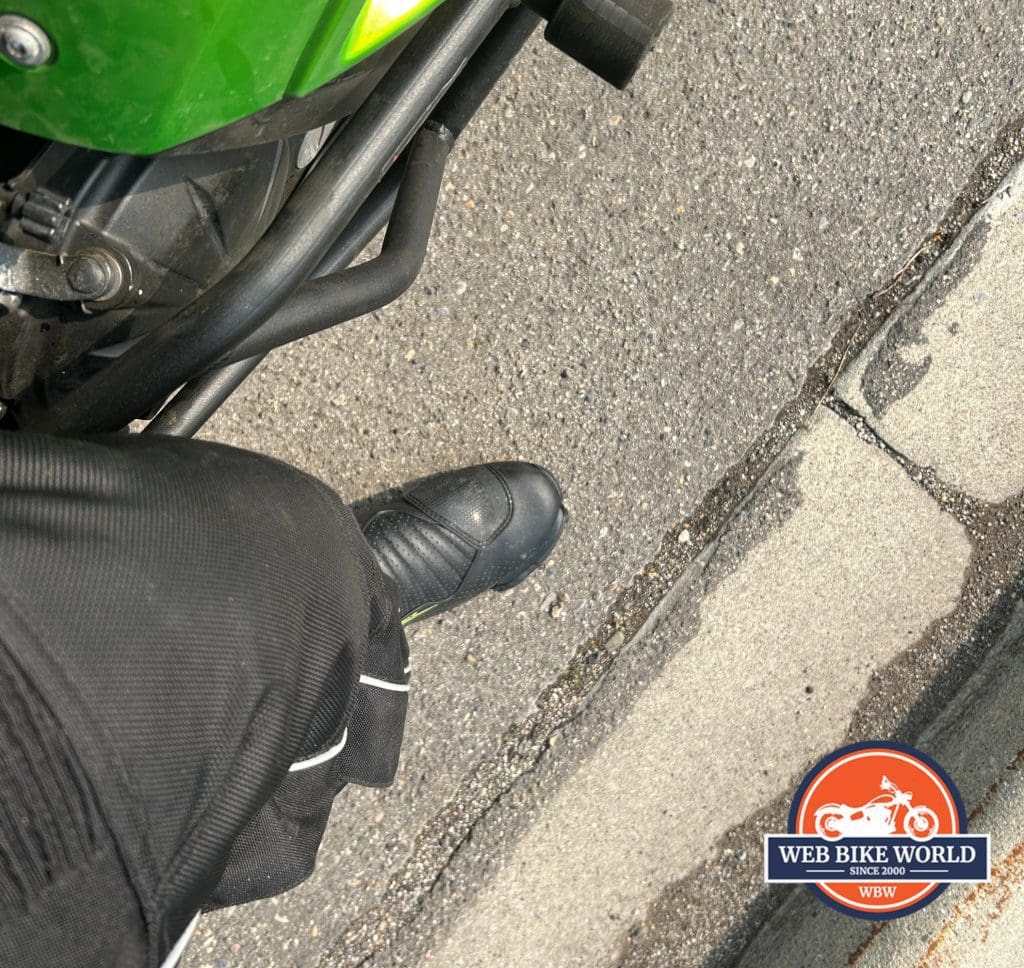 I will note, as the boots are not waterproof, that during the downpour I was caught in, I felt my feet get only very slightly wet, and mostly from the spray my front wheel was kicking up. As I ride a sport tourer, a 2012 Kawasaki Ninja 650, my toes were pointed forward and down, so the top of my feet were naturally exposed to the spray. On a standard style or ADV bike, I would wager a small amount of money they wouldn't have been half as wet.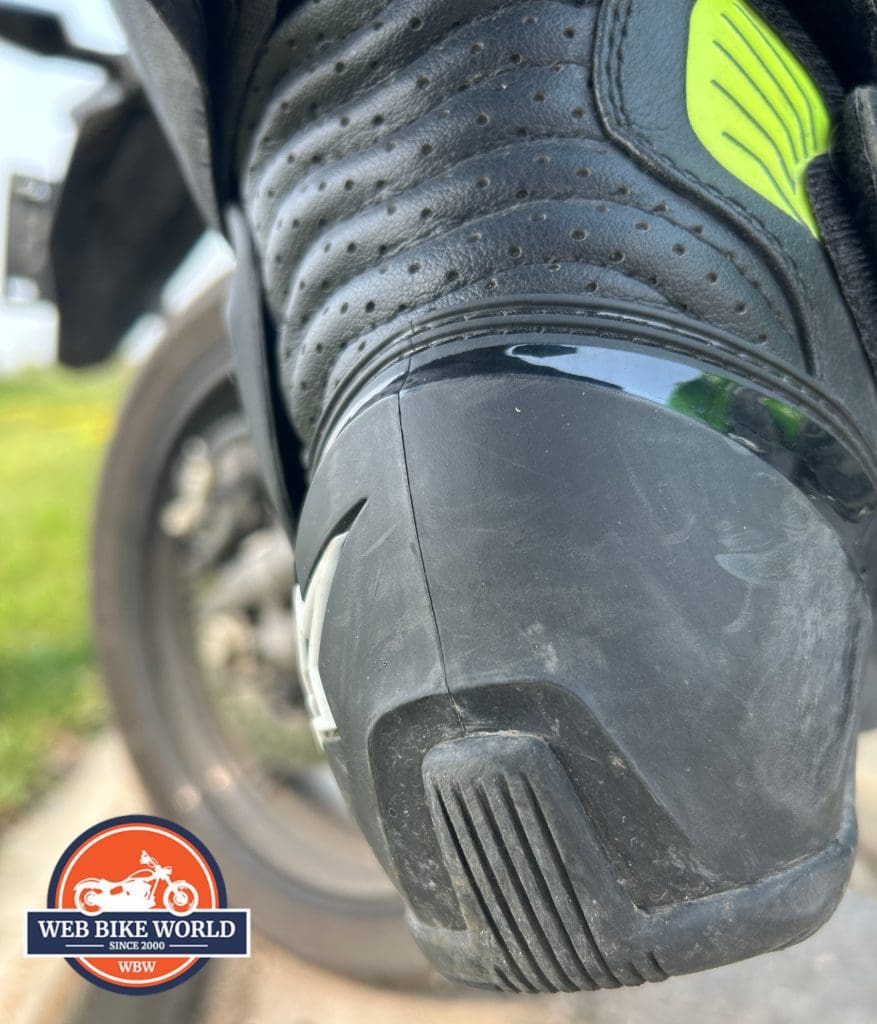 Still, the ventilation did prove itself again once the rain stopped, as I could feel the moisture getting slowly dried by the airflow through the boots. It was, honestly, one of the few times I could feel just how much air flowed through the boots. It is quite impressive to feel the wind just gently wicking away the moisture, and although it did make my feet temporarily cold, as I was wearing riding socks they warmed up rather quickly once most of the water had been wicked away.
The only other times I felt the air passing through the boots was when I was on the closest thing we have up here to a freeway, which is the Ring Road around the outside of the city that has a speed limit of close to 70 MPH (~110 KPH). Once up to that speed, it felt like someone was pointing a hair dryer at my feet… from about 10 feet away.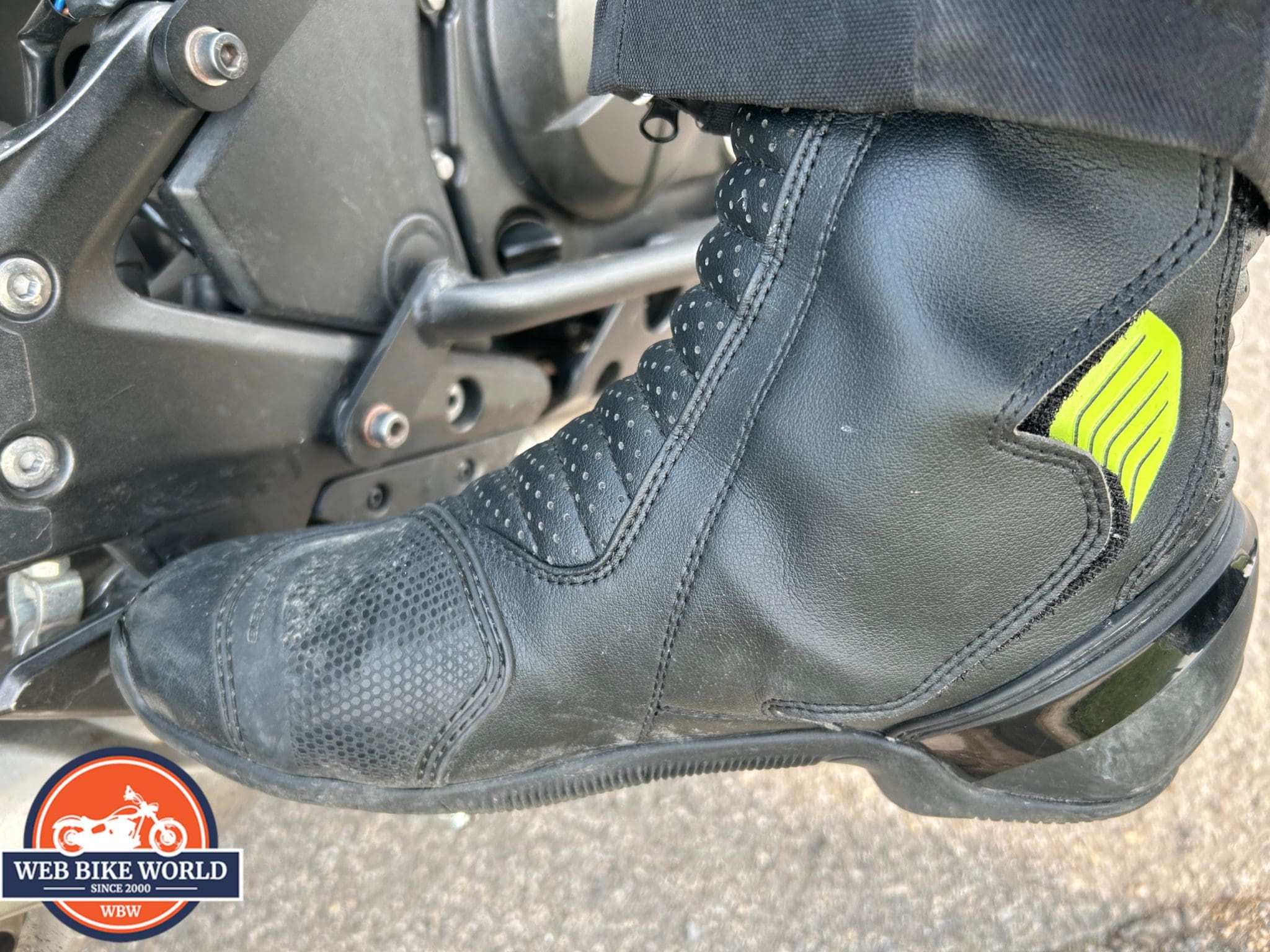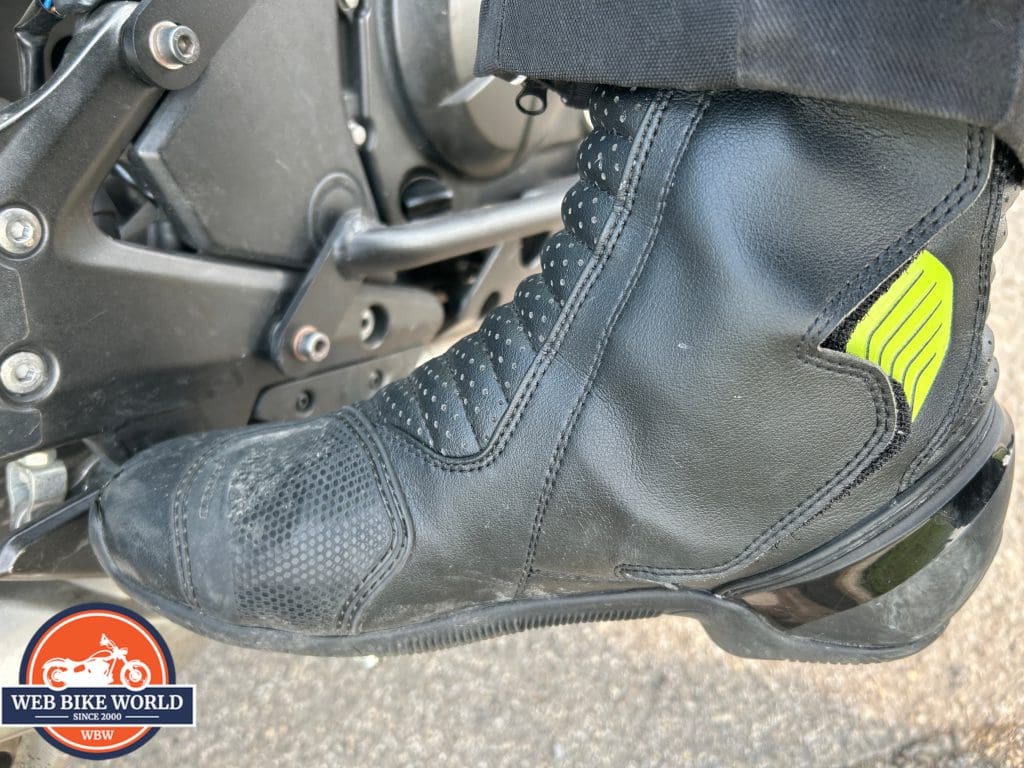 It was just enough airflow to penetrate the perforations and circulate around the foot, but it wasn't at all distracting. It was more of a "Oh, my foot is feeling rather nice and warm instead of sweaty and hot" sensation, and only really when I kicked down on the shifter did I even really get a "blast" of wind, and at that it was more like a mild cough of air.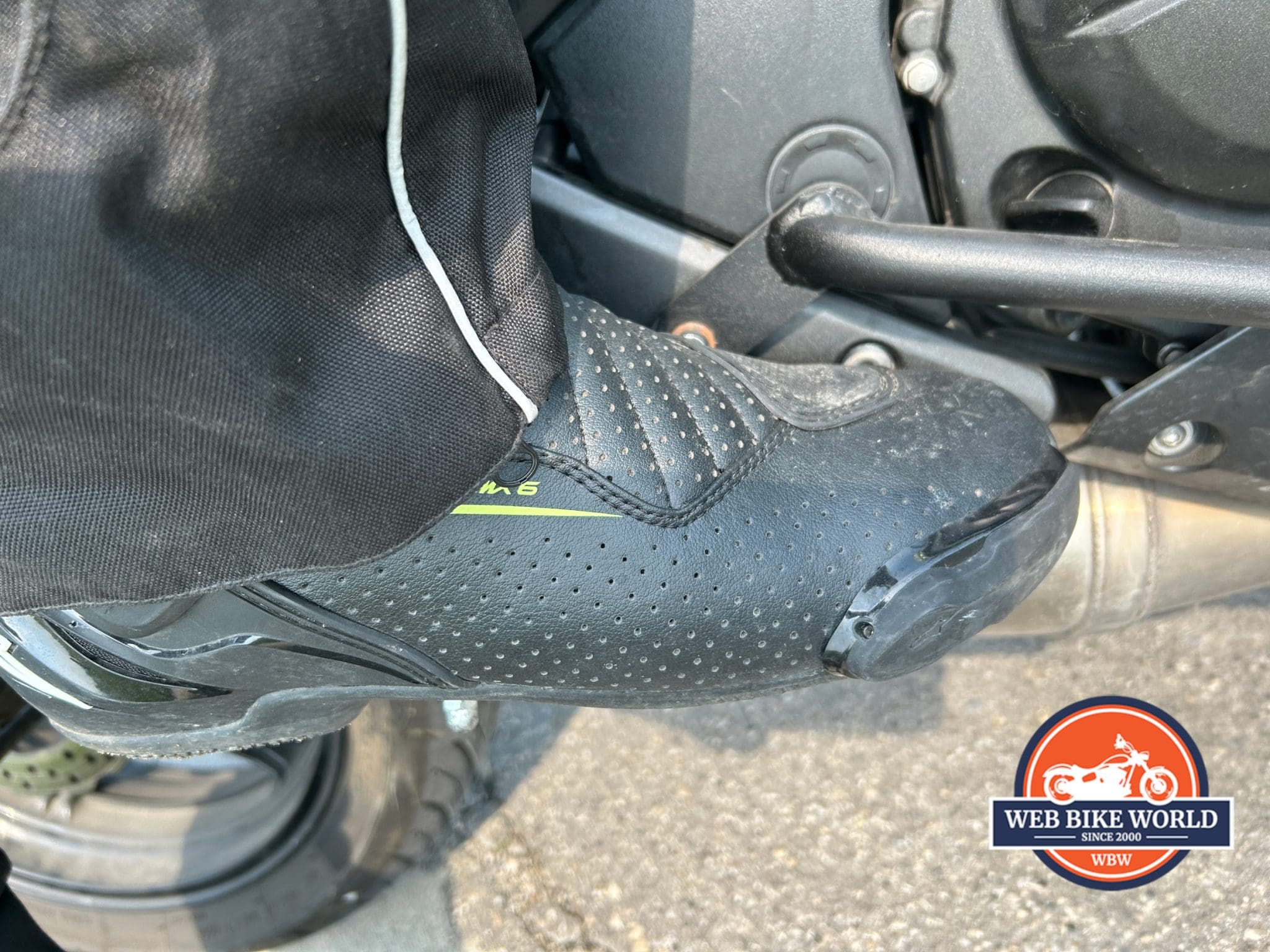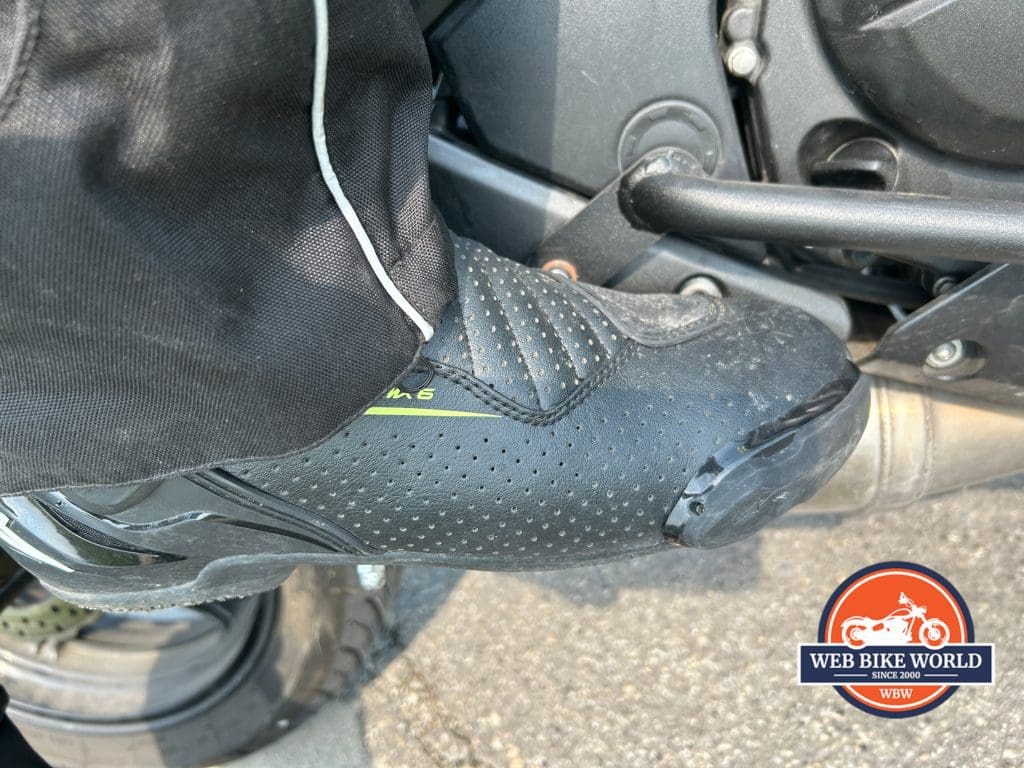 Now, to counterpoint this, these are track rated boots. I was not getting anywhere near the speeds I would get on the track, so I can only extrapolate that the faster you are riding, the more airflow is passing through the boots. This makes sense, as they whole point of having ventilated boots is to keep your feet comfortable and dry so that when you are attacking an apex, there's no distraction or slipping around. Based on what I felt, I think that riding nearer to 140 MPH, or the kind of speed you'd get down a decent length front straight, would actually feel like some proper wind is passing over your feet, but even then, I still think it wouldn't be distracting at all.
Final Thoughts: Boots That Should Be In Every Sport Riders Kit
I must preface this by saying that I've only ever truly worn one other pair of riding boots, the aforementioned Forma Tracers. I have had some gear demo day tryouts, mostly just wearing other boots around inside a gear store while a company rep spoke about features and advantages, but in actual riding conditions, just my Formas.
That said, I haven't worn those Forma's since I got the SMX6 v2's. They are that good. While they may not be the best boots for a cruiser rider, an ADV rider, or even a dual-sport rider, if you are in any way on a touring bike or a sport bike of any kind, these boots deserve some serious consideration.
They do come in a waterproof variant, the SMX6 v2 Drystar, but even the Vented version seems to be water resistant to a small degree. I say this as I only really got "wet" in a torrential downpour that was so fierce that visibility was reduced to only about 50 feet, the water splashes were so hard I couldn't see the lane markings, and I pulled over under a bridge to wait for it to pass.
Despite only having two pairs of boots, as I am still a relatively new rider only 3.5 seasons in, the fact that these have in almost all senses replaced my previous boots is just about the best review I can give. They give that sense of protection and security that lets you ride with confidence that your feet, ankles, and lower legs are protected, and that is a very, very nice feeling to have hovering in the back of your mind as you enjoy the ride! 
My thought is that this descends down from the racing boots that MotoGP and World SBK riders wear, and that knowledge makes me just that much more certain that these will be my primary riding boots for many seasons to come.