Alpinestars T-Jaws Jacket Review Summary
Review Summary
This was a sort of proof-of-concept exercise to find a lightweight outfit that provides more comfort and enough warmth for winter riding. The T-Jaws jacket is very comfortable for those with a body shape that will fit. The big problem is the non-adjustable collar, a serious mistake by Alpinestars. The AST-1 pants block enough of the wind and with the addition of a base layer, should work down to about the lowest temperatures most owners will encounter. Both the jacket and pants are waterproof, which is a bonus, although any precipitation we have received has been in the form of snow, so we'll have to take Alpinestars' word for it.
Pros
Full outfit
waterproof
solid wind protection
Cons
Non-adjustable collar a serious mistake
Jaws Jacket Image Gallery
The goal: a winter motorcycle riding outfit without the bulk. We've done this before — sort of. Long-time webBikeWorld readers may recall our 2009review of the Firstgear Teton jacket. That review had a similar objective: a lighter-weight, short jacket with matching pants for winter. This review isn't necessarily an update on that, but it takes the concept to a different level.
As the thermometer slides and winter sets in, there comes a point when motorcycle riders bring out the big guns. That means the heaviest, thickest and most bulky 3/4-length winter jacket in your arsenal and thick winter gloves and insulated pants that suddenly feel two sizes small after all that holiday partying. Hard-core extremists will even substitute heated gloves and add a heated vest and a balaclava in near-freezing temps.
Each person has their own personal switch-over number for this type of gear; for me, it's 42 F (5.5 C). When that point is reached, out comes the heavy artillery.
The problem with that isn't so much the weight (although that is a problem) — it's the bulk. Over-the-shoulder head checks become nearly impossible and you feel like you're in a straightjacket. It's enough to make winter riding un-fun. So our goal was to find a lighter-weight, more comfortable, more flexible and much less bulky winter riding outfit.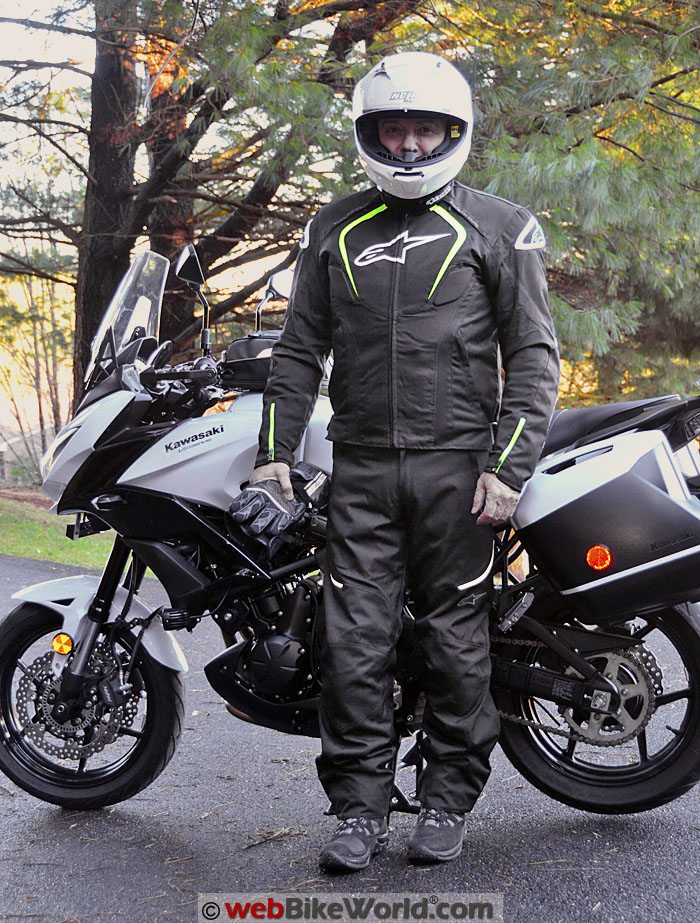 The Heavy-Duty
After many years of trial-and-error, I settled on the original REV'IT! Cayenne Adventure jacket (review) from way back in 2005 and the Fieldsheer Adventure Tour pants (review) from 2014 as the go-to heavy-duty winter riding outfit.
The original Cayenne Adventure jacket (as it was known before it became the Cayenne Pro) was and is a beast.
It has three layers of protection: a heavyweight Schoeller Keprotec with Kevlar outer shell, a water- and wind-proof Hydratex membrane and a 3 oz. insulating liner. It tips the scales at a massive 3.2 kg (7 lbs.).
The Cayenne Adventure was innovative at the time; it was the first motorcycle jacket (as far as I know) that had interchangeable liners.
The Hydratex liner and the insulating liner can be mixed-or-matched to suit the riding conditions.
The fact that this jacket has been my winter companion now for 12 years is a testament to its build quality. And it still looks like it was brand new last year!
The Fieldsheer Adventure Tour pants 2 kg or 4.5 lbs.) arrived for a review in 2014. They're pretty much your typical textile insulated winter motorcycle riding pants.
And although they're not "perfect", the combination of heavyweight outer shell and thick insulating liner makes these the trousers to reach for on the coldest days.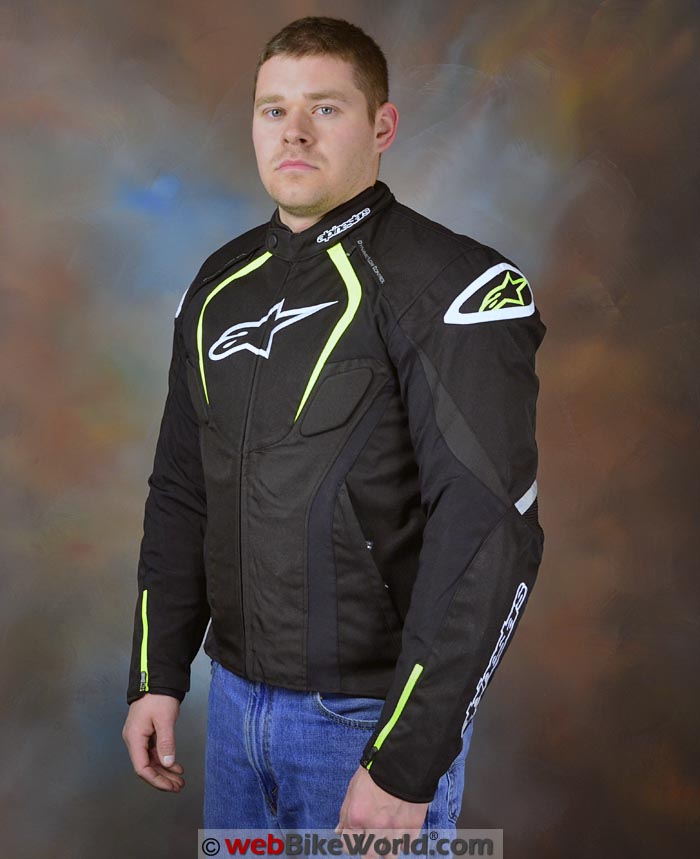 OK, so what's the problem with that outfit?
It's this: the combination of the Cayenne Adventure jacket and Firstgear Escape pants do an admirable job keeping me warm.
It's just that once I climb in, I feel like I'm living in a marshmallow.
Although I've (so far) never been in one, this is straightjacket constriction and it's just so thick that it takes me a couple of levels away from feeling what's going on with the bike.
Where I notice this most is turning my head. The thick shoulders and neck interfere with the bottom of a helmet — and double that if I'm wearing a neck warmer or balaclava.
So we figured it's now 2017 — surely there must be something thinner, lighter and more flexible that will provide the same (or close to it) levels of winter protection?
After all, modern technology has given us all sorts of new materials for windproof and waterproof jacket and pants shells, with wafer-thin space-age insulation. Right?
An All-Alpinestars Outfit
OK, so we did not conduct an exhaustive scientific search to look at every single jacket and pants combination available.
Instead, we looked through the current offerings from the list of usual suspects, reading various reviews and owner comments.
That led us by chance to Alpinestars and the latest version (2016) of the T-Jaws WP (Waterproof) jacket.
Next, we had to find a pair of matching pants.
Figuring it would be better to buy pants with a matching zipper to close the rear hatch in cold weather, we again looked through the Alpinestars lineup.
After some online back-and-forths and reading owner reports, we decided on the Alpinestars AST-1 WP pants.
They're unlined, which means potentially less bulk and weight, but they're (claimed) waterproof, which also means windproof.
Just to have a backup, we bought a pair of the Alpinestars Raider pants, which have a removable insulating liner.
Instead of going into a full-on detailed analysis and description of these three items, we'll briefly describe each and then discuss the performance to see if our goals were met.
Then we'll describe some features, like included protectors, fit and comfort and wear options separately below.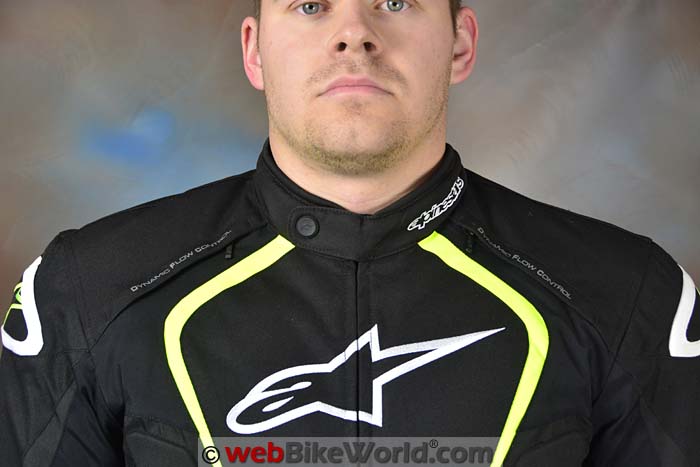 The Gear
What to Choose?
Alpinestars lists a boat load of textile jackets in their current catalog, with plenty of discontinued models still in stock at the various retail establishments.
(Note that our T-Jaws WP jacket is the newer 2016 model, not the discontinued earlier version.)
The mix includes all sorts of short and longer 3/4-length jackets for winter, summer and four-season use.
We originally wanted to order the Alpinestars Gunner jacket, a new model announced in Fall of 2016, but it wasn't yet in stock.
So after looking through the AStars online catalog and a bunch of owner reports, we went with the latest version of the T-Jaws WP jacket.
The Alpinestars T-Jaws Jacket
The T-Jaws jacket family is probably the most popular short jacket offering in the entire Alpinestars lineup.
There are T-Jaws jackets in leather, perforated leather, solid textile, mesh, waterproof (WP) and both men's and women's (Stella) versions at prices ranging from $269.95 to $439.95 list.
We don't know why the T-Jaws line has been so popular; perhaps because it's the classic short sportbike jacket style and comes in so many flavors and colors.
We chose what may be the newest member of the T-Jaws WP textile family and paid the list price of $289.95 for the size XL.
It weighs just 1.8 kg (4 lbs.) — a featherweight compared to the Cayenne Adventure jacket (more on the weights in the fit and sizing section below).
Ours is black with high-visibility yellow accents, a color combo that can be hard to find because apparently it sells out quickly.
It has a waterproof shell made from "poly fabric" with "lightweight 450D and 600D as reinforcement on critical areas". It also includes a zip-out, full length insulating liner.
The waterproof shell means no direct air vents (although there's a zippered vent on either side at shoulder level in front that directs air around the liner), but our purpose is winter riding. Get the mesh version for summer.
It also has a nice, wide backing for the main zipper to help keep the draft from blowing through.
Fit, protectors and wear options described separately below.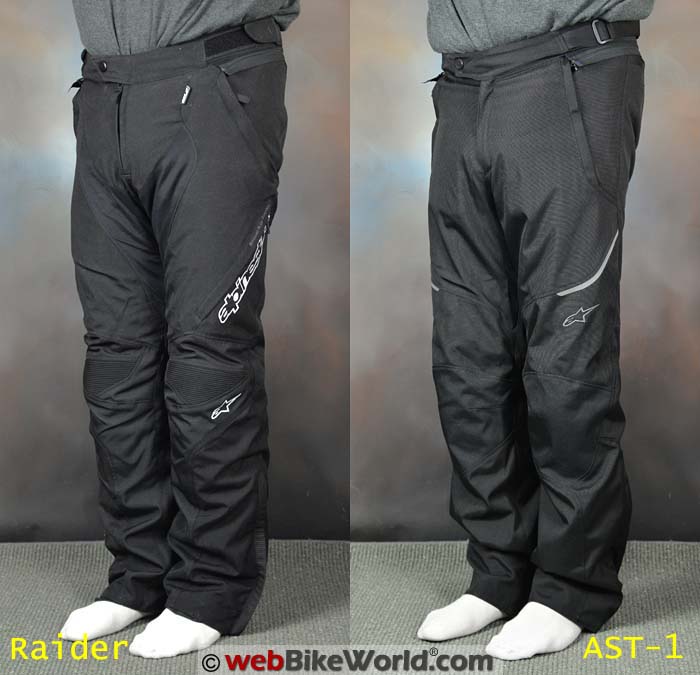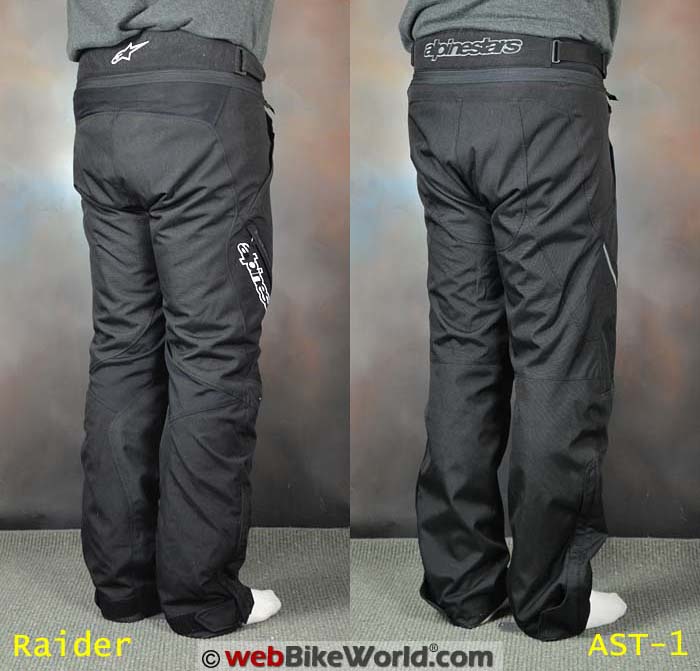 Alpinestars AST-1 WP Pants
The AST-1 WP pants ($199.95 list) were our first choice. They're a 2015 model, the bottom end of the Alpinestars product line but that doesn't mean they're not good.
These are lightweight, basic pants with a "multi-fabric poly-shell construction" and "ballistic nylon reinforcements on the thighs, knees and seat area", according to Alpinestars.
The size XL pants weigh just 0.9 kg (2 lbs.), making them a good all-around textile choice that can also serve for four-season wear.
The fit is something like a pair of loose-fitting jeans and the shell is backed with a waterproof liner, just like the T-Jaws jacket.
That means the pants are comfortable and they also block the wind but like the jacket, there's no venting. In fact, the pants don't even pretend to have vents…but that's a plus for our purposes.
Why have faux vents that don't actually do anything? Just something else to go wrong.
Since the AST-1 pants have no insulating liner, you'll have to depend on an under layer or "base layer". Throw on a pair of insulated long underpants or some fancy wind-blocking underpants and you'll probably be fine.
There are waist adjusters on both side and two front angled hand pockets with zippers.
The pockets are actually fairly deep and they're actually comfortable, with that typical mesh taffeta lining used in just about every motorcycle jacket.
Also important, both the AST-1 and the Raider pants have a metal hook latch at the waist in addition to a snap.
This is better than snaps only, because you need something to help ensure the waist won't open during a crash (or after that double cheeseburger).
The legs have a simple 35 cm (14 inch) long zipper opening at the cuffs. It secures a wide fabric dart or gusset that makes an opening sufficient to go over anything but all-out racing boots.
There's a hook-and-loop flap at the end and a couple of 60 cm (2.5″) strips on the cuff to hold the flap; the strips could stand to be about half again as long, but overall, they're fine.
The AST-1 pants have a full-length attachment zipper. We'll talk about protectors and fit in a bit.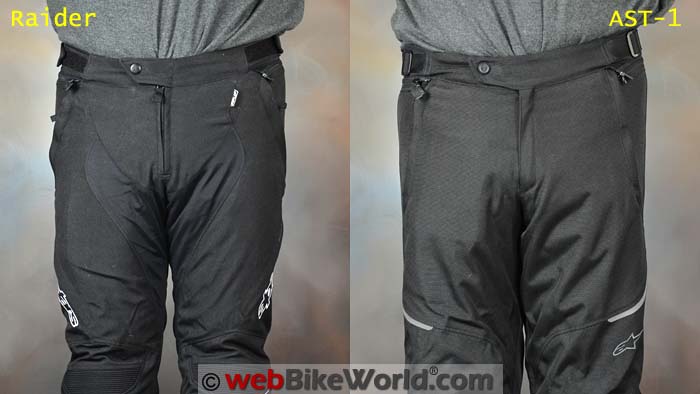 Alpinestars Raider Drystar Pants
The Alpinestars Raider pants sit about in the middle of the AStars pants lineup, which has a high end of $649.95 for the Managua Gore-Tex pants down to $199.95 for the AST-1 pants.
These were new in the fall/winter 2016-2017 lineup and they were hard to find when first released. We found a pair at a retailer in the western U.S. but the retail pipeline is now back to normal.
The Raider pants have also received excellent reviews from owners and the Alpinestars Drystar lining is one step below their ultimate Gore-Tex equipped line.
These pants don't really meet the criteria for our lightweight/comfy winter replacement outfit, but we bought them as a backup, just in case, thinking we might be able to use them with the insulating liner removed.
As we discovered, they're nearly identical to the 2014 Fieldsheer Adventure Tour pants (review)we mentioned earlier.
The Raider pants are pretty much the equivalent of generic basic winter textile motorcycle pants, with a fairly thick but comfortable zip-out insulating liner that takes up at least one-half of a waist size.
Alpinestars is pretty vague about the materials used in all three of these garments; the Raider pants are said to have a "multi-material main shell construction with abrasion and tear resistant panels".
That's about as vague as you can get!
Otherwise, they're very similar to the cut and construction of the AST-1 pants, with a similar type of waist adjustment system, same waist snap and hook, same zippered front pockets with the same mesh lining.
The Raider pants have a different front styling at the knees, with articulation. Also, there are waterproof zippered vents on the outside of each thigh. The vents actually open through the waterproof lining on the inside of the pants legs.
In theory, the vents direct air around the leg, in back of the liner. In reality, pant leg vents are almost always nearly useless, because once you're in the sitting position, the vent doesn't stay open.
So it's kind of a useless option that's there, but don't expect much, if anything from it.
The Raider pants have the same leg cuff zipper closing arrangement as the AST-1 pants, but with a slightly fancier outer flap design that uses a different textile that kind of looks like a faux Schoeller Keprotec.
There's also a full-length attachment zipper.
The Raider pants are comfortable, but no less bulky than any other typical textile winter pants made for motorcycle riding. The fact that they are waterproof is something.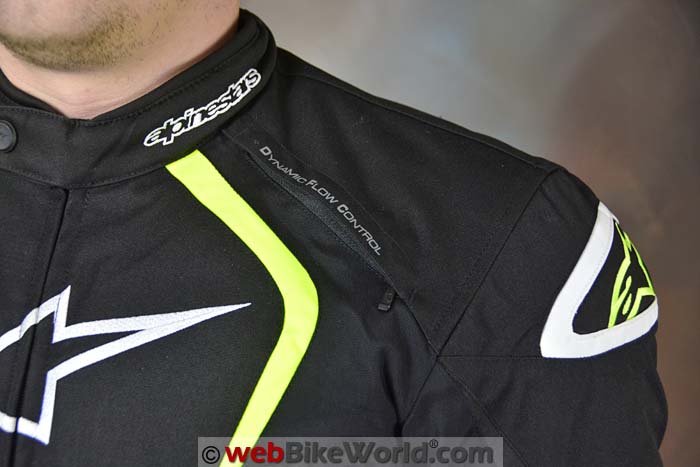 The Protection
Protectors: T-Jaws Jacket
OK, let's talk protection. The T-Jaws jacket and both the AST-1 and Raider pants are made from that typical everyday Cordura-like textile polyester fabric, with no extra special abrasion-resistant materials that we can see.
The construction quality of all three garments is excellent, so no problems there at all.
You're not buying ultra-spec BMW, Rukka, REV'IT! or Klim type gear here; this is low-to-mid-range stuff, so you get what you pay for but overall, no problems.
The T-Jaws jacket has CE certified shoulder and elbow protectors, with the correct EN 1621-1:2012 documentation included with the hang tags.
It's strange that Alpinestars doesn't state anything about the CE certification for the T-Jaws WP jacket on their website; only "removable CE protectors" is listed.
The protectors are relatively thick feeling and should provide normal protection expected for a low-to-mid-range street jacket.
The fact that both the jacket and the pants — even the low-end AST-1 pants — have CE certified protectors and the correct documentation is a real plus.
Alpinestars should be commended for this practice — something we've been harping on for many years. Too many motorcycle garment manufacturers still claim "CE approved" or "tested to CE standards" or similar.
To do the actual testing at an approved laboratory and include the documentation with the clothing item is the only correct way to approach this.
The T-Jaws jacket also includes a back protector pocket filled with that thin and fairly useless foam. The pocket is designed to fit the $60.00 Alpinestars Nucleon back protector, available as an option.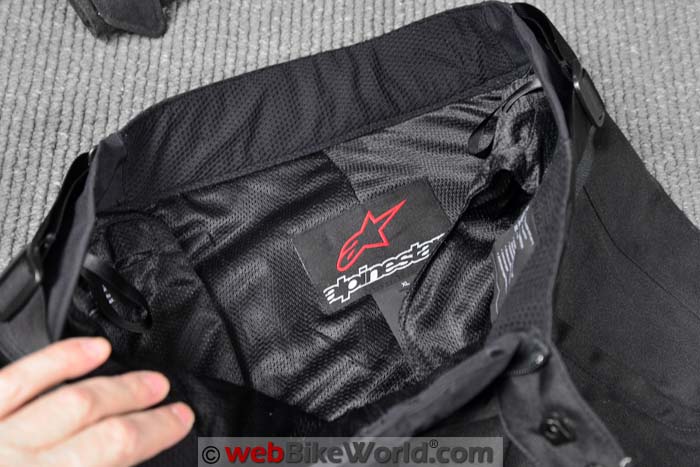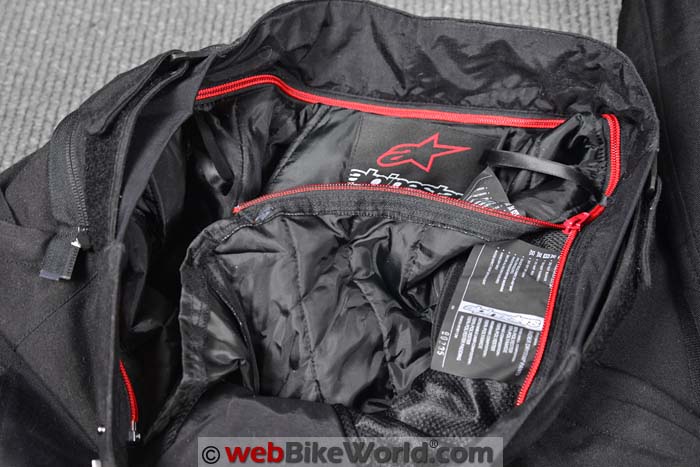 Protectors: AST-1 and Raider Pants
The AST-1 and Raider pants also have CE certified knee protectors with the correct EN 1621-1:2012 is included.
While the AST-1 knee protectors are fixed, the Raider pants have some vertical adjustment capability for the knee protectors.
Both pants have very thin foam thin hip pads however, in mesh pockets with a small hook-and-loop opening at the top.
You'll probably want to swap the foam for something more protective, although it's hard to say what might fit in the pocket.
As always, the problem with the included knee protectors is that the pants fit too loosely around the legs to keep the protectors in place during a crash.
You may want to remove the knee protectors and hip padding and instead wear something like the Bohn Bodyguard Cool-Air underpants (review), which keeps the knee and hip protectors tight to the body.
Sizing and Fit
T-Jaws Jacket Sizing and Fit
This T-Jaws jacket is a size XL which, according to the Alpinestars size charts, fits about a 42-44 inch chest. It's equivalent to a Euro size 54.
The shape is tapered towards the waist, so anyone who — how shall we say it? — who has a bigger waist will almost certainly have problems finding a correct fit.
Not that either of us is in the best shape, but the size XL T-Jaws is a perfect fit.
In fact, it's one of the first things we noticed — it's like the extremely rare "perfect" fit and that's one of the major features that we really like.
The combination of the more flexible textile plus the shaped fit make a difference.
If Alpinestars knows anything, they surely know motorcycling and how to cut and sew a jacket so it works on a motorcycle.
Now "perfect" fit also translates to snug in our language. In fact, most people that would actually fit the XL will probably think it's too tight. It's not; it's just that you're used to buying motorcycle gear that's too big.
That's the magic here; even though the T-Jaws jacket is snug, it moves with the body and it's really comfortable.
The light weight doesn't hurt either. This jacket in size XL weighs just 1.8 kg (4 lbs.), compared to 3.2 kg (7 lbs.) for the REV'IT! Cayenne Adventure jacket. That's a big and noticeable difference.
AST-1 Pants Sizing and Fit
We followed the retailer recommendation and ordered a size L pants, said to fit a 35-36″ waist and of course, we had to exchange them.
I don't know where or how the retailers come up with these recommendations, but you'd think after taking a couple of pair back that they'd do a little research.
The size L is really more like a size M; not even a 35″ waist would fit.
So we ordered an XL, which fits like a tight size L. We didn't want to go any bigger than that, or the legs would be too big (but the waist would be more comfortable).
Once more, the manufacturers get a nick here because why in Zeus' name do they not put some elastic in the waist? Have they not heard about elastics yet?
Both the AST-1 and Raider pants are just crying for some elastic in the waist.
Not only would that make the pants fit a wider range for each size, it would also help the owner who puts on (or loses) a few pounds.
The size XL AST-1 pants fit fine everywhere except the waist, where they're pretty tight. It works, but it's tight.
But if you want to put accessory hip protectors or that protective underwear, you'll have to go at least one and maybe even two sizes lager than expected.
I (Rick) still use the Firstgear base layers we described in the Firstgear Teton jacket review from 2009, so that's what goes under the AST-1 pants in the really cold weather (see below).
More choices can be found on our motorcycle underwear reviews page.
Raider Pants Sizing and Fit
Ditto on the Raider pants, they fit just like the AST-1 pants. We got wise and ordered the XL right from the start.
The waist is tight but it works. Of course, taking out the insulating liner drops the size by about one-half. But we bought these for winter use, so the liner stays in.
Again, where's the elastic?

The Issues
Pants Issues
Other than the slight sizing and fit issues with both pants (crotch to waist very snug fit), there are no other issues with the pants.
They're pretty much as you'd expect from standard textile motorcycle pants, but the AST-1 pants feel pretty comfortable, with their jeans-like loose fit cut.
These would be comfortable for nearly year-'round use.
T-Jaws Jacket Issues
The jacket has one issue, however, and it's serious. The neck and collar could actually be a deal-killer for some.
For some crazy reason, Alpinestars put a non-adjustable collar snap on the T-Jaws WP jacket.
Unfortunately, for anyone with a neck diameter of about 17″ more or less, the collar is too tight and there's no adjustment. Like we said — crazy!
The one place they should have at least used some hook-and-loop…and they didn't.
But there's more: this problem is compounded by the knitted collar on the insulating liner, which is very thick — much thicker than usual for a liner of any type.
It's the same sort of knitted collar you'd find on one of those 1950's style silk baseball jackets.
The knitted collar measures nearly 5 mm thick, so that means around 10 mm of additional internal width reduction when you count both sides.
Also, the fabric on the inside of the collar of the shell just isn't the most comfortable we've experienced. It would be better with some type of micro-fleece or neoprene or something.
Burn doesn't have as much of a problem with the neck diameter because he's thin and his neck measures 16.5″. But I (Rick) have a 17.25″ neck and the T-Jaws jacket collar is noticeably uncomfortable when I ride.
It's really a shame, because otherwise I really like the way the jacket fits and feels.
And it does work as a lightweight, more comfortable and flexible cold-weather replacement for the brutish Cayenne Adventure.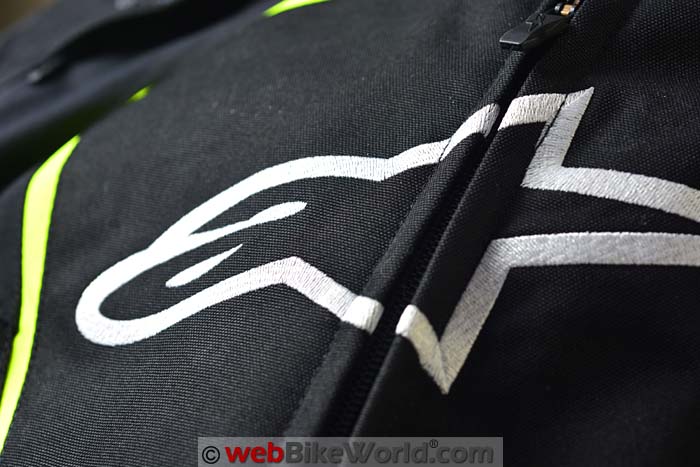 The Walking Billboard
Alpinestars typically overdoes it with the logos and branding and the T-Jaws jacket and Raider pants will make you look like a walking billboard.
The jacket has a big "A" logo on the chest and smaller ones on each shoulder, surrounded in white. There's another on the back of the collar and one down on the lower part of the back.
Then there's the white "Alpinestars" script going down each arm, with more "Alpinestars" script embroidered on the collar in front.
The Raider pants have the "Alpinestars" name embroidered down each leg on the thigh, along with the "A" star logo on the outside of each knee.
The AST-1 pants are much better, with only an "Alpinestars" name embroidered along the waistband at the rear (a strange place for a logo, because it's hidden).
It's all too much really. We as motorcyclists need to somehow protest against this — why should we become walking advertisements for a brand, especially after paying good money for the product?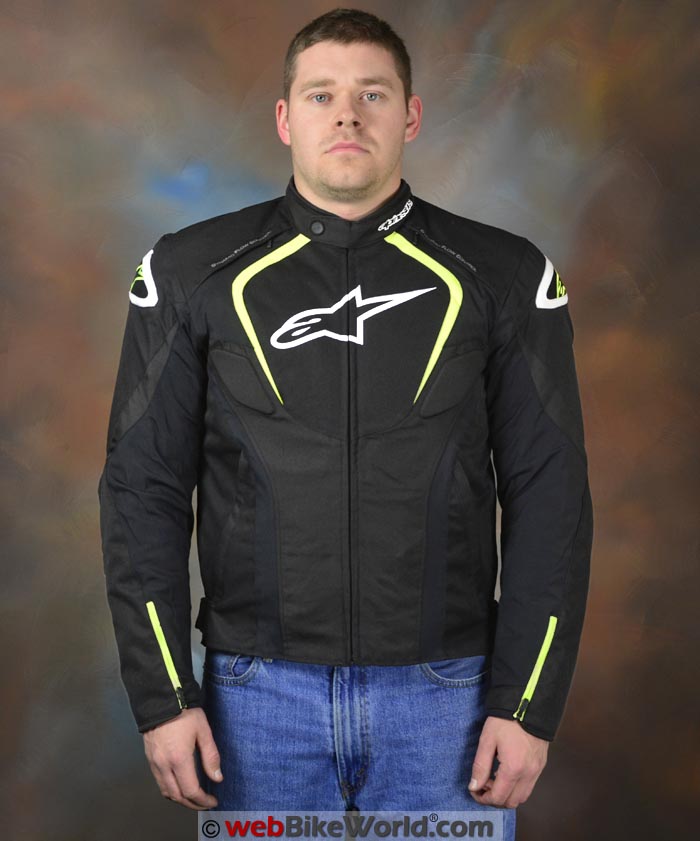 The Ultimate Lightweight Winter Outfit?
The combination of the T-Jaws jacket and the AST-1 pant meets our goal for a lightweight cold-weather motorcycle riding outfit.
There are a couple of caveats though.
First, you'll probably need a base layer under the AST-1 pants, which do not have an insulating liner. But wearing a stretchy base layer is more comfortable than a puffy insulating liner attached to the pants.
Try something like the Bohn Bodyguard Adventure Armored Pants as an under layer with built-in knee and hip protectors as a two-for-one solution.
The bonus is that the AST-1 pants would also be useful for multi-season riding as general all-purpose motorcycle pants.
You may also need a thermal undershirt or wind-blocking vest underneath the T-Jaws jacket, depending on the temperature.
The other problem is the tight collar on the T-Jaws jacket, although this depends on neck proportions, so not everyone will be affected. We suggest that you try on this jacket first before buying.
For ultimate flexibility and light weight, we'd skip the Raider pants. The insulating liner feels bulky and defeats the purpose of this exercise.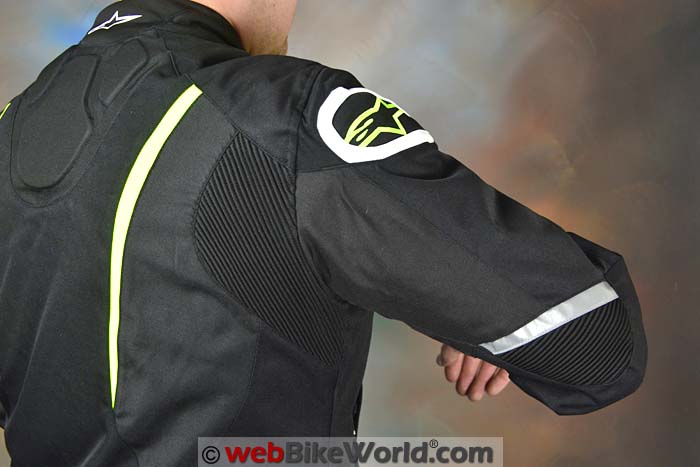 On the Road
The weather has been highly variable this winter, ranging from 18 F (-8 C) to 65 F (18 C) within just a couple of weeks.
The T-Jaws jacket with its insulating liner and just a cotton T-shirt underneath was comfortable down to around 45 F (7 C).
Between 40-45 F (4-7 C), you may need to add a wind-blocking vest or undershirt. Just remember, anything with a collar will exacerbate the tight-fitting collar problem with the T-Jaws jacket.
Below 40 F (4 C), you may need to break out the heated gear.
Very few motorcycle owners ride in those temperatures and those that do on a regular basis surely have their own solutions for keeping warm.
We were both pretty surprised at the temperature comfort level of this outfit. The only cold spot is on the upper arms, a problem area with almost any winter jacket.
The wind can become focused there, especially when riding behind a mid-height windscreen. There's no easy solution to this problem without adding to the bulk of the jacket.
The best part of the T-Jaws jacket and AST-1 pants combo is the feeling of freedom it provides on the bike, compared to the typical heavyweight insulated 3/4-length jacket and insulated pants routine.
You're losing about 50% of the weight, which is a big plus right there.
But the trim profile of this gear gives a summer-like feeling and a lot of flexibility when moving around on the bike. It's quite liberating actually.
And don't forget, all of this is highly variable, depending on your tolerance for cold weather and the type of motorcycle you ride.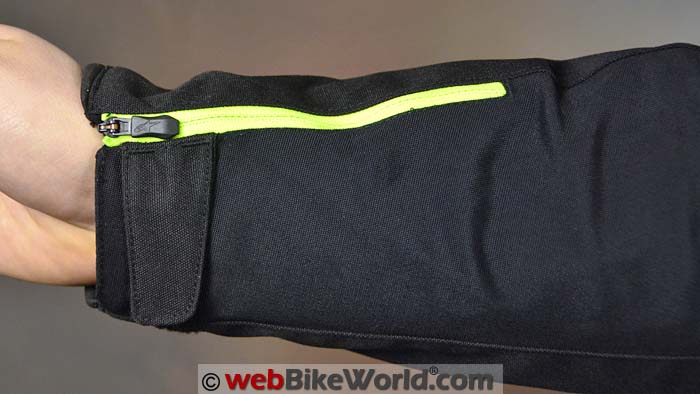 Conclusion
This was a sort of proof-of-concept exercise to find a lightweight outfit that provides more comfort and enough warmth for winter riding. Surely there are many different options available across many different brands and we by no means did any sort of exhaustive research on the topic. But, we did find a reasonably-priced outfit that basically met our goal.
The T-Jaws jacket is very comfortable for those with a body shape that will fit. The big problem is the non-adjustable collar, a serious mistake by Alpinestars. The AST-1 pants block enough of the wind and with the addition of a base layer, should work down to about the lowest temperatures most owners will encounter. Both the jacket and pants are waterproof, which is a bonus, although any precipitation we have received has been in the form of snow, so we'll have to take Alpinestars' word for it.
Another bonus is that both of these garments can be used in milder weather also, so they're three-season capable (excluding summer). We'd like to hear about your lightweight winter riding outfit, so drop us a line in the comments section below.
w

BW

 Product Review: Alpinestars T-Jaws WP Jacket
Manufacturer: Alpinestars
List Price (2017): $289.95
Colors: Black, black/white, red, high-viz
Made In: Bangladesh
Sizes: S-4XL
Review Date: January 2017
w

BW

 Product Review: Alpinestars AST-1 WP Pants
Manufacturer: Alpinestars
List Price (2017): $199.95
Colors: Black
Made In: Vietnam
Sizes: S-4XL
Review Date: January 2017
w

BW

 Product Review: Alpinestars Raider Drystar Pants
Manufacturer: Alpinestars
List Price (2017): $269.95
Colors: Black
Made In: Vietnam
Sizes: S-4XL
Review Date: January 2017
Note:
 For informational use only. All material and photographs are Copyright © webWorld International, LLC since 2000. All rights reserved. See the webBikeWorld® 
Site Info page
. Product specifications, features and details may change or differ from our descriptions. Always check before purchasing. Read the
Terms and Conditions
Owner Comments and Feedback
---
From "C.S." (January 2017): "Have tried a lot of combinations over the years, but my current setup seems to be the best of the bunch.
I have a good 4-season armored riding jacket. Except for the extreme heat where I break out the mesh, I wear it all the time. The secret is what goes under it.
I've had as many as 5 layers which works fine for a few hours, but after 10 hours and darkness fell over an hour ago, my core is just not keeping up. This is dangerous.
I've had times where I'm shivering in a cafe or fast food joint holding a hot drink just trying to get my core and hands warm again.
Not only is this condition bad for making good judgments, it is physically hazardous. After the second time, I swore never again.
Now, everyone handles cold differently. I've found that if my core and hands are warm, I'm warm generally. So that is where I concentrate my heat.
I simply use the heated gear all the time — when it isn't real cold, it is either set low or even off.
A synthetic or wool long sleeve T is all I need as a base. Seriously, down to nearly zero, and that's it — you don't want to much between you and the heat. Then comes the heated jacket liner.
I have a waterproof version that also acts as a wind block with a nice high collar.
When the Temps are in the upper 40's and bright sun, the heat is off. When it is dark and single digits, I'm at 80+%. Over this, I simply wear my 4-season jacket with all the vents closed up. If it is wet, I wear a light rain shell over it all.
Naturally, heated gloves are also used as well as heated grips to keep the hands warm. Each are on their own controllers to allow exactly the setting I need.
Many times the grips are on low to keep the steel bars from sucking out the heat from your hands is all that is needed, but other times you need to add more warmth.
For pants, I wear a heated layer only if the temp is going to be below 40. Most of the time, they are not on.
When I need them, they hook to the same circuit as the gloves which seems to be the right level of heat for me. My standard armored pants are worn over it.
Wool socks and heavy boots are all I wear on my feet and I simply do not get cold. However, heated socks are available for those that Ned to keep their feet warm.
I find it important to use a heated liner that has minimal insulation as you want to be able to turn off the heat and walk into a store and not sweat or disrobe.
My first set had insulation, and I would sweat too much which gave the cold too much an advantage. It was also much bulkier. I've found the lighter liner is not only less bulky, but I need less heat. At least my settings are lower.
To seal between the jacket and helmet I use a Windblocker gaiter which tucks well into my riding jacket and helmet and eliminates all the cold air getting in. I've tried the thick Buff and others, but this allows good movement and seals.
The heat in the jacket liner collar does the rest.
As with any electrical accessory, be sure your system supports it. Things like LED lighting can buy you extra capacity for heated gear.
I find that when my body does not have to work at all to keep me warm, I can ride much longer and far more comfortably in the cold. And since all my layers are very thin, it does not restrict movement at all.
Heated gear costs a lot. In my experience, you save by just using your favorite gear with a heated layer under it than buying specialized cold gear as in the end, insulation only gets you so far.
Being able to dial in the warmth you need covers most of what you need."
---
From "B.P." (January 2017): "Just wanted to say, I couldn't agree more on the branding. I don't mind a tasteful logo or two, but at least give me the option to purchase something without the crazy clown branding.
(Oh, and make it equally available/affordable, not forever back-ordered or never-on-sale.)
It's not so much that the branding offends my personal taste as it is that I feel uncomfortable around the non-motorcycling public.
There aren't many non-Harley types where I live, so people aren't used to seeing this stuff.
They give you weird looks, and you imagine them thinking, "Is this guy some kind of devil worshipper (Dainese)?" or "Wow, he must really be a big fan of that weird a-star logo thing, whatever that is…"
(Quick aside: I own a Scorpion "Clutch" jacket. Great piece of gear, but it has very prominent shoulder sliders that kinda look like Superman logos. Made me feel like a total dork. I colored them black with permanent magic marker.)
That said, maybe other riders are more into this stuff than I am. Maybe they actually buy more of the logo stuff, given the option.
The biggest market is probably California…maybe out there it's fashionable to show off "your brand" to other bikers? Dunno.
But complaining aside, unless you're wearing a conventional-looking leather jacket and jeans, most motorcycle gear looks odd to the uninitiated (reflectives, armor, etc.)…so maybe I'm gonna get stared at either way."
Rick's Reply: I think this is why the new urban style clothing it becoming so popular, it provides some protection but it looks like stylish street wear.