Alpinestars Core Leather Jacket Hands Review Summary
Review Summary
The Core leather jacket from Alpinestars has very quickly become my favorite piece of riding gear… possibly ever. This jacket offers great protection without sacrificing any of the comfort that riders want on a long ride or even just a fast trip across town. The Core is definitely designed with a sportbike rider in mind as the ergonomic shape conforms to your body in an aggressive crouch position without any binding or bulging in the arms or torso areas. At a price just under $600, I consider this jacket well worth the cost. I feel that it will live up to every expectation riders have for the price range and even much more expensive jackets.
Pros
Excellent comfort
Good abrasion protection
Packed with safety features
Great airflow
Quality construction and materials
Ample interior and exterior pockets
Removable full thermal liner
Available in perf or non-perf leather
Cons
Minimal back protection included
Quality back protection costs extra
Cost is above some riders budget
Core Leather Jacket Hands Image Gallery
I was very excited to test the Alpinestars Core leather jacket because it is offered in a perforated model which is perfect for the warmer climate of Phoenix. I have worn many textile and mesh jackets over the years and I like the comfort and fit but mentally I just don't feel as protected as I do when I am wearing leather, so the Core is a great option.
The jacket is offered in all black and a combo black and white in men's sizes 46 to 60. It would be great to see Alpinestars add a women's line to the Core series as there are many ladies out there who would be eager to have this aggressively designed sport style jacket. But for now, the men's sizes will accommodate many of those ladies.
From the moment that I opened the box, I knew that I was going to enjoy this jacket and the quality that it offered. When I am willing to pay what I consider to be top dollar for a product which I expect to be of superior quality, I appreciate that the manufacturer also views the item as a quality product. Clearly, Alpinestars invests the time in carefully packaging this jacket to be sure that it arrives at the customer in perfect condition.
The jacket was wrapped in tissue paper and plastic and then carefully folded to fit into the box. Because of that care, it arrived in perfect condition with not a scratch or crease on the supple leather. Being ordered online, I view the packaging and care taken in the process to be the total effort of the salesmanship from a business and Alpinestars did not disappoint.
The Core is a three season jacket in most climates but in a warmer environment, I could see it working very well as a year-round jacket thanks to the removable thermal liner. The all-black version leans more to the classic all black biker jacket image while the black and white color scheme is more reminiscent of a euro cafe racer style jacket. I selected the black and white simply because there is nothing remotely comfortable about all black gear in 120 degrees.
Reasonable Pricing
The jacket sells for $589.95 US, currently (and Revzilla generously ships orders over $39.99 for free). That price is not what I would consider out of line for a quality leather jacket but it is more than some name brand competitors. After wearing the Core, I can attest to the value of the jacket and the fact that I would feel good about spending close to $600 on this jacket thanks to the level of comfort and the protection that it offers.
Full Feature Breakdown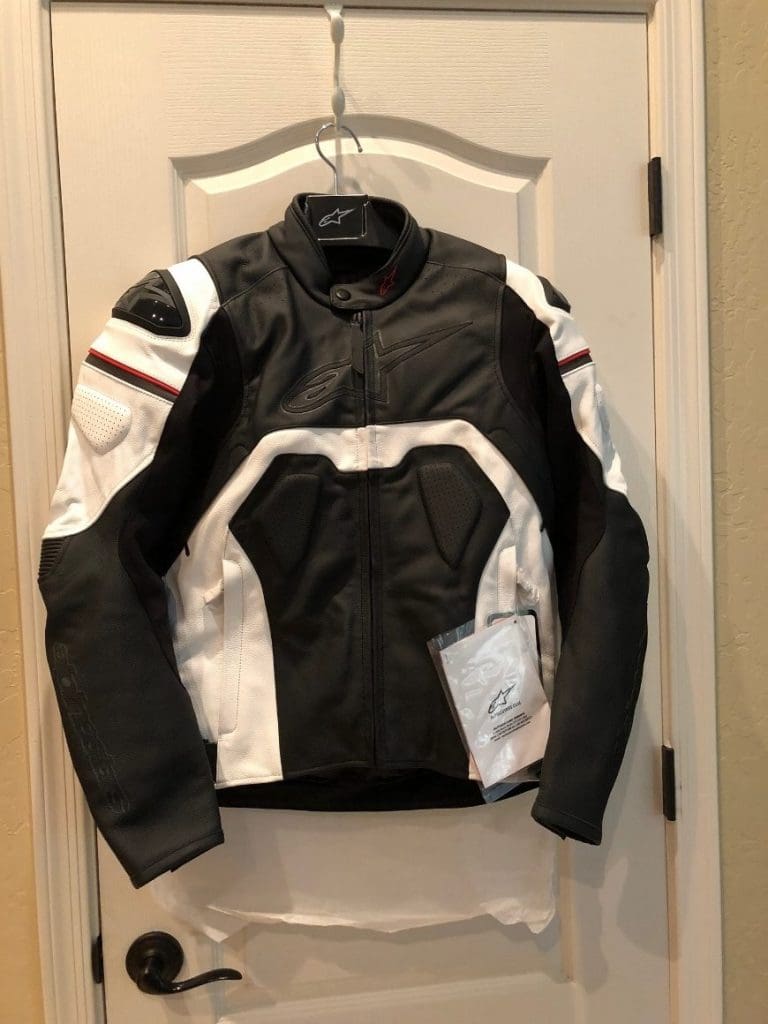 The Core is constructed of full-grain 1.1 mm leather with poly-textile accordion stretch inserts on the chest, arms and back for full range of motion and added comfort to the sport fit.
Fit & Comfort
Fit and comfort are very important to me as I get older. I have learned many lessons about getting what you pay for over the years, and I have decided that I am happy to pay a little extra to be comfortable. In the case of riding gear, I also believe that being comfortable adds to my safety as I am not distracted by a pinch here or a bulge of material there. That being said, I was very pleased with the fit and level of comfort as soon as I put the new Core on. I never felt like I was experiencing a break in period, as I had with many other leather jackets.
Sizing
Each person has a slightly different body type and I think that this style of jacket and cut works very well for me, but without including my sizing the information would be useless to most readers. I am 5' 10" tall and weight in around 155 pounds on average. My height comes mainly from my legs as my torso is rather short in comparison. I say this to be able to add that my arms are proportionate to my legs giving me a wingspan of nearly 6'.
The sleeve length on the Core, size 40 US and 50 Euro, is perfect for me and allows me to reach the handlebars very comfortably with no binding at the shoulders or elbows. The length of the jacket is slightly long on me as it sits about 3" below my true waistline but the Velcro waist adjustment is more than sufficient to accommodate the size difference.
True to Size & Snug
I also have an all leather Ducati/Dainese jacket in a 52 Euro which is a little large on me now, a 50 would be perfect. That tells me that the Alpinestars sizing is very true for this style of jacket. The one feature that has taken me a bit of time to get used to is the snugness of the sleeves.
As I mentioned, my other leather jacket is full leather where the Core has poly-textile inserts on the inside of the arm. This provides a snug fit which I was not used to with the full leather sleeves.
But the inserts allow for great mobility and expansion when you are riding so don't think that you will stress the seams as you move your arms or layer with a heavy shirt in cold weather. It's a great fit and feature, just a bit different than I was used to.
Neck & Wrist Area
Comfort has not been overlooked in any of the details of this jacket even though it is purpose-built to offer great protection that would work on the street or the track.
Collar
The collar is constructed of a soft 3D mesh and leather combination that offers breathability and comfort without the stiffness and abrasion of some leather collars. The single collar snap is large and easy to manage even when wearing gloves.
My only ding on the collar design is that the left side is nicely finished with a rounded upper corner while the right side is a square upper corner. I did notice that the square corner was annoying and jabbed my neck when I had the collar snapped. But in all fairness, with a little more than one month of wear, that leather might soften a bit and eliminate the issue.
Cuffs
The cuffs are constructed of the same 3D mesh and leather combination as the collar and are super comfortable. The tab for the single snap is smaller than some jackets but it is very functional and streamlined. I never had any issues getting the snap fastened or unfastened and it was nice not to have a bulky tab at my wrist to obstruct movement or cause issues with my gloves.
The cuff zippers are also very streamlined but work very well. The high-quality YKK zippers offer a semi-auto locking feature that locks in place in any position without the zipper tab flapping in the wind. The rubberized grips make them easy to grab and move very easily as well.
Chest Area
The main zipper on the Core is also a high-quality YKK with an elongated leather pull. I never had any issues grabbing the tab and moving the zipper even when riding in a tucked position.
The chest offers integrated PE padding as well as internal pockets for optional chest protection which can be purchased for about $40 for the pair. The all leather chest is surprisingly comfortable yet feels very secure. I hope to never put it to the test but I am confident that it would handle some serious abrasion.
The Core offers the standard front slash pockets with zipper closures as well as two interior chest pockets with velcro closures that are larger than any I have ever seen before. And just inside the left side zipper is a waterproof compartment that is large enough to hold most cell phones, a wallet or even glasses case.
Airflow
The airflow and comfort features on the Alpinestars Core go beyond any that I have ever found in a leather jacket. Perforations at the chest PE padding allow for some airflow as well as the slant zipper air vents located just below the shoulders. These can be opened to allow a huge amount of airflow to regulate your body temperature in hot environments.
Back Area
The back of the Core is all leather with integrated PE comfort padding that sits on either side of the back protector. And the back of the jacket is definitely extended lower than many other models to offer abrasion and impact protection to the lower back and hip area. This is also where there is a grey on black Alpinestars logo that is easy to miss during the day but is a large safety reflector when riding at night.
The back protection that is included with the Core is my biggest, and maybe only real issue with the product. Not only is it just a thin piece of foam, but it is also much smaller than the average back protector.
I understand that Alpinestars has spent a good amount of time and money creating a new line of back protectors, such as the Nucleon KR-2i Back Protector Insert which provides CE Level 2 protection and is compatible with the Core, but the included protector is far below the quality and safety level of the rest of the protective gear in the Core.
A Word Before Upgrading
A word about the upgrade for those who are interested in adding the KR-2i. There is a snap connector that attaches to the inside of the jacket roughly between the shoulder blades to install the added back protector.
The additional benefit to this installation system is that you can customize the location by moving the connector on the velcro pad in the jacket which is a unique feature. I have not tried the Nucleon KR-2i as of yet. To be honest, I was waiting until I completed my evaluation of the Core before I invested any money in the new back protector.
Internal Armor Pocket
In the past, I have only found a few jackets that offered the level of protection that I wanted in the back area, so I purchased a D1 Manis and used that in every jacket that I wore. It was a tight fit in some jackets as the back plate pocket was smaller but it did the job.
In the case of the Alpinestars Core, the internal pocket for the back protector is very small. I could insert the top two-thirds of the Manis but it wasn't really a good fit, so I will likely be investing in the floating Nucleon.
Even with my concerns about the back protector that is included in the Core, I believe that this is still a great jacket and I would still be willing to pay the $650 that it will cost once I order the Nucleon KR-2i. No product is perfect for everyone but this one shortfall is definitely something that I can correct whereas the fit and comfort are not so easily changed.
Shoulders & Sleeves
The shoulders were the first part of this jacket that caught my eye. The Dynamic Friction Shield protectors in the shoulders offer some great protection on impact as well as in a slide situation. When falling or being thrown, your shoulders tend to take a great deal of abuse with very little muscle to protect the bones.
The injection-molded shells with dual density foam padding work almost like a helmet for your shoulders. The removable CE shoulder protectors add even more comfort and protection while allowing for great mobility and a full range of motion and riding positions.
The removable CE elbow protectors offer more protection than I expected as they cradle your elbow and extend down your forearm almost to your wrist. Not only does this help in the event of impact but it also keeps the lower arms a bit rigid. This allows for better airflow and helps to keep the sleeves from sticking to your arms in hot weather.
The use of the poly-textile accordion inserts at the armpits and inside of the arms is what sets the Core apart from every other sport or race style jacket that I have worn. These panels provide the expansion and flexibility that just can't be found in solid leather construction. The Core is designed to have a snug fit but these inserts allow for free arm movement that would tug at the back and should areas in a solid leather jacket.
Icing on the Cake
All of the areas that I have detailed above are the really big benefits and features for the Alpinestars Core Leather Jacket. But there are a few other features and items that deserve to be mentioned.
Waist offers some great D-ring adjustment straps with Velcro closures for a really personalized fit.
Full circumference zipper to attach the Core to Alpinestars pants.
Reflective Alpinestars logo is on both forearms, the chest and the lower back for added visibility at night.
The Verdict?
As I mentioned earlier, the Alpinestars Core Leather Jacket could be my favorite piece of gear ever! I have never owned such a well designed and constructed piece of gear that was instantly comfortable. There is no breaking in period that you just push through in hopes of being rewarded with a super comfortable jacket.
I don't often find a piece of clothing that fits me well enough that I am instantly sure that I will like it and continue to use it. And even though the Core is only offered in men's sizes and cut, I was extremely satisfied with the fit and comfort of the jacket immediately.
In a month-long hands-on test, a jacket will only see a small amount of wear and tear as compared to a lifetime of use, but the quality of the materials and construction lead me to believe that this jacket will last as long as I do. I would be very surprised to not be wearing this in ten years barring any unfortunate incidents.
And if I do go down in the Core, I fully expect to have the best protection I could get or expect from a leather jacket.
I highly recommend the Alpinestars Core Leather Jacket for anyone who is looking for a leather sport style jacket.
Pros
Excellent comfort
Good abrasion protection
Packed with safety features
Great airflow
Quality construction and materials
Ample interior and exterior pockets
Removable full thermal liner
Available in perf or non-perf leather
Cons
Minimal back protection included
Quality back protection costs extra
Cost is above some riders budget
Specs
Manufacturer: Alpinestars
Price (When Tested): $589.95
Made In: China
Designed In: Cyprus
Alternative models & colors: All black on black or black and white combo
Sizes: EURO 46/48/50/52/54/56/58/60/62/64
Review Date: November 2018