Alpinestars Andes v3 Drystar Pants Review
Review Summary
The Alpinestars Andes v3 Drystar pants do what they say on the label and keep your legs dry, no matter the weather. Therein lies the rub, however, as the only ventilation is through two small top-of-the-thigh zippered vents about 6 inches long each. They do move air, but not nearly enough when the temperature starts to soar. The lack of a zip at the base of the legs is also a disappointment, especially for those with large calves.
Materials & Build Quality
Pros
Fits 95% true to sizing guide (see caveat in Cons)
Comes with Alpinestars Bio FLex knee armor in an adjustable pocket for each leg
Compatible with almost any long zip jacket, including the Andes V3 Drystar Jacket
Also comes with detachable suspenders if you find it a bit loose on the hips
3 or 4 season capable, if you don't get snow where you live for Winter
Cons
Sized in a very European regular cut, meaning for North Americans, it can be a squeeze to get them on over the hips.
Ventilation is good for cool to moderate weather, but not sufficient for weather anywhere north of 80 F
No front pockets at the waist or hip, only a pocket in the cargo-pants-pocket area
No zipper for bottom leg openings, only a folding area secured by a Velcro tab. As I have large legs, proved a bit tight sometimes getting it on over my boots
One of my very first reviews for webBikeWorld, when I was but a wee content contributor, was for the Alpinestars Andes V3 Drystar touring jacket, and I gave it a pretty good score. Now that I've had a few seasons under my belt and have had both great and horrible gear on me to test, I have a greater appreciation for the varying qualities of gear out there.
I make mention of that because Alpinestars so far has been one of the standouts for me. I don't think I've rated something of theirs ever lower than a 4.4 or 4.5 out of 5. I was also aware, for the longest time, that the Andes v3 jacket had a zip that would join it with the Andes v3 pants, making it into a full adventure suit. So when I was given the opportunity to review a set of pants this year, I immediately decided on the Andes v3, as the jacket had impressed me so much.
About Alpinestars
Alpinestars was established in 1963 in the small Italian town of Asolo. Commitment to innovation has led Alpinestars to become a world-leading manufacturer of professional motorsport racing products, motorcycling airbag protection, high-performance apparel, technical footwear, and helmets. They are also involved in many forms of motorsports, including top tier series such as Formula 1, NASCAR, MotoGP, World SBK, AMA Supercross and Motocross, MXGP, Dakar, MotoAmerica, and more has led.
Their motto is: "One Goal. One Vision." Innovation is key to this, and they strive to constantly improve their products for customers of all levels, from the casual rider to the weekend racer and beyond. That One Goal is to protect riders and drivers, and that One Vision is to do so with the most advanced, high tech, and high performance gear possible.
The Alpinestars story is well worth a read. See their story at About Alpinestars.
About webBikeWorld's Review Policy
This product was provided at no cost by Alpinestars via our partner RevZilla. Despite our affiliate relationship with RevZilla, we do not allow brands to influence review scores or content. Please see our review policies for more information.
We here at webBikeWorld believe that you can't just try something out once and give an honest opinion of it. Any product we test is actually used by our testers, and as such, as much as I could I wore the pants on as many rides in August and September of 2023 as I could.
Alpinestars Andes v3 Drystar Pants Features, Fitment, & Comfort
Features
The Andes v3 Drystar pants are very much like their jacket counterpart, in that they come fitted with a thermal liner that feels like it's infused with nuclear power it's so constantly warm, are made of the same high quality polyfabric and polyester materials, and have a permanently embedded Drystar waterproof membrane between the outer and inner layers.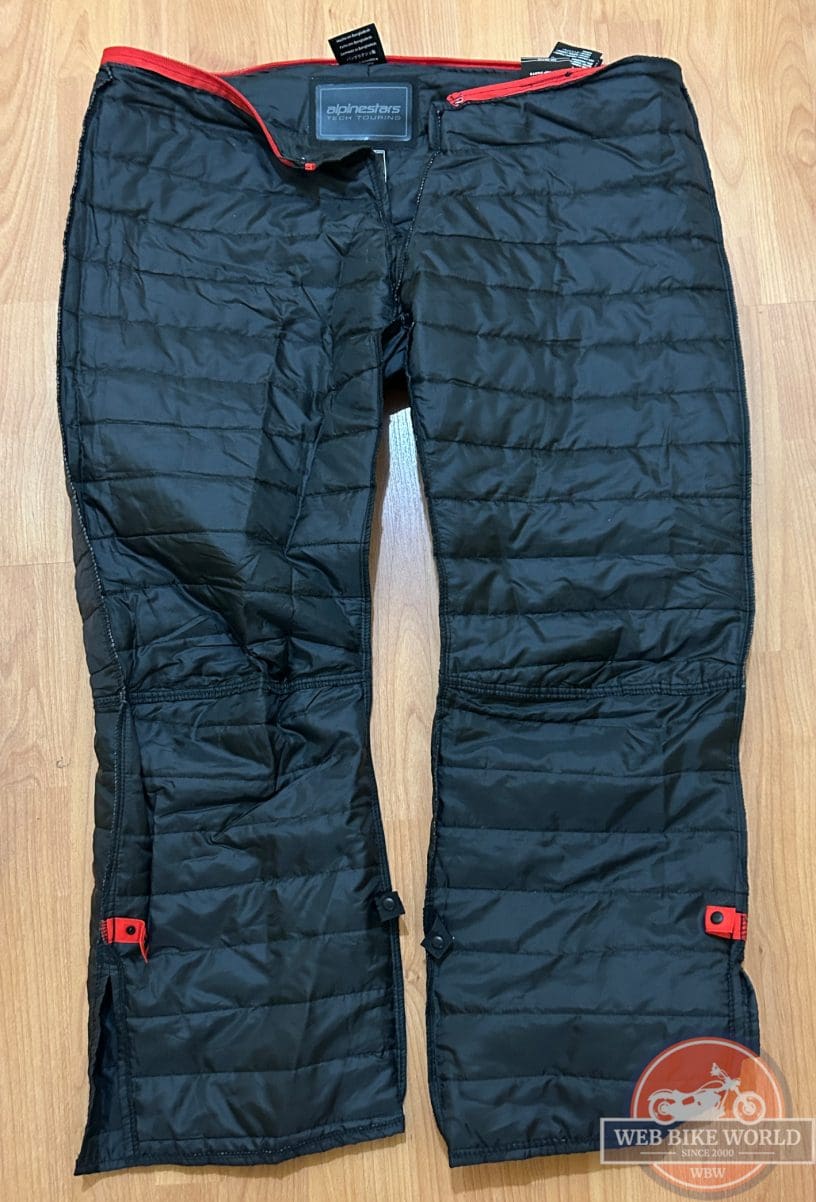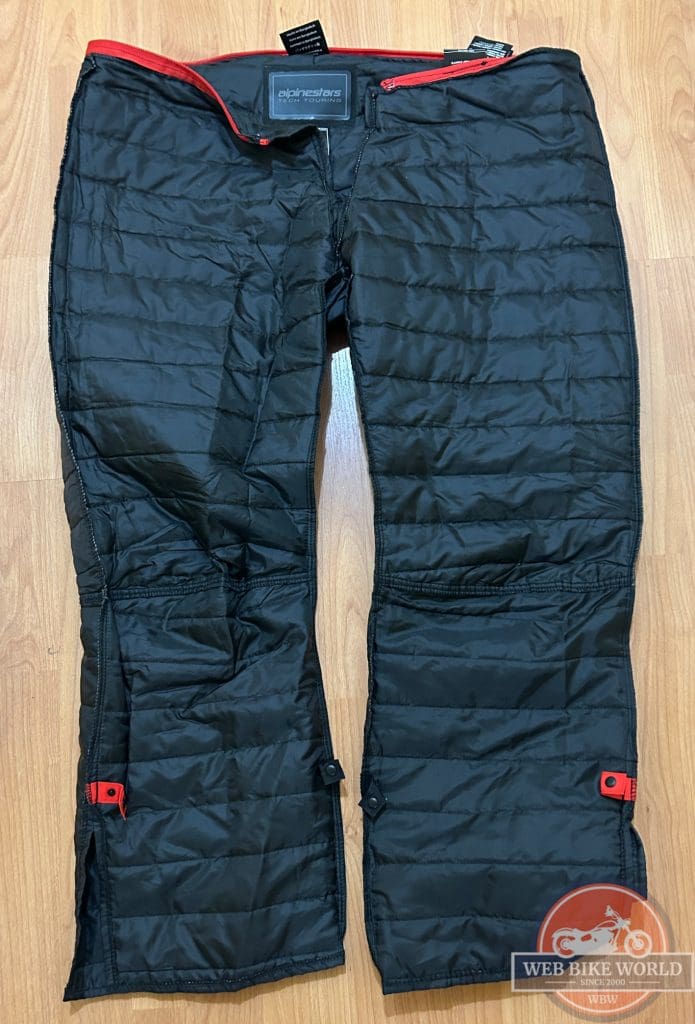 The pants also come with a detachable suspender that hooks into three very subtle loops around the hem of the pants, one dead middle back and one on each side of the main zip. There is also a three-quarter zip that mates with the Andes v3 jacket specifically, but also with pretty much any jacket with a ¾ zip of the same style.
In terms of protection, the pants feature two Bio Flex non-Newtonian impact foam armor knee pads in a three stage pocket so you can ensure it's over your patella every time you sit in the saddle. There are pockets for optional Bio Flex or D3O hip armor, but what surprised me is that there was a lack of any hip pockets on the outside, "Jeans style."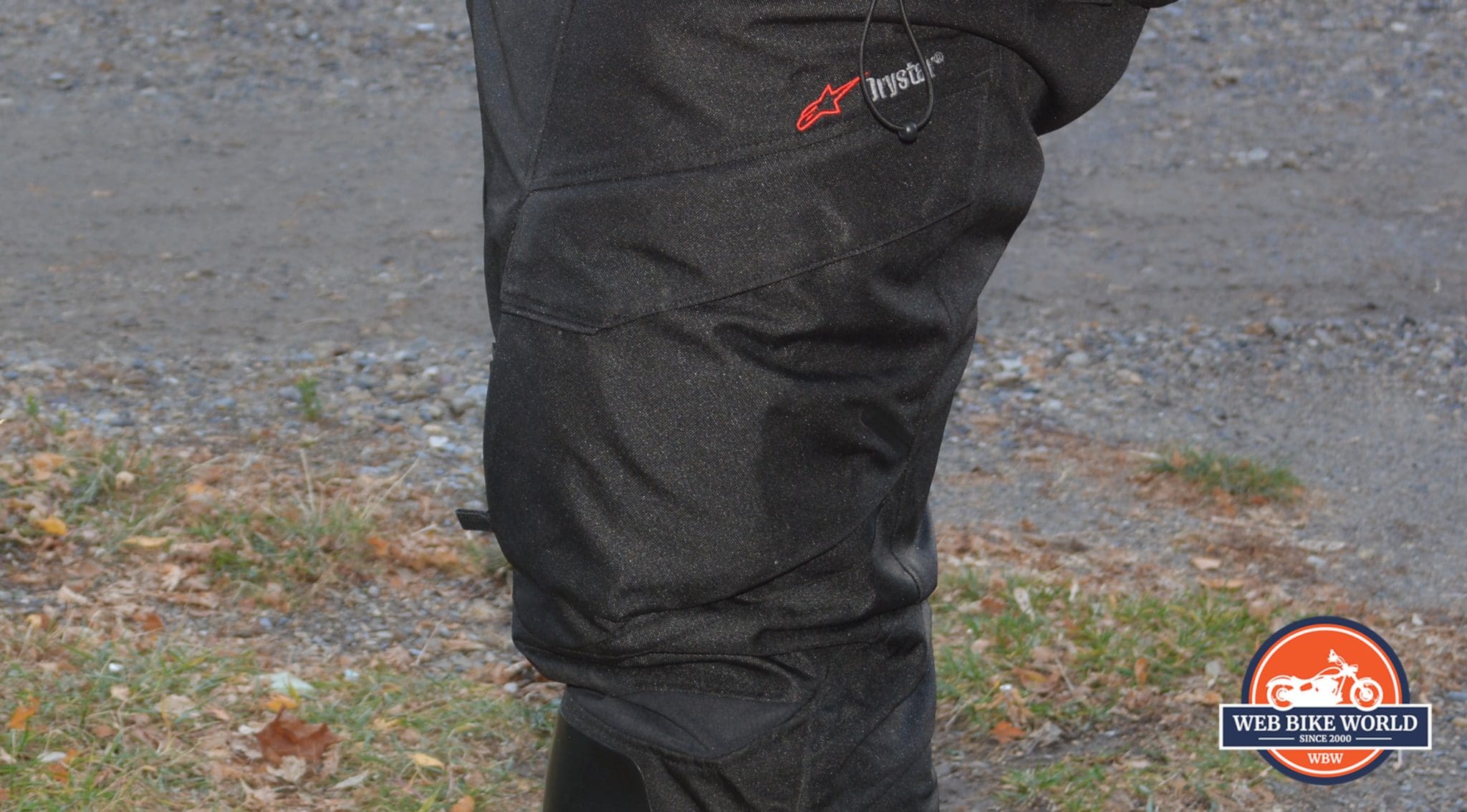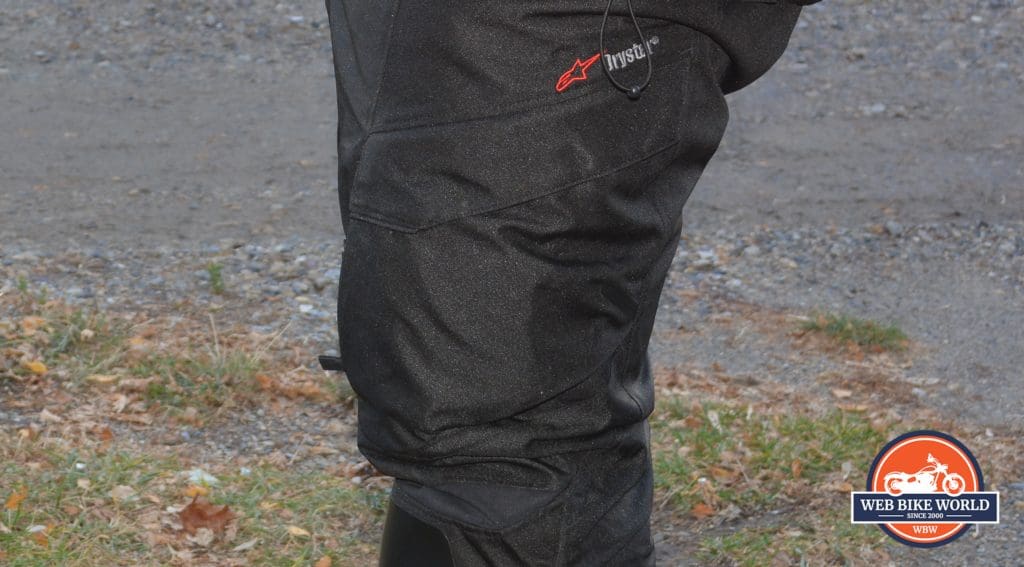 The only pockets on the pants are situated in the cargo-pocket area, and are Velcro closure pockets about 6 to 7 inches deep. They are located beside the only optional ventilation on the pants as well, two 6 inch or so zippered pockets with a little snap tab inside you need to snap onto the button on the pants to hold the vents open.
What is surprising about the pockets is that they are wide and deep, but they are very slim in terms of what you can actually fit into them. I honestly think you'd struggle getting a bottle of water in there, let alone anything thicker than pretty much an inch, as the pockets get pulled down tight to your leg when you sit on the bike, so hopefully it's nothing fragile!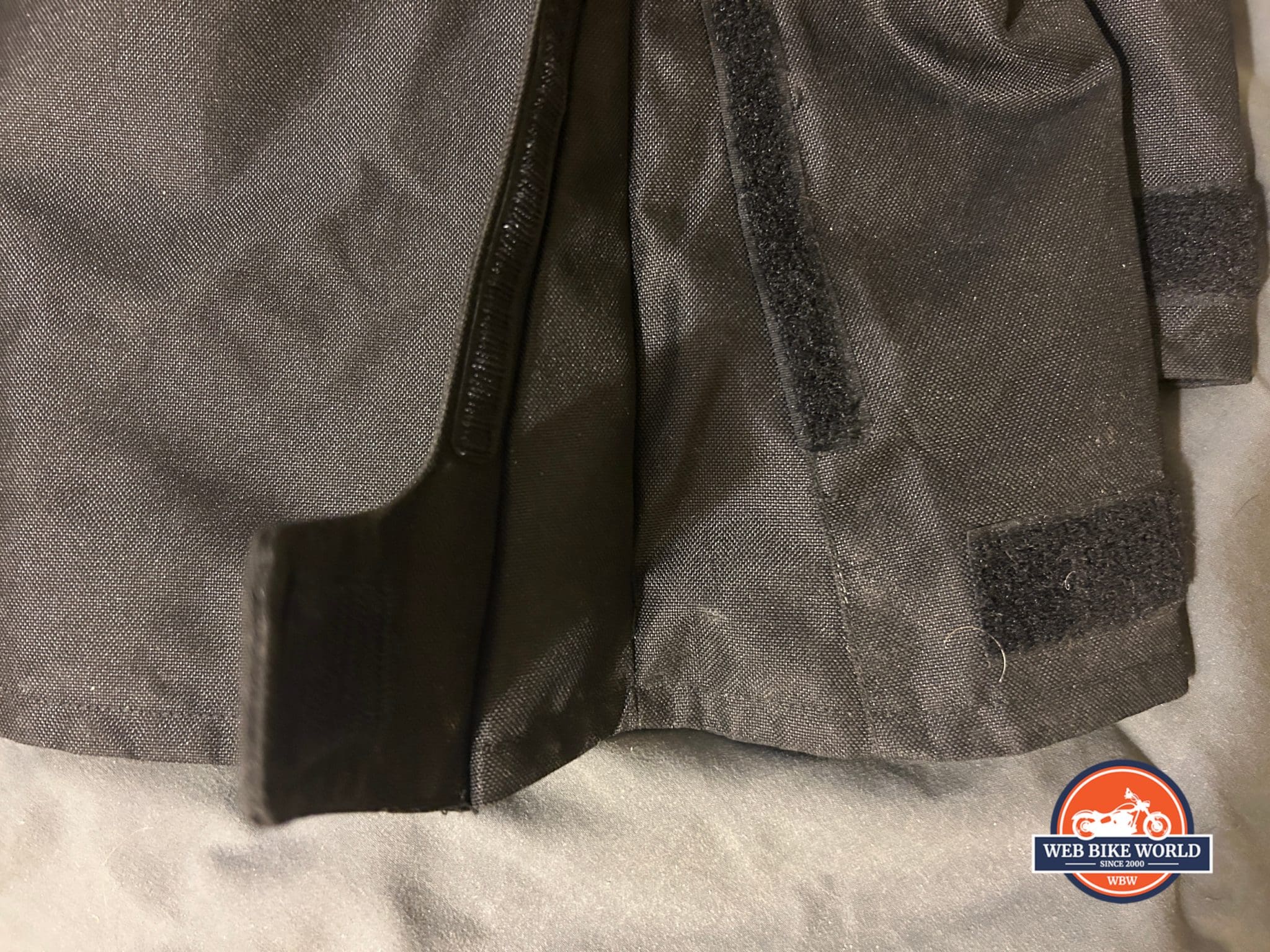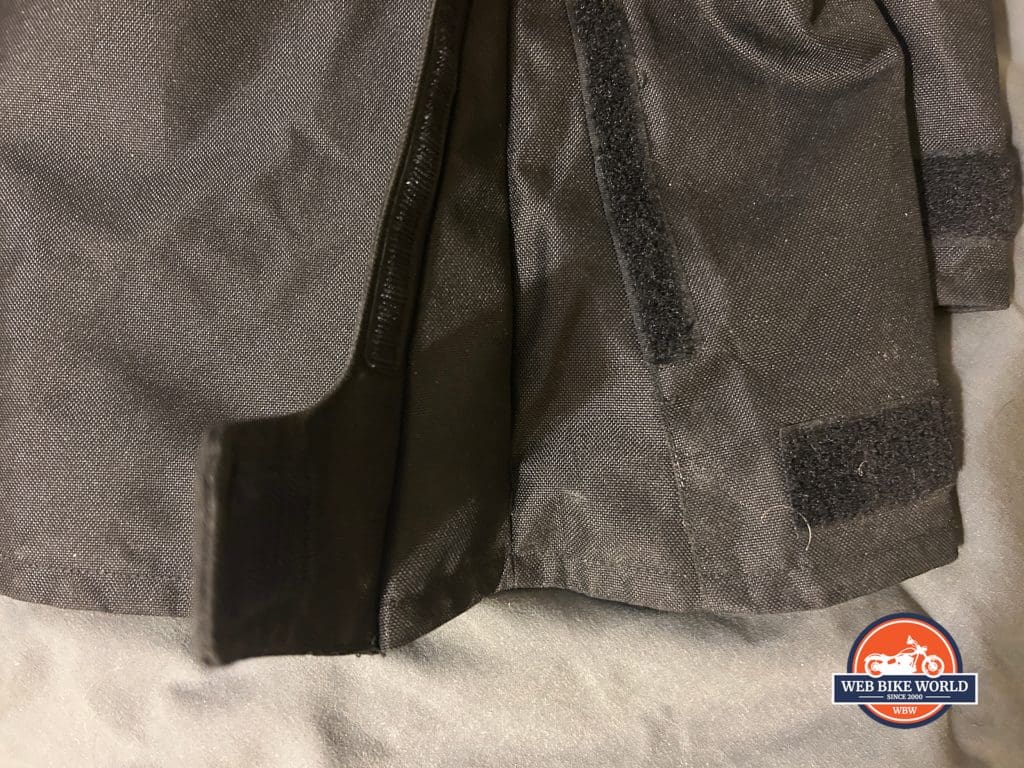 There is a high-abrasion and high-heat resistant reinforced polymer textile across the knees and upper inner calves to provide added time when sliding along the pavement for friction to slow you down without wearing through. 
Finally, at the base of each leg is a Velcro-closed expansion to be able to fit the pants over a pair of boots. It doesn't open particularly wide, but enough to fit a boot into before tugging it tight and closing it.
Fitment & Comfort
The first time I tried on the pants, there was a moment when I thought I had received the wrong size, despite ordering the 4XL based on my hip and waist measurements. I did get the tailor's measure out and the distances were within about ¾ inches or better of claimed on the Alpinestars sizing chart, so that part is okay.
What I eventually found out is that the Andes v3 pants are much more cut in a "European regular" than an "American regular." Basically, as I am a big and tall guy, my hips were the issue, in that I am wider (not just fat, actual skeletal structure here!) than your average European male. It was tight as hell to slip up over my hips, but once it was up, it was actually quite comfortable.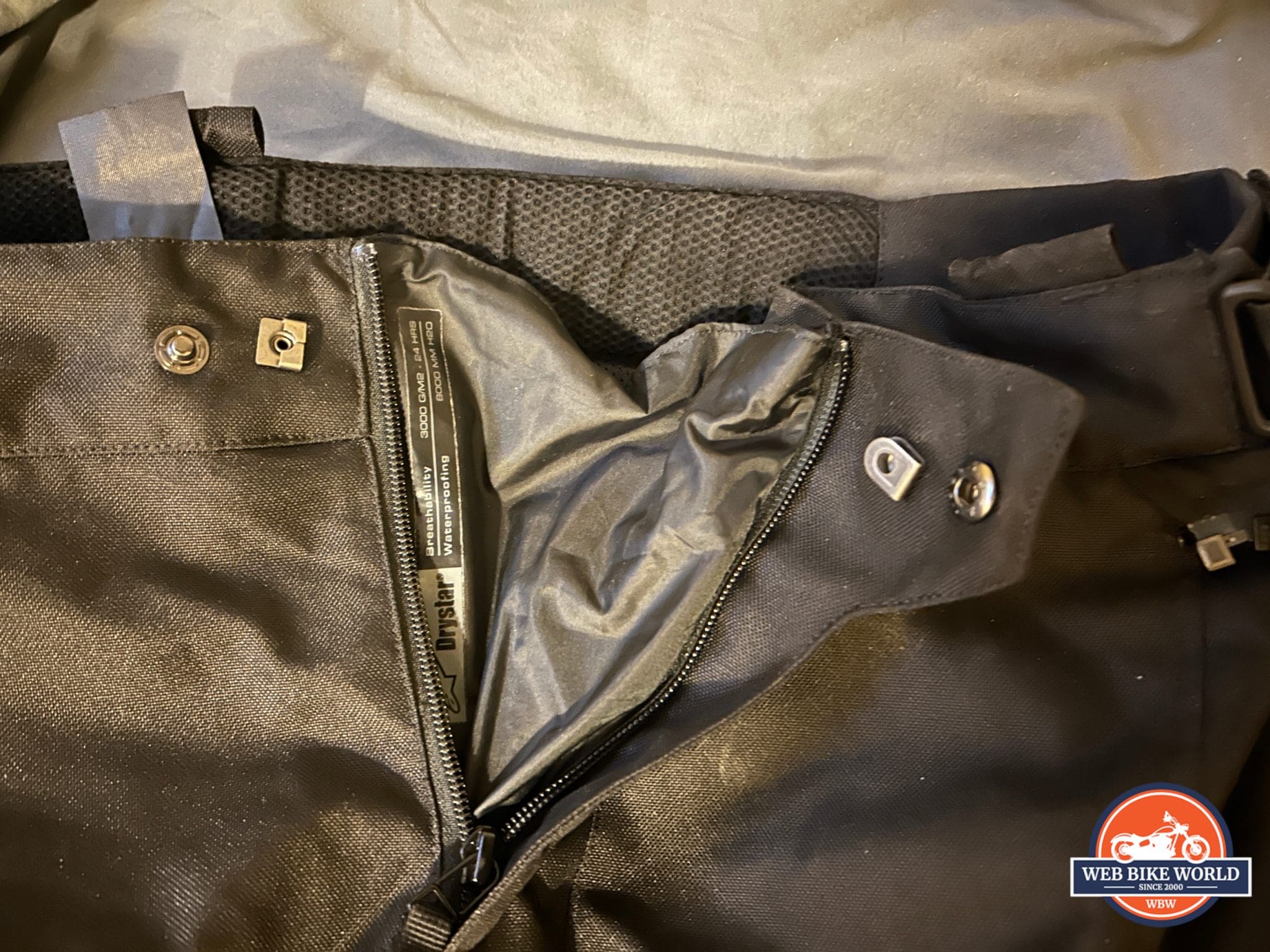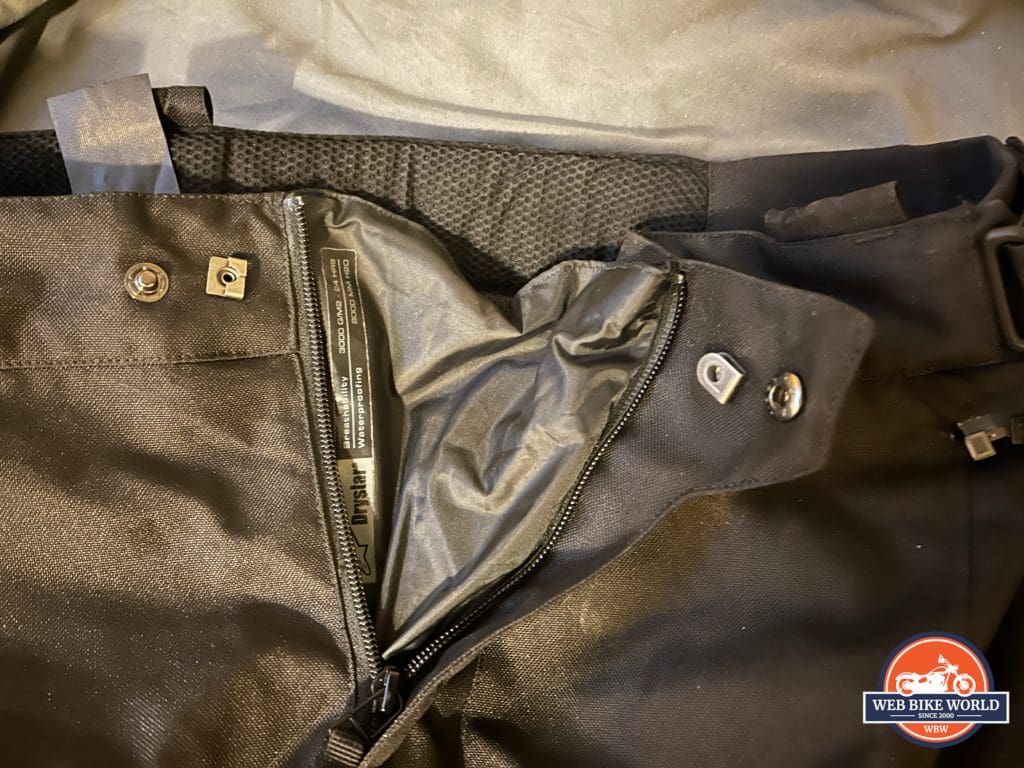 Also, it fit just that little bit better when I pulled the thermal liner out. It's a thinsulate kind of material, only about a ¼ inch thick if that, but it made enough of a difference that the pants slid on a lot better this time. As well, you have little adjustment straps at the hips to fine tune the fit, which is held very solid using a two fastener system, on a hook and the other a pop button.
Now, the last time I reviewed a pair of motorcycle pants, it was the Rev'It! Tornado 3 Mesh over-pants, with the major issue there being a lot of tightness and pressure against my perineal area when sat on my bike. Surprisingly, the Andes v3 was less comfortable to stand in than it was to sit on the bike with, in one of those nonsensical twists of irony. 
On the bike, the pants felt snug but not tight, the armor slid home over my knee just so, and there was no tugging or pressure yanking down on my Andes v3 jacket. It just… worked.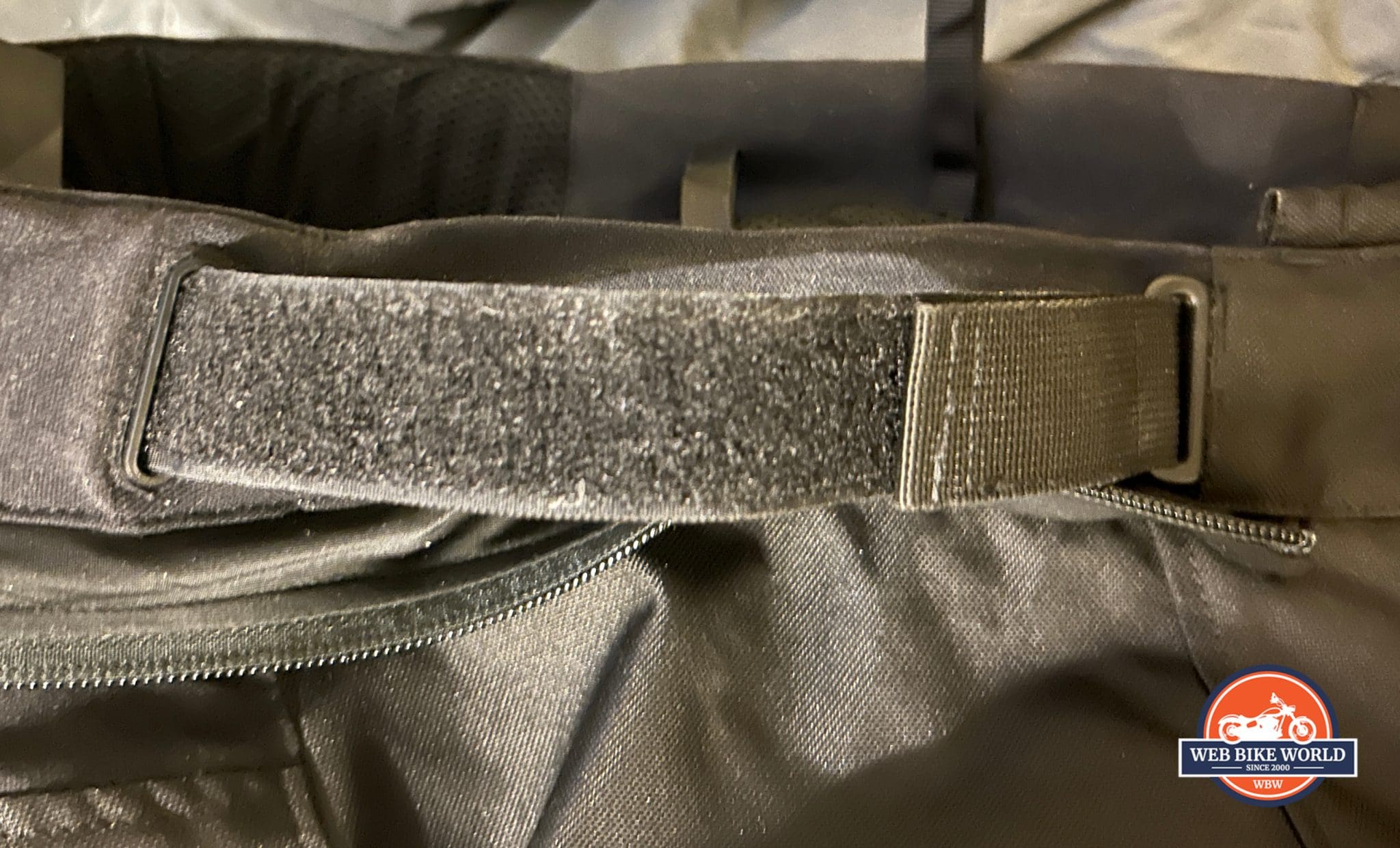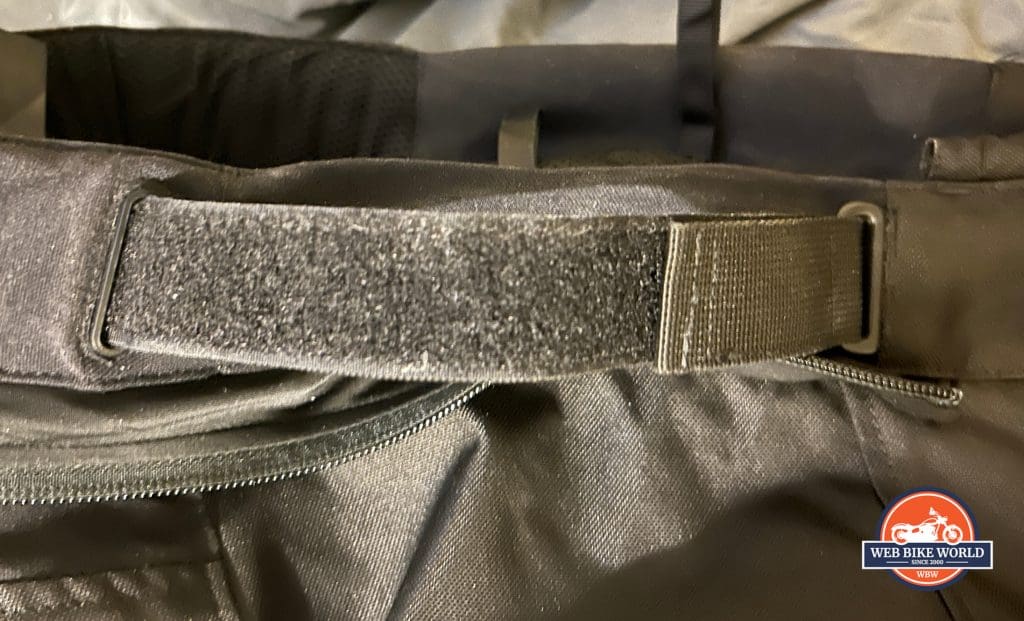 However, although it was a tight fit and was immensely comfortable when on the bike, there is one thing about the Andes v3 pants that I need to criticize as objectively as possible…
Ventilation
I understand that the primary function of the Andes v3 gear is for getting out there on an ADV bike, getting splatter with water, mud, bugs, blood, what have you, and keeping you warm and dry throughout. In that sense, the pants work great!
But to only have two vents, only 6 inches long and that only open to about 1 ¾ inches when held wide open? 
With the vents closed, the pants move no air whatsoever. You notice some of the heat being wicked away through the breathable Drystar membrane, but when you open the vents and expect blessed relief, it feels like a very tired asthmatic hamster, after a bout of running on his wheel, is trying to blow cooling air over you from 6 feet away.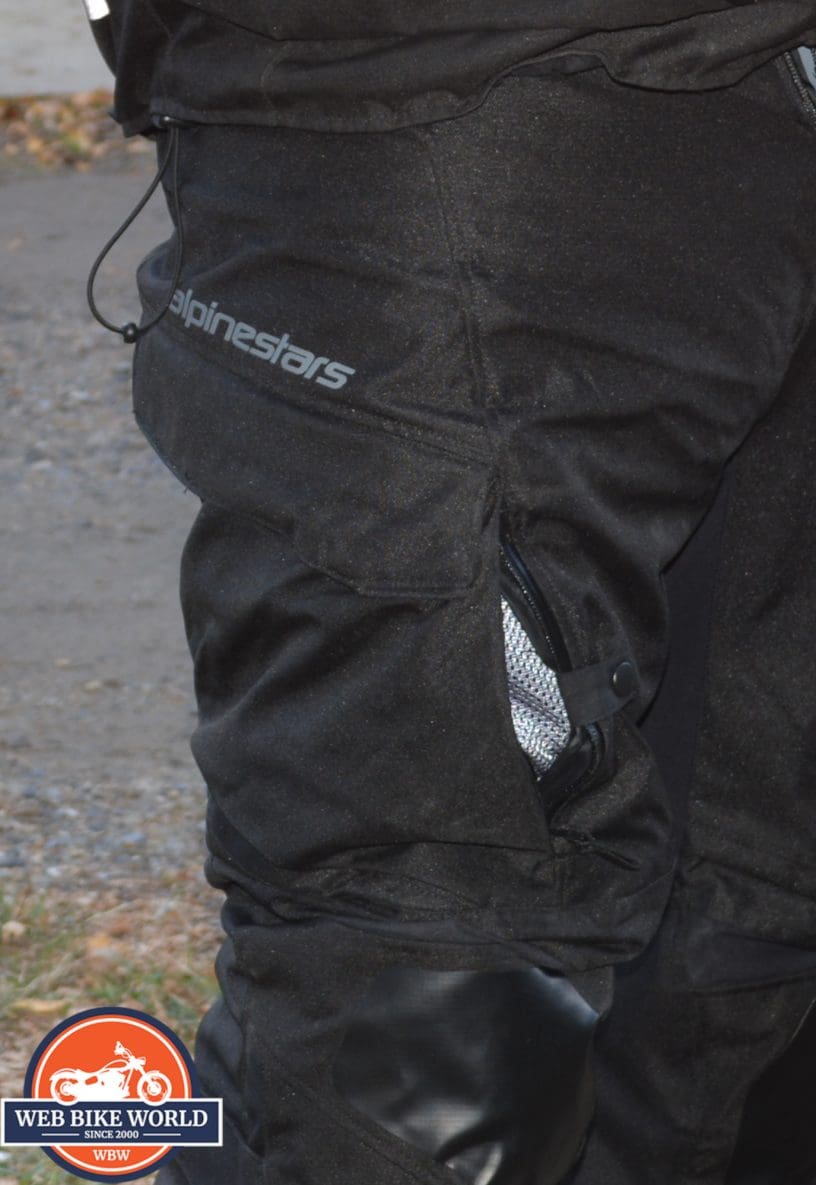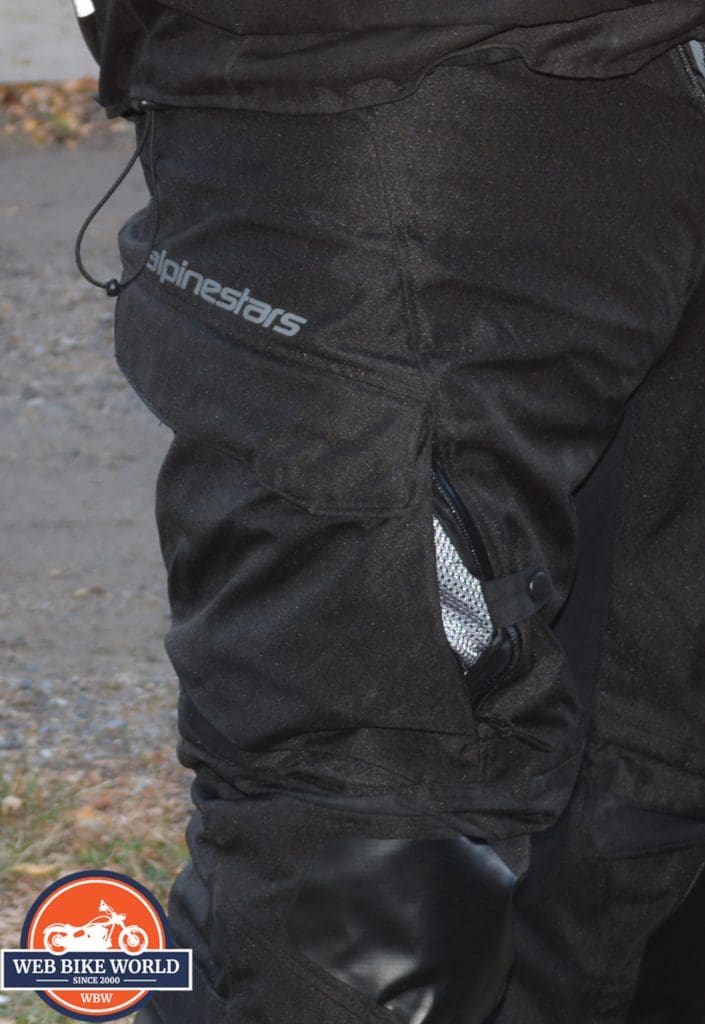 I do have to place a caveat here in that the vents are directly in the center of your quadriceps. I ride a 2012 Kawasaki Ninja 650, a sport touring bike, so while there was some air, I suspect that the vents are intended to be used by someone in a taller saddle or even standing up, where you'd get direct airflow into them.
I will discuss what happened when things got really hot in August in the real world section in a few paragraphs
Build Quality
Probably the shortest bit of this review: It's a product from Alpinestars. 
It's built to the highest standards, triple stitched in most areas and quadruple stitched (one inner stitch, three outer stitches) in the groin area, and feels like the $260 it costs. Sometimes you buy something pricey and it still feels cheap, but not these pants. That's also not being snobbish, they just feel like you could use them as a sling to lift the front of a car with and not a single stitch would pop.
While I do give it full marks for the build quality, it's time to see how these pants did over 8 weeks of riding.
The Alpinestars Andes v3 Drystar Pants In The Real World
For those that do not live in the Pacific Northwest of the US or the Western part of Canada, you're likely to be more accurate in a weather forecast by spinning a wheel and seeing where the arrow lands than by pretty much any scientific method. We have a saying in this part of the world: "If you don't like the weather, wait 10 minutes."
The very first day I rode in the pants, it was a pretty comfortable 16 C (~60 F), and I wore the Andes v3 jacket with it, zipped together. I had all of the vents open on the jacket, and both of the pants vents open, and I got literally no air through the pants vents. In fact, what I felt against my skin was something akin to what the exhaust vents on helmets do. By the sheer air passing over the vent, it was sucking heat out with a Venturi effect.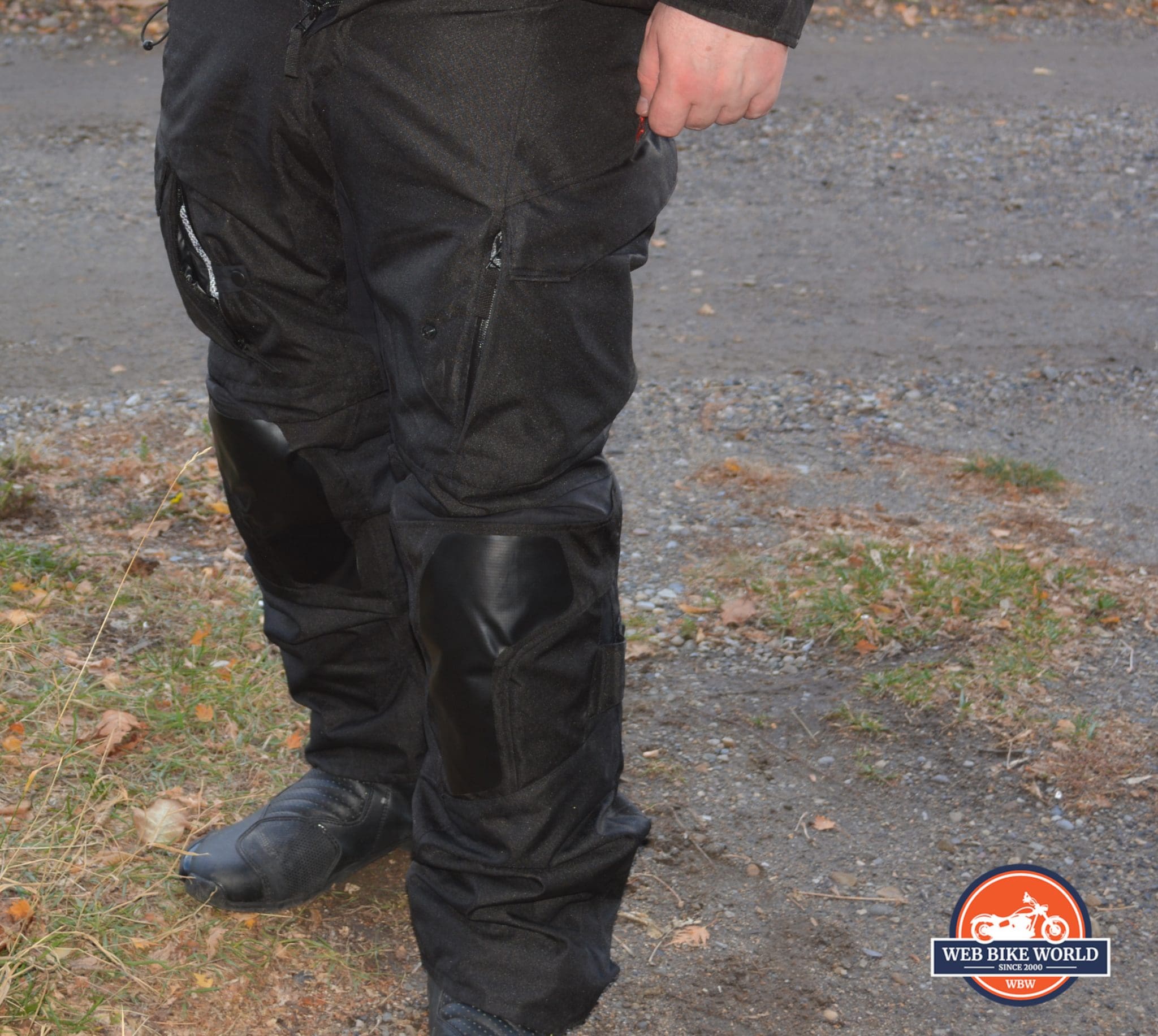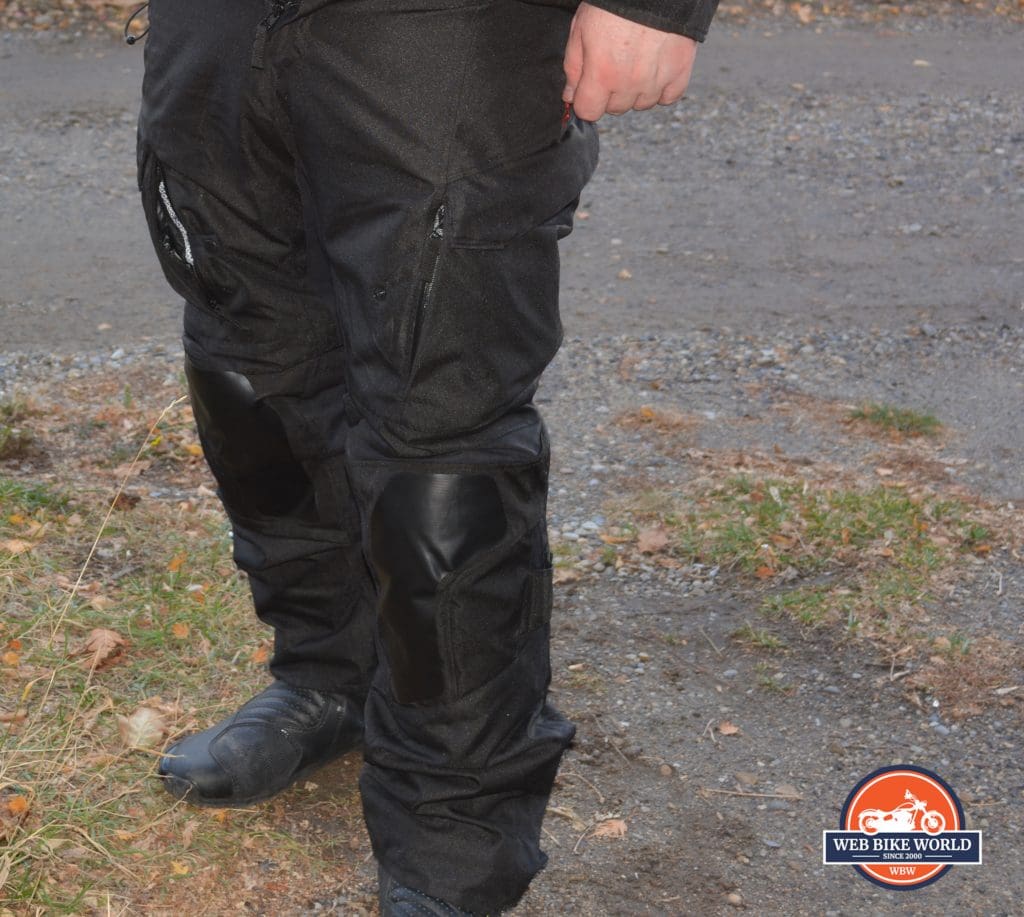 I got off the main road I was on and got a bit buried in some side roads so I could ride a bit slower and do something I don't often do on my Ninja 650, and I stood on the pegs. Immediately the air rushed into the vents and around my thighs, and it felt pretty good for a few minutes… until there was no vent for that air to exhaust from. 
It's a really odd sensation, feeling hot air creep up your spine in search of an exhaust and finding it at the upper back of the jacket. Some air was able to escape back out the vent itself on the front of the leg, but not nearly enough. If it had been even a few degrees hotter, that extra warming up the spine could have potentially caused fatigue or been distracting.
I also found it kind of peculiar that while the pants are immensely comfortable on the bike, when you're standing, walking, crouching, et al off the bike, the pants do sometimes feel like they get tight in some areas. A hip there, a knee here, and even it once gave me a pretty deep wedgie when I bent down to pick up my keys after I fumbled with my gloves on.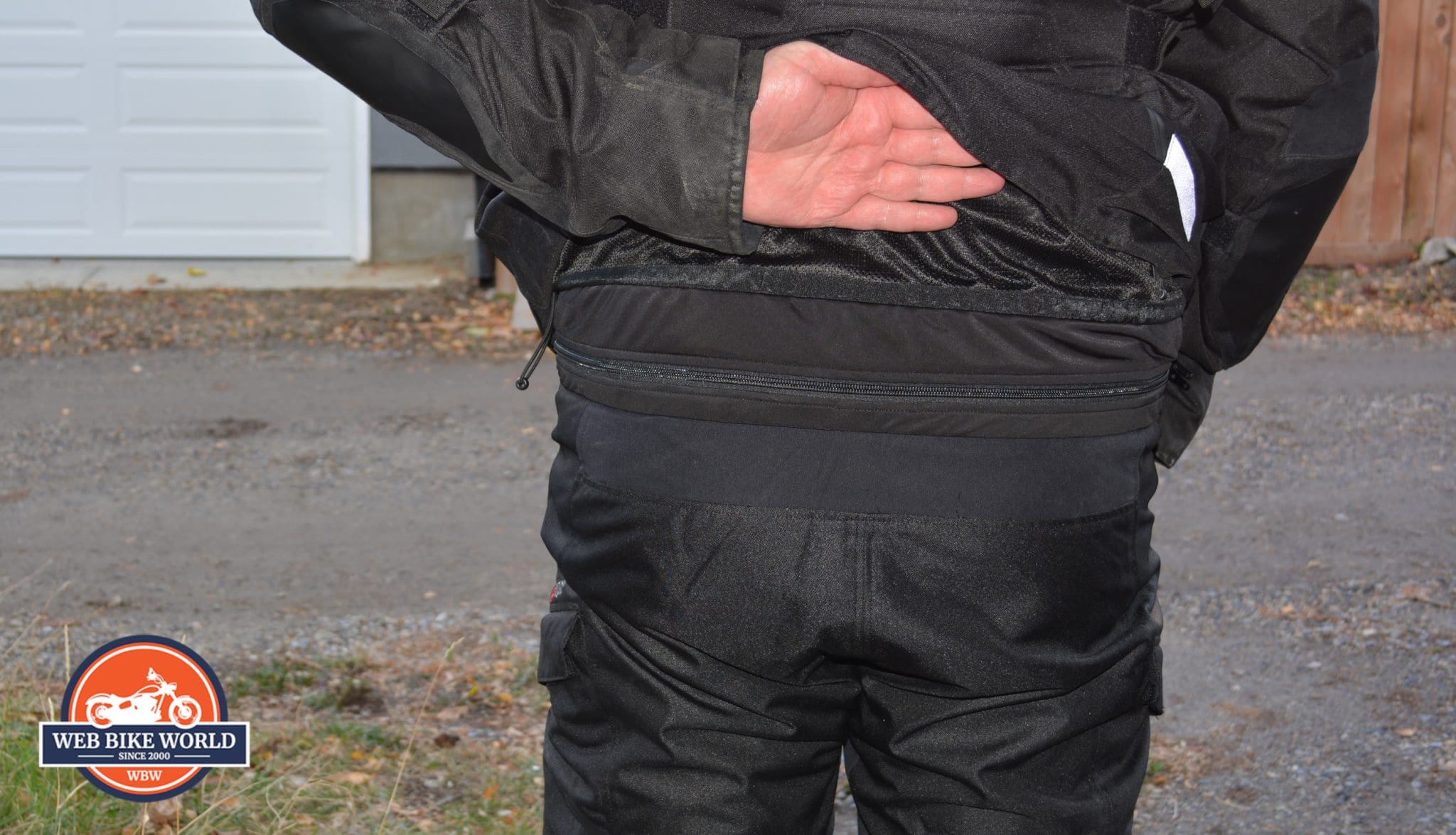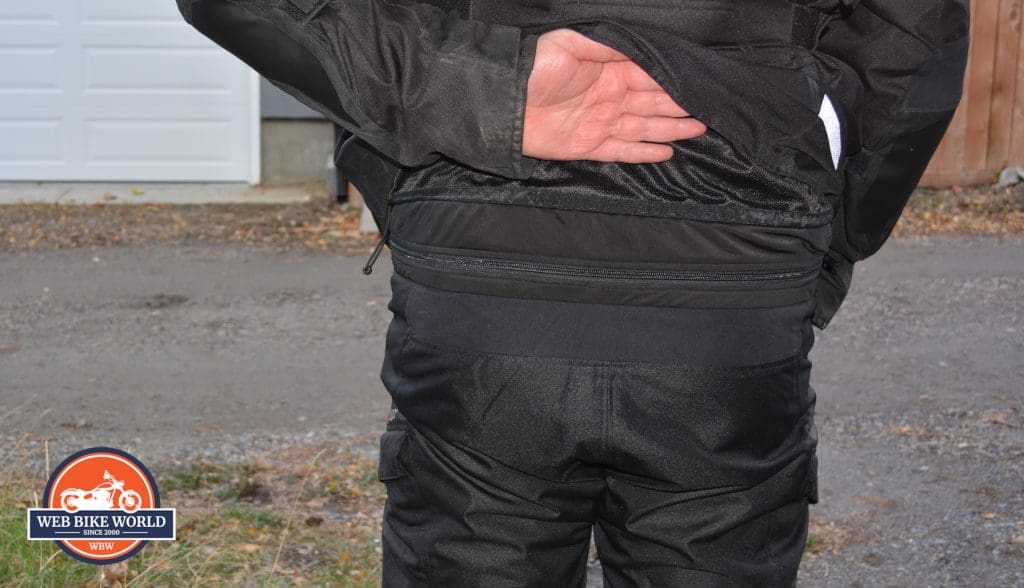 I do attribute that to the fact that the legs are partly pre-bent, and that they are meant to be stiff and resilient when you're thrashing your ADV through over some sand dunes or beating back the bush as you ride a forest trail. In that sense, they're built like a tank for your legs.
However, as the temperatures soared into the mid-20's C (high 70's F) and up past 30 C (86 F), the lack of ventilation in the pants, even wearing my Scorpion Vortex Air jacket, became unbearable. I rarely call it quits in the middle of a ride where I am testing a piece of gear, but after about an hour of direct sunlight and blazing hot temperatures (for a Canadian), I was starting to feel a little unwell with the first signs of overheating, so I turned around and went home. 
Keep in mind, this is while wearing a jacket that literally does not stop the air at all, and wearing a Klim Aggressor -1.0 cooling shirt underneath. I was worried about heat stroke even wearing extreme weather gear (except the pants).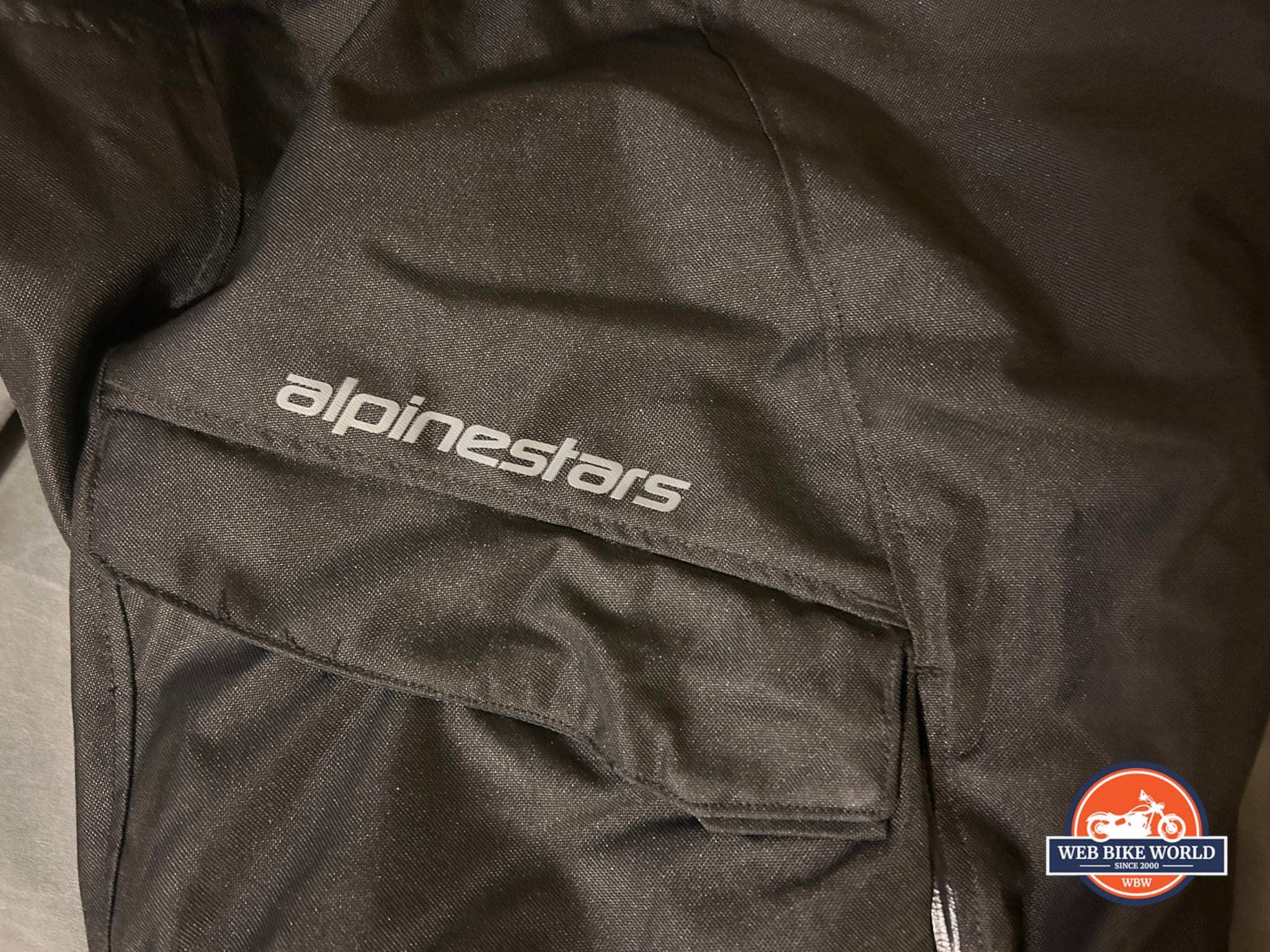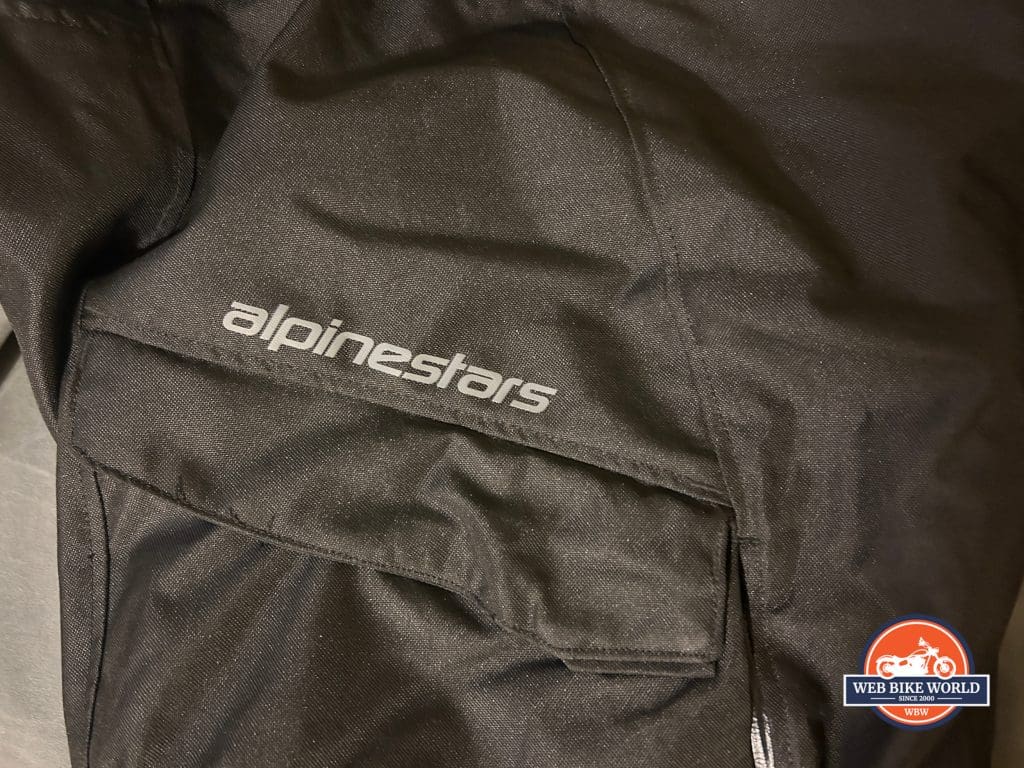 This led me to do something that I have never done before in a review, and I set myself a rule. If the temperature breaches 25 C (77 F), I would wear my other riding pants, which I know ventilate extremely well because it has both an intake and exhaust set of vents. 
While it seems like I am laying into the pants a little unfairly, there is one major caveat that needs to be stated: This is my experience only. I have to base my review score on both subjective data and objective facts. Someone fitter, thinner, smaller, and with a more appropriate ADV bike than me will probably get much better ventilation, cooling, and overall effectiveness over my experiences. 
However, while I am on a bit of a tear about the pants, another thing that only didn't make sense, but was downright annoying, was that the pants had a pair of cargo pockets that were surprisingly slim, not very wide, and not all that deep either. One of the things I loved about the Andes v3 jacket was that it was literally Operah going "And you get a pocket and you get a pocket and you get a pocket!"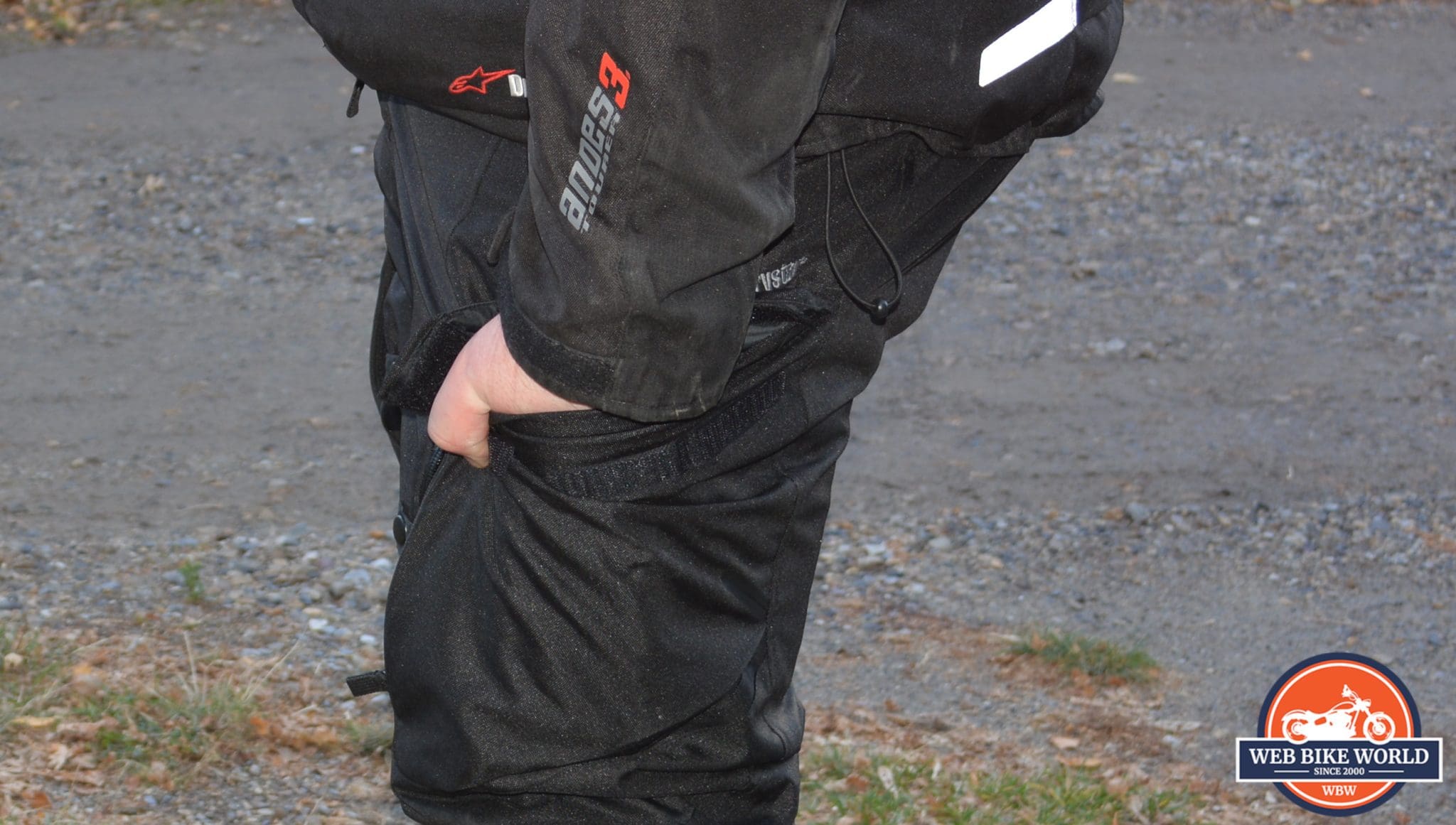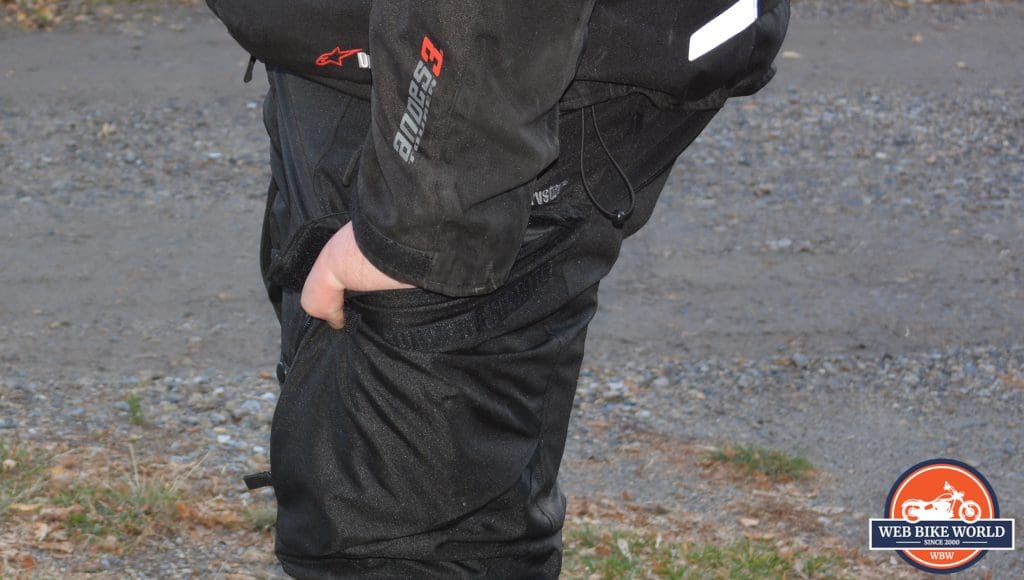 I suspect that Alpinestars are sort-of expecting you to buy the jacket and pants as a set, relying on your jacket having no less than 7 pockets, and only giving you pockets on the pants good for a couple of energy bars, a map, your smartphone, and maybe the faucet from the kitchen sink but not much more. Even worse, if something stiff, like a granola bar or the side of a smartphone is pressed against the inner wall, it cuts off part of the vent.
I don't know if I am being at all objective for this next one, so I will be blunt: The fact that the leg opening at the bottom of the legs is a folded up area instead of a waterproofing-backed zipper is beyond me. I have pretty meaty legs, from years of martial arts and some fun rugby here and there, and getting the rim of the leg over the Alpinestars SMX6 v2 vented boots I had on was a struggle. I understand why it's there, for waterproofing, but what's the point if about a foot and a half north of the top of that flap is a vent that has, of all things, a waterproofing-backed zipper on it?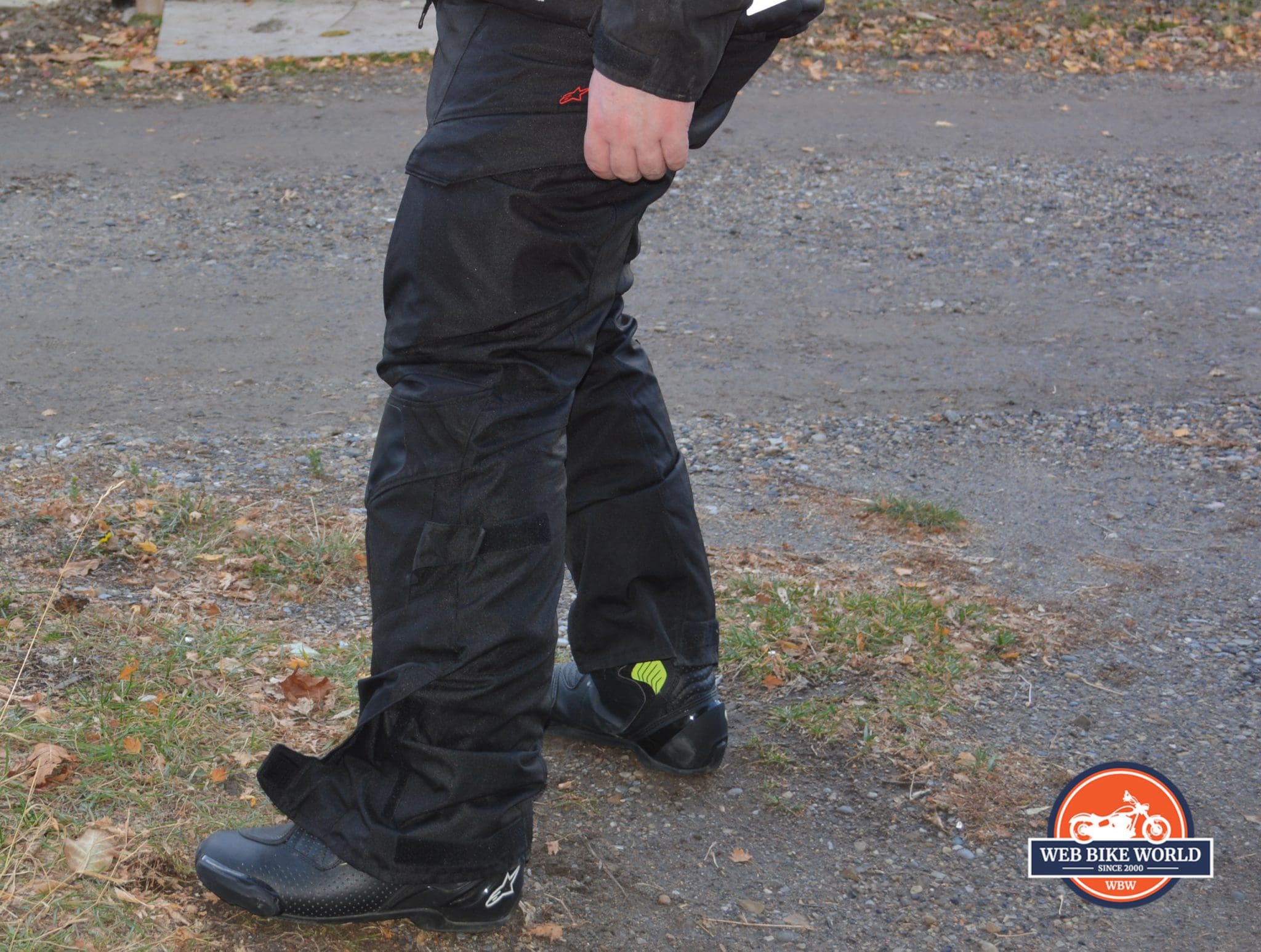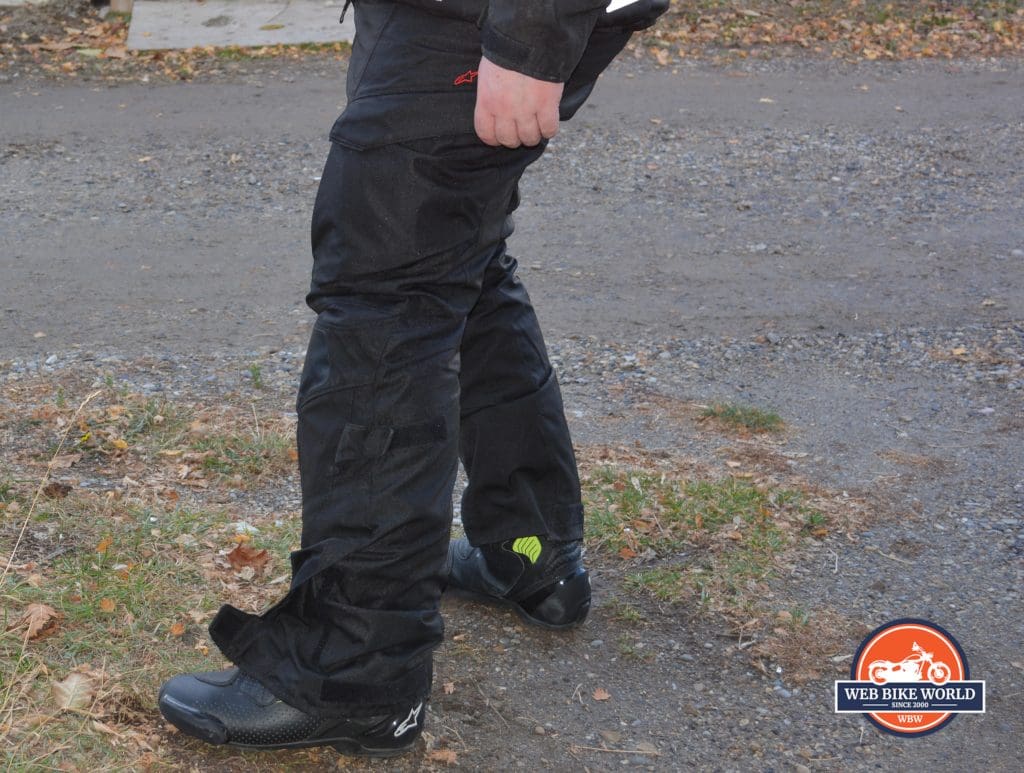 On the subject of waterproofing, I did get rained on a couple of times while out on rides, so "Sad bikers testing gear in the shower" picture this time around. I can safely report that you could probably get a point blank blast from a firehose at full pressure, and once you've stopped flying through the air and tumbling down the sidewalk from the pressure of the blast, your legs would be bone dry. Possibly broken from the tumbling, but dry!
I was able to get one properly cold ride in, in the dark of night when it dropped to only 5 C (41 F), and I was able to ride in the Andes v3 gear with all the vents closed, and it honestly felt like that's the intended temperature. 
That one ride, about an hour and a half all alone on the roads at 1 AM, was one of those moments when you have the right gear, clear-for-miles conditions, your bike feeling proper and good under you, and when you get up to speed, the windchill takes care of the wicking away of heat at just the right rate…
These pants are definitely three season capable, even four season if you can ride year round. They are not, in this reviewer's completely subjective opinion, good pants for hot or extreme hot weather.  
Final Thoughts: Some Good, Some Bad, But Thankfully No Ugly
I have been admitting a lot of my criticisms of these pants very likely comes from my riding sport-standard instead of fully standard like on an ADV. When I stood up, and got the vents pointed directly into the airflow, I was getting excellent cooling. The waterproofing is as good as the Andes v3 jacket, meaning not a single drop of water gets in, and the materials and build are as good as anything Alpinestars makes.
What loses points for me is the lower openings being effectively gussets instead of a proper, wide area to slip a boot into without having to use a shoehorn. As well, the inexplicable reason that Alpinestars gives you deep and wide pockets that look to be able to carry stuff, but they are so slim that even just putting my wallet, a leather thing maybe about ¾ of an inch thick in the left pocket made a big ugly square be pressed into my thigh when I pulled the pants off at home!
Thankfully, there is nothing truly catastrophically wrong with the Andes v3 Drystar pants. There is no ugly. If you pair it with the Andes v3 (or even Andes v2, it's compatible!) jacket, you'll have more than enough torso pockets and ADV riders in general usually have a tank bag, a set of saddlebags, a top locker, and a kitchen sink dragged behind anyways. 
If you're into dual-sport or ADV riding, definitely give them a look and, as always, form your own opinion about them. If you're a sport or standard rider, the pants will still work perfectly fine as they are CE EN17092 Class A rated, but your mileage may vary in terms of how effectively the ventilation works and if you have wider hips, be ready to have to squeeze the pants up over your hips to get them on. 
Don't worry, though. They're built so well they simply won't tear!