Slovenian exhaust manufacturer has certainly exhausted all possibilities with motorcycle exhausts with their new Full Moon concept cruiser.
That amazing rear end – on the bike not the female model – is actually the exhaust system.
The company debuted the Full Moon concept at the Bad Salzuflen Custom Bike Show in Germany.
Akrapovic is better known for making sport bike exhausts, but has recently branched out into aftermarket exhausts for Harleys and other cruisers.
The Full Moon muscle cruiser is powered by a 1524cc S&S Knucklehead and comes with "automated" steering, a Buell-style rim brake on the front wheel, hydraulic suspension so you can park the bike upright, and LED headlights on the footrests.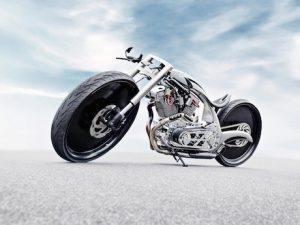 This is not the first custom cruiser that Akrvpovic has built to show off its craftsmanship. Three years ago it debuted the Morsus.
Like the Full Moon it's powered by an S&S V-twin and was made to showcase their cruiser exhausts.
If you want to hear what they sound like, click here to listen to some examples of the pipes on various Harleys.
You can compare the sounds of the stock exhaust against the sound with and without a noise-reduction insert. It sounds throatier, but not that much louder, even without the insert. This is also an interesting clip of the Morsus custom bike which is a joint project between Akrapovic and Slovenian-based Dreamachine Motorcycles. It certainly has a "resonant sound".
Akrapovic claim their pipes not only sound good, but are lighter and increase both torque and power.
Australian distributor, Gas Imports, says the exhausts are available now with prices varying depending on the bike.
By the way, it's pronounced a-crop-o-vitch, not acrow-poh-vick.