THE HISTORY OF AJS MOTORCYCLES
The name AJS stands for A.J. Stevens & Co., the firm's full official name. But that's an awful lot to fit on the side of a motorcycle tank, so they made do with the initials. Founder Joe Stevens owned Stevens Screw Co. in Wolverhampton, England, and by 1987 had built his first motorcycle using a US-built Mitchell engine. Before long, he and his three sons were making improved versions of the Mitchell, which were followed by engines of their own designs, including parallel twins and V-twins, which they were selling to other early motorcycle manufacturers, including Werner, Wolf and Clyno. In 1909, a Wearwell motorcycle using a Stevens-built engine won a 24-hour non-stop endurance race. One of Joe Stevens' sons, Albert (nicknamed "Jack") was inspired to enter one of their own machines in the Tourist Trophy race at the Isle of Man TT. A new company, A.J. Stevens & Co. (AJS Motorcycles) was formed and opened for business on Retreat Street, in Wolverhampton. Their first product debuted at the 1910 Motorcycle Show, a 298cc side valve single with a 2-speed gearbox, just 2cc under the 300cc displacement limit to enter the 1911 Isle of Man TT. AJS's factory race bike came in 16th, with an identical AJS owned and ridden by a privateer came in 15th. The other brothers, Harry and George joined the company and began racking up a string of successes, both at the race track and in showrooms. During their 23 years of ownership JAP piled up no less than 117 world records for motorcycles. They worked constantly at improving and expanding their product line, even getting into automobile production during the late 1920s.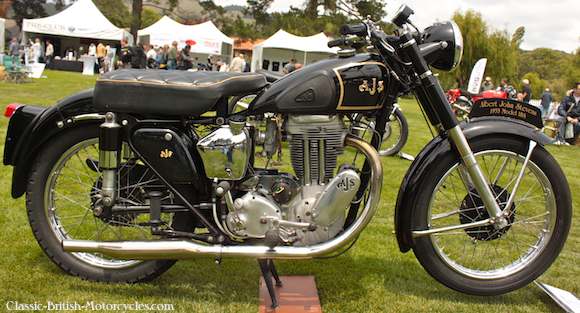 AJS MOTORCYCLES IS BOUGHT BY MATCHLESS
But all was not wine and roses at AJS. By 1931 they had to file bankruptcy. BSA failed to gain control when it came on the market, outbid by the Collier Brothers who already owned Matchless. As the Colliers accumulated more brands, they formed Associated Motor Cycles (AMC) in 1938, officially absorbing the AJS Motorcycles-brand under their umbrella. At the same time, they merged the AJS brand with the Matchless brand, making them almost mechanically identical from that point on. Other than cosmetic and minor detail changes, the only major difference between the two brands was the Matchless singles mounted their mag-dyno behind the cylinder, whereas the AJS mounted their ahead of the cylinder. What difference did it make? None. But it made them look different enough to pass them off as two different bikes, with a wink of the eye of course, they weren't fooling anyone. This early example of what we now refer to as 'badge-engineering' served AMC well in the 1930s leading up to the War. Fortunately for AMC, they got to build boatloads of Matchless G3/Ls for His Magesty's War Dept. After the war, competition increased from the other brands and AJS struggled to keep up. By the time civilian production resumed after World War 2, nearly every British motorcycle manufacturer had a vertical twin. Norton was the most successful brand in the AMC empire, and the had a terrific line of vertical twins starting in 1949, but it took until 1958 for Matchless and AJS to get their own vertical twins. The AJS version was called the Model 31 and was a very fine machine. AMC did it right with these sister-bikes, and they did something that no other British motorcycle maker had even thought of: a center main bearing. This huge improvement made their engines stronger and smoother by far, and able to rev higher. Alas, it was too little too late, and AJS struggled to sell the twin. By the 1960s, they were struggling to sell their legendary singles too, outclassed as they were by the monsoon of cheap, high-quality bikes pouring in from Japan. The AMC empire teetered in the late 60s then finally failed in 1966. Norton struggled along with out them, but Matchless and AJS were DOA. Both brands had strong enough name-recognition that other makers used those names under license on other motorcycles that weren't built by the original company.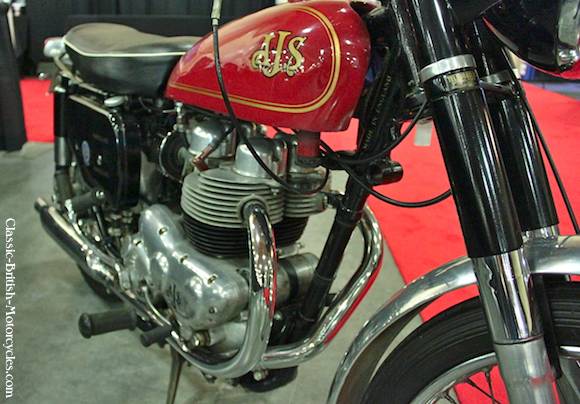 ---
AJS Motorcycles YEAR-BY-YEAR
---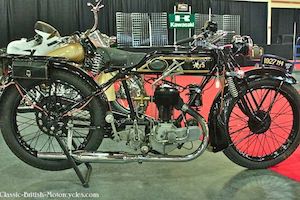 1927 MODEL H4
3.49 horsepower sidevalve single.
---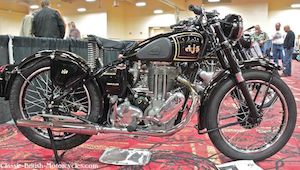 ---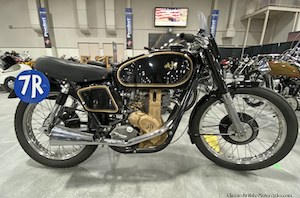 1950 AJS 7R Boy Racer
AJS's legendary road racer built to challenge the Norton Manx.
---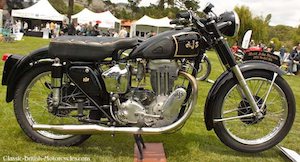 ---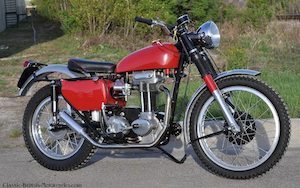 1959 AJS Model 16M
AMC's scrappy 350 single was just as good in the dirt as it was on the street.
---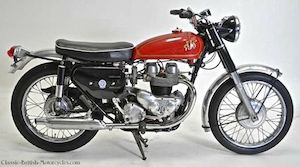 ---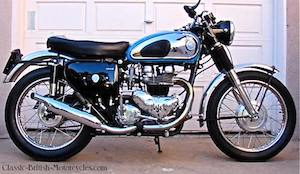 1961 AJS Model 31
AMC's entry into the 650cc vertical twin market had something that no other British vertical twin had: a center main bearing.
---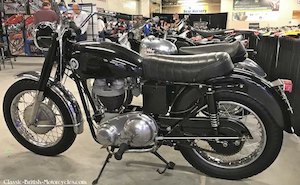 ---
Check out these AJS BOOKS

AJS: The Complete Story (Motoclassics)
---

AJS and Matchless Post-War Singles and Twins: The Complete Story
---

BOOK OF THE AJS SINGLES 1955-65 350cc & 500cc
---

AJS 7R3A 'TRIPLE KNOCKER' ISLE OF MAN TT WINNER: This bike beat all of the European opposition to win the 1954 Isle of Man TT (THE MOTORCYCLE FILES Book 22)
---

Illustrated Ajs and Matchless Buyer's Guide (Illustrated Buyer's Guide)
---
---

AJS and Matchless Gold Portfolio 1945-1966
---

AJS and Matchless: The Post-war Models
---

BOOK OF THE AJS 350cc & 500cc OHV SINGLES 1945-1960
---

The AJS 7R (Redline Motorcycles) (Redline Mptprcycles) by Mick Walker published by Redline Books (2002)
---