Airoh Aviator Helmet Review Summary
Airoh Aviator Image Gallery
The Airoh Aviator is said to be the world's lightest off-road helmet.
We'll go one better than that: the Aviator is by far the lightest helmet ever reviewed on webBikeWorld, and we've reviewed more than 200 in the last 13+ years.
The Aviator feels like it's packed with helium, no doubt about it.
But it has more than that, because it has plenty of modern style and excellent build quality.
Super light weight, excellent ventilation, comfort and what do you know — it's even quiet!
If you haven't worn an off-road helmet in a while — or ever — now's the time.
I'll bet many motorcycle riders think that an off-road helmet is certainly not something you'd wear on a bike with a license plate, turn signals and a street-legal headlight, right?
After all, those weird helmets with the baseball-cap peak on top are only for those crazy dirtbikers — the one who like to slide their bikes around in the mud — and the more mud, the better.
Well, all I can say is…don't believe it. Try one — you may just be surprised.
If you're a dual-sport or adventure-touring bike owner, nothing looks — or feels — cooler than wearing something like the Airoh Aviator with a pair of nice goggles.
It makes sitting atop that big Suzuki DR650 (blog) single with the FMF exhaust popping and gurgling out the back end that much more fun.
Introduction
I thought of Airoh as a manufacturer of slightly quirky modular/convertible helmets, like the Airoh J106 (review) we reviewed recently, or the original Airoh TR-1 (review).
But the Italian firm is also very well known for their off-road helmets; in fact, their are 7 different off-road helmet models in their current lineup and the Aviator is at the top of the heap.
This is the helmet worn by Tony Cairoli, five-time motocross Grand Prix World Champion.
It almost seems paradoxical for a company like Airoh to make a line of successful off-road helmets, but they do. Airoh says that the Aviator is the world's lightest off-road helmet. It's that, and more. That it's also comfortable and surprisingly quiet is a bonus.
---
The Airoh Aviator: Paint, Graphics and Overall Quality
The Aviator comes in a huge variety of colors, graphics and race replicas, including a Tony Cairoli number 222 replica. But if you wish, you can also buy an Aviator in basic white or black. Whatever you choose, this is one good-looking helmet.
On occasion, Airoh will also make the Aviator in a limited edition, like the Monster Energy Drink version shown here.
This graphic sold out faster than you can guzzle a can of the stuff! Hey, who knows — maybe someone will think I'm an off-road racer or Dakar specialist, with a big-name sponsorship!
Monster Energy Drink replicas may not be everyone's cuppa, but that's not a problem, because there are plenty of other very cool Aviator graphics just waiting for you. The paint on this one is superb, with a very high polish and not a micron of orange peel or any other flaws that I can see.
As their top-of-the-line helmet, Airoh really went all-out on the Aviator, no doubt about it. Where the Airoh J106 and TR-1 are quirky, the Aviator is angular, modern and with several leading-edge features.
These include a few that I'll describe in more detail, like ingenious snap-and-twist studs to adjust the peak; aluminum D-rings; removable and washable dust filter in the chin vent and more.
They even throw in a pair of clear/smoked covers for the huge top vents in case you get cold, a longer peak tip so you can have your choice of three different peak lengths and a neat Airoh neck strap that holds the special Airoh hex tool and your bike's key.
But the best part is the hand-laid, axial carbon fiber and Kevlar shell that comes in three different sizes, covering a head size range of XS to XL.
That's a big deal and not only does it ensure you'll have a shell size that is proportional to your head size, it helps keep the weight down.
Each Aviator is hand made in Italy with each layer of carbon fiber cloth placed cross-wise for added strength. The Aviator is by far the lightest helmet of any type we've ever reviewed. Pick it up and you'll start looking for the "Punk'd" cameras. A motorcycle helmet can't be this light, can it?
What's even more surprising is that lightweight shell is as strong as an ox.
We were amazed at how stiff it feels, so Airoh really did their homework on this one.
And let's not forget the rest — the liner and padding is also very nicely made and very comfortable.
Score: I'll give the Airoh Aviator an "Outstanding" rating for an extensive choice of paint and graphics, beautiful finish and nice clear coat.
The ultra light weight and solid feel are also a plus. See the Summary Table at the bottom of the page for a description of our rating system.
Airoh Aviator Helmet Fit, Internal Shape and Liner
Our friends at Burn Out Italy, home of the Roof Boxer V8 (review) and the Airoh J106 (review), told us that the Airoh Aviator runs a bit small, so they suggested an XL and I'm glad they did.
The Aviator has a neutral to slightly narrow profile, which seems to be the evolving European helmet fit standard recently. It's fine with me, as this shape should fit just about everyone and anyone.
It even fits my "Earth" shaped head, which is widest at the temples.
The size XL Aviator is listed as a 61 cm. It does feel just a touch roomy at the top on my 60.5 cm head but feels more like a 59-60 along he sides. I think it has an internal profile very much like the new Arai Signet-Q (review) or perhaps even the popular Shoei RF-1100 (review), although the XL Aviator fits more like a size large in either of those helmets.
Head sizes from around 59.5 to perhaps 61 cm should find comfort in the size XL Airoh Aviator, depending on the head shape. The padding, while not as plush as some, is perfectly comfortable.
The liner fabric also has a smooth feel and it's anti-microbial treated, removable, washable and interchangeable with other cheek pad sizes. The cheek pads also have emergency release tabs for quick removal in case you hit that berm with the front wheel first…
The liner has a very nice appearance and everything fits and feels good. The slightly narrow sides of the helmet make a bit of a tight fit for my new Randolph Engineering Aviator (review)eyeglasses, but it works.
The helmet has shallow ear pockets with bare EPS foam that could possibly allow speaker mounting if so desired (I think; we didn't try it).
The three helmet shell sizes mean a closer fit of the shell to the EPS and better proportions for the rider's head.
But the downside is that the eye port is just a touch tight.
I can fit my admittedly very large Scott 87 OTG goggles (review), which are designed to fit over eyeglasses, but the helmet works better with a standard (i.e., smaller) set of standard goggles instead.
The Scott OTG (Over the Glasses) goggles are among the largest you'll find, designed to fit over big eyeglasses. So if an off-road helmet eye port fits these, it will probably fit any other goggle type.
The proportional shell size of the Aviator means that the peripheral vision is optimized and even with the big Scott goggles, I still feel like the helmet provides about average visibility, compared to a full-face helmet.

More information on helmet fit can be found in the webBikeWorld Motorcycle Helmet FAQ page, along with the chart that lists the helmet weights of webBikeWorld reviewed helmets and also by shape on the webBikeWorld Motorcycle Helmet Shapes page.
Score: I'll give the Airoh Aviator an "Excellent" rating for shape, comfort and padding with a very nice liner and padding that works very nicely in hot weather.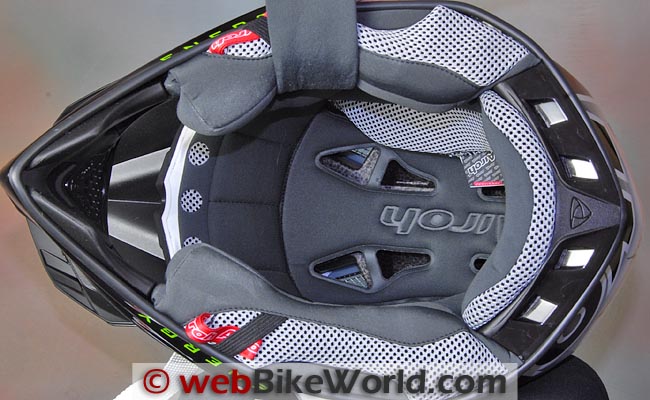 Airoh Aviator Eye Port, Visibility and Peak
The Aviator has an angular look in the modern idiom and the pointy bits are covered or protected with either hard plastic or hard rubber edging.
It's not only protective, it adds to the style and the cut lines are very tight wherever you look on the helmet.
The eye port has a huge amount of visibility, but you'll either have to wear a pair of eyeglasses or sunglasses at the minimum (unless you're riding very slowly) or more typically, a pair of goggles.
But even with the goggles, the visibility seems better than other off-road helmets I've worn. This is probably due to the more proportional shell dimensions of the Aviator.
Making three separate shell sizes for a somewhat limited head size range that runs from XS to XL only is the secret to that proportionality…and also to light weight.
The Aviator peak is an interesting design; it comes with a small black plastic tip that is attached with two flat head hex screws on either side.
You can remove the tip to shorten the peak, or install the longer peak that comes with the helmet (photo below), which gives you three different choices for peak length.
The peak is adjustable but only through a limited range. I moved mine to the lowest position for mostly street riding and it works well. With just a very slight downward tilt of my head, the aerodynamics are very good and I really don't feel much lift.
The adjusters are plastic threaded screws and the helmet has brass threaded inserts molded into the shell. The screws have a spring-loaded fold-over tip. Pop open the tip and you have a little handle to unscrew the adjuster.
After the peak position is changed, the screws are tightened and the tip is folded over to hold the peak in place.
The peak does a good job of blocking the overhead sun, while not getting in the way or in the line of sight whist riding.

Score: The Airoh Aviator has better than average side-to-side visibility and visibility out the top of the eye port. Visibility out the bottom is about average, due to the extended beak. I'll give it an "Excellent" rating overall.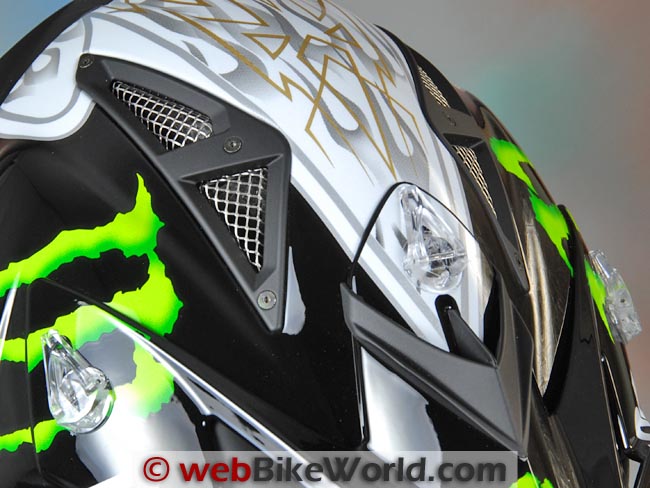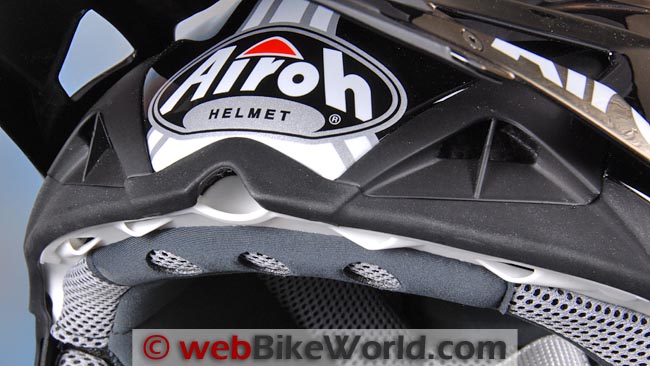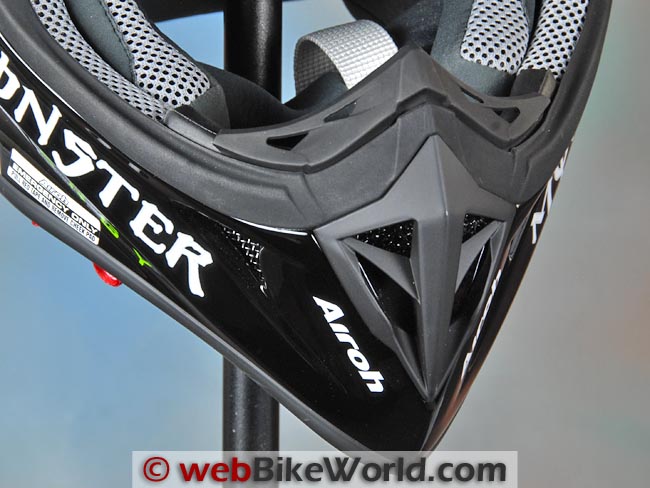 Airoh Aviator Ventilation and Air Flow
Like most off-road helmet designs, the open eye port of the Aviator allows good air flow, although this partly depends on the size of the goggles you're wearing.
Air flows up from under the chin bar, but on this helmet, it doesn't seem much different from most full-face helmets without a chin curtain.
Otherwise, the Aviator has an array of intake vents, with a brow vent and vents along the top and sides of the eye port. The helmet has a pair of huge top vents, covered with metal screens, that open directly on to the top of the rider's head.
Airoh gives you two smoked transparent vent covers for the top vents in case you're getting too much ventilation (is that possible?) or, I assume, to protect against rain or mud.
The chin vent is covered by a hard rubber surround.
It also has plenty of ventilation, assisted by large screen-covered vents on either side of the front of the chin bar. The chin vent has a removable dust/dirt filter that can be cleaned or rinsed when it gets dirty.
In the rear, a thin exhaust extractor is embedded in the spoiler at the top of the helmet and a series of extractors are located in the lip at the bottom of the shell.
All told, I count 10 intake vents just in the eye port and brow, 3 at the chin bar, and two more on top, each divided into two sections for a total of four. In the rear, there are 4 extractor ports along the bottom in addition to the exhaust vent on top.
Overall, I'll rate the Aviator ventilation as outstanding. It flows plenty of air smoothly and quietly, without feeling like you're standing in a wind tunnel.

Score: I'll give the ventilation system of the Airoh Aviator an "Excellent" rating.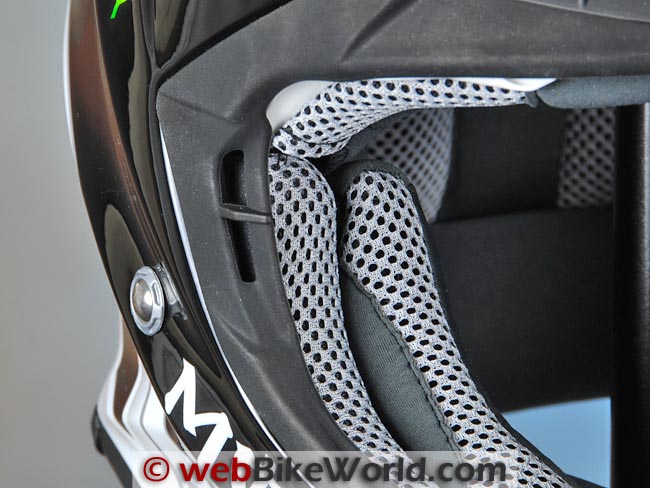 Airoh Aviator Sound Levels
Like the other off-road helmets we've reviewed, the Aviator surprises with relatively low noise volumes, especially considering the good ventilation.
I've worn full-face helmets that are louder than this — including the Arai RX-Q (review), which generates a lot of whistling noise from its sugar-scoop-like top vents.
The peak and the angles on the Aviator don't seem to add much to the noise levels, although depending on my sitting position and the jacket I'm wearing, I do get some wind rushing noise from around the lower rear part of the helmet where the lip sticks out in the back.
But overall, I rate the Aviator as quieter than expected, with better noise control that many other full-face or other helmet types.

Note that our helmet evaluations are a combined effort of several riders over time on different types of motorcycles with and without windscreens.
Evaluators wear correctly fitted, high quality ear plugs (even when evaluating motorcycle intercom systems).
Always protect your hearing when riding a motorcycle. See the wBW Earplug Reviews for more information on choosing and wearing earplugs.
Note also that perceived noise levels will vary, depending on the individual.
Noise can be caused by many factors, including helmet fit, the type of motorcycle and windscreen, wind speed and direction and even the rider's clothing.
For more information on helmet noise, visit the wBW Motorcycle Helmet Noise page.
Score: I'll give the Airoh Aviator an "Excellent" rating for better than average noise control.
w

BW

 Video: Airoh Aviator Helmet
Helmet Weight
Here's where it gets really good — the Airoh Aviator is by far the lightest helmet we've ever reviewed on webBikeWorld.com.
The size XL shown here weighs in at only 1115 grams (2 lbs., 7-3/8 oz.), which is 105 grams less than the number 2 helmet, a size Nexx XR1R Carbon (review) in size large, which may have been a ringer (read the review for more info).
The next heaviest size XL helmet we reviewed was the Akuma Phantom II MFR (review) at 1367 grams.
The XL Aviator is lighter than the lightweight AGV AX-8 (review) in size large, which weighs 1394 grams and it's lighter than the ultra-light Lazer Monaco (review) flip-up helmet in size large, which weighed 1406 grams.
1115 grams for a size XL helmet is definitely fly-weight territory, no doubt about it.
The absence of mass is definitely appreciated and makes a big difference — especially for off-roading, which can stress the old neck muscles.
It also helps reduce lift by making it easier to control the helmet. Pick up the Aviator and you might think either something's missing or the light weight may lead you to believe it's a cheap helmet.
It isn't — it's the hand-laid carbon fiber and Kevlar that makes the difference. Yet, the shell feels stiffer than any of the off-road helmets we've reviewed and stiffer even than most full-face helmets.
Note also that all of the helmets reviewed on webBikeWorld have been weighed and the weights are available on the wBW Motorcycle Helmet Weights page, along with a chart that lists the helmets by weight and shape on the wBW Motorcycle Helmet Shapes page.
Score: I'll give the Airoh Aviator an "Outstanding" rating for its ultra-low weight and excellent fit and balance.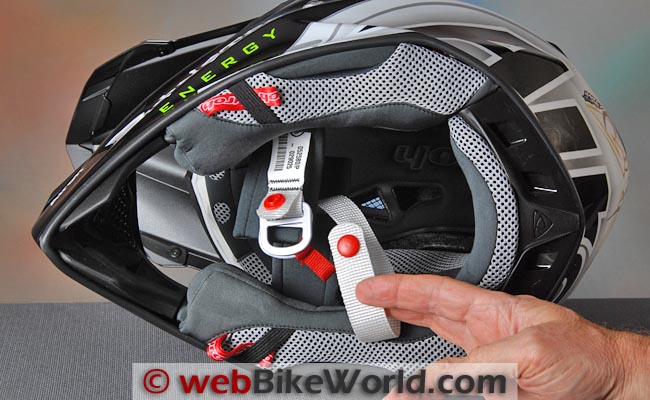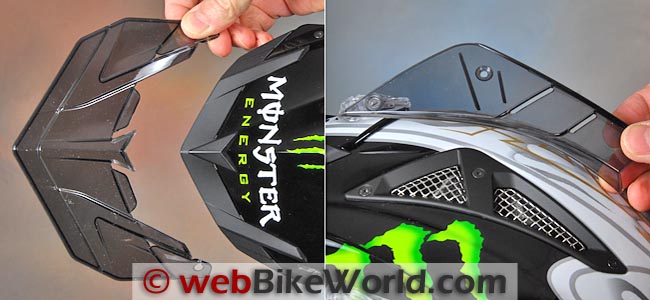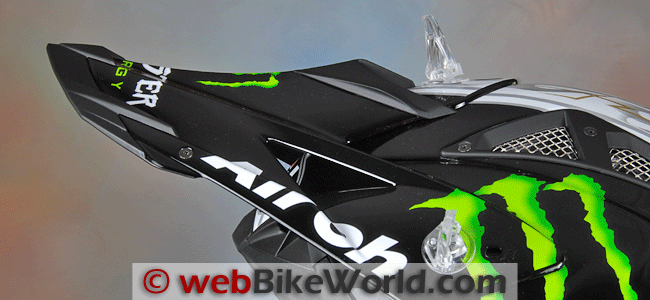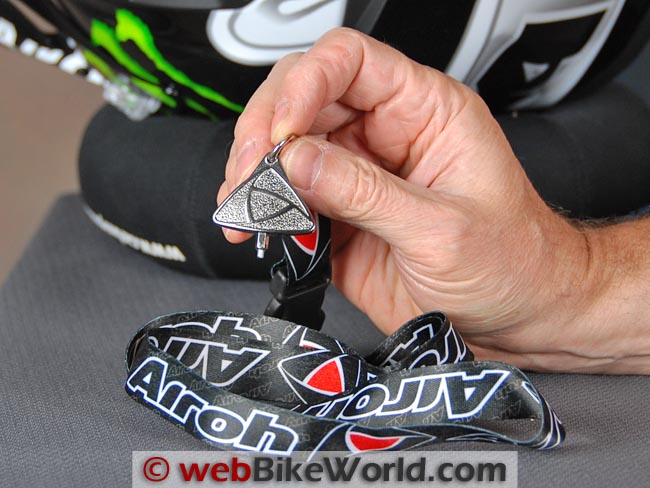 Miscellaneous
The Aviator has a comfortable chin strap with better than average padding. The padding sleeves can be removed for cleaning if necessary, a nice feature.
The aluminum double D-rings are lightweight and the unpolished finish gives good bite to the chin strap.
The chin strap has a separate plastic snap to secure the extra length and it is located correctly and in proportion to the helmet and shell size.
The three shell sizes span an extended size range from XS to XL and the Aviator meets the ECE safety standard only.
Airoh also includes a nice branded neck strap key holder with a removable end. It holds a small hex tool for the extra peak and top vent covers and you can attach other keys to the loop also.
Conclusion
Ultra-light weight is always a good thing, but obviously there's more to a helmet than just that and the Airoh Aviator has plenty to offer.
Comfortable fit, nice attention to detail, unique and innovative features, plentiful air flow and a huge array of cool graphics and colors make this the off-road helmet to have.
Also: Airoh Terminator Review  |  Airoh Trr Review
w

BW

 Review: Airoh Aviator Helmet
Manufacturer: Airoh Also: Airoh Helmets at Burn Out Italy
List Price: €445.00 to €525.00
Colors: Limited editions and many colorful graphics.
Made In: Italy
Sizes: XS to XL. Shell Sizes: 3
Review Date: August 2012

Rating Scale is subjective: Unacceptable, Poor, Neutral, Very Good, Excellent, Outstanding.
Note:
 For informational use only. All material and photographs are Copyright © webWorld International, LLC since 2000. All rights reserved. See the webBikeWorld® 
Site Info page
. Product specifications, features and details may change or differ from our descriptions. Always check before purchasing. Read the
Terms and Conditions
!
---
Owner Comments and Feedback